---
Plan Availability: ✓ Soho | ✓ Pro | ✓ Plus | ✓ Enterprise | ✓ Flex |
Locate: Manage > Integrations > CRMs > Zoho CRM
Prerequisites:
Admin permissions to Manage your account and Integrations.
Your account must have access to items (Inventory > Items), which is a key feature of our classic version of

Checkfront.
This feature is not yet supported with products (Inventory > Products), which is a key feature of our newest version of

Checkfront.
New to Checkfront - Products ✨

Products (Inventory > Products) is the successor feature to Items (Inventory > Items) and is available in our newest version of Checkfront.

Not yet on our newest version and interested in upgrading? Please contact our Technical Support team for more information.

Discover more product-related help articles here: Products (New).
This article walks you through how to activate the Zoho CRS integration.
New to the Zoho CRM integration? Be sure to read the first article in this series for an introduction!
Please read the full series of articles, accessed at the side and bottom of this page, to learn more about the full capabilities of the Zoho CRM feature.
---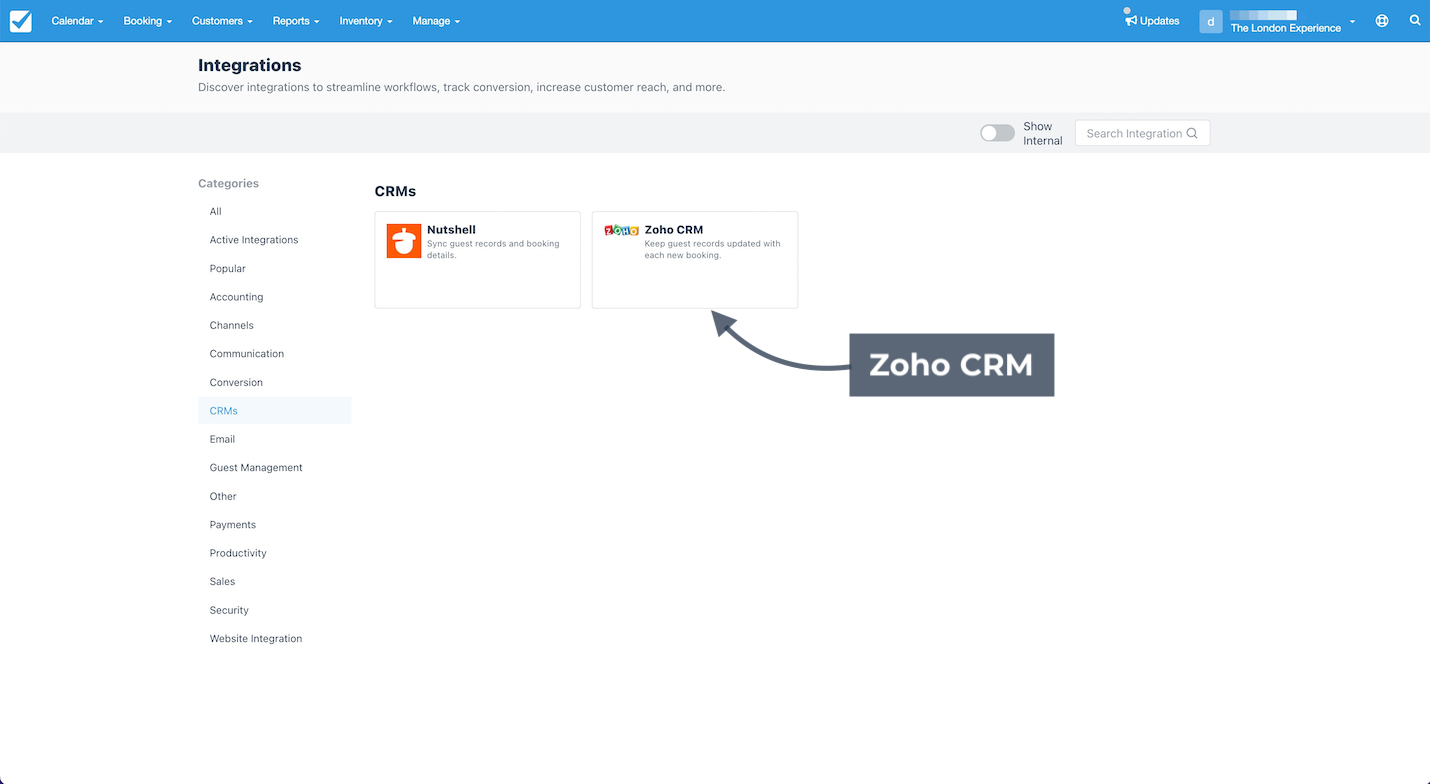 Log in to your Checkfront account, navigate to the Integrations area (Manage > Integrations), and then select the Zoho CRM tile from the CRMs category to open the Add-on Setup modal.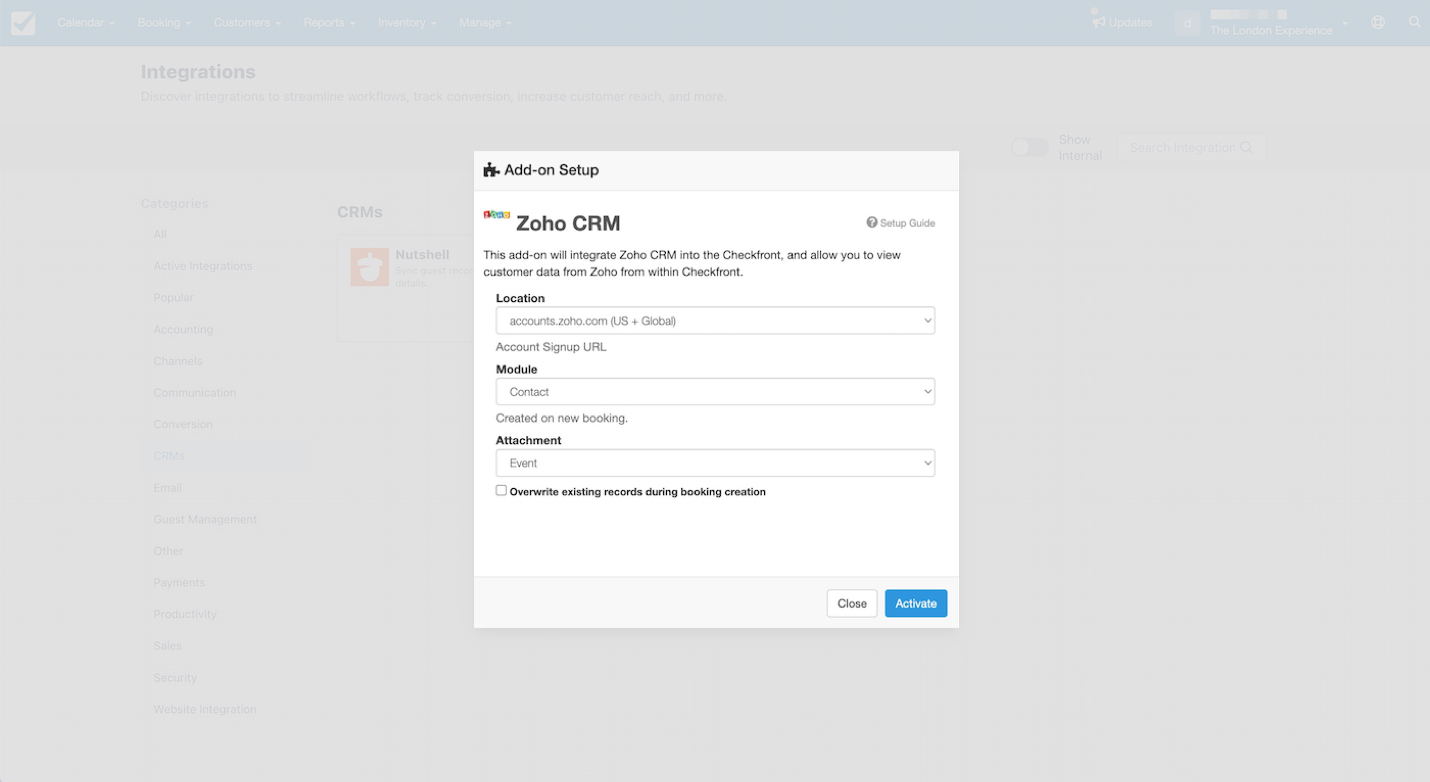 From the Add-on Setup modal, review the following settings.
The Location defaults to the location of your Checkfront account and should correspond to your Zoho account location.
Migration of Locations

If you would like your Zoho account to be moved to the correct location (for example, if you are located in the EU but you have a zoho.com CRM account), then please contact migration@zohocrm.com to help you with the migration. This is a setting you must adjust with Zoho, and Checkfront is unable to assist you with that.

If Zoho are able to successfully move your Zoho account's virtual location, then you need to return to the Zoho CRM Add-on Setup page to select the Location that matches your updated account.
In the Module field, select whether your Customers should be added to Zoho as a Contact or Lead.
In the Attachment field, you can choose the information you wish to attach a Note or Event. In most cases, would be the Event option. Selecting this adds the booking details to your Zoho contact as an open activity.
Below these fields, you see a checkbox labelled Overwrite existing records during booking creation. This setting determines whether or not existing records are overwritten in Zoho with new information when subsequent bookings are made.
Here's an example of how this setting functions if selected...
A Guest makes a booking and includes their phone number which syncs to Zoho as a contact. The Guest later makes another booking, only this time, they include their new phone number. If the overwrite option is enabled, then it syncs the new information and overwrites the previous Zoho contact details, updating the record in Zoho.
| | |
| --- | --- |
| | Without this setting enabled, there cannot be any updating of contacts, leads, events, or notes after the initial record creation. We recommend you check this option. |
Once you make your selections, click the Activate button to complete the setup. You are then taken to the Zoho website to complete the authentication process and authorize Checkfront to access your data.
---
Testing the setup with Zoho CRM >
---