Learn how to review the activity log associated with an inventory cell within the inventory calendar.
Are you new to our refreshed version of the Inventory Calendar? You can read the first article in this series, Introduction to the Inventory Calendar.
Please read the full series of articles, accessed at the side and bottom of this page, to learn more about the extensive features of the Inventory Calendar.
---
Which plan do I need to use this feature?
✓ Soho | ✓ Pro | ✓ Plus | ✓ Enterprise | ✓ Flex |


Where can I find this feature using the top menu?
Calendar > Item/Product > Inventory Calendar > Click on any cell to access the side panel > Activity Log tab


What more do I need to use this feature?
Admin permissions or restricted permissions to View calendars, Change Daily Inventory Availability
Inventory (items/products) configured within Checkfront.


Which Checkfront version supports this feature - classic, new or both?
Our newest, refreshed version of the Inventory Calendar works with both those using items (Inventory > Items), a key feature of our classic version of

Checkfront and those using products (Inventory > Products), a key feature of our newest version

of

Checkfront.

New to Checkfront - Products ✨

Products (Inventory > Products) is the successor feature to (Inventory > Items) and is available in our newest version of Checkfront.

Not yet on our newest version and interested in upgrading? Please reach out to our Technical Support team for more information.

Discover more product-related help articles here: Products (New).
Classic ---> Newest version (2022)

This inventory calendar replaces the classic versions of the calendar.

Please reach out to Customer Support with any questions or concerns.
How do I know which version of the Inventory Calendar is enabled for my account?

Only a select few historical accounts still have the classic inventory calendar enabled.
A banner displays at the top of your calendar inviting you to check out the newest version if you are on the classic version.
If you are on the newest version, your calendar looks like the screenshots in this series of articles.
---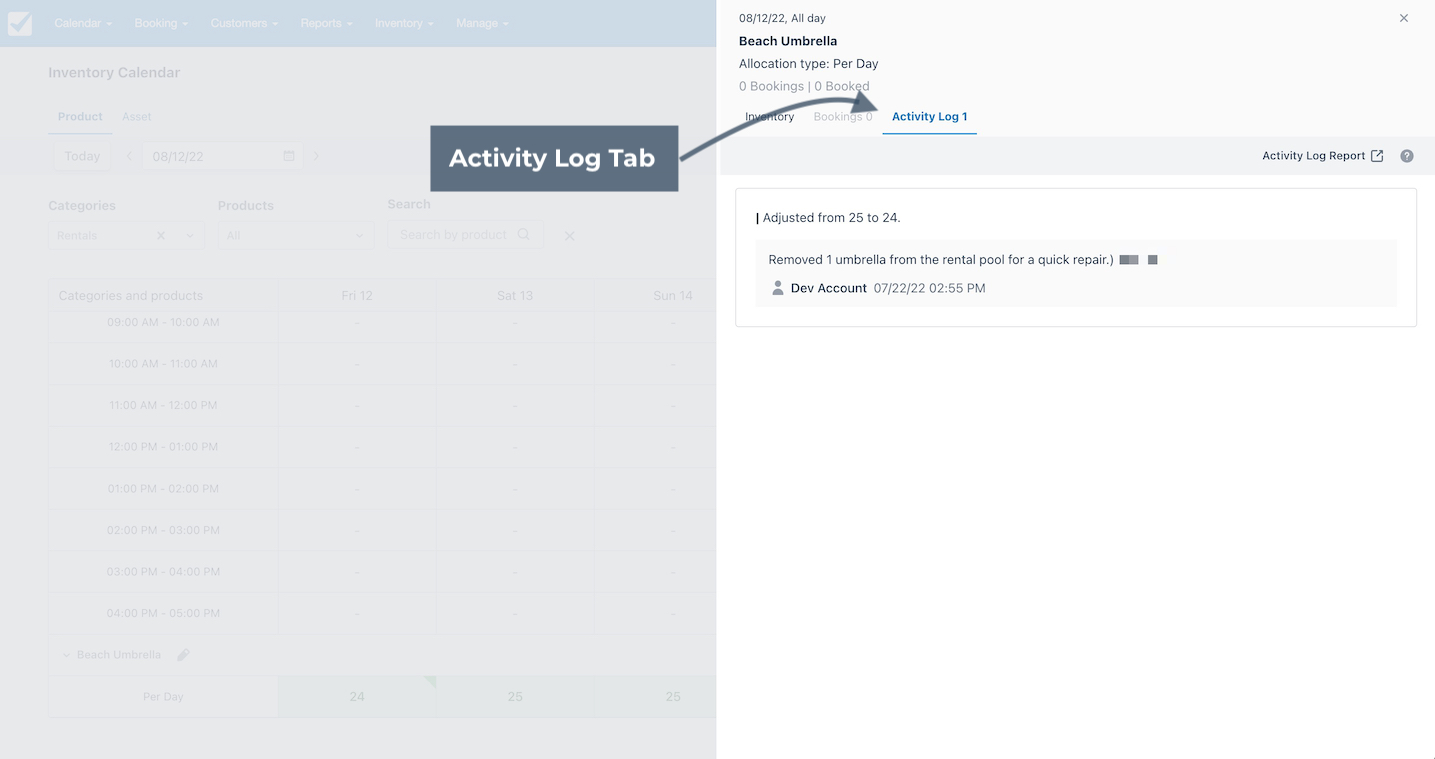 Once you save an adjustment, the associated note is logged in the Activity Log. The following information is available.
Features

Activity Log Report


Click on the Activity Log Report option to open the Account Activity report in a separate browser tab.

Learn more about the Account Activity report here.

Log Entry


A log entry displays for every adjustment saved. Log entries include:

Summary of the change, for example:
Adjusted from 30 to 6.


Note added, for example:

Adjusted down to 6 to meet new health requirements. [User name]


Name of the User account that adjusted the inventory, for example:

Dev Account

Date and Time Stamp, for example:
09/28/20 08:58 AM


Name of asset updated if you are using assets with products.
The next article in this series looks at adding product closures from the inventory calendar.
---
< Working with inventory bookings from the inventory calendar | Adding product closures from the Inventory Calendar >
---