| | |
| --- | --- |
| | Site Builder is a legacy product and is no longer available to new Customers. |
---
Learn about the layout options available in Site Builder, including adding, editing, and removing content blocks.


---
What plan do I need to use this feature?
Site Builder is an optional add-on to all plans.


Where can I find this feature using the top menu?
Manage > Site Builder


What more do I need to use this feature?
Admin permissions to manage your account or restricted permissions to Access Site Builder.


Which Checkfront version supports this feature - classic, new or both?
The

Site Builder

feature is available to both those using items (Inventory > Items), a key feature of our classic version of

Checkfront, and those using products (Inventory > Products), a key feature of our newest version

of

Checkfront.


New to Checkfront - Products ✨

Products (Inventory > Products) is the successor feature to items (Inventory > Items) and is available in our newest version of Checkfront.

Not yet on our newest version and interested in upgrading? Please get in touch with our Technical Support team for more information.

Discover more product-related help articles here: Products (New).
---
Managing Site Builder Layout
Your Site Builder website is organized using content blocks. Each block contains specific information pertaining to your site/business and multiple blocks can be used together to deliver the customer experience you are looking for.

Before we look into content block management, it's worth noting that Checkfront has designed the content blocks in a way that nicely structures your website with a natural flow.
Each content block, depending on the theme you are using, has multiple options for what can be displayed within it. To ensure a natural flow to your content, the choices are pre-determined by Checkfront and you only choose from the options provided.
For example, one theme may favour testimonials towards the bottom of the page, whereas another may allow you to place them closer to the top.
---
Each content block can be edited to suit your needs. While hovering over the block with your mouse, look for the blue edit icon with a white pencil in it.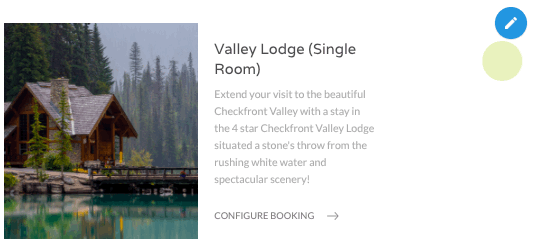 Clicking on the edit icon opens the content block edit tool. Hovering over it slides out some additional options, which we'll look at shortly. Let's look at an inventory block.

After clicking on the blue edit icon we are now in edit mode.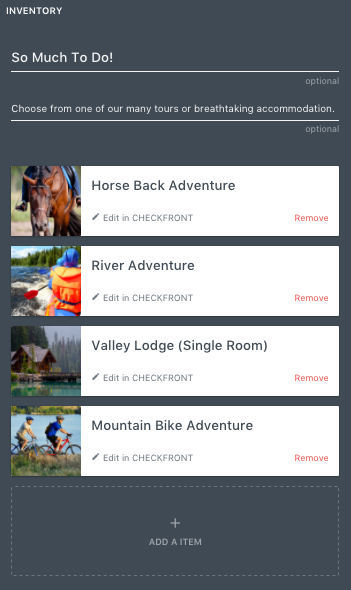 You can add a title and a sub-title to the block if you wish. You can also add additional items or products from your inventory.
The number of items or products you can choose to display is theme dependant. Just click the + Add an Item link to include more content.
After saving your changes by clicking on the blue Update button, the block now looks something like this...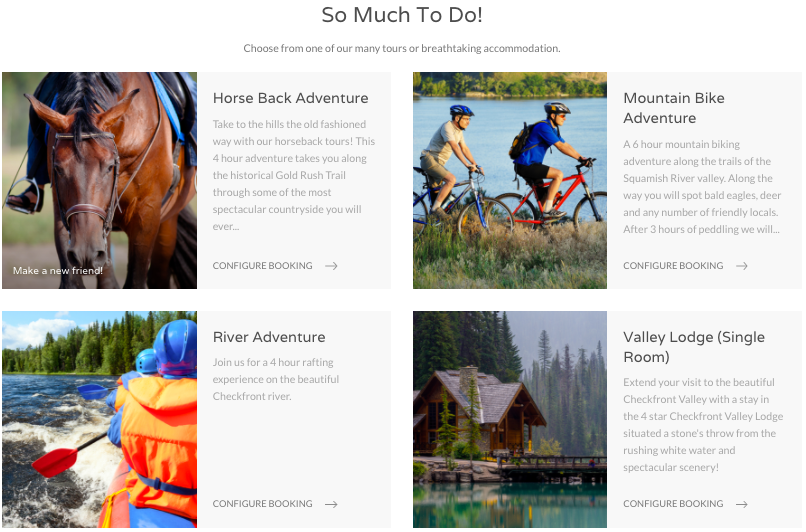 ---
As we saw earlier, hovering over the blue edit button slides out additional options on how to manage the content block. One of those options is Switch Block Type.

As the name suggests, this option enables you to change your content block from one type to another.
Remember, in order to maintain an organized and structured site with a nice flow to it, you are limited in the options you can choose for each block.
In this case, the allowed options are an inventory block (currently being used) or a gallery block.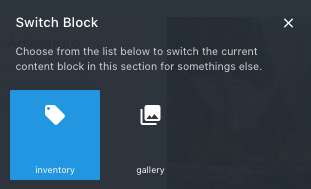 If you decide to select another layout for the block, in this case, a gallery, then you are asked to confirm after clicking on it.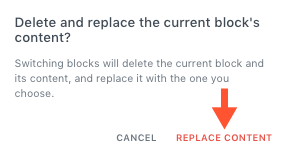 Click Replace Content to switch the blocks.
---
Each homepage has a set number of blocks that can be used to organize your content. The number of blocks available varies by theme.
If you have a spare slot, then you can go ahead and add an additional content block to your homepage.
Look for the white plus sign in a blue circle between two other content areas.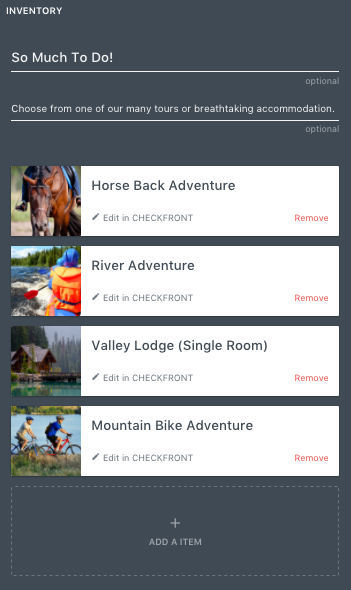 Click on this button to choose your content for the new block.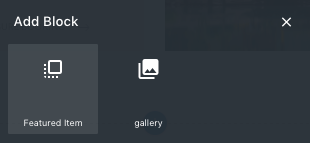 Once you have reached the maximum number of blocks available, you won't be able to add any more unless you change the type of another block or remove one. To remove a block, hover over the edit button and select the trash can option.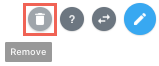 Again, you are asked to confirm the action before proceeding.

Click Remove Block to complete the process.
Hints & Tips:

• The number of content blocks available is dependent on the theme you have chosen for your website.

• To ensure a nicely structured, flowing website we have only provided a few options for each content block. This is not a bug and the options available in each block are theme-dependent.

• Content blocks cannot currently be moved around. Again, this ensures a nice flow to your site with a structure that makes sense to your users.