---
Learn how to manage blog posts in Site Builder, including modifying post settings and writing and publishing posts.


---
Which plans include this feature?
Legacy:  Available upon request
New:  Available upon request
→ Learn more about our new plans or how to change your plan.

Where can I find this feature using the top menu?
Manage > Site Builder


What more do I need to use this feature?
Admin permissions to manage your account or restricted permissions to Access Site Builder.


Which Checkfront version supports this feature - classic, new or both?
This feature is available in both our classic version using items (Inventory > Items) and our newest version using products (Inventory > Products).  → Learn more about products
---
Managing my what? Blog? What's that? Chances are, you know full well what a blog is, but just in case you don't, here are the basics:
What is a Blog?

A blog is a regularly updated website or web page typically maintained by an individual, business owner, or small group. Blogs are generally written in an informal or conversational style.
Got it? Great! But what does that mean for you in terms of your Site Builder website?
Should you create blog posts for your website, you can discuss whatever you like in a section of your website separate from everything else.
You can use blog posts to talk about a new tour you may be introducing or to discuss best practices when travelling abroad. It's totally up to you.
What's more, search engines such as Google love blog content and give preference in search rankings to websites that regularly add and maintain content online.
Okay, I'm interested... so what do I need to do to create one of these blogs? Good question. Read on!  
---
It's easy to create a blog in Site Builder. The blog is already there and comes as part of your chosen theme. All you need to do is create the posts (articles) that form the content for the blog.
To do so, click on the Posts link in your left sidebar. Any drafts (posts you haven't published yet) or published posts are listed here.
In the example below, you can see a published post called Get Away From It All!.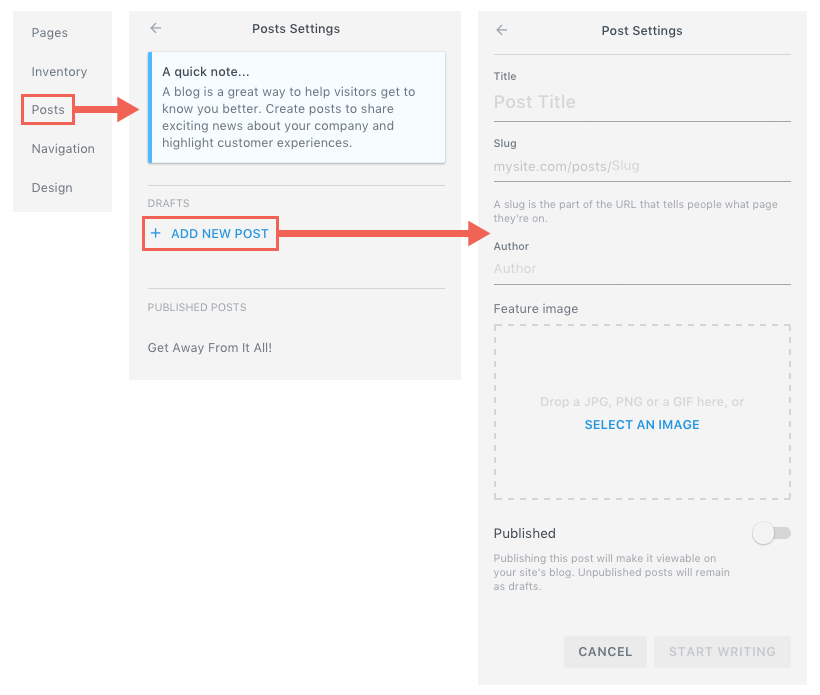 Steps to Create a New Blog Post
1. In Site Builder, click on Posts in the left sidebar.
2. Click on + Add New Post in the Posts Settings panel.
3. Fill out the details and add a featured image. You can also publish the post here when you are ready.
4. Click Start Writing to add your copy.
5. Add your text to the panel that slides in from the right, and when you're ready, click Update .
6. If the post is ready to go live on your blog, publish it (see step 3).
---
The post settings are quite simple and don't require much thought.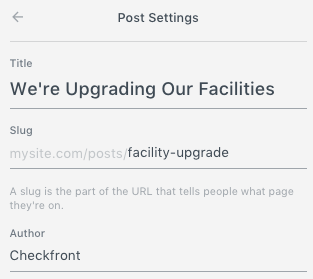 Title
First up is the title. Keep it short, snappy, and to the point. You want to engage your users and 80% of them won't look past the headline if it doesn't engage them!  
Slug
Yes, we all know what a slug is. But, believe it or not, you have the wrong thing in mind right now. When it comes to your blog, a slug is as follows:
What is a Slug?

A URL slug is the exact address of a specific page or post on your website. Checkfront automatically assigns a URL slug for each new page or post based on its title. For example, if you add a page titled About, then its automatic URL slug is: http://yourdomain.checkfront.site/about
In the example above, we removed some of the smaller words and just kept the meat in place, so to speak. The slug is editable however you see fit, but again, keep it short and snappy.  
Author
Fairly straightforward. Take the person who wrote the post and insert their name here.  
Feature Image
Each blog post you write can have a featured image displayed at the top, which can help to draw attention to your content.
You can upload an image to the post by dragging it onto the image upload box directly from your desktop or by clicking Select an Image and choosing a file from your computer the old-fashioned way.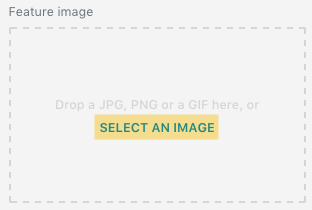 If you'd like to delete the image, hover over the upload box (which now contains the currently uploaded image) and click on the trashcan in the bottom right corner.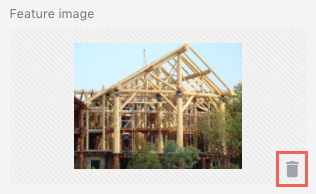 ---
When you're ready to show off your brand-new post to the world, come back here and click on the switch to slide it to the right. Once it flicks across and turns blue, the post is published.
It's probably best to wait until you have written the post before you perform such an act... just saying.  

---
Once you've got the basics of the post nailed down, it's time to start writing.
Click on Start Writing to do so. A panel slides out from the right containing a text area. This is where you write the copy for your post.
It can be as long or short as you like, but remember, you want your readers to be engaged. Basically, stick to the point and don't waffle.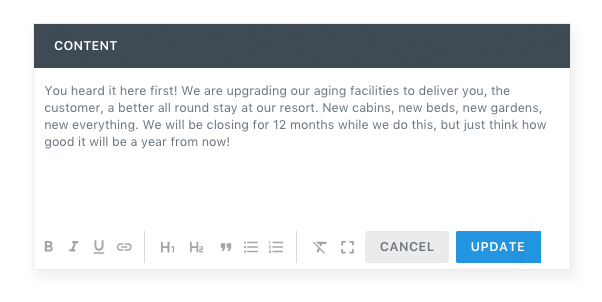 You see tools at the bottom to format your text with bolding etc., so feel free to use those as you wish.
When you're done, click Update. Your post is now complete and appears as part of your blog.