| | |
| --- | --- |
| | Site Builder is a legacy product and is no longer available to new Customers. |
---
Learn how to create content in Site Builder, including adding new pages and navigation.


---
What plan do I need to use this feature?
Site Builder is an optional add-on to all plans.


Where can I find this feature using the top menu?
Manage > Site Builder


What more do I need to use this feature?
Admin permissions to manage your account or restricted permissions to Access Site Builder.


Which Checkfront version supports this feature - classic, new or both?
The

Site Builder

feature is available to both those using items (Inventory > Items), a key feature of our classic version of

Checkfront, and those using products (Inventory > Products), a key feature of our newest version

of

Checkfront.


New to Checkfront - Products ✨

Products (Inventory > Products) is the successor feature to items (Inventory > Items) and is available in our newest version of Checkfront.

Not yet on our newest version and interested in upgrading? Please get in touch with our Technical Support team for more information.

Discover more product-related help articles here: Products (New).
---
By default, your Site Builder website comes pre-populated with various pages to set you off on the right foot. These include an About Us page, Contact page, Blog Homepage, and various Category and Inventory pages.
You can manage the pages on your website via the Pages menu in the left sidebar. This menu is always visible while working in Site Builder and can be easily accessed at any time.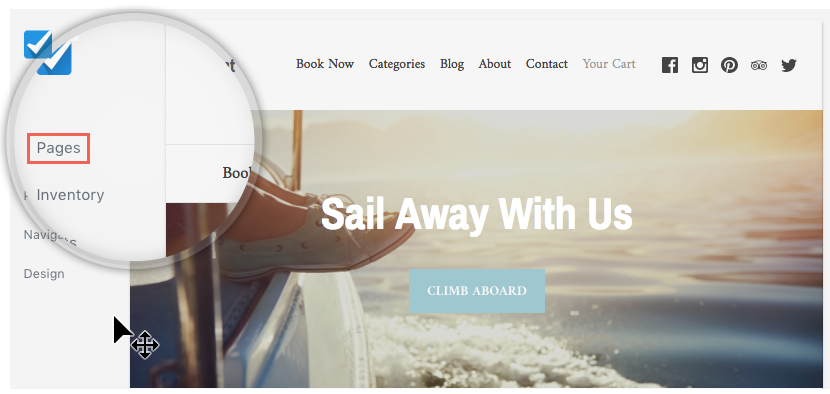 ---
For the most part, you probably find the standard pages more than adequate for your website.
If, however, you'd like to add some custom content of your own, then you can do so by adding new pages. Clicking on the Pages link in the left sidebar slides out the page edit window.
You can return to the main menu at any time by clicking on the small arrow icon in the top left corner of the edit window, as highlighted in the image below.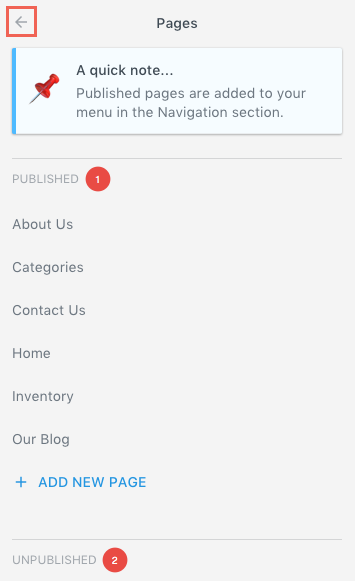 Any pages that are published and therefore visible on your website are displayed in the pages edit window (1). Any pages that are unpublished and therefore not visible on your website are displayed below these (2).
Steps to Create a New Page
1. Click on the + Add New Page link in the page edit window (see image above).
2. Enter a page title, slug, publish state, template, meta description, and page share image. See below for additional details on these steps.
---
Title
This is the title of your new page. Be as descriptive as possible, but short and sweet is the way to go.

Slug
The slug is part of the page URL (web address) and is crucial for directing your users to the right content. As you enter a page title, a slug is created for you automatically.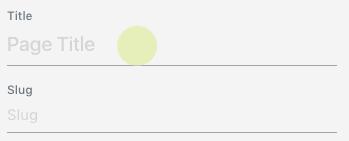 You can keep the slug that the system creates, or change it to something else. Ultimately, it looks something like this in the page URL: https://your-site.checkfront.site/explore-our-facilities Each page must have a unique slug.
Publish
If you are ready to make your page visible to your customers, then you must go ahead and publish it.

If you don't activate the Publish switch, then your page remains invisible to your audience and is listed under the Unpublished label we looked at earlier.
Template
The next step is to select a template for the page you are making. You can choose from a regular page template or go with a contact page or home page style template.
We'll go with a regular page template in our scenario.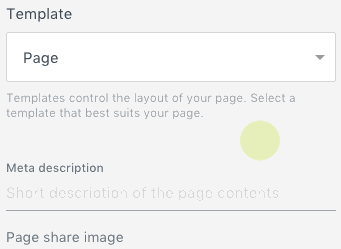 Select your template choice from the drop-down menu.
Meta Description
The meta description should be a brief sentence or two to describe the content of your page.

This description is used by search engines such as Google to help potential customers find your website online. Again, short and sweet is better.
Page Share Image
Hopefully, your users decide to share your new page on their social networks, or you may choose to share it on your own. When the page is shared on a network such as Facebook or Twitter, an image is usually displayed to represent the page.
Steps to Upload an Image
1. Drag an image from your computer onto the upload area provided (see below).

or...
2. Click on the Select An Image link in the upload area. Then, choose an image from your computer.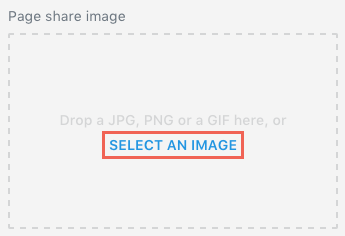 Deleting The Image
To remove the image from the system, hover over it with your mouse and click on the trash can icon in the bottom right corner.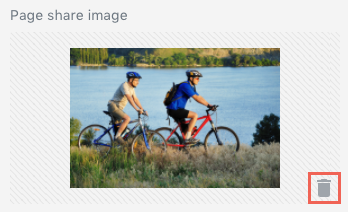 ---
Once the new page has been created, it's time to add some content to it.
At first, the system pre-populates the page with content depending on the page template you select. All you have to do is update the content blocks on the page to suit your needs.
For more information on managing content blocks, click here.
---
Now that you have a nice, new shiny page in your Site Builder account, it's time to add it to your navigation bar.
In order to include the page in your site navigation, it must be Published . Once you're ready to go, head over to the Navigation menu in your left sidebar.
Steps to Add the Page to a Navigation Menu
1. Click on the Navigation menu in your left sidebar.
2. Locate the menu you'd like to add the page to.
3. Click the edit link in the top right corner of the menu box.
4. Select Page as the Link Type and then click on the page you just created in the Destination drop-down menu. Update the text if you require.
5. Reorder the page in the menu by holding your mouse on the icon to the left of the link type and dragging it into place.
6. Click Update at the bottom of the screen.