---
Learn how to connect to third-party services in Site Builder, including reCAPTCHA and social media accounts. 


---
Which plans include this feature?
Legacy:  Available upon request
New:  Available upon request
→ Learn more about our new plans or how to change your plan.

Where can I find this feature using the top menu?
Manage > Site Builder


What more do I need to use this feature?
Admin permissions to manage your account or restricted permissions to Access Site Builder.


Which Checkfront version supports this feature - classic, new or both?
This feature is available in both our classic version using items (Inventory > Items) and our newest version using products (Inventory > Products).  → Learn more about products
---
Connecting Third-Party Services For Use With Site Builder
Site Builder can connect with a variety of third-party services to help increase engagement with your website through social media channels and mapping facilities. The currently available services are detailed below; we may change these later.  
reCAPTCHA is a free service created by Google that protects your website from spam and abuse.
reCAPTCHA API Key:

Please click here to sign up for your reCAPTCHA account and gain your v3 site key and secret key. Once you have your keys, follow the instructions below to add them to Site Builder.

Please note: If you have an existing v2 API key, you need to create a new reCAPTCHA v3 key for Site Builder using the following link https://g.co/recaptcha/v3.

Since reCAPTCHA v3 is currently in beta, it does not show up on the regular reCAPTCHA dashboard, and the keys must be generated using the link. 

Once you have the keys, enter them into the Connected Services section of Site Builder settings. 

1. In Site Builder, click on Settings in the left sidebar near the bottom of the screen.
2. Click on the Connected Services link.
3. In the Services section, enter your reCAPTCHA Site key, Secret key, and Threshold. That's it! Your changes are saved automatically.  
---
You can connect to Instagram from the Connected Services page. This allows your Instagram feed to be shown on some of your content pages using the Instagram Feed content block. 
Selecting Connect redirects you to Instagram. You can sign in to your Instagram account and grant permission to connect with Checkfront.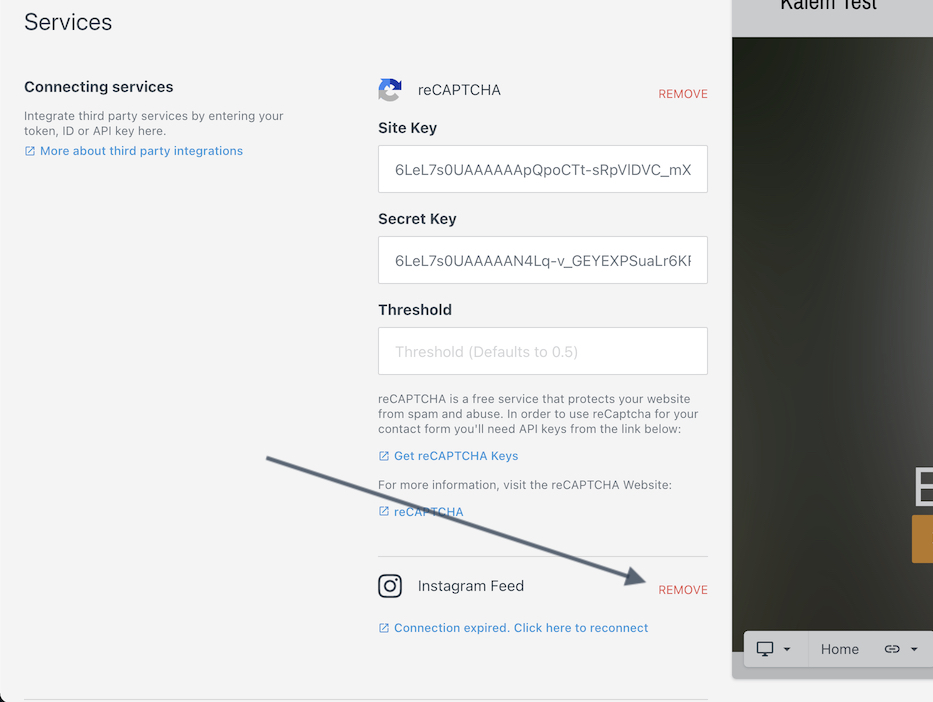 If you would like to remove the connection to Instagram from Site Builder. You can do so from the Connected Services page in the Site Builder manager. 
Simply select Remove to remove and disable the connection from Instagram.  
---
Some of the themes available in Site Builder support social media integration. This is a great way to let your customers know how to reach you and connect on various social platforms. For example, Site Builder's Discover theme features social media icons in the header and footer navigation menus.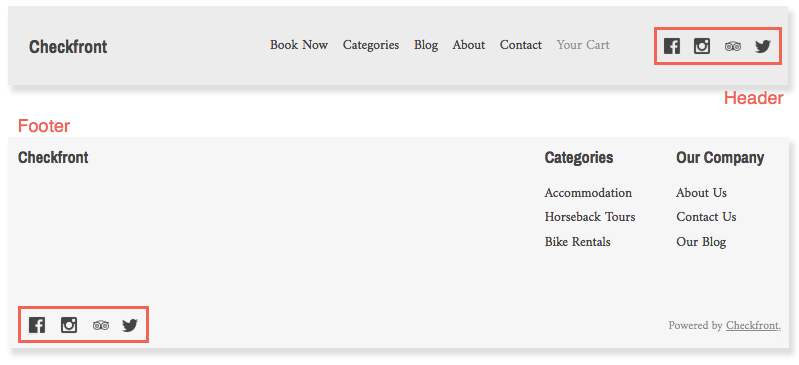 You can connect the following social media accounts: Facebook, Google Plus, Twitter, Instagram, YouTube, TripAdvisor, and Yelp.  
There are two ways to connect your social media accounts that activate these icons. First, when you activate the Site Builder add-on during the theme onboarding process, you can connect your social accounts during Step 1: Basic Information. If you didn't enter your social media account URLs during this process, or you need to edit your entries, you can also access setup via the Site Builder main menu under Settings > Connected Services .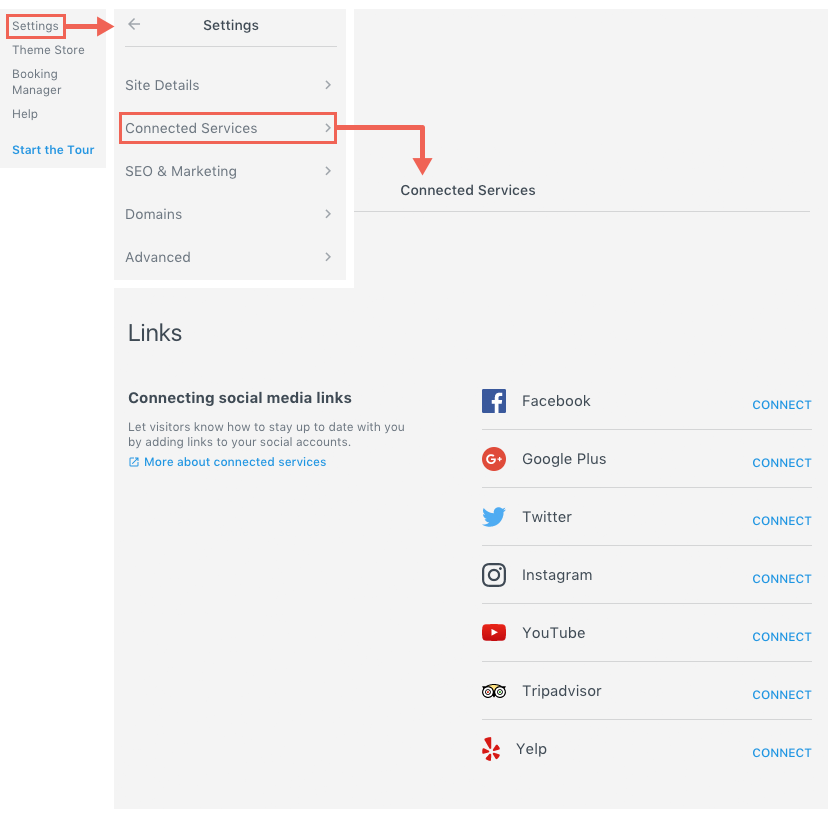 Steps to Connect Social Media Accounts
1. In Site Builder, click on Settings in the left sidebar near the bottom of the screen.
2. Click on the Connected Services .
3. Look for the Links section and select a social media service by clicking on its Connect link in the list provided.
4. When the URL field appears, simply enter the web address to your related social media profile. Your changes are saved automatically.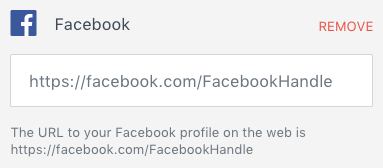 Once you add the URL, the related icon automatically appears in the header and footer navigation.  
If you no longer wish to include social media icons, simply remove the URLs from the Connected Services screen by clicking the Remove link.