| | |
| --- | --- |
| | Site Builder is a legacy product and is no longer available to new Customers. |
---
Learn how to configure site details in Site Builder, including appearance, contact form, and business information.


---
What plan do I need to use this feature?
Site Builder is an optional add-on to all plans.


Where can I find this feature using the top menu?
Manage > Site Builder


What more do I need to use this feature?
Admin permissions to manage your account or restricted permissions to Access Site Builder.


Which Checkfront version supports this feature - classic, new or both?
The

Site Builder

feature is available to both those using items (Inventory > Items), a key feature of our classic version of

Checkfront, and those using products (Inventory > Products), a key feature of our newest version

of

Checkfront.

New to Checkfront - Products ✨

Products (Inventory > Products) is the successor feature to items (Inventory > Items) and is available in our newest version of Checkfront.

Not yet on our newest version and interested in upgrading? Please get in touch with our Technical Support team for more information.

Discover more product-related help articles here: Products (New).
---
Setting Up Site Builder For Maximum Visibility
Back to top
Having a great-looking website is one thing, but if it isn't easy to find and contact your business, customers will just move on to the next offering in their web browser. We have provided a section in Site Builder called Site Details which enables you to fill out your company contact details and business information, plus provide a description of your website to help you stand out in online search results.
| | |
| --- | --- |
| | Updates you make to your site details in Site Builder will not be carried across to the Checkfront Booking Manager. You must update the Booking Manager separately if you wish to keep everything in sync. |
---
Get started by clicking on the Settings link at the bottom of your left sidebar in Site Builder.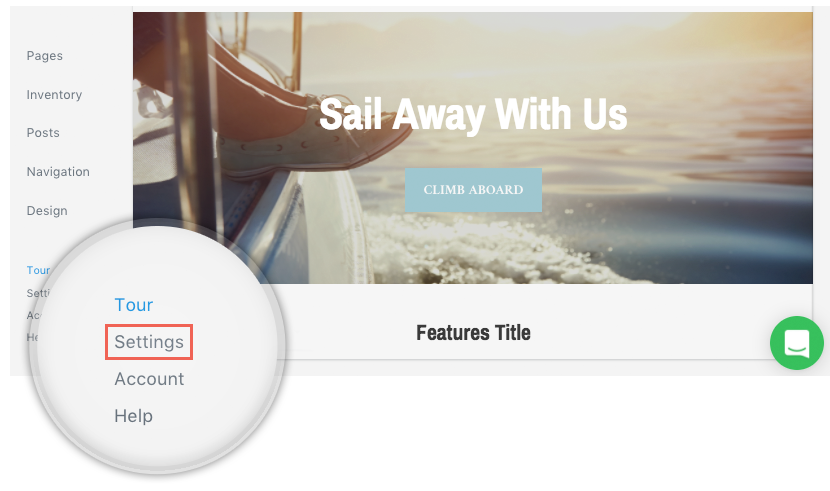 From the settings menu, click on the link labelled Site Details .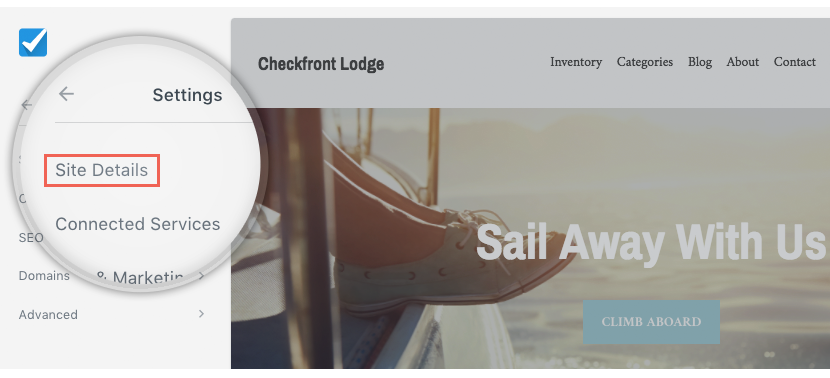 You'll now see the site details panel.
---
Your site name and description are crucial to your online visibility when it comes to potential customers finding you in search engines. Use these fields wisely and be as clear and concise as possible when describing your offerings.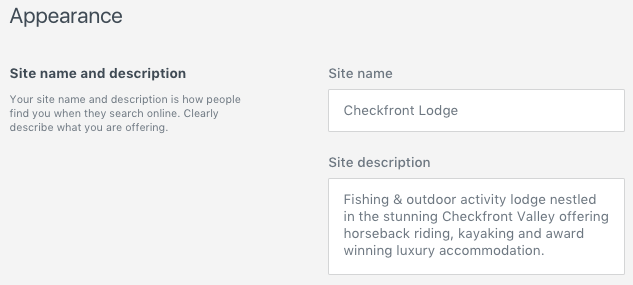 Site Name
The Site Name will appear in search engine results and should be designed to entice potential customers. Keep it clear and concise and include some relevant keywords if you can.

Google typically displays the first 50-60 characters of a title tag. If you keep your titles under 60 characters, research suggests that it will display properly and not become truncated in most web browsers. The site title will also be displayed in the header and footer of your Site Builder website if you have chosen not to upload a custom logo.
Site Description
Meta descriptions are intended to provide users with a snippet of what they can expect to find by clicking on your website link in a search engine. Meta descriptions appear beneath a website's URL in search engine results pages.

Your description can be any length, but search engines will truncate (cut off) anything longer than around 160 characters . This is why you must be as clear and concise as possible when writing your description.
If a potential customer enters a search query that closely matches your meta description, then a search engine like Google will highlight the search term in the description using bold formatting. This makes your listing more enticing to the user by pointing out the relevance to the search query.
So, think about the keywords you are targeting and which search terms do you hope to appear for? Use those terms in your description. The site description may also be displayed in your website footer, depending on the theme you are using.
| | |
| --- | --- |
| | Meta descriptions, though not directly related to search engine rankings, play an extremely important role in improving click-through rates from search engine results pages. In fact, research shows that achieving above-expected CTRs can result in better organic rankings, so by making meta descriptions more relevant to related search queries, you stand to gain an indirect boost in organic search rankings. |
---
When a customer wishes to contact your business, one of the methods available to them is by submitting a question through your contact page. Enter the email address at which you would like to receive those submissions here.

---
Let your customers know where they can find you by entering your business information. The email address you enter here should be the one you would like them to contact you at directly. It will probably be the same as the contact form email address, but it doesn't have to be if you'd like to enter a different one.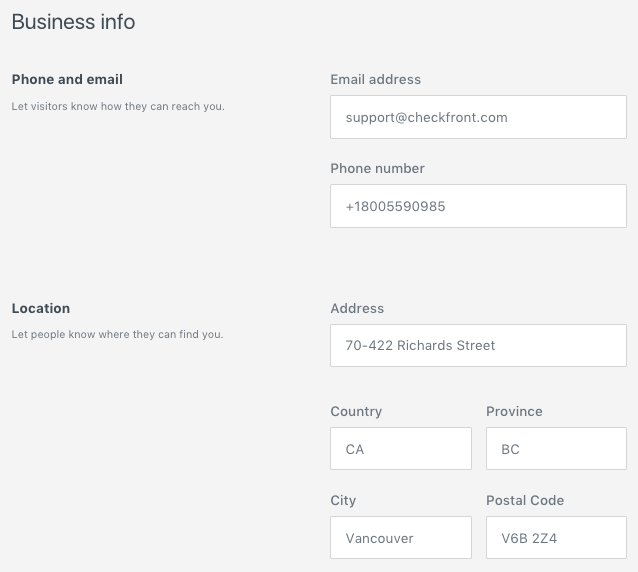 As part of your business info, you can enter your hours of business to be displayed on your website. Please note, however, these changes will not be carried forward to the Checkfront Account Manager. If you wish to keep things in sync, you will need to update the hours of business in both places.