---
Plan Availability: ✓ Soho | ✓ Pro | ✓ Plus | ✓ Enterprise | ✓ Flex |
Locate: Account menu > Billing
Prerequisites:
Admin access to your account.
Billing is available to those using items (Inventory > Items), a feature of our classic version of Checkfront and with products (Inventory > Products), a feature in our

Early Access Program.
---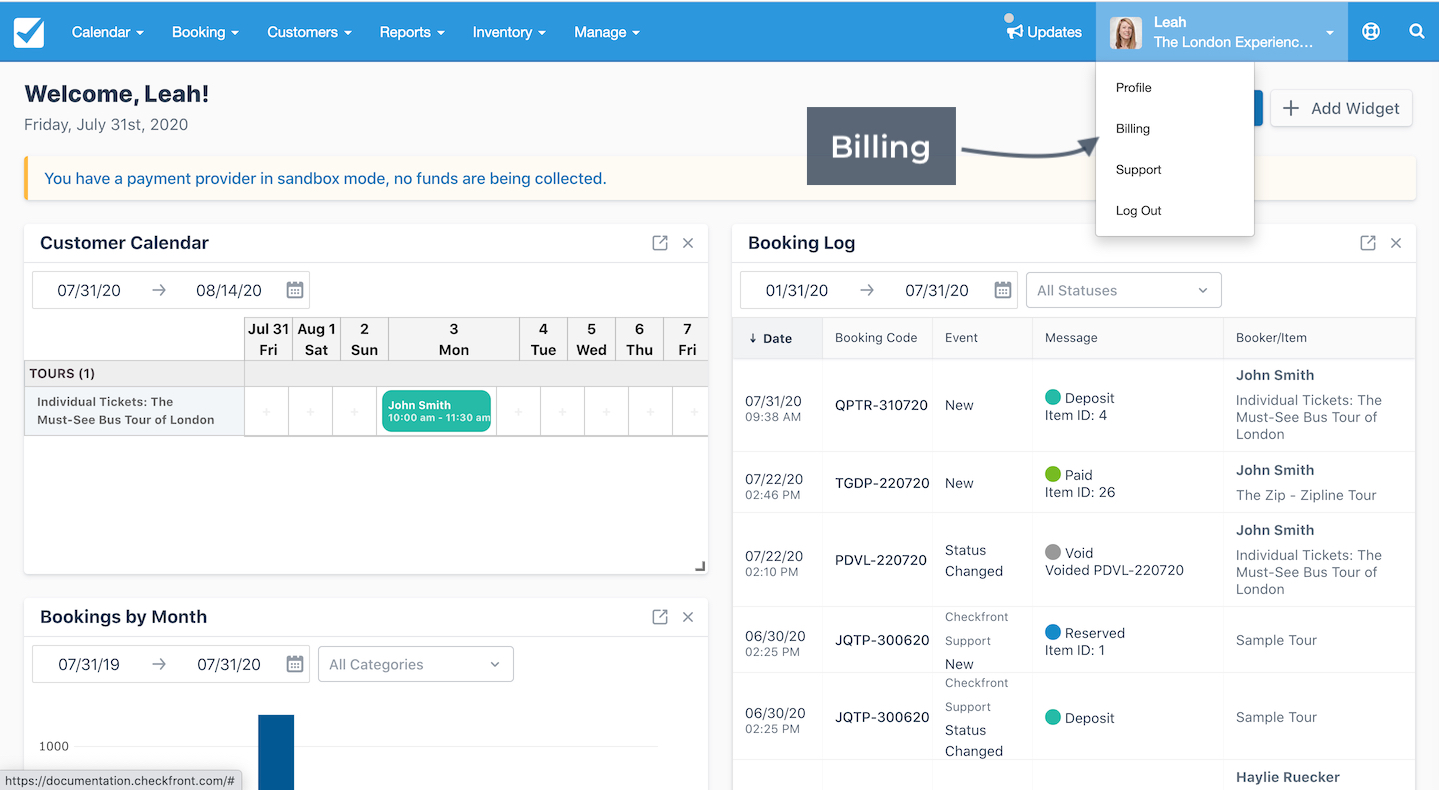 Once logged in, navigate to your Account menu (top right) and click on Billing from the drop-down menu to access your account's Billing page.
---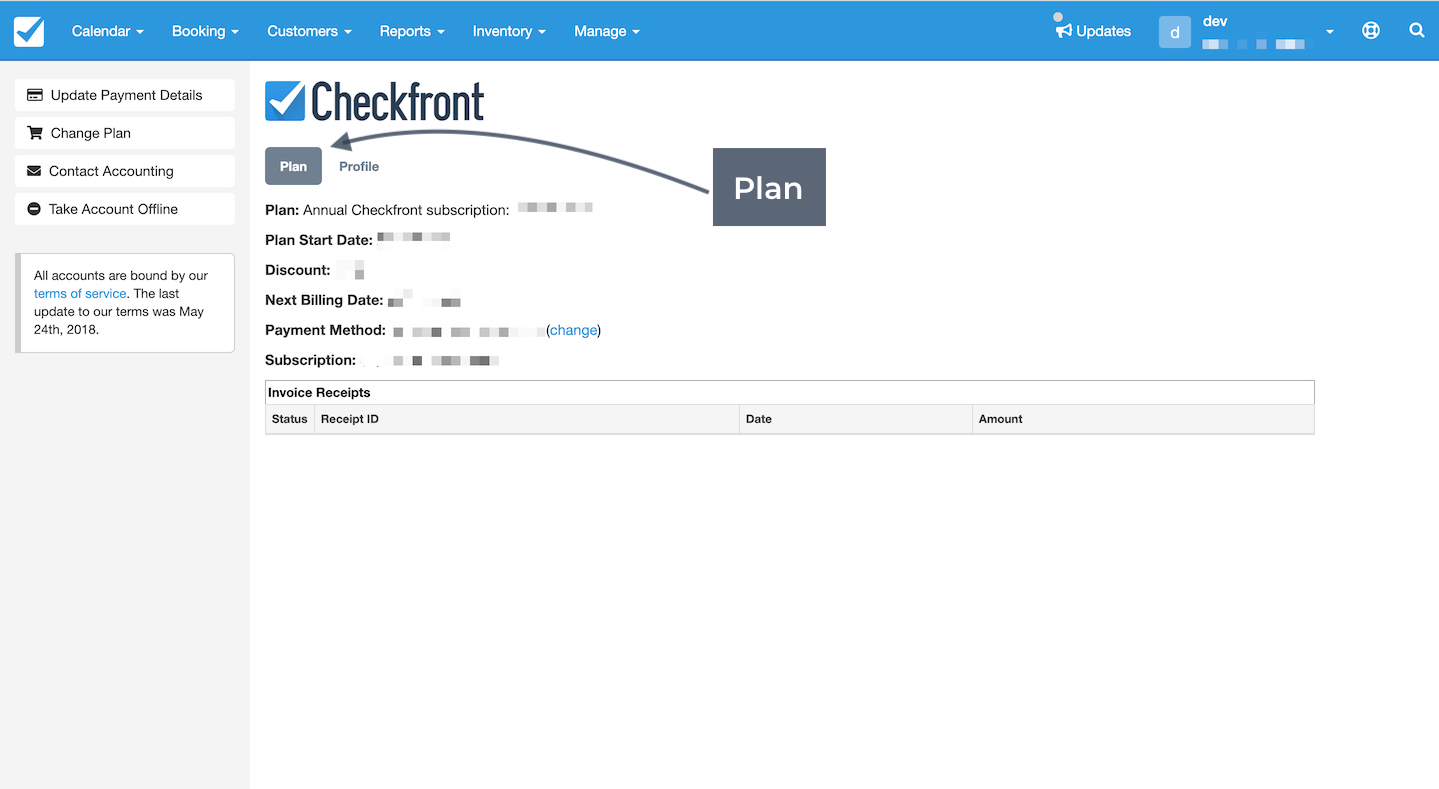 ---
The Plan tab displays your current Plan, Plan Start Date, any applicable Discount, Next Billing Date, your Payment Method, and the Subscription amount you are paying. Directly below this is a list of your invoice receipts including the Status, Receipt ID, Date of payment, and the Amount paid.
| | |
| --- | --- |
| | Looking for information on Booking Volume and Limits, learn more here: |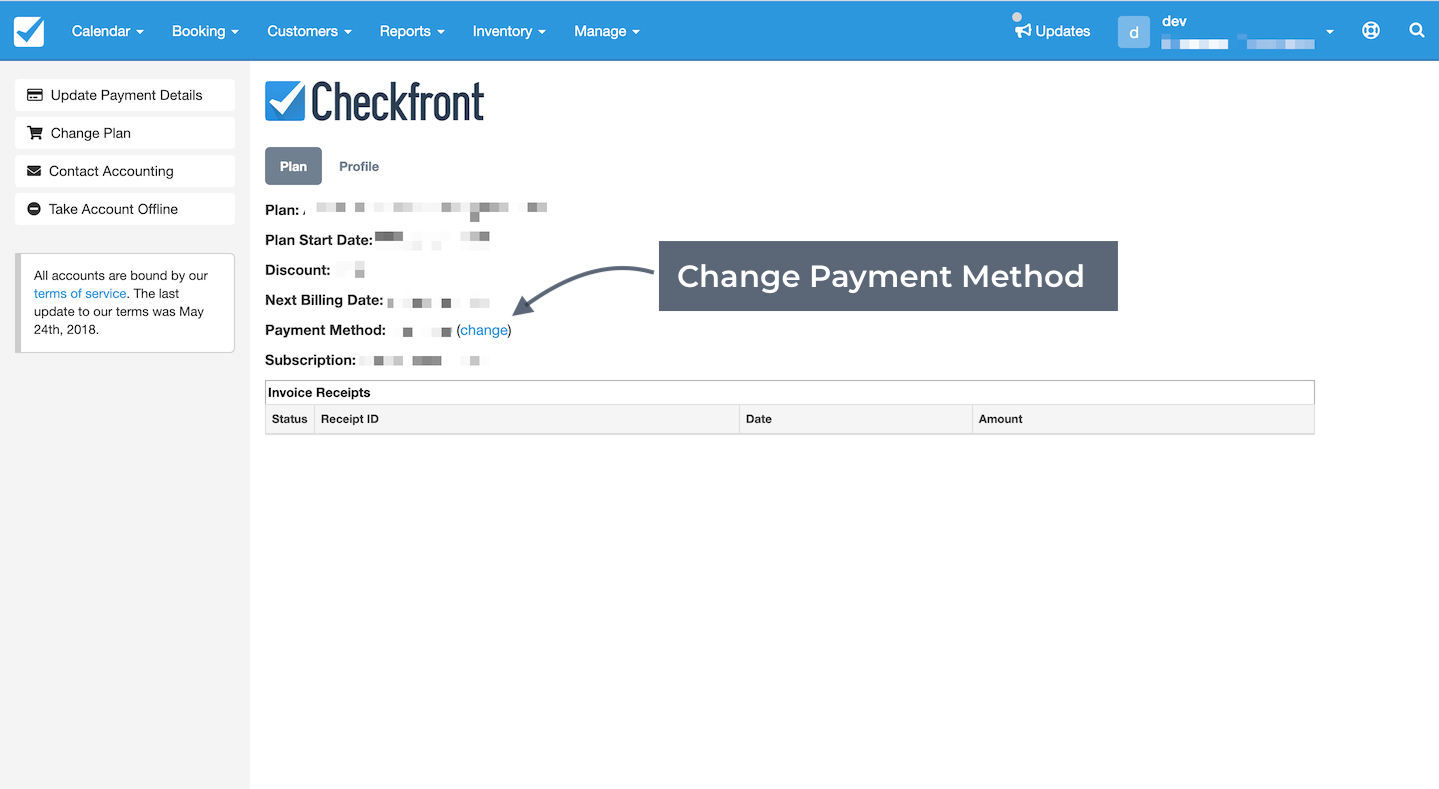 Clicking on the change link takes you to the Profile page described below, where you can view and change your Billing Contact or Credit Card information.
---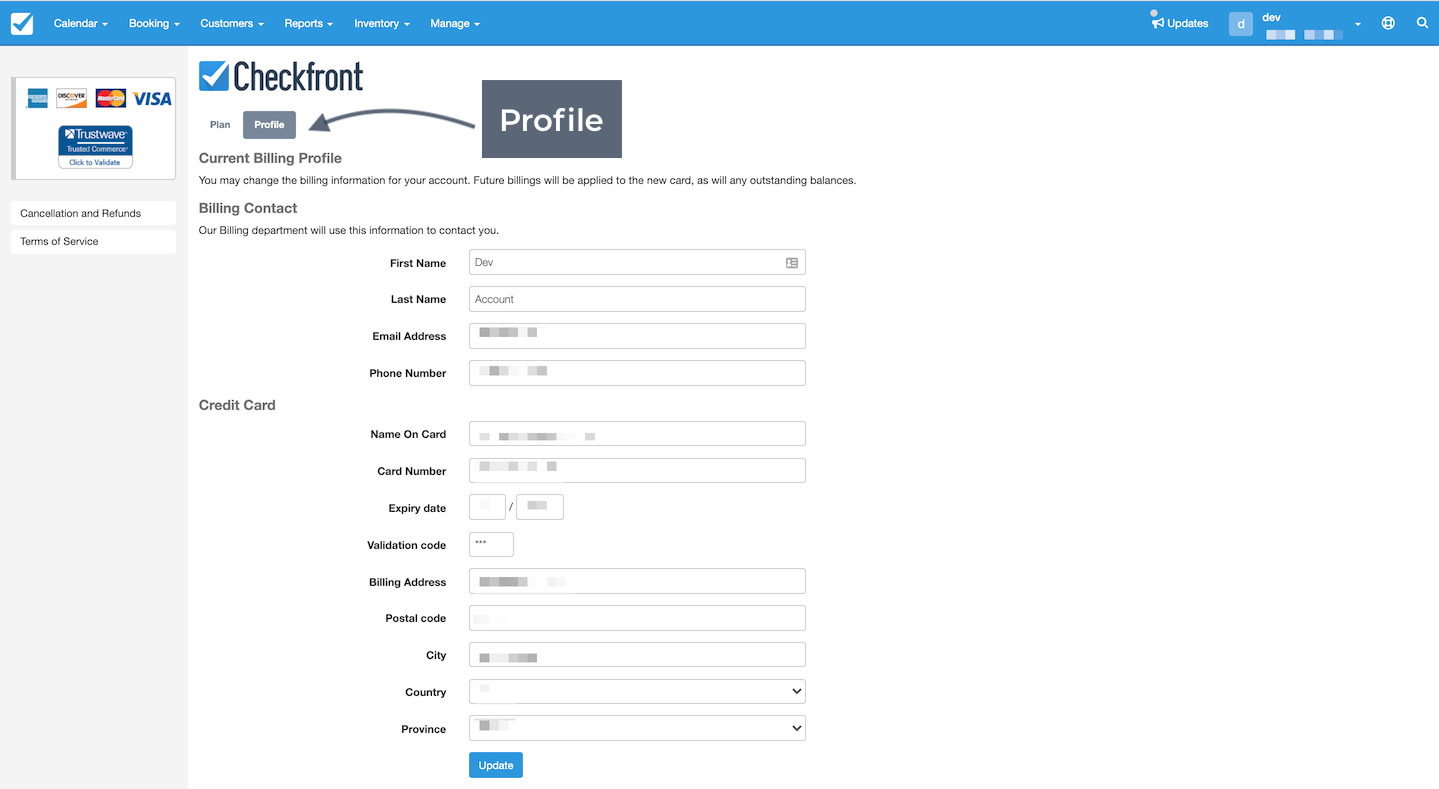 Click on the Profile tab or the Update Payment Details menu item (top-left) to view or update your Billing Contact and Credit Card information. Any outstanding and future payments are applied to this card.
---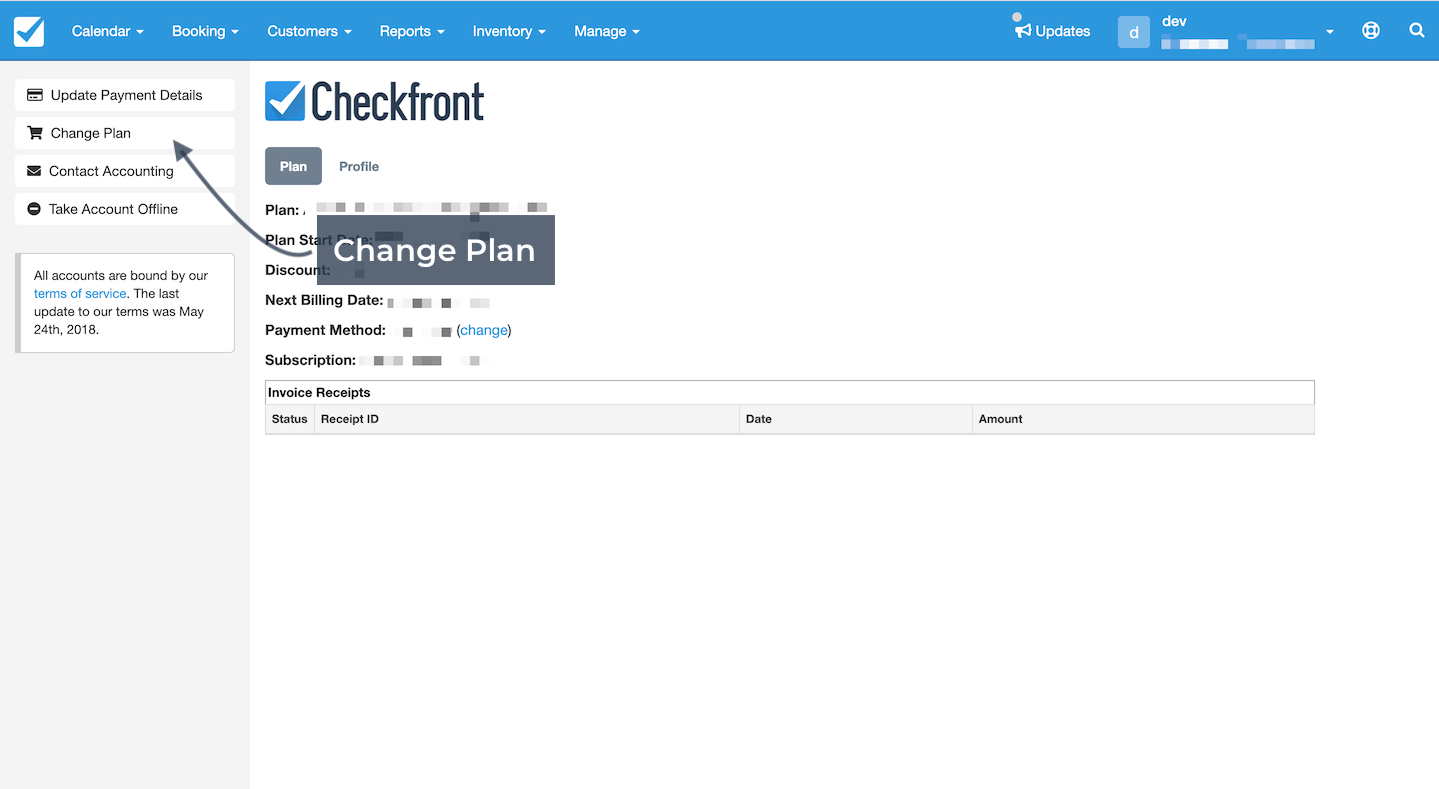 Click on the Change Plan link within the side menu to view your upgrade (or downgrade) options. This option might be labeled Upgrade Account depending on your current plan.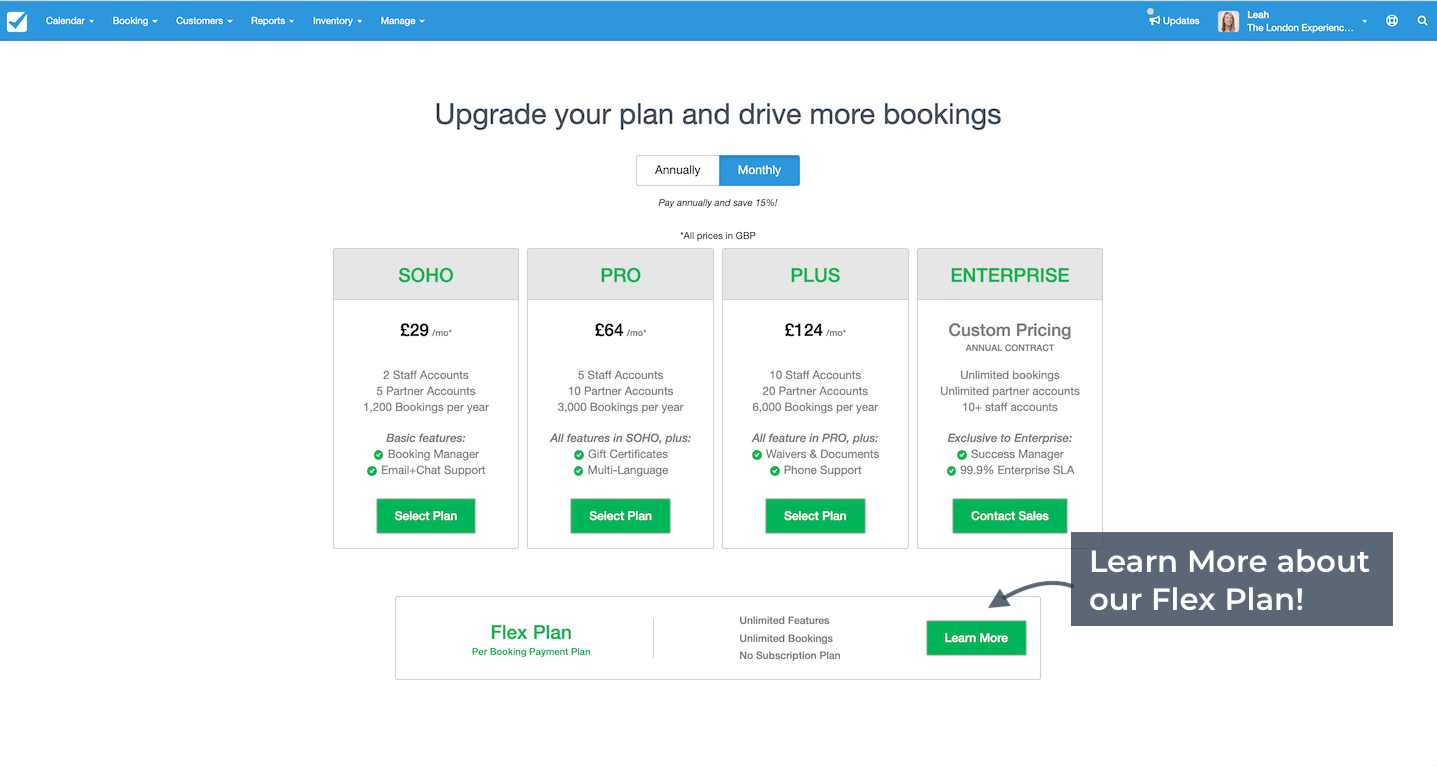 Learn more about our Flex Plan before deciding on your upgrade path!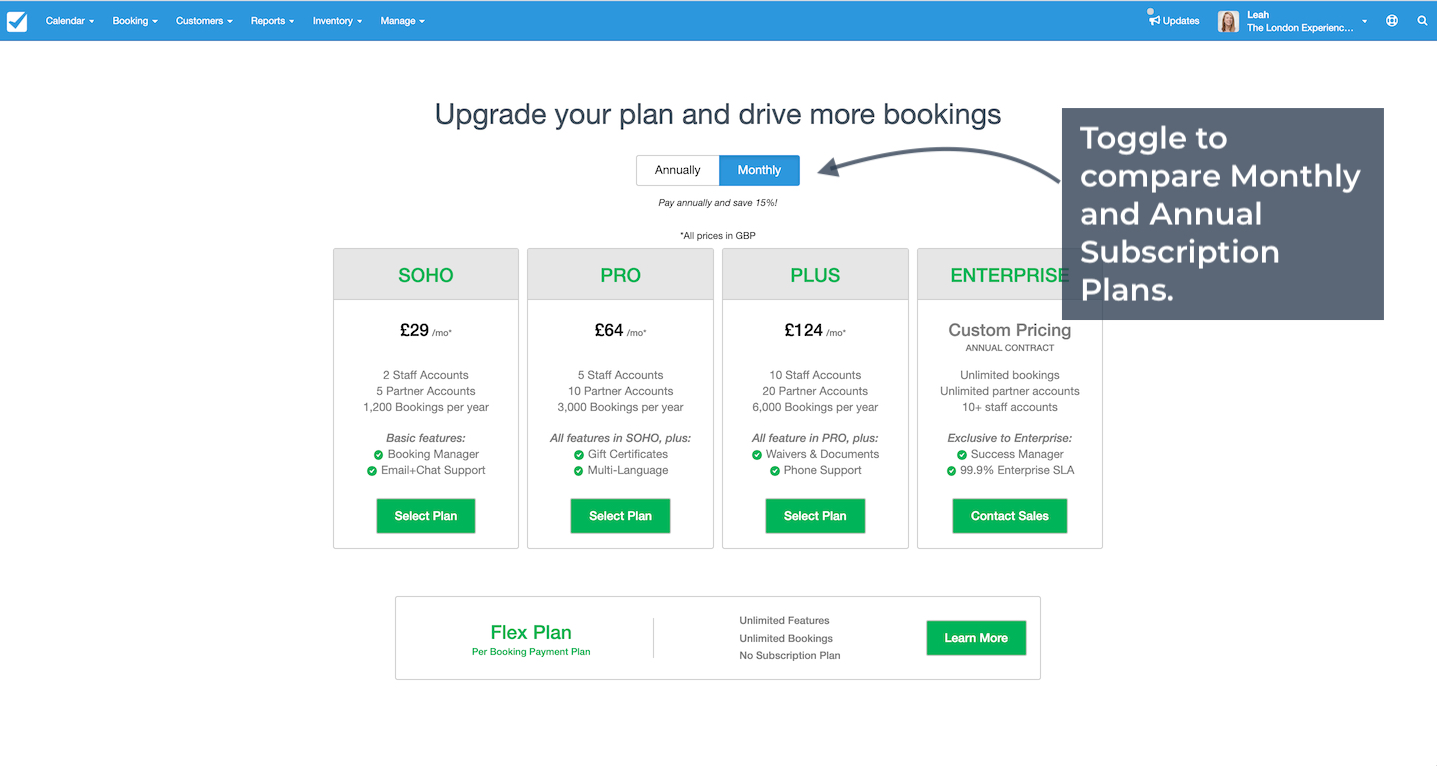 Compare our standard plans by billing frequency. You can choose to be billed and pay monthly or annually. Simple toggle the billing frequency options to view pricing by plan.
If you choose annual billing, then we bill you for the entire year upfront which includes a 15% discount on the monthly price!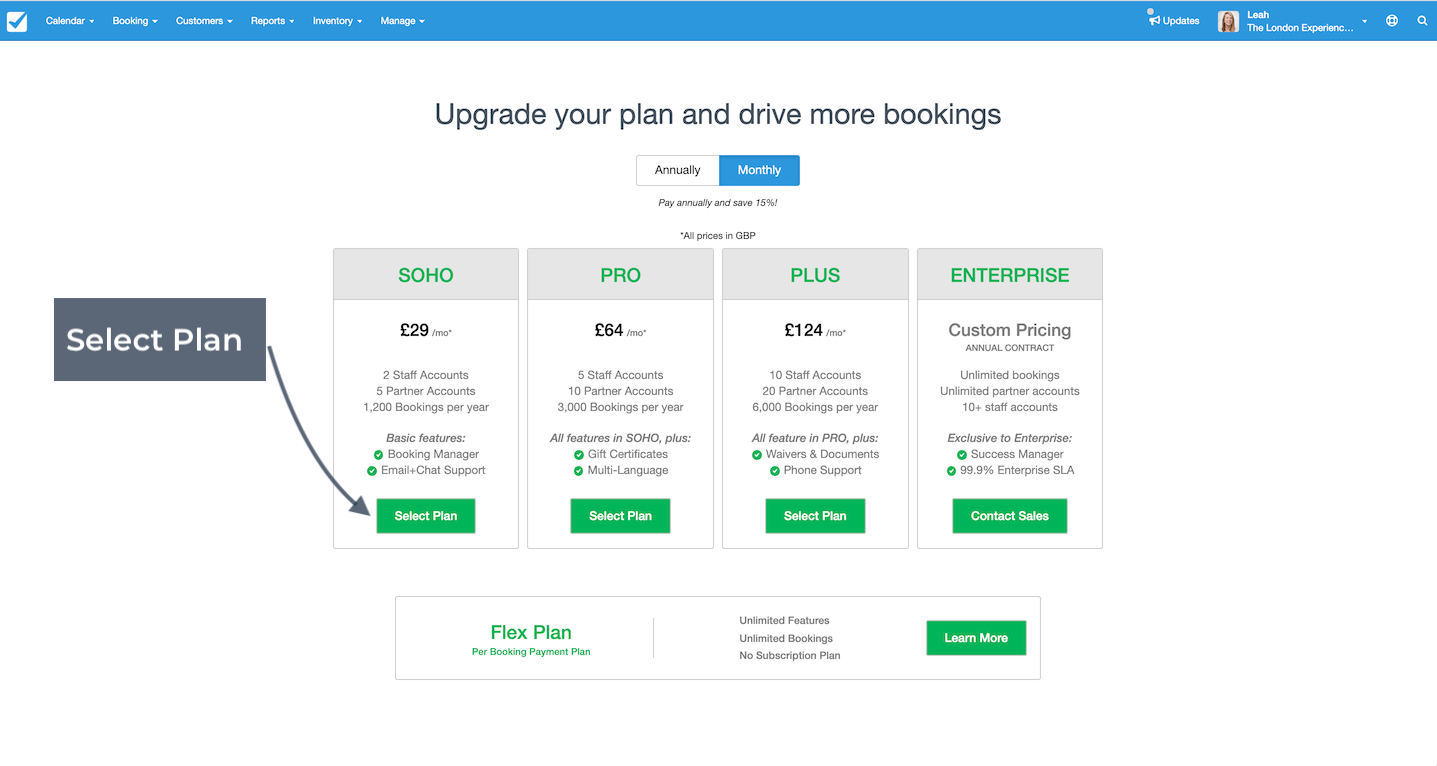 Next, click Select Plan to initiate the upgrade (or downgrade) process.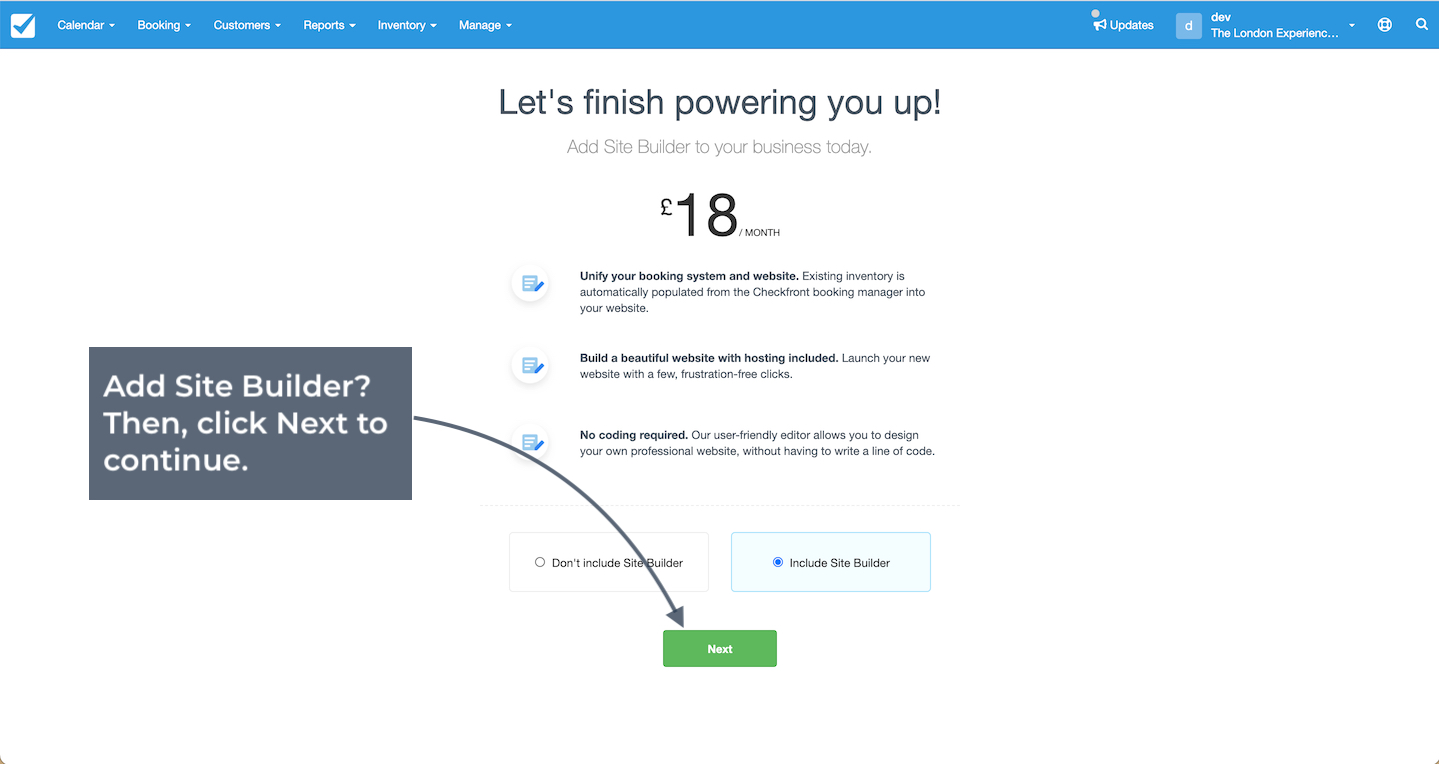 Next, you may be given the option to Add Site Builder to your plan depending on whether you are downgrading, upgrading, or already subscribe to Site Builder.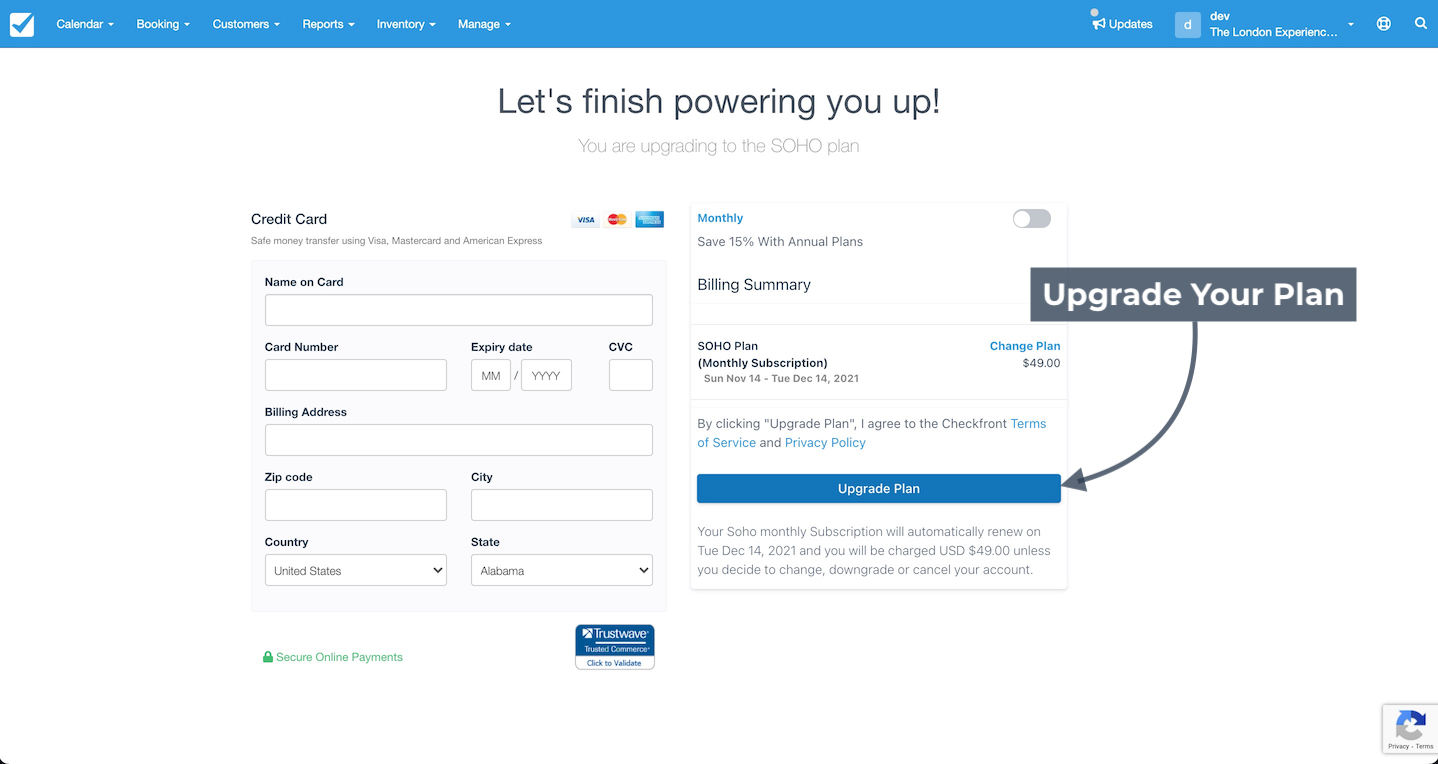 To complete the Upgrade or Change Your Plan, please provide your credit card billing information or update any existing information on file via the CHANGE CARD button and then click UPGRADE/CHANGE YOUR PLAN.
Any future dated payments are described above the UPGRADE/CHANGE YOUR PLAN button.
For a current list of plans available, please click here.
---
Trial accounts are intended as a preview of the system to determine if we are a fit for your business. If you need more time or have any questions or concerns, then please reach out to sales@checkfront.com!
---
If you are closing an account within 30 days of upgrading from a trial to a paid subscription, then your subscription is refunded in full. You are not charged again.
30 days starts from the day you upgrade your account, and may not necessarily reflect that of your billing date in the case of a skipped or delayed payment.
Refunds may take 5 to 10 business days to show up on your statement.
Professional services billed outside of your subscription are not covered by our money-back guarantee.

These services include configuration, extra support, customization, and consulting.
---
| | |
| --- | --- |
| | Learn more about closing your account here: |
---
In accordance with our data retention policy, upon closing an account, all of your data is deleted from the system. This includes bookings/Customer data, inventory, associated media, and statistics. '
Before closing your account, or anytime during your membership, you may export all of your data (Manage > System > Database > Export).
Please note, data

may

stay in our backup rotation for up to 30 days after your account has been closed.
---
Regardless of your billing cycle, there are no refunds or credits for partial months of service, plan downgrades, or refunds for months unused when your account is closed.
It is your responsibility, as defined by our terms of service and payment terms, to keep your account in good standing, and end the service when it's no longer needed. No exceptions are made.
---
Please reach out to our Billing Team if you have any questions or concerns!

Scroll down on the page linked below to view contact information by department.