---
Plan Availability: ✓ Soho | ✓ Pro | ✓ Plus | ✓ Enterprise | ✓ Flex |
Locate: Account menu > Billing
Prerequisites:
Admin access to your account.
The Billing feature is applicable to both accounts using items (Inventory > Items), a key feature of our classic version of

Checkfront, and accounts using products (Inventory > Products), a key feature of our newest version

of

Checkfront.
New to Checkfront - Products ✨

Products (Inventory > Products) is the successor feature to (Inventory > Items) and is available in our newest version of Checkfront.

Not yet on our newest version and interested in upgrading? Please contact our Technical Support team for more information.

Discover more product-related help articles here: Products (New).
This article is an introduction to managing your overall billing plan, with information on finding and viewing your account type, using trial accounts, closing your account (including data retention), and contacting billing.
Please read the full series of articles, accessed at the side and bottom of this page, to learn more about reviewing and managing your Checkfront billing plan.
---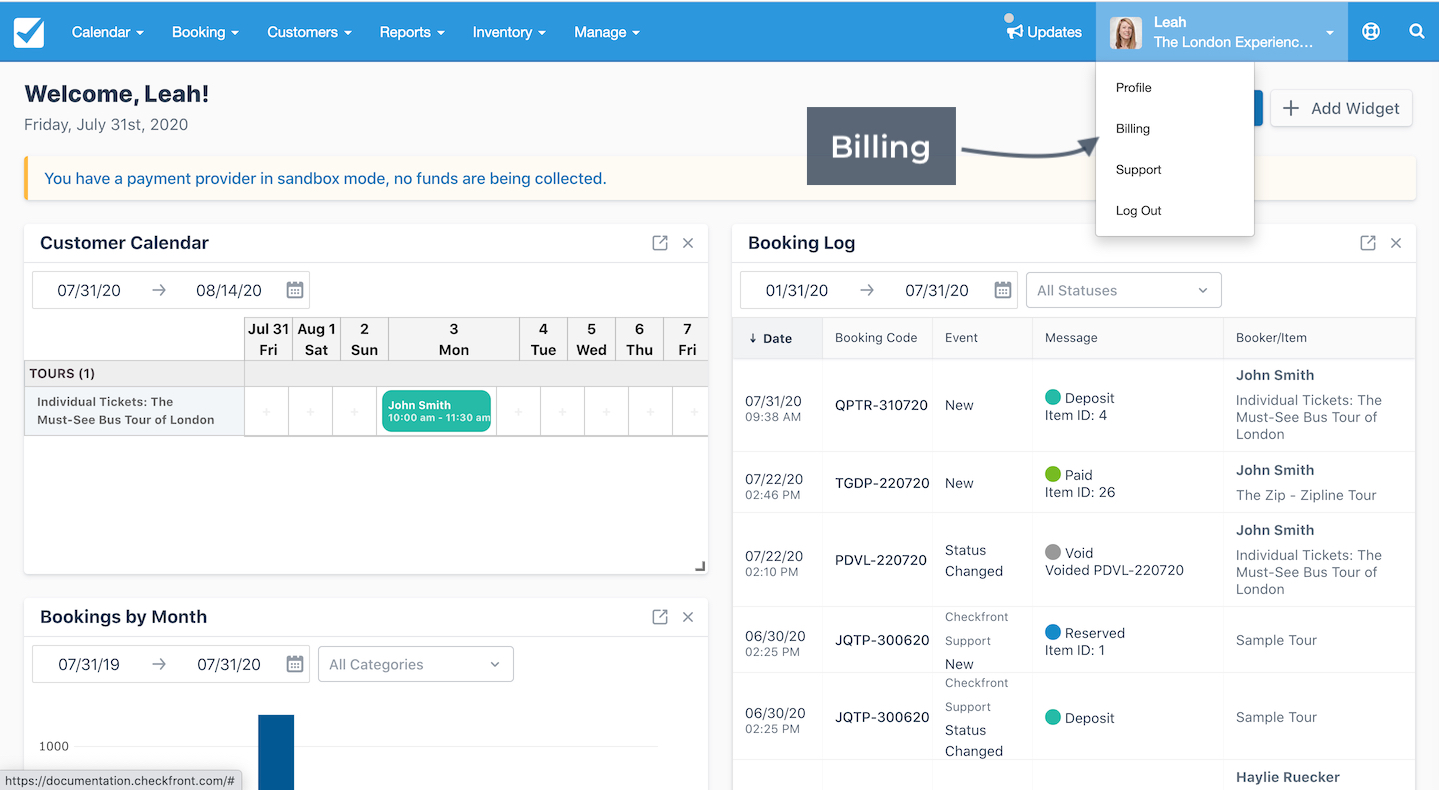 Once logged in, navigate to your Account menu (top right) and click on Billing from the dropdown menu to access your account's Billing page.
---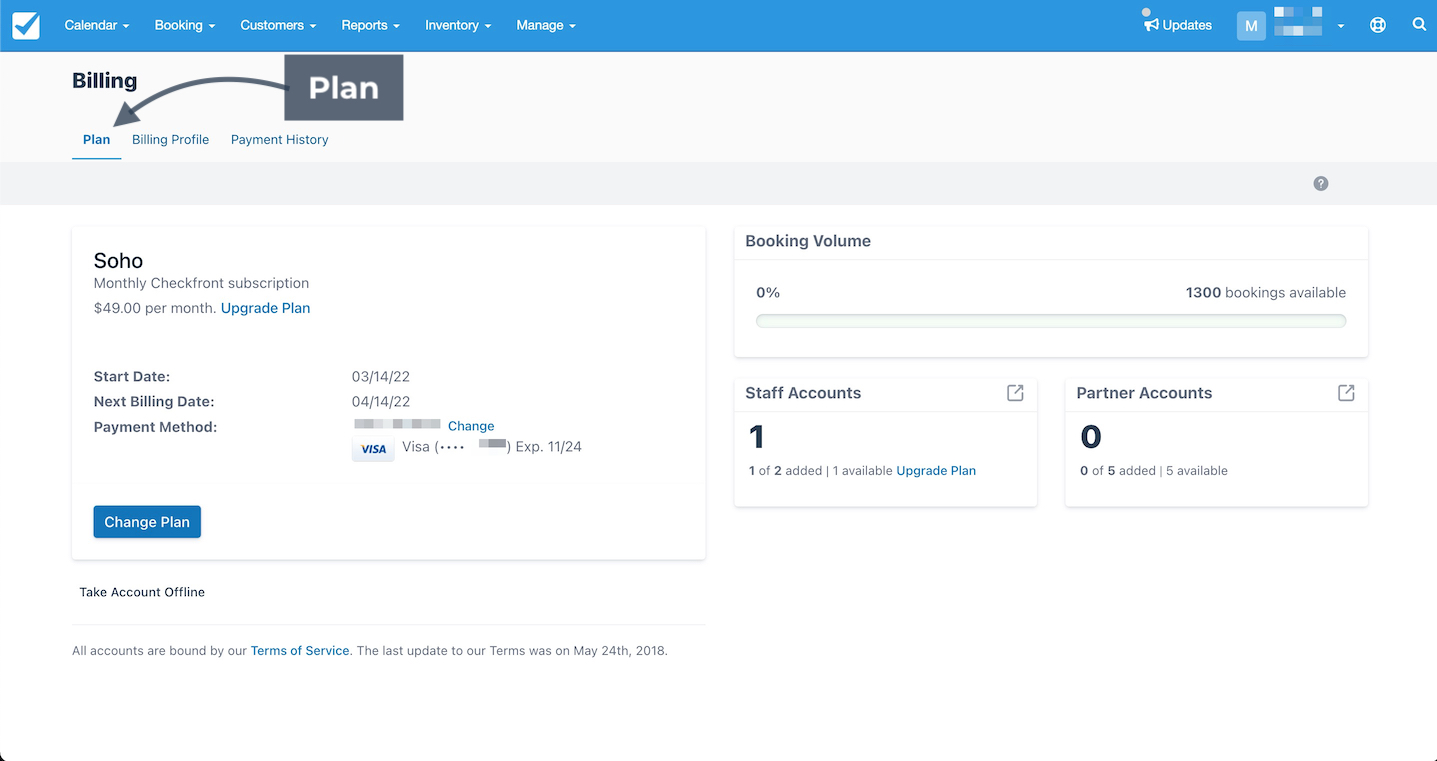 The Plan tab displays a summary of your current plan, the subscription type plus any applicable discount, the subscription amount, plan Start Date, Next Billing Date, and your Payment Method.
You can also upgrade or change your plan from the provided links in this area, change your payment method, or take your account offline if you choose.
Directly beside the plan summary is the Booking Volume gauge, which shows the total number of bookings remaining in your plan and a visual percentage bar of the used and remaining volume amount.
Below the Booking Volume section are two additional metrics that show the number of total available Staff and Partner accounts and how many of each have been added.
| | |
| --- | --- |
| | Looking for information on Booking Volume and Limits? Learn more here: |
| | |
| --- | --- |
| | Learn more about Staff and Partner accounts here: |
---
Trial accounts are intended as a preview of the system to determine if we are a fit for your business. If you need more time or have any questions or concerns, then please reach out to sales@checkfront.com!
---
| | |
| --- | --- |
| | Learn more about closing your account here: |
---
If you are closing an account within 30 days of upgrading from a trial to a paid subscription, then your subscription is refunded in full. You are not charged again.
30 days starts from the day you upgrade your account, and may not necessarily reflect that of your billing date in the case of a skipped or delayed payment.
Refunds may take 5 to 10 business days to show up on your statement.
Professional services billed outside of your subscription are not covered by our money-back guarantee.

These services include configuration, extra support, customization, and consulting.
---
In accordance with our data retention policy, upon closing an account, all of your data is deleted from the system. This includes bookings/Customer data, inventory, associated media, and statistics.
Before closing your account, or anytime during your membership, you may export all of your data in the System area (Manage > System > Database > Export).
Please note, data

may

stay in our backup rotation for up to 30 days after your account has been closed.
---
Regardless of your billing cycle, there are no refunds or credits for partial months of service, plan downgrades, or refunds for months unused when your account is closed.
It is your responsibility, as defined by our terms of service and payment terms, to keep your account in good standing, and end the service when it's no longer needed. No exceptions are made.
---
Please reach out to our Billing Team if you have any questions or concerns!

Scroll down on the page linked below to view contact information by department.
---
Updating your billing information >
---