---
Plan Availability: ✓ Soho | ✓ Pro | ✓ Plus | ✓ Enterprise | ✓ Flex |
Locate: Manage > Integrations > Productivity
Prerequisites:
Admin

permissions to manage Integrations.
The Google Drive feature is available to both those using items (Inventory > Items), a key feature of our classic version of Checkfront, and those using products (Inventory > Products), a key feature of our newest version of Checkfront.
New to Checkfront - Products ✨

Products (Inventory > Products) is the successor feature to (Inventory > Items) and is available in our newest version of Checkfront.

Not yet on our newest version and interested in upgrading? Please contact our Technical Support team for more information.

Discover more product-related help articles here: Products (New).
In this article, we look at how to enable and use the Google Drive integration.
---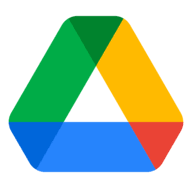 If you are a current Google Workspace or Gmail user, then you may already be using Google Drive (formally Google Docs). With Checkfront, you can export reports directly to your Google Drive.
Google Drive is one of a suite of cloud-based tools that includes a Spreadsheet app, Wordprocessor, and other office tools (with much of the functionality of Microsoft Office). It has the added benefit of being able to access it from anywhere and collaborate with your team.
Once enabled you can export and open Checkfront reports in your Google Drive without having to download them to your computer first.
Google Drive supports all formats that Checkfront exports in (MS Excel, MS Word, PDF, CSV).
---
You must have a Gmail, Google Drive, or Google Apps account to make use of this integration. As with most of our integrations, this is free to all Checkfront users.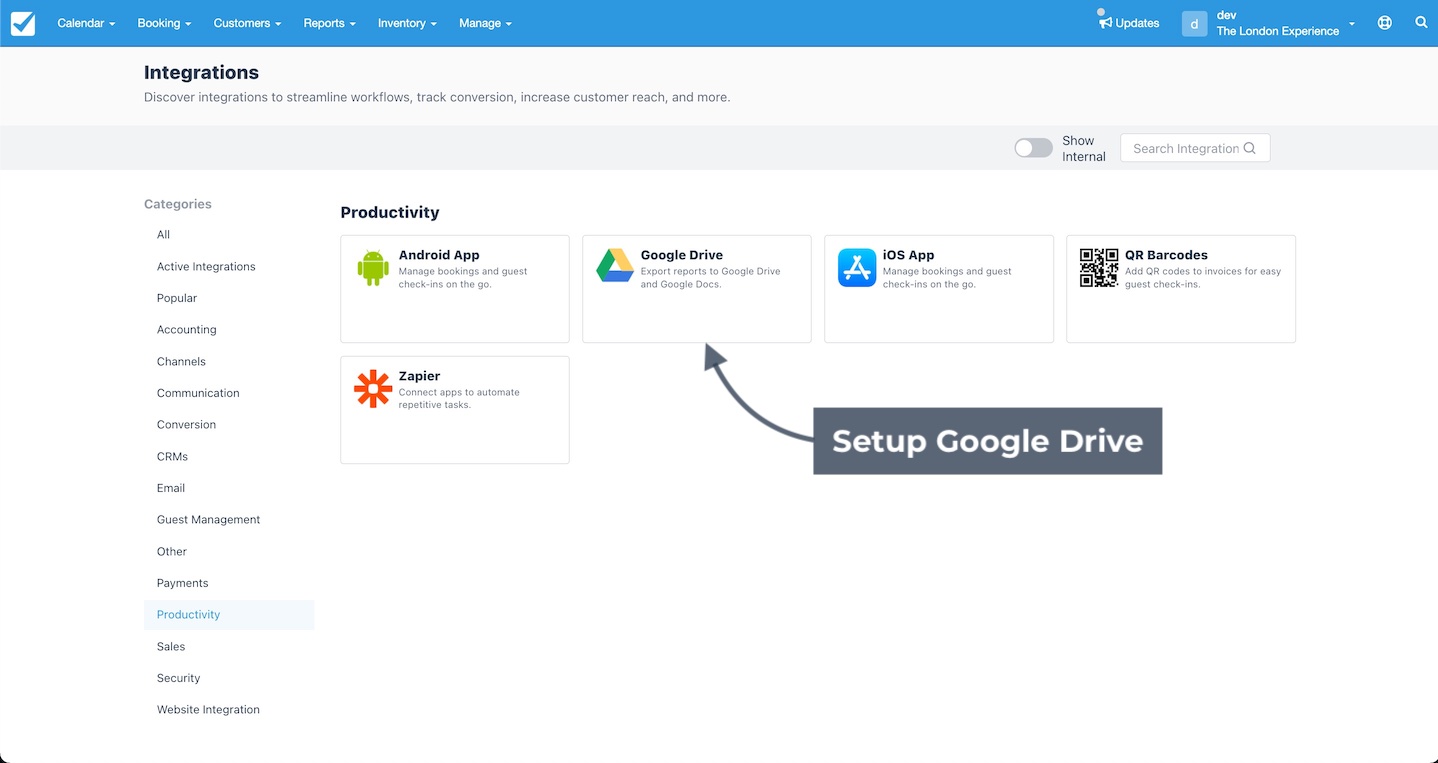 To enable Google Drive, you visit the Integrations section (Manage > Integrations) in your Checkfront account.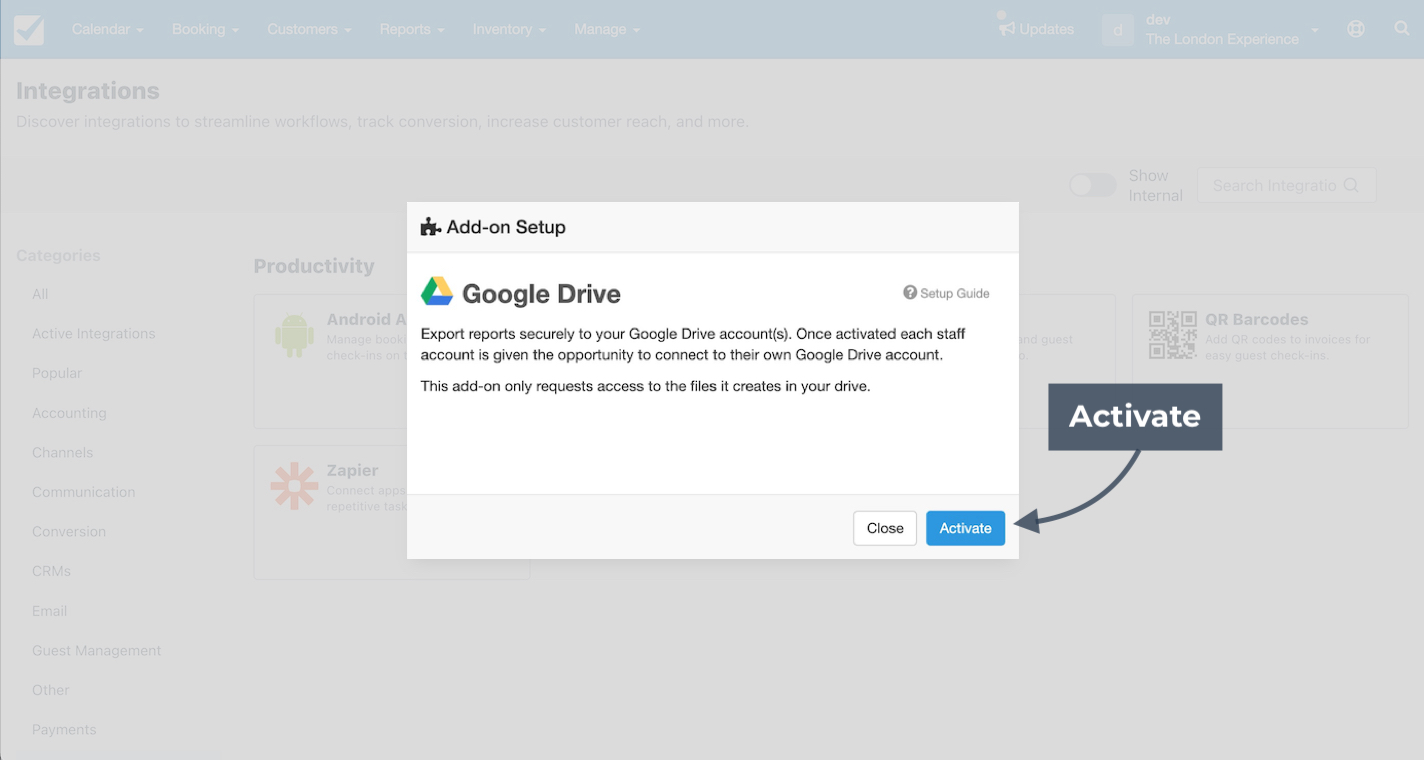 Click on the Google Drive tile and then select Activate in the resulting pop-up.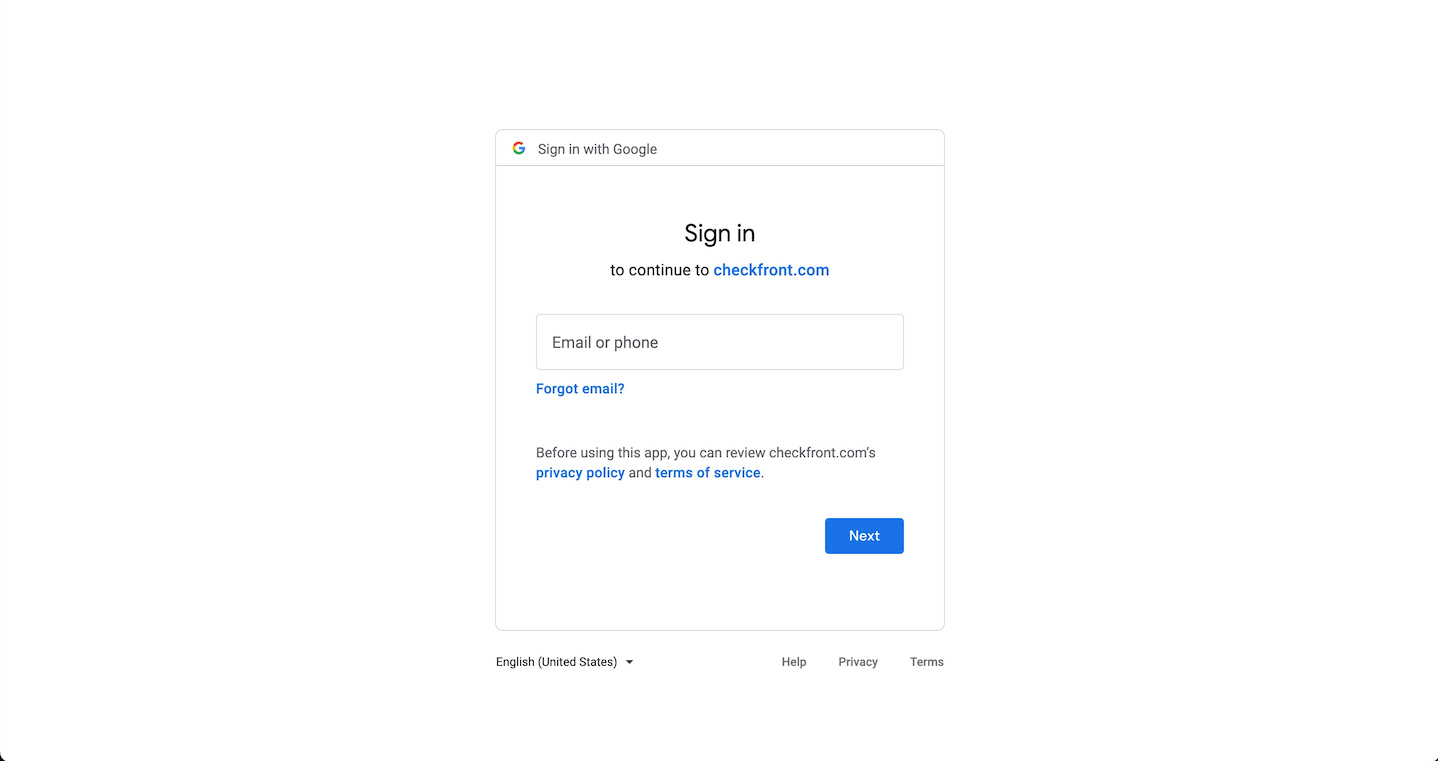 At this point, you are asked to sign in to Google.
Alternatively, you can just try exporting a report into Google Docs and you are asked to authenticate the integration from there.
---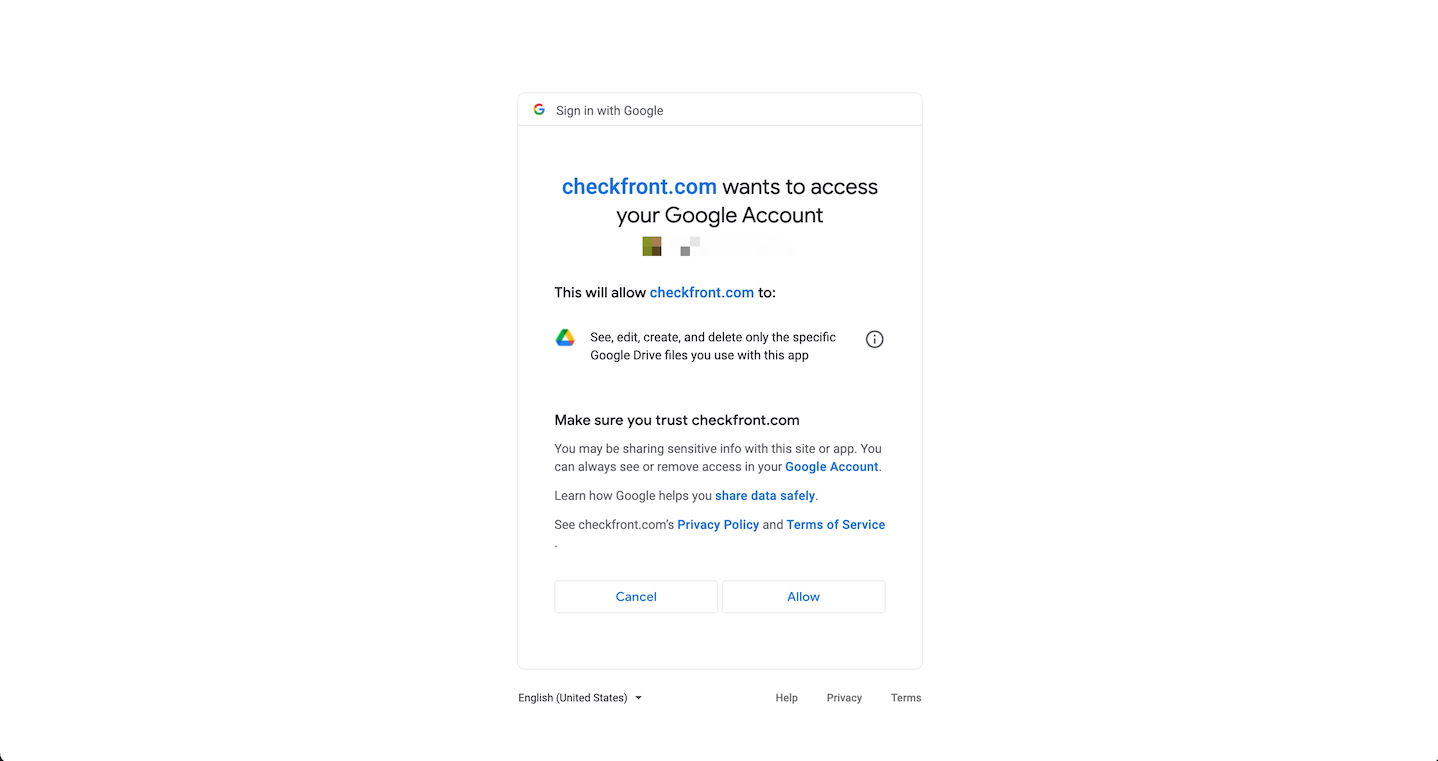 This integration requests limited access to your Google Drive, and can only access documents exported and created by Checkfront.
After signing in, you are asked to confirm your integration with Google.
Please note, only administrators can enable Google Drive within Checkfront. One account should be used per person.

Sharing a login causes issues with exporting to Google Drive.
---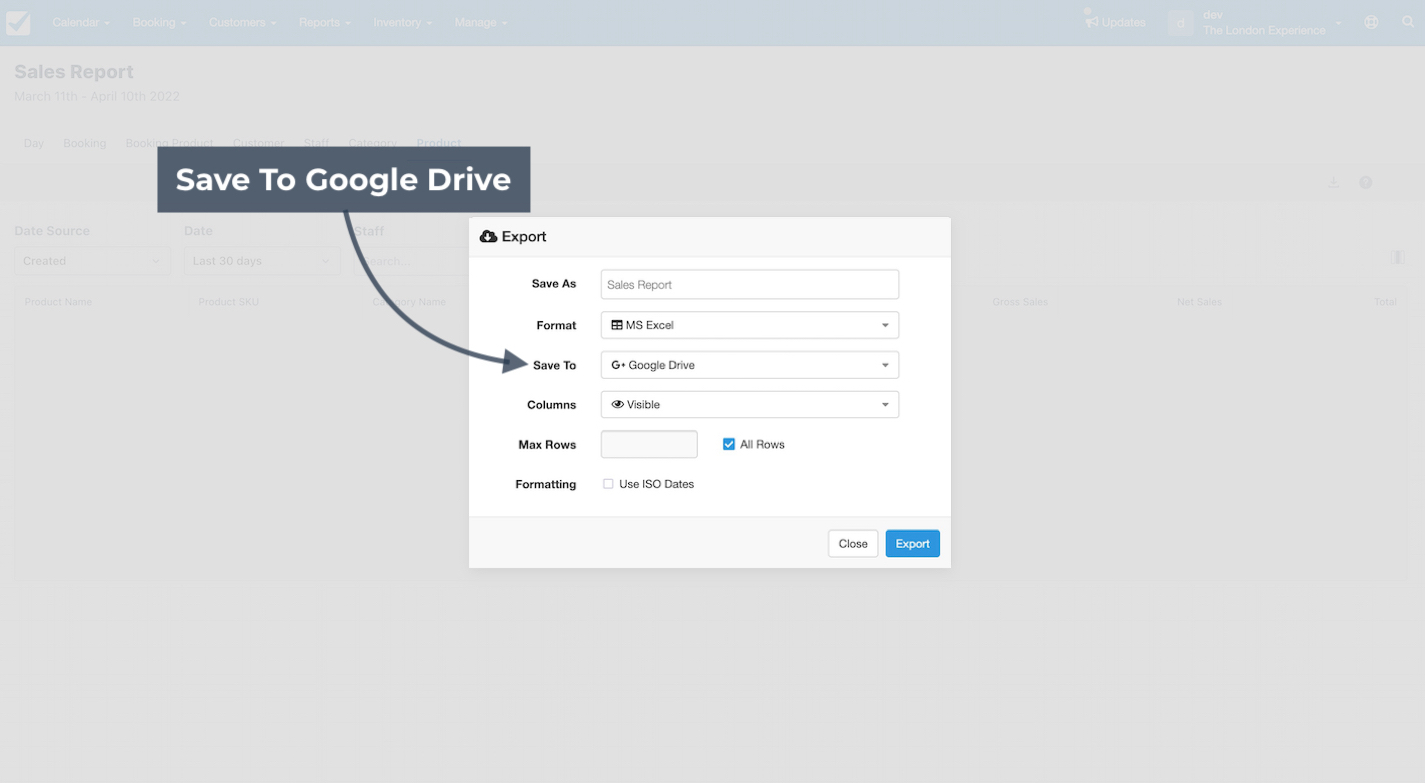 Anywhere there is an export option in Checkfront, you can export to Google Drive, as in the above example.
In general, you can follow these steps to export to Google Drive:
In the report or area you are viewing, select the Export button or icon at the top-right of the page.
In the Export modal that appears, select Google Drive in the Save To dropdown menu.
Choose to Export when you are done.
A Generating Report confirmation page displays with a link to your connected Google Drive.
Once exported, the report is automatically converted to a Google Doc and can be selected to open.
| | |
| --- | --- |
| | All of your data with Google Drive is stored in the cloud and accessible wherever you have a web browser. Additionally, you can use Google Drive on your Desktop, iPhone, and Android. |