---
Plan Availability: ✓ Soho | ✓ Pro | ✓ Plus | ✓ Enterprise | ✓ Flex |
Locate: User Name > Profile
Prerequisites:
Profile: An Admin, Staff, or Partner account in Checkfront.
Weekly Summary Email: Admin or restricted permission to View Reports. Not available to Partners.
Booking Calendar (iCal) and RSS: Admin or restricted permission for RSS and iCal feeds. Not available to Partners.
Latest Bookings (RSS): Admin or restricted permissions for RSS and iCal feeds

. Not available to Partners.

Account Profiles are available to those using items (Inventory > Items), a feature of our classic version of

Checkfront, and with products (Inventory > Products), a feature in our

Early Access Program.
---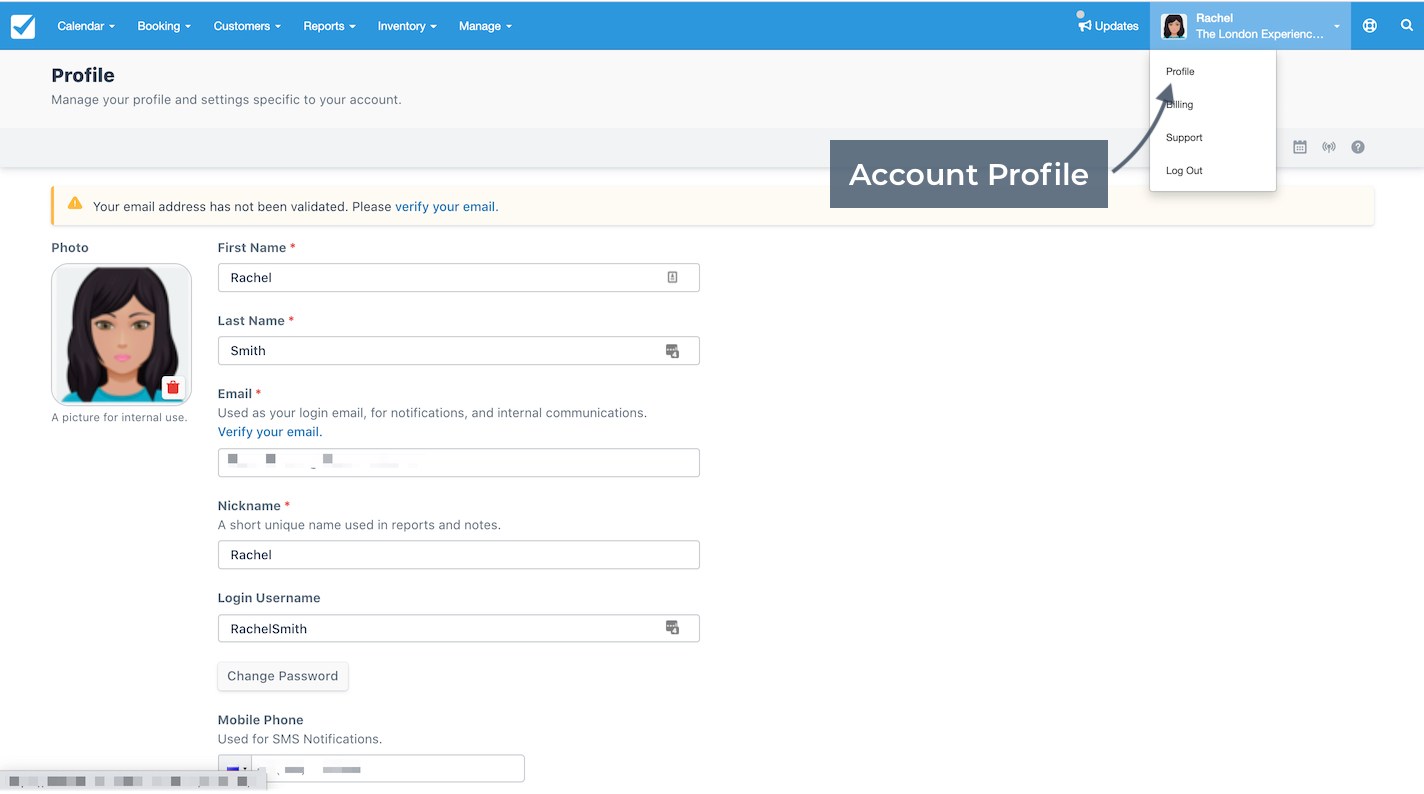 Use the Profile page to manage your personal account. From the Profile page, you can update personal information, Change your Password, generate Latest Bookings (RSS) feeds, and Booking Calendar (iCal) links.
| | |
| --- | --- |
| | Looking for information on how to configure Staff or Partner accounts? Check out the following series of articles... |
---
Add a Photo of yourself for internal use only. This will be displayed next to your account on the Accounts page and also next to any notes you create on an invoice.
Drop a JPG or PNG image in the Add Photo section to upload or click on the section to open an upload modal.
Specify your First Name and Last Name in these fields.
Enter the Email address to be used for notifications and internal communications.
When you first access your account, you will be asked to Verify your email. Click on the link and an Email will be sent to the Email address specified. Click on the link in the Email to complete the validation.
Verifying your Email address improves the security of your account and allows us to better support you.
A short, unique name, which will be used in various reports and notes.
This is the Username you will enter when logging into your account.
To Change your Password, click on the Change Password button and follow the instructions provided in the New Password field provided.
To maintain a high level of security in your account, the New Password should contain...
No empty spaces
At least 1 number (0-9)
At least 1 upper and lower case letter
At least 10 characters
At least 1 special character
Once you have finished entering the New Password, click Save to finalize the change.
You can cancel (x) the Change Password process and hide the New Password fields at anytime prior to clicking Save.
Enter your Mobile Phone number here if you wish to receive SMS notifications. Third-party Twilio integration is required for this.
| | |
| --- | --- |
| | Learn more about Twilio here: |
Your Mobile Phone number is also a requirement if you wish to use Two-Factor Authentication as an additional security measure when accessing your account. Learn more about Two-Factor Authentication below.
---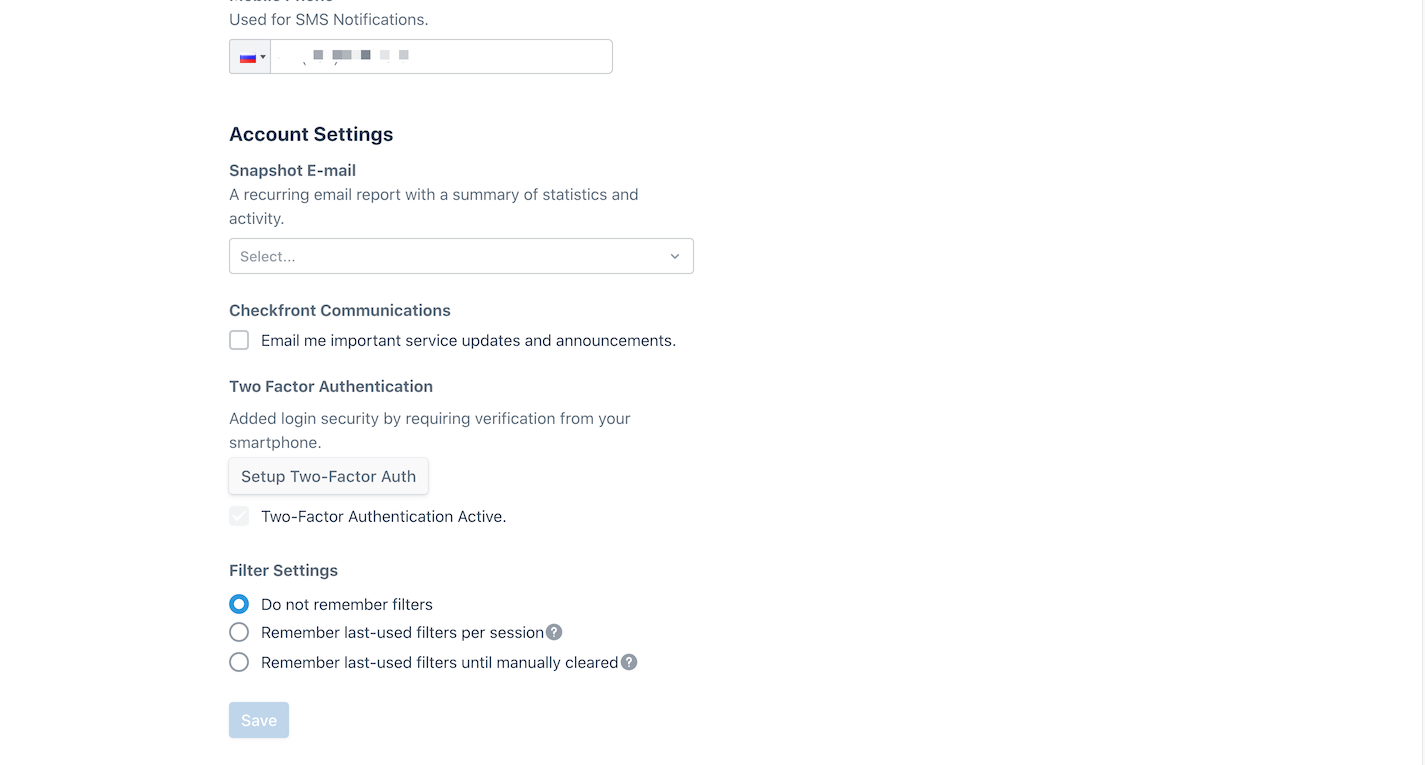 Optionally have a recurring Weekly Summary email report sent to your Email address. The Email is a 7-day summary of statistics and activity within Checkfront including...
Number of Web Bookings
Number of Staff Bookings
Number of Booking Page Visitors
Percentage Conversion Rate
Number of Transactions
Total Gross Revenue
You will only receive an email if you have had bookings in the last seven days.
Use the select drop-down menu to choose the day of the week you'd like to receive this. You also have the option to never receive the email.
This setting is not visible to Partners.
The email is limited to accounts with report or administrative access privileges only.
Select this checkbox, if you would like to receive service updates and announcements.
Two-Factor Authentication is an additional account security measure, above and beyond your standard Username and Password when logging in. With this feature, your smartphone is also required to access your account via a six-digit passcode by one of two methods:
1. Google Authenticator app
2. Text message
Setup is easy and the feature adds an added layer of security to help keep your account information safe and private.
| | |
| --- | --- |
| | Learn more about how to set up Two-Factor Authentication here: |
Do you use the same filtered views frequently, if not daily? With this setting, you can configure whether your filter selections are saved and for how long.
Do not remember filters. This is the default setting for accounts. Filter selections are not retained once you navigate away from the report.


Remember last-used filters per session. Filter selections are remembered until manually cleared or your session ends and you need to log back in again.


Remember last-used filters until manually cleared. Filter selections are remembered until you manually clear them.
This setting applies to features and reports such as the Daily Manifest, Booking Daily List, and Inventory Calendar.
-- Clear Filter
You can clear filters (x) individually within reports or Clear all Filters using the button provided under Filter Settings.
| | |
| --- | --- |
| | Filter settings are visible and apply to Staff accounts only. |
---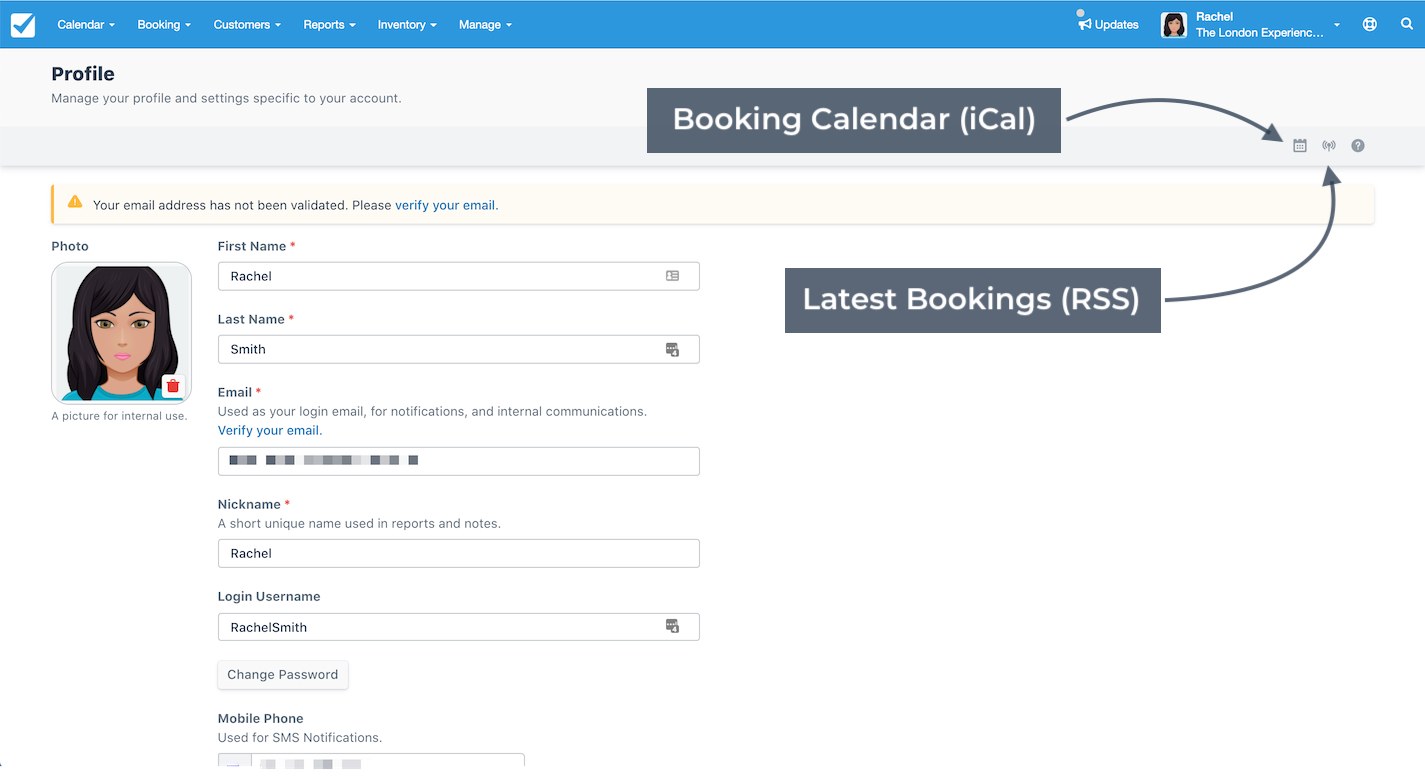 -- Booking Calendar (iCal)
Click on the Booking Calendar (iCal) option to subscribe to Checkfront bookings through an External Calendar such as Google Calendar.

Synchronization is facilitated using the standard iCalendar media type and file format (.ical) to transfer the information.

The experience of adding the feed to your calendar varies depending on your calendar application (Google Calendar, Apple Calendar...).
| | |
| --- | --- |
| | Learn more about our customizable External Booking Calendar option here: |
| | |
| --- | --- |
| | This feature is not available to Partners. |
-- Latest Bookings (RSS)
Really Simple Syndication (RSS) provides a quick way to view the latest bookings.
Click on the Latest Bookings (RSS) icon to open the feed. Subsequent updates will be communicated through the feed.
Please install an RSS reader from your app store prior to opening this feed.

This feature is not available to Partners.
---
| | |
| --- | --- |
| | Learn more about Staff Accounts here: |