---
Read this introduction to our iOS mobile app feature, including how to install the app on your mobile device.


To learn more about the functionality of the iOS app, please read the entire series of articles accessed at the side and bottom of this page.
---
Which plans include this feature?
Legacy:  Available for download
New:  Available for download
→ Learn more about our new plans or how to change your plan.

What more do I need to use this feature?
Admin or Staff user accounts only. Partner account logins are not supported.


Which Checkfront version supports this feature - classic, new or both?
This feature is available in both our classic version using items (Inventory > Items) and our newest version using products (Inventory > Products).  → Learn more about products
Important: Only the QR Code Scanner feature of the app, used to check-in Guests via QR Barcodes on invoices, is supported with products (Inventory > Products) at this time.
---
More and more, tourism businesses are moving away from traditional brick-and-mortar home offices to location-based satellite offices, often with very little in the way of computers and booking facilities.
Wouldn't it be great if you could make bookings and manage customers from your mobile phone while renting out surfboards on the beach?
Well, with Checkfront, you can do just that!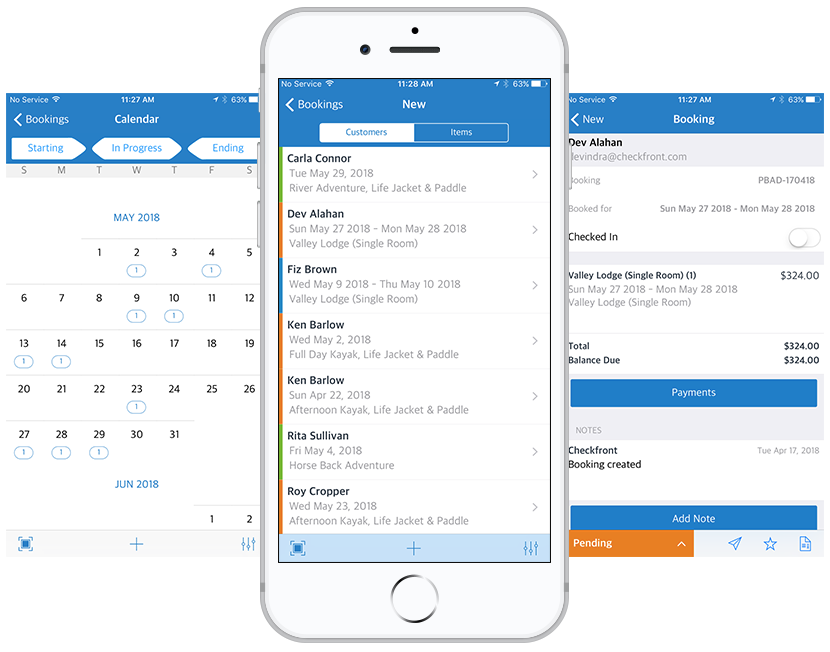 After downloading and installing the iOS Mobile Booking App onto your mobile device, you can instantly access your bookings and customer information. Moreover, you can create new bookings directly from your device, taking your business wherever you go.
The best part is you don't need to be near a computer terminal. You're good to go if your mobile device has battery power and an internet connection. You can even use the device's camera to scan the QR Code on your Customer's invoice, instantly checking them in for their booking.
Awesome, right? If this all sounds like the perfect complement to your business strategy, then read on, and we show you how to use the FREE iOS Mobile Booking app.
Version 2.0 of our iOS booking app can be downloaded from the App Store and works with your iPhone, iPad, or iPad Touch running iOS 9 or greater. Anybody downloading the app onto a device running an earlier version of iOS receives the previous version of the software.    
---
To install the Checkfront Mobile App, visit the App Store on your iOS device.
Select the search feature and type Checkfront into the search field. There should only be one result, so tap on it to learn more about the app.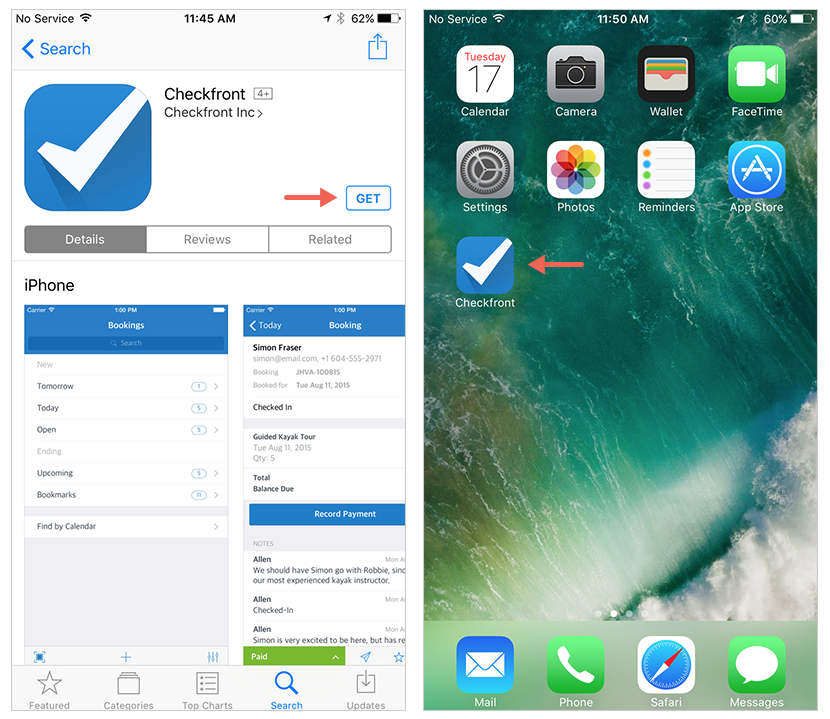 From here, tap on the Get button to begin the download.
Once the installation is complete, the app can be found on your device's Home Screen.
Tap on the icon to launch the app.  
---
---