---
Plan Availability: ✓ Soho | ✓ Pro | ✓ Plus | ✓ Enterprise | ✓ Flex |
Locate: Manage > Integrations > Emails > Mailchimp
Prerequisites: Mailchimp account created and accessible!
The purpose of this article is to describe the process of activating and initially configuring the Mailchimp Integration for use with Checkfront. If you require assistance with Mailchimp itself, please refer to their own user guide here.

---
If you are an existing MailChimp user or are looking for an email campaign manager, you can now directly integrate MailChimp with your Checkfront account. MailChimp is an email marketing service that lets you design, send, and track HTML email campaigns with a simple set of tools.

MailChimp offers various plans including a free account. Once configured, Guests will be asked if they'd like to subscribe at the time of booking. When a booking is made and the user opts-in via the booking form, Checkfront will automatically subscribe them to an Audience (formerly named List) in your MailChimp account and select booking form information will be synced to Mailchimp.
We will get into all that in more detail with the following Mailchimp series of help articles!
For starters, to use this extension, you will need a valid MailChimp account and an API key.
An API (Application Programming Interface) key is a way for applications to connect and work with your account without you having to enter a password. Programs can then work together behind the scenes to get tasks done, such as send out communications to your contacts!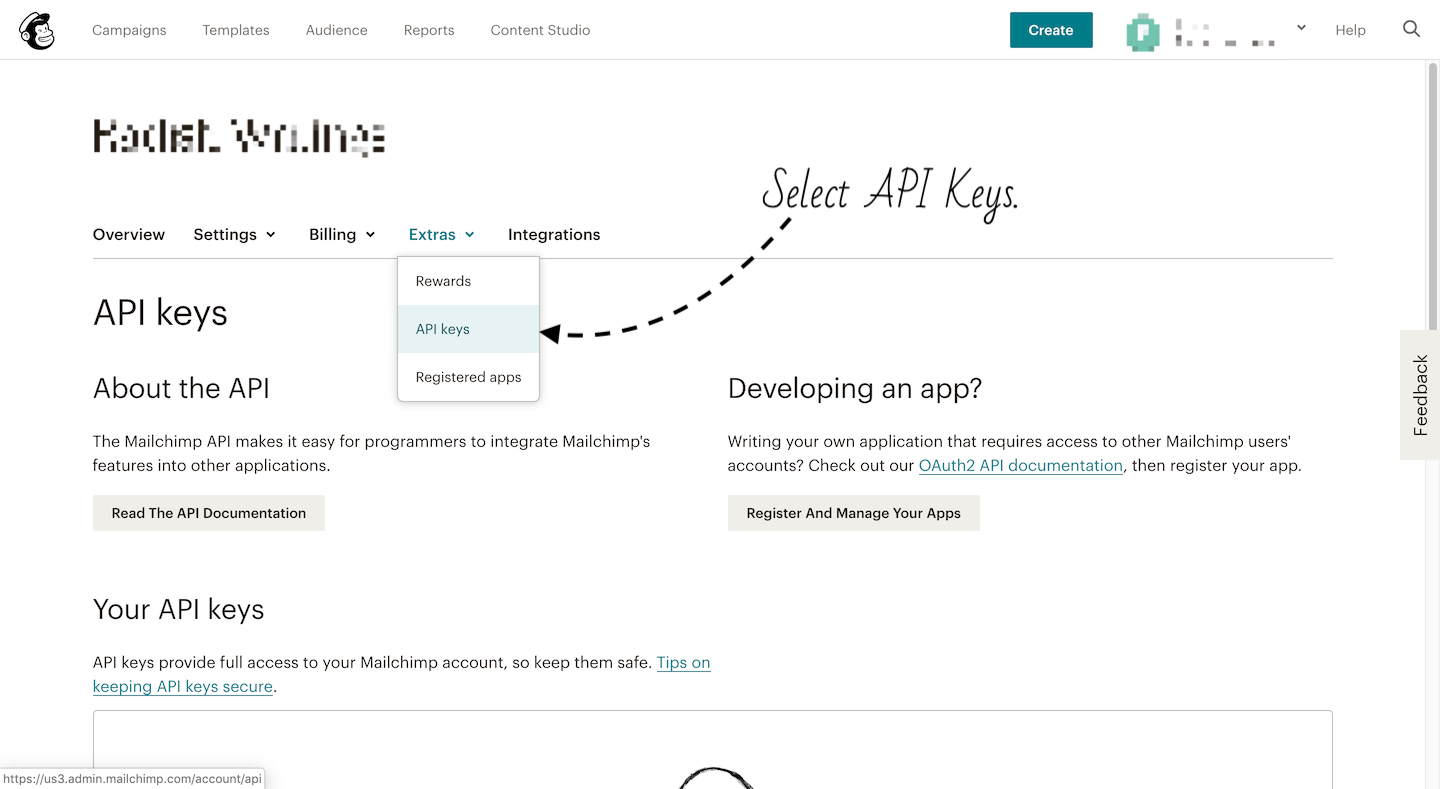 First, you need to log into your MailChimp account. After you have successfully logged in, you will need to locate your API key within your MailChimp account.
Click on your account name in the top-right menu bar.
Select Account from the drop-down menu.

Click on the Extras menu.
Choose API keys from the drop-down menu.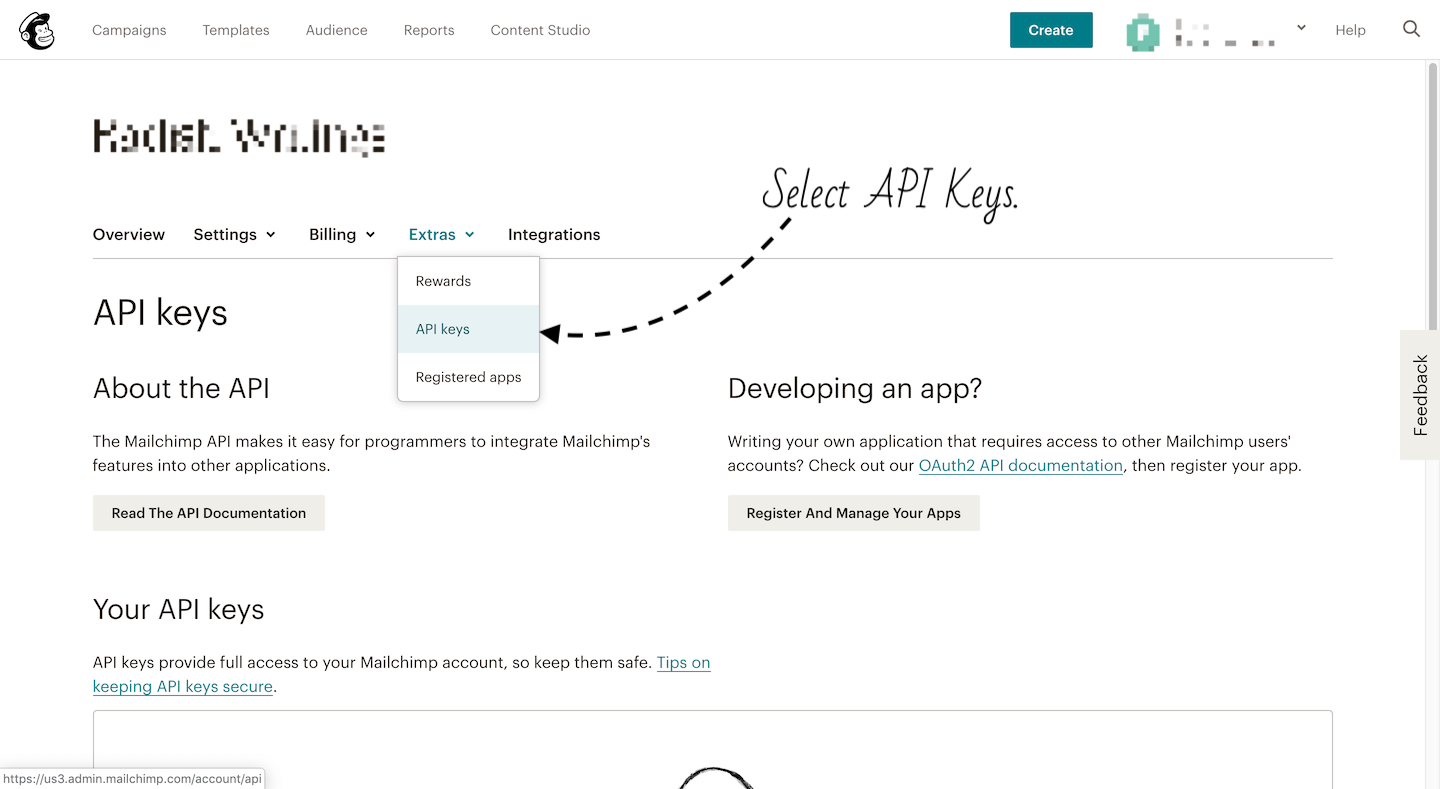 From this screen, you will now generate an API key. Scroll down the page, if needed and click on the Create a Key button.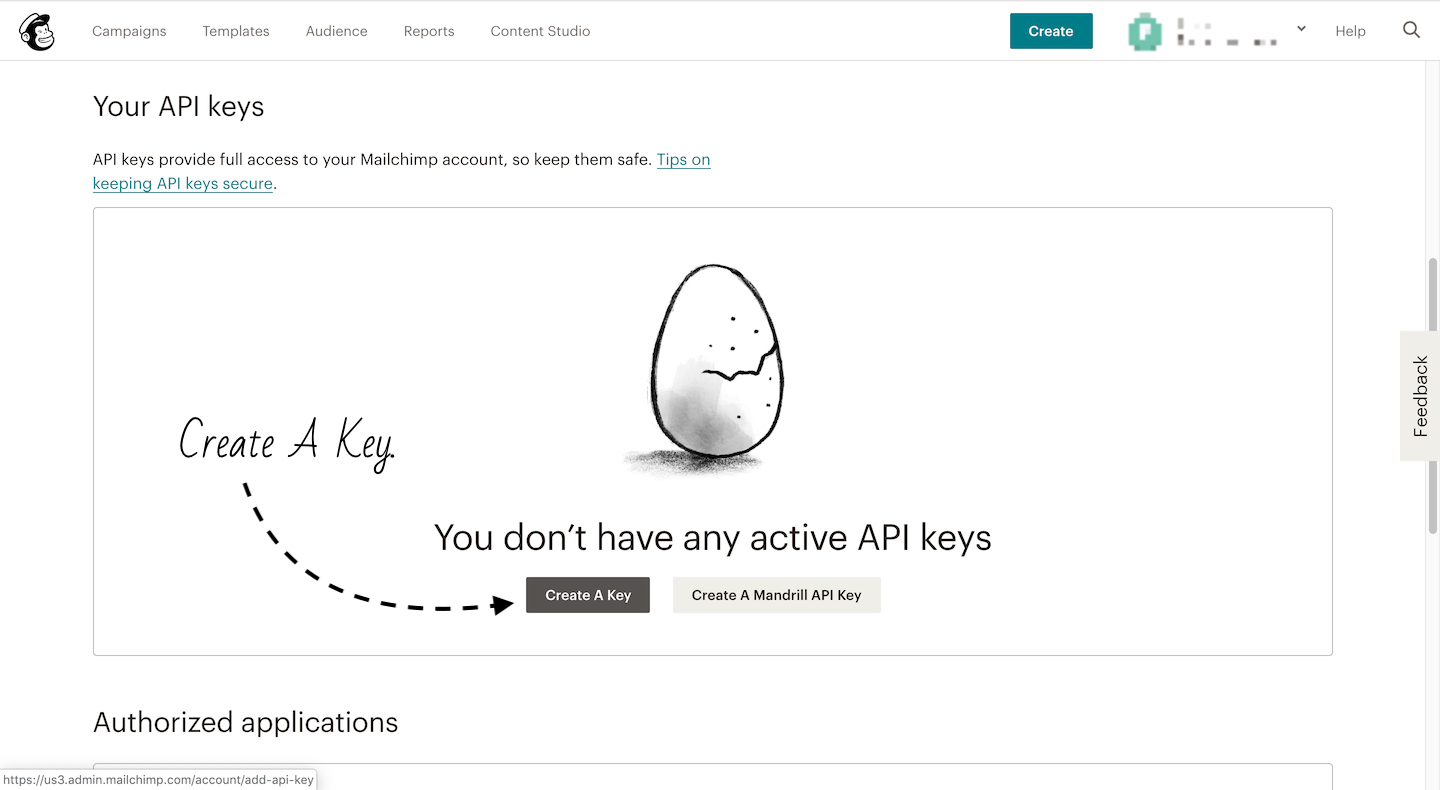 Copy the new API Key to your clipboard, as you will need it a bit later during the Checkfront stage of the configuration. It's okay if you have more than one API key in your Mailchimp account. You may have different keys for different applications.
---
Mailchimp: Managing Merge Tags >
---