---
Plan Availability: X Soho | ✓ Pro | ✓ Plus | ✓ Enterprise | ✓ Flex |
Locate: Manage > Integrations > Security > Google SSO
Prerequisites:
Admin permissions to manage Integrations.
Google SSO is available to those using items (Inventory > Items), a feature of our classic version of Checkfront.
Interested in using Google SSO with products (Inventory > Products)? Your account must be a member of our

Early Access Program. Please reach out to

Checkfront Technical Support

to learn more.
---
This Integration allows you to enable Google SSO as an alternative Staff login method.
Once activated, Staff can log in to Checkfront using the Google email address associated with their account. This works for businesses that are using Google as their email provider.
---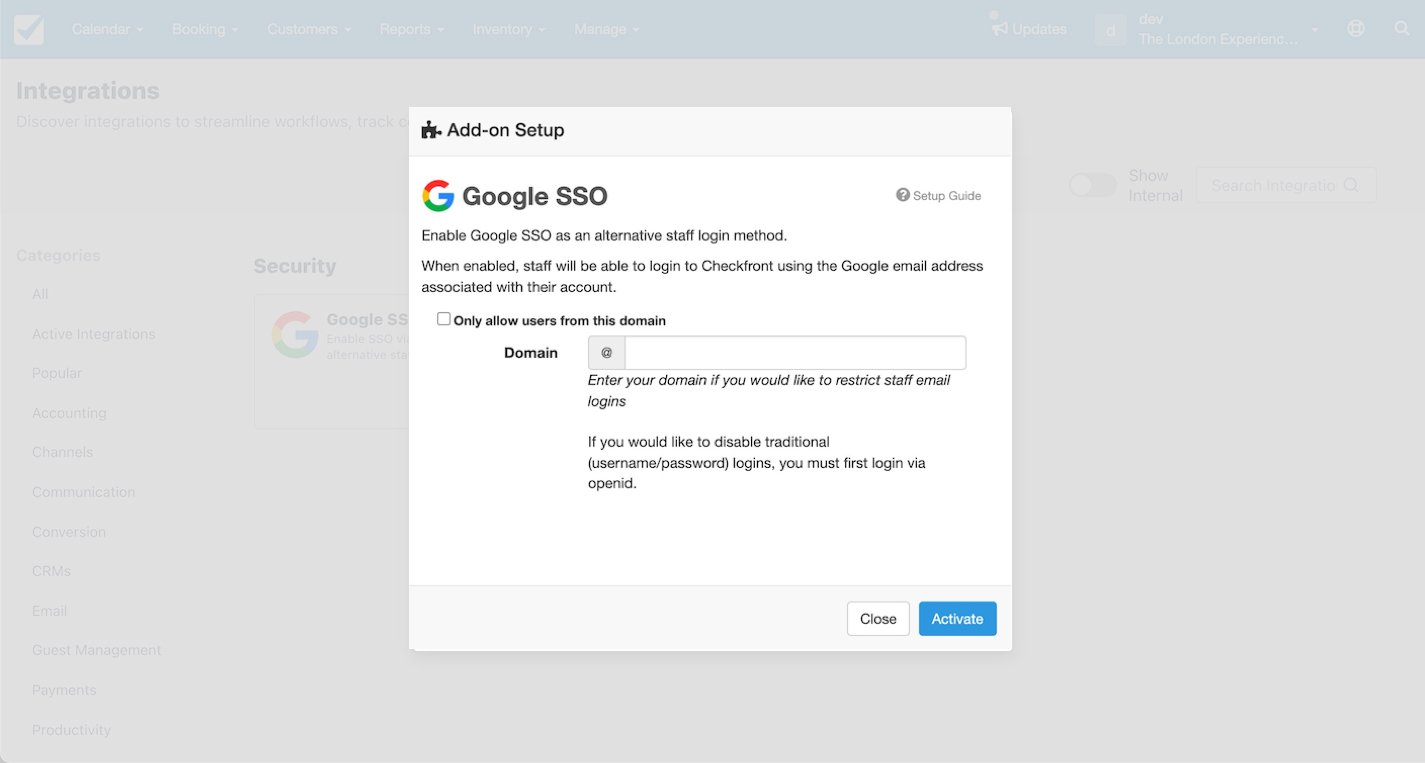 Activating the Google SSO integration in Checkfront is easy.
Navigate to Manage in your main menu and then select Integrations.
From there you can search for SSO or navigate to the Security section of the page.
Next, hover over the Google SSO tile and click it to open.
This opens the Add-on Setup modal from which you can configure the Integration for use with your Checkfront account.
Enter the Domain of your Google account and click on the blue Activate button (as shown above).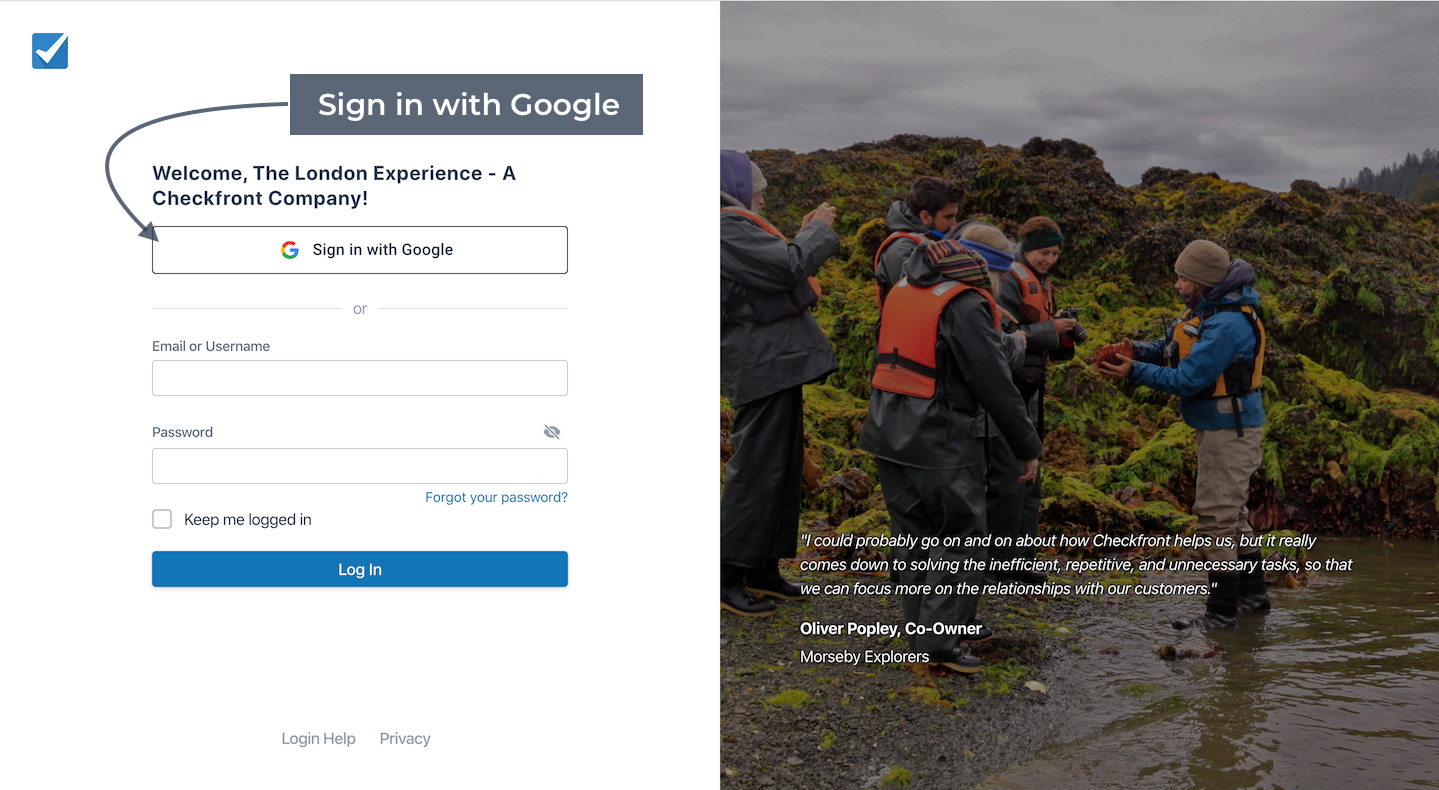 The Integration is now ready for use! From now on, any Staff member that has an Email address matching the Domain you input and is also registered as their account Email address in Checkfront is able to log in to their Checkfront account with this Email address.
With Google SSO activated, the Checkfront login window looks like the above.
As you can see, there are now two different ways a Staff member can log in to their account at Checkfront. They can either click on the Sign in with Google button or enter their original Checkfront login credentials i.e. their Username (Login ID) and Password.
If the Staff member chooses the Google option, then they are required to enter their Google login credentials. Once they have done this, they are taken directly into their account in Checkfront.
---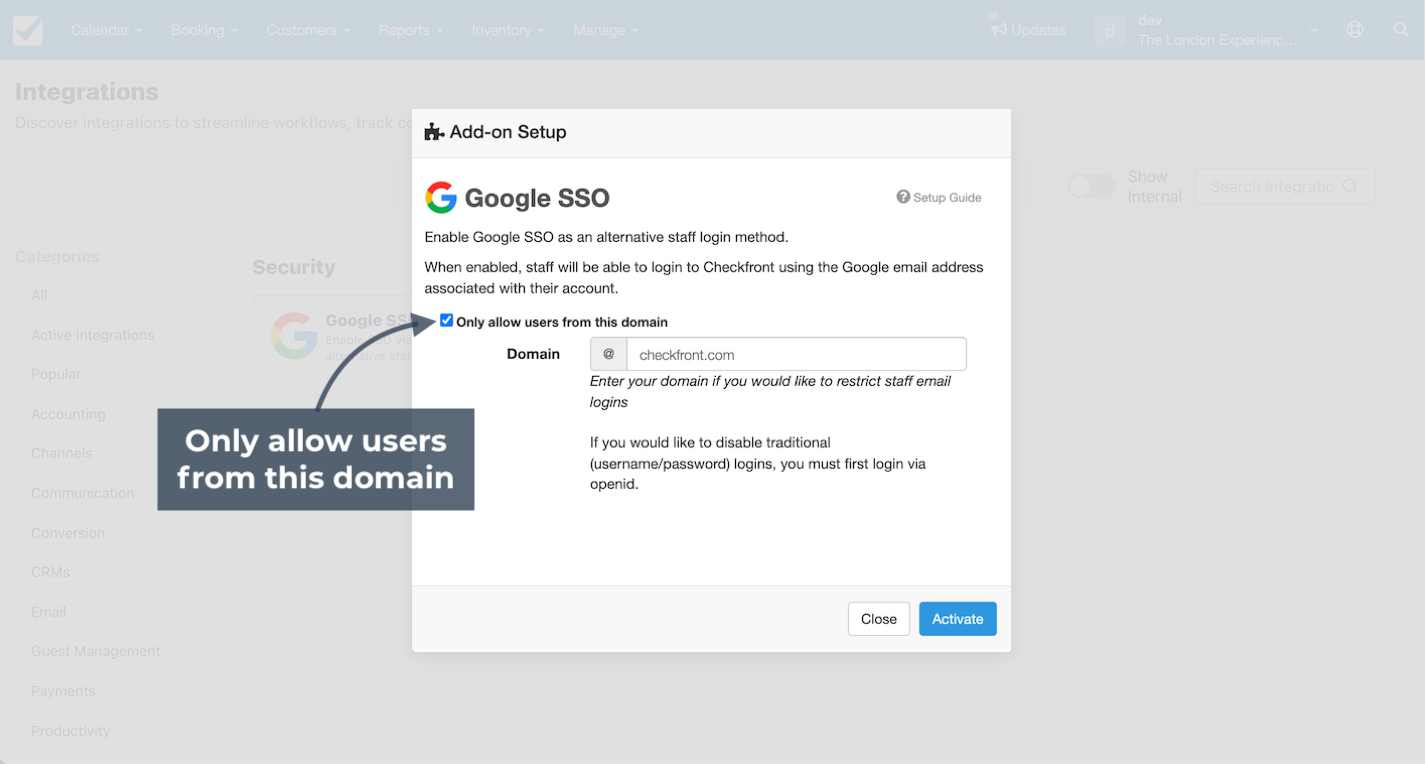 In the Add-on Setup modal, you may have noticed an option labeled Only allow users from this domain.
Checking this option makes it a requirement for Staff members to use an Email address on your company domain when creating an account in Checkfront. This effectively eliminates the use of personal email addresses during account configuration.
---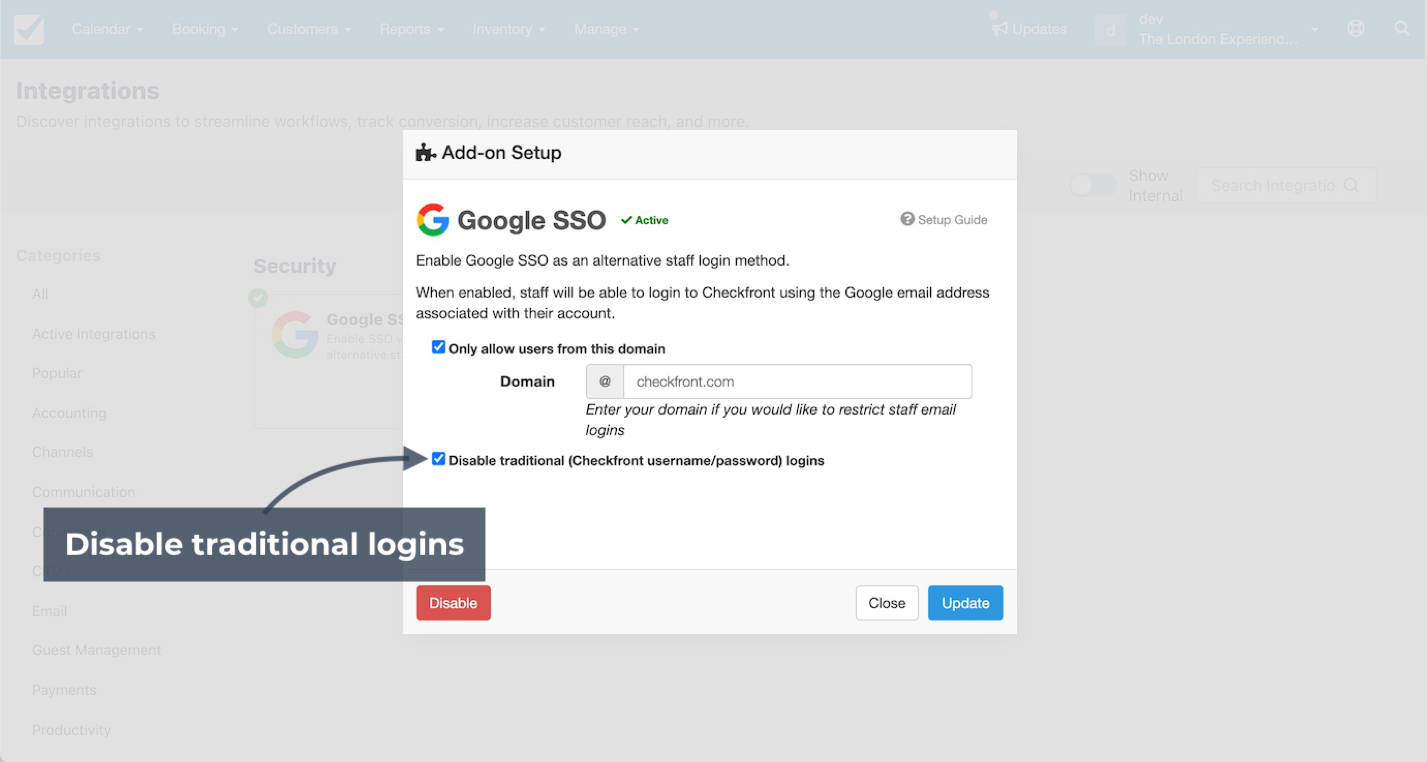 If you wish, then you can completely disable the traditional Checkfront Username (Login ID) and Password, thus operating on an entirely Google-based login system.
To do so, check the box labelled Disable traditional (Checkfront username/password) logins.
| | |
| --- | --- |
| | In order to turn on the Disable Traditional Logins feature, you must first be signed in to your Checkfront account via your Google account. If you are logged in via the traditional Checkfront login, then the feature is not available to you. |
From that point on, when a staff member visits the Checkfront login screen, they are automatically redirected to Google to enter their login credentials there.
| | |
| --- | --- |
| | Our mobile apps do not currently support Google SSO. As such, when traditional login is disabled, as described above, you log in via the traditional method through the mobile apps. The disabling only applies to the desktop version of Checkfront. |
---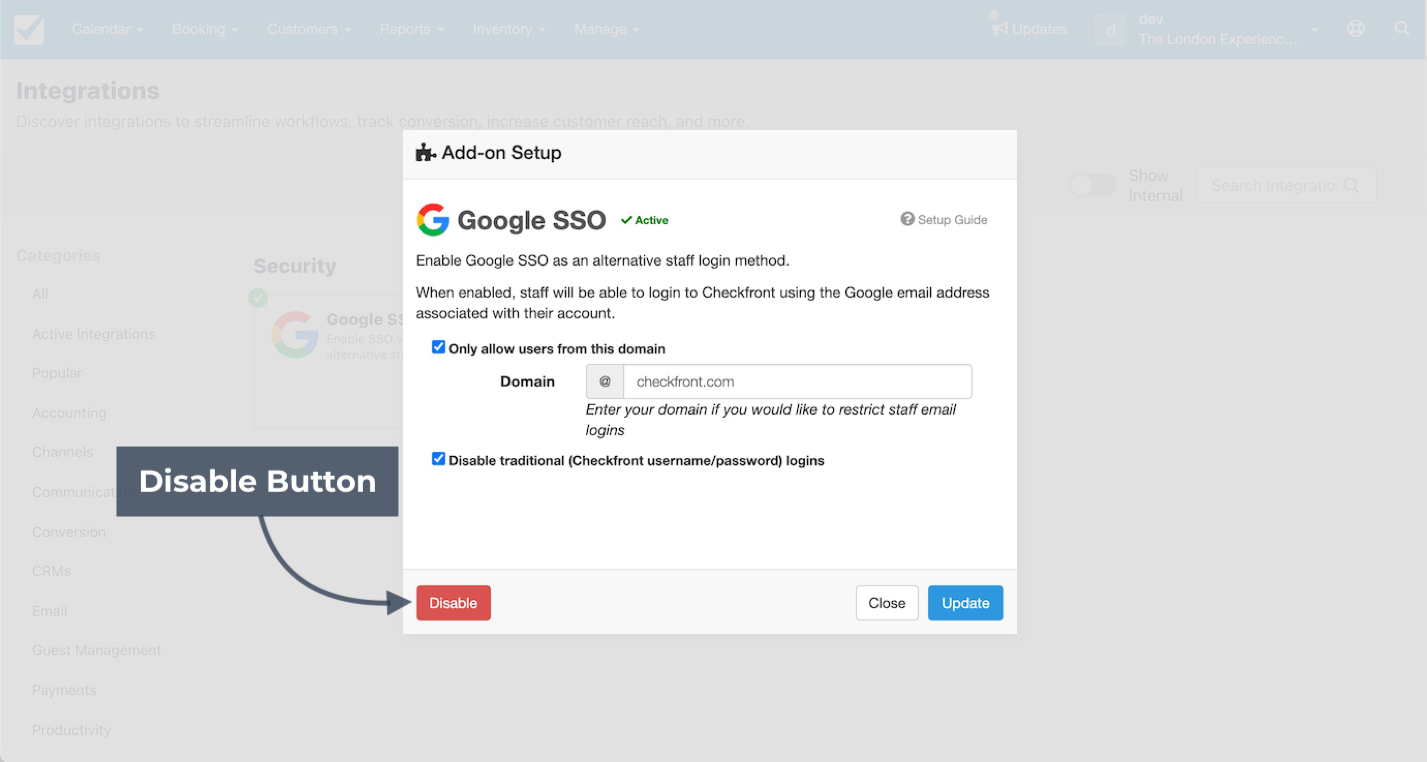 If at some point you wish to disable Google SSO and return to the traditional Checkfront login system, then all you have to do is head back to the Add-on Setup modal and click on the red Disable button. Simple as that!