---
Prerequisites:
Your account must have access to items (Inventory > Items), which is a key feature of our classic version of Checkfront.
This integration is not yet supported with products (Inventory > Products), which is a key feature of our newest version of Checkfront.
New to Checkfront - Products ✨

Products (Inventory > Products) is the successor feature to Items (Inventory > Items) and is available in our newest version of Checkfront.

Not yet on our newest version and interested in upgrading? Please contact our Technical Support team for more information.

Discover more product-related help articles here: Products (New).
---
Local Expert, by Expedia, enables your customers to plan, reserve, and book activities using the inventory in your Checkfront account. Bookings made through Expedia are updated in your Checkfront system, keeping your inventory in sync and up-to-date.
If you are looking to connect to Expedia Lodging, this is done by using our integration with myallocator.

Follow this guide to get started with myallocator: Myallocator: Setup in myallocator.
Expedia Local Expert Account

An Expedia Local Expert account is required to activate this integration, so if you do not currently have an account, visit https://join.localexpertpartnercentral.com to apply for one.

Your application will then be reviewed by a member of the Expedia team to assess your company's eligibility for Local Expert.

Once approved by Expedia, you may return to enable the integration within Checkfront.
---
To configure the integration in your Checkfront account, navigate to Manage > Integrations, hover over the Expedia tile in the Channels section, and click on the tile to open the activation window.

If you already have an Expedia Local Expert account, when the activation window pops up, go ahead and click on the blue Activate button, as seen in the screenshot below.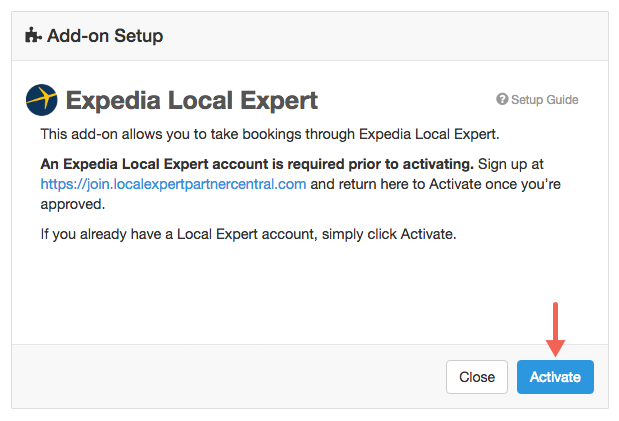 The activation window will then be updated with some configuration options to better streamline the add-on to your requirements.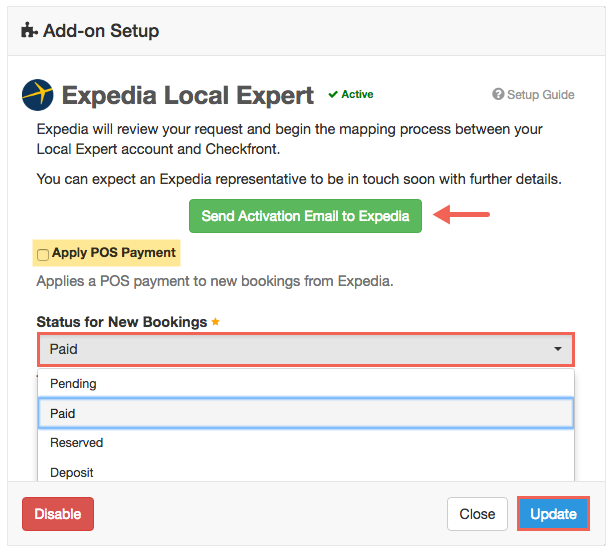 You'll see a green button labeled Send Activation Email to Expedia.
Click on that and we'll inform Expedia of your interest in linking your Local Expert account with your Checkfront account. An Expedia representative will reach out to discuss the integration and let you know if any further information is required.
When the email has been sent, the activation window will upload to reflect this.

There are two additional options to consider in the modal:
If you check this option, a POS payment will be applied to all bookings in Checkfront which originated in Expedia.
This option gives you control over the default booking status of reservations made through Expedia. When a booking arrives in your Checkfront Booking Manager, it will be automatically assigned the status you choose here.
Please note, selecting paid will not automatically register a payment in the Checkfront invoice. You need to have the Apply POS payment option checked for that.
From a Checkfront standpoint, your work is now done. The rest of the activation will be completed on the Expedia end.