---
From time to time, you may hear from some of your customers that they never received their booking confirmation after completing a reservation through your Checkfront system. This can be frustrating for both you and the customer, so we've gone ahead and made it a little bit easier to combat any spam with a free email add-on, available to all account plans. 
---
Prior to April 26th, 2016, notifications and emails were sent from Checkfront on behalf of the main email address configured in your dashboard at Manage > Setup > Company. Going forward, all notifications will be sent, by default, from the address yourcompany@bookings.checkfront.com (yourcompany is a placeholder for your Checkfront account business name). This change should provide better delivery rates as that email address is correctly configured for the best email deliverability. Should a customer reply to the notification, their response will be sent to the email address supplied at Manage > Setup > Company in your Checkfront account. You do not need to make any changes in your account to enable this new behaviour.  
---
Should you wish to send notifications from your own domain, we have included an option to configure a custom email address in your Checkfront account.
Checkfront Tip:

Custom email addresses are only an option for customers who own the domain from which they would like to send. Generic email addresses from sites such as Gmail.com and Live.com are not supported.
This will require you to login to your domain provider control panel and add two DNS TXT records. Doing so verifies that you control the domain in question and approve Checkfront to send email on behalf of that domain. If you are not sure how to do this, seek advice from the support team at your domain provider. The two TXT records you must add are as follows.  
Return-Path
This declares that our mail service (Postmark) is allowed to send email on your behalf.
DKIM TXT Record
This record verifies that Checkfront can send email on your behalf and that the content of the email is unaltered. The DKIM TXT record is customer specific and is generated by our Email add-on.  
---
The Email add-on can be found at Manage > Add-ons. Locate the Email-Postmark tile, hover your mouse over it and click on the Setup button.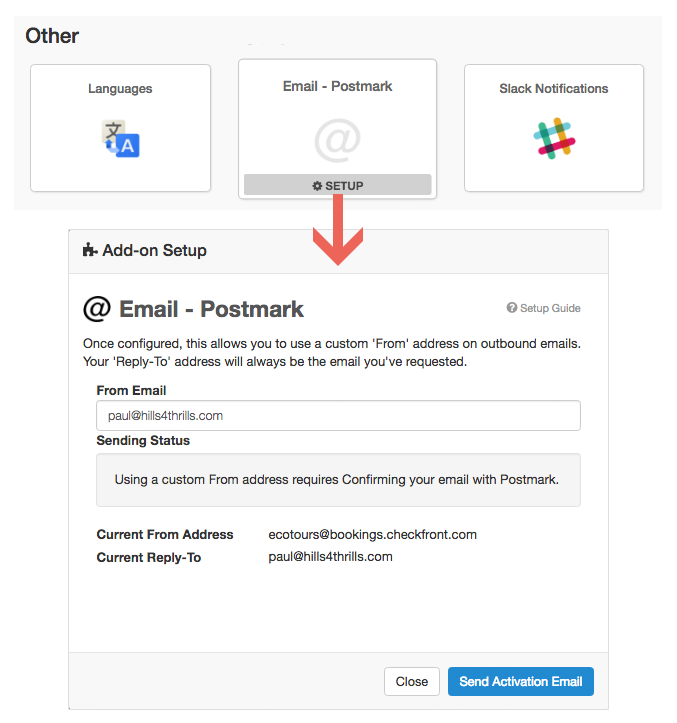 You must now confirm your email address with Postmark. To do this, click on the blue Send Activation Email button in the bottom right of the window. 
The window will now change and look similar to the screenshot below: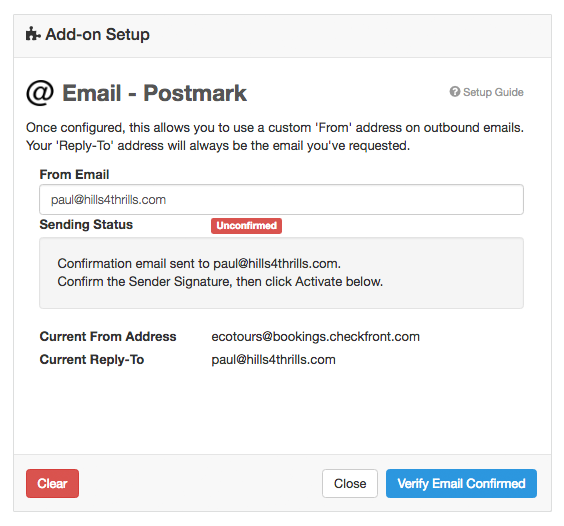 At this point, you must head over to your email account and locate the email from Postmark asking you to verify your email address.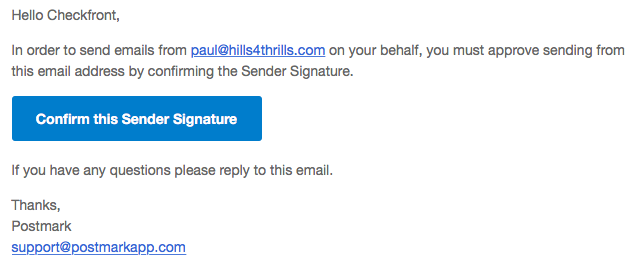 Click on the Confirm this Sender Signature button to continue. Once you've done this you'll be taken to a web page and shown a confirmation message similar to the screenshot below:

You can now go back and click on the Verify Email Confirmed button in Checkfront.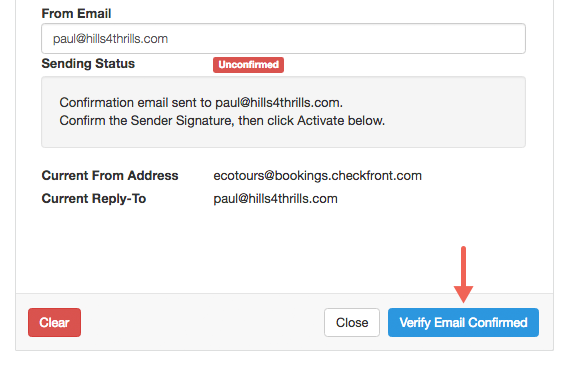 The window will change once more to confirm the verification of your email address. You will notice an Active label at the top, as highlighted in the screenshot below: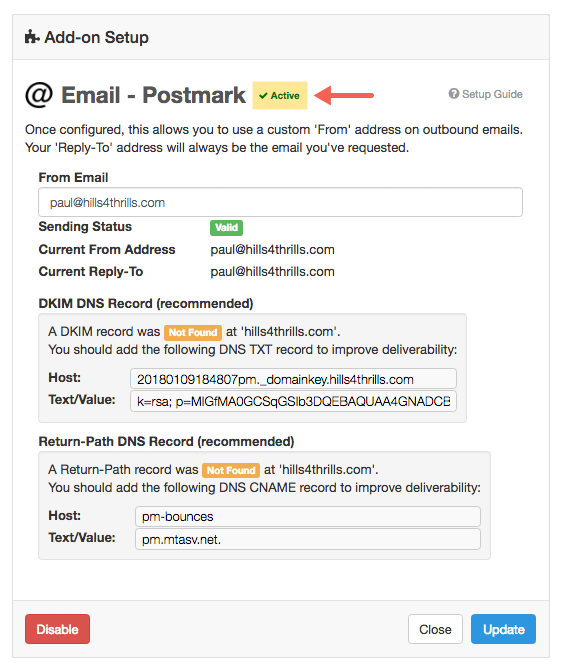 As you can see in the screenshot above, the recommended DNS text records have not yet been configured in the email domain. This is something you can now do to further improve email deliverability. Contact your domain provider for instructions if you don't know how to do this.
The values required to create the records are provided in the email add-on window (see above).
Once you've successfully done that, Checkfront will begin to send email from the custom email address and the window we've been working with will update to show the valid records have been found.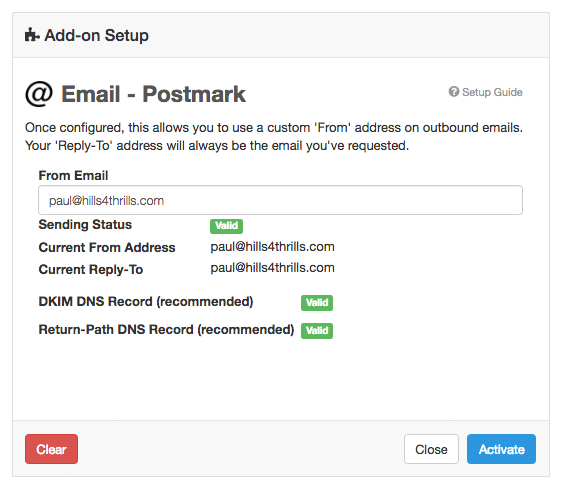 Looking at the example above, you will see that the add-on is active and the two records are Valid.  
| | |
| --- | --- |
| | It can take up to an hour for your SPF/DKIM records to be seen by our servers. Therefore, the update may not happen immediately. Once it does, the status will be updated in the add-on window and the We'll Send From email address will be updated. Until then, email will continue to send from yourcompany@bookings.checkfront.com, or a previously configured custom email address. |