---
Read this introduction to the Constant Contact plugin feature, with information on activating the mailing list integration.
To learn more about the functionality of the Constant Contact plugin, please read the entire series of articles accessed at the side and bottom of this page.
---
Which plans include this feature?
Legacy:  Soho, Pro, Plus, Enterprise, Flex
New:  Starter, Growth (Subscription), Growth (Per Booking), Managed
→ Learn more about our new plans or how to change your plan.

Where can I find this feature using the top menu?
Manage > Integrations > Email > Constant Contact


What more do I need to use this feature?
Admin permissions to manage Integrations.
A Constant Contact account created and accessible.


Which Checkfront version supports this feature - classic, new or both?
This feature is available in both our classic version using items (Inventory > Items) and our newest version using products (Inventory > Products).  → Learn more about products
---

"Capture leads. Share updates. Drive traffic. We deliver everything you need to build deeper relationships with your most important audiences. From email to ecommerce, SMS to social, CRM to see what's next, we deliver tools to help small businesses grow. We deliver for you—the people who make them go." ~ Constant Contact
Constant Contact is an email marketing platform more than 500,000 small businesses use to build and deliver email campaigns to their Customers. You can design, send, and track emails with simple tools and an easy-to-use interface.
Email marketing is a great way to stay connected with your Customers. Last-minute deals, seasonal newsletters, and VIP offers can dramatically impact your bottom line. To get started, you first need a Constant Contact account.
A free trial is available at www.constantcontact.com. Constant Contact offers competitive pricing based on the number of Customers on your mailing list(s).
---
The Constant Contact integration with Checkfront lets you ask Guests to subscribe to your communications when booking.
When a Customer opts in via the booking form, Checkfront automatically subscribes them to a list, and select booking form information is synced to Constant Contact. We cover this in more detail with the next article in this series.
---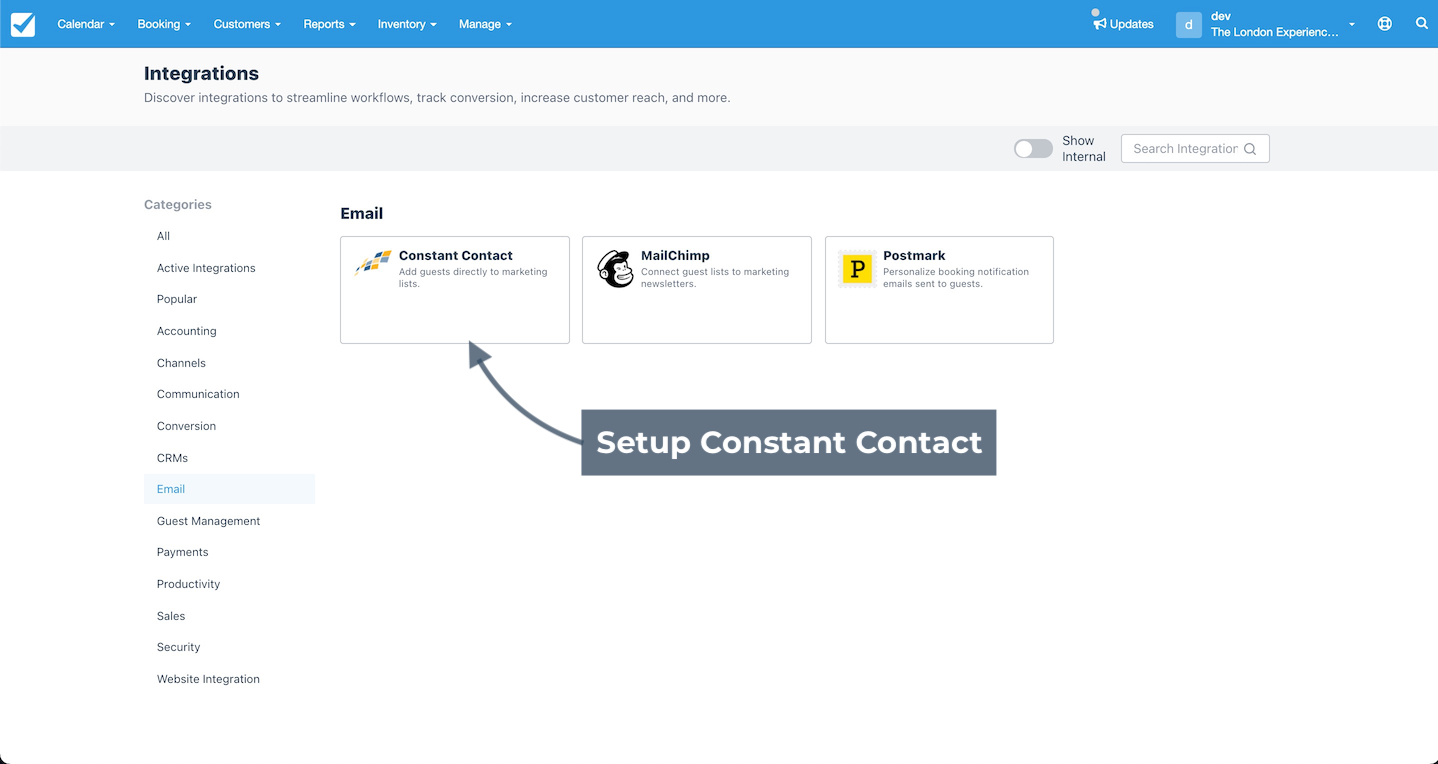 From the main menu, visit the Integrations area (Manage > Integrations) and locate the Constant Contact tile from the Email category. You can also find the integration listing by keyword search using the Search integration field at the top of the page.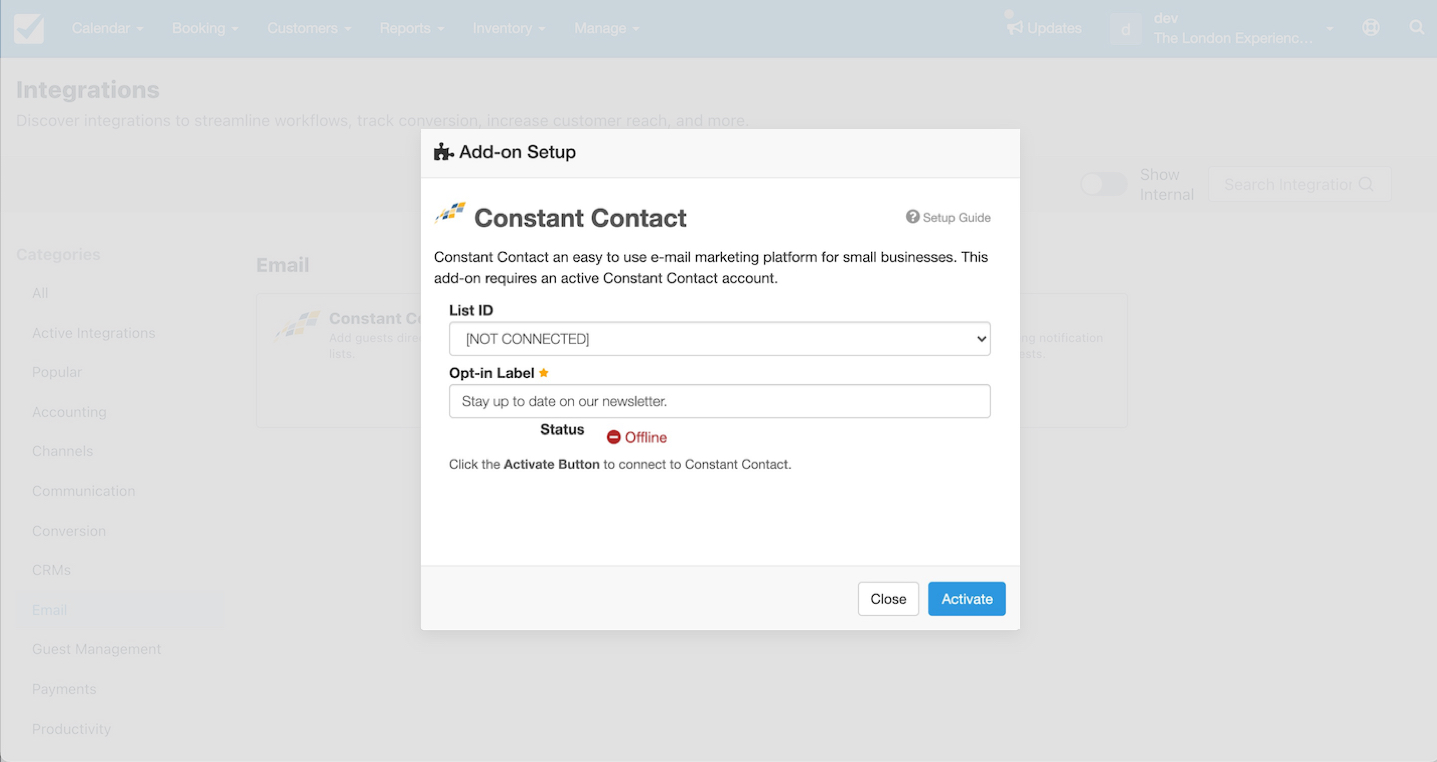 Hover your mouse over the Constant Contact tile and click to open the Add-on Setup window. When the pop-up window appears, click on the Activate button.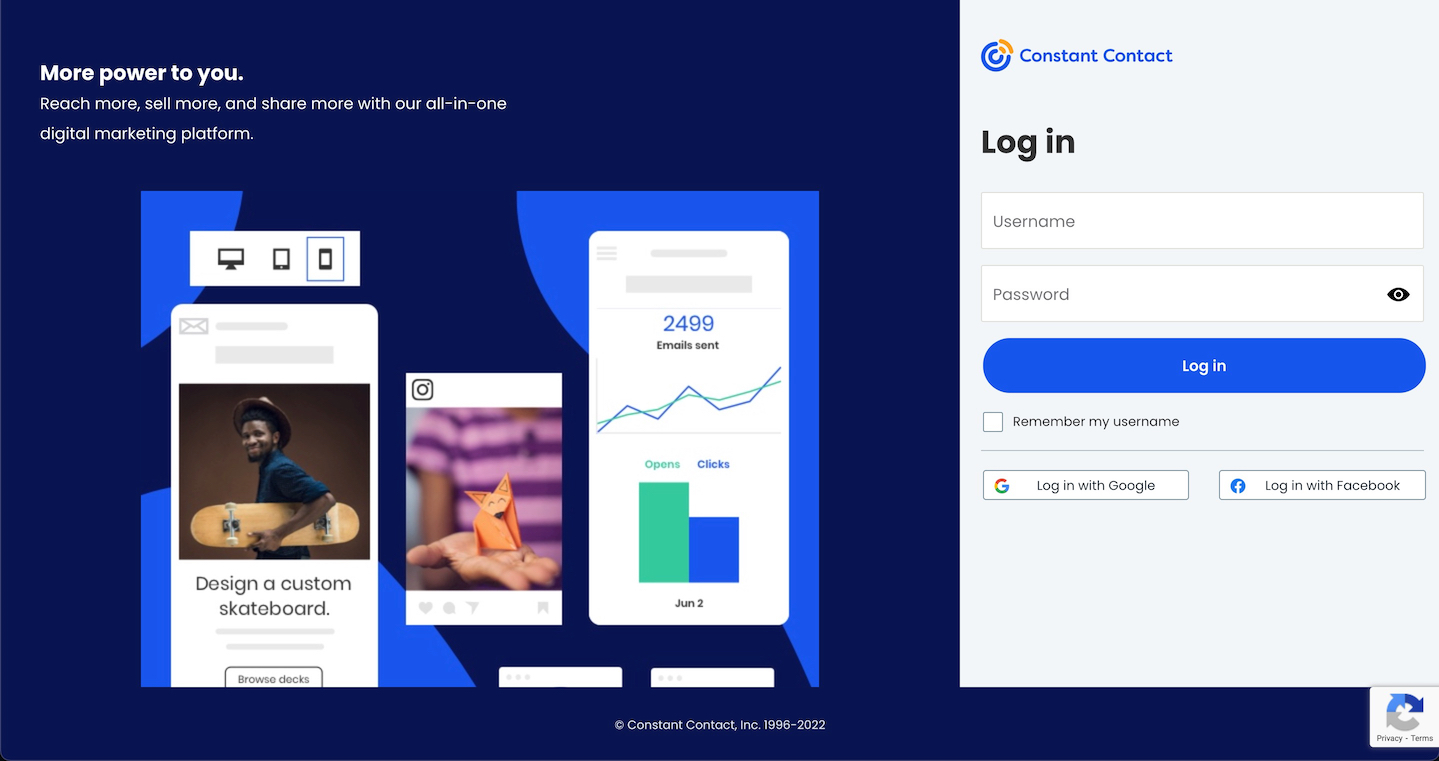 You are now taken to the Constant Contact website, where you must input your login credentials, as shown above.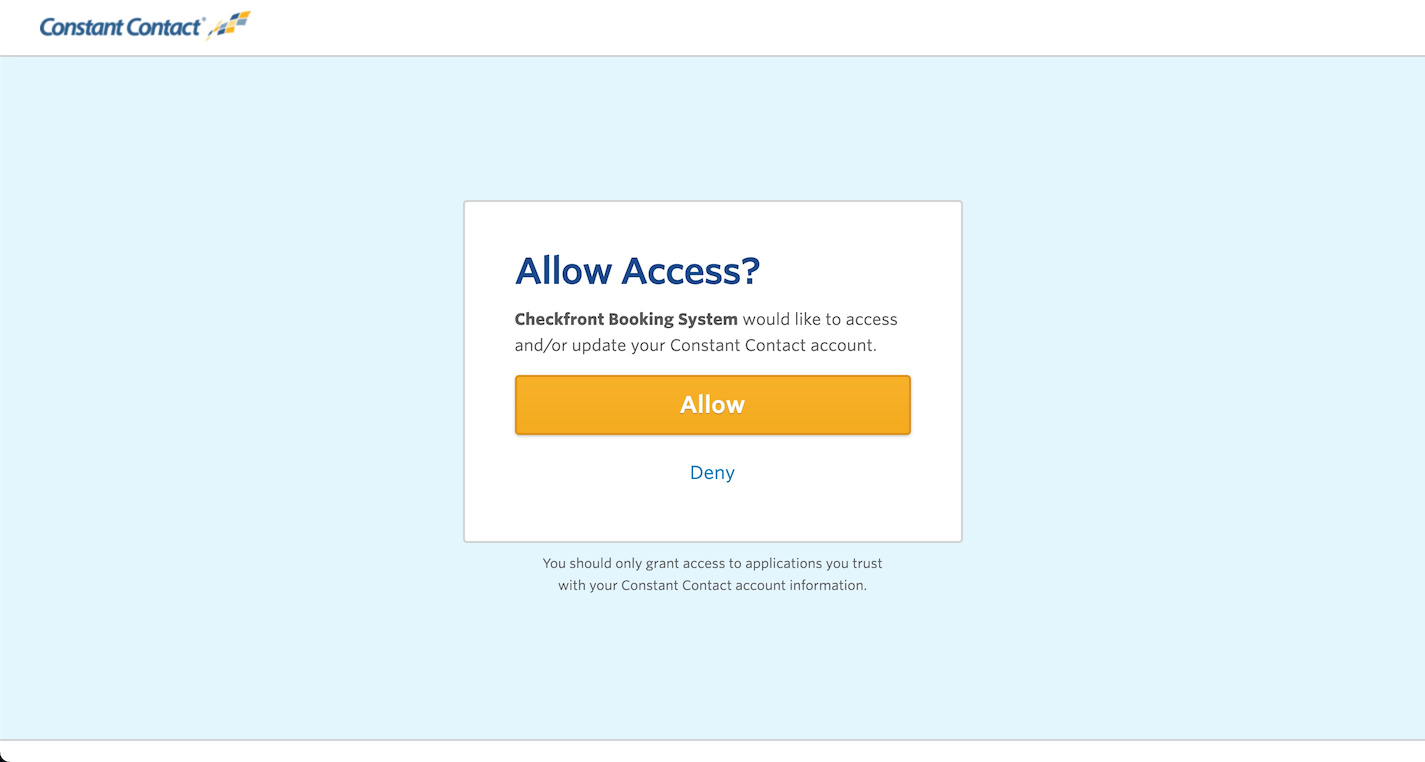 After clicking the Log in button, you are asked whether or not you wish to grant Checkfront access to your Constant Contact account. To continue the integration process, you must click on the Allow button.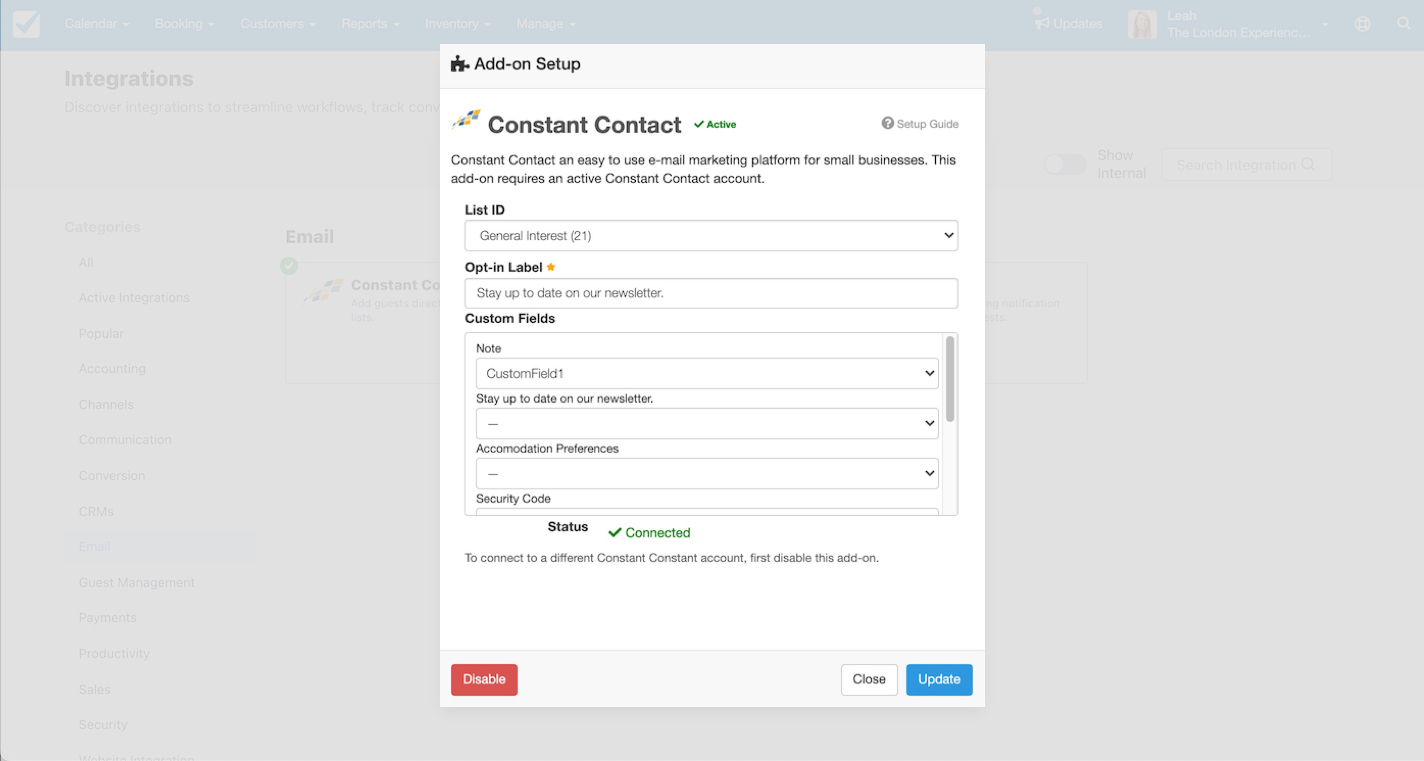 Next, you are taken back to your Checkfront account so you can complete the integration.


---
You can configure the options provided in the pop-up window, and when you're ready, click on the blue Update button.
Choose the Constant Contact List ID (mailing list) to which you want your Checkfront contacts added. You can use the standard General Interest list with your Constant Contact account or create a new one, if you prefer, within the Constant Contact interface.


Enter an Opt-in Label to entice your Customers to sign up for the mailing list. This can be whatever you like, but it's always best to keep it short and sweet; for example, Stay up-to-date with our newsletter.


Map any Custom Fields you want to add to your customer data in Constant Contact. These are fields of custom information you collect during the Checkfront booking process, in addition to the Customer name, email address, etc.

To add these details to your Constant Contact Customer records, choose a custom field from the dropdown menu next to the Checkfront field label. The Checkfront field is then automatically mapped to the custom field in Constant Contact.
In the following article, we go into more detail on how to use the Constant Contact integration.
---
---