---
If you market your business via Pay Per Click (PPC) advertising with Google Ads, you'll no doubt want to start tracking your Checkfront booking conversions.
Obtaining this return on investment (ROI) data for your online campaigns is perhaps the most important factor in evaluating the effectiveness of your online marketing initiatives.
There are plenty of resources available online to assist you with Google Ads. We highly recommend that you consult a qualified Google Ads expert, and/or do plenty of research before diving into pay-per-click advertising.
A finely tuned campaign can have an immediate and positive impact on your revenue; however, a poorly tuned and monitored campaign can be disastrous and costly.
A good starting place is Getting Started with Google Ads Campaigns at PPCblog.com.
Important!

Google Analytics & Google Ads plugins DO NOT WORK when using a Custom Receipt URL. You will need to build in your own tracking on your Customer Receipt page. If you wish to notify a remote server of a new booking or update its status, consider using API notifications instead.
---
Setting up AdWords tracking with Checkfront is easy. First, log into your Google Ads account. From the menu bar at the top, click on the Tools icon and then select Conversions from the Measurement drop-down menu. You will need to click on the arrow to reveal the additional options under Measurement.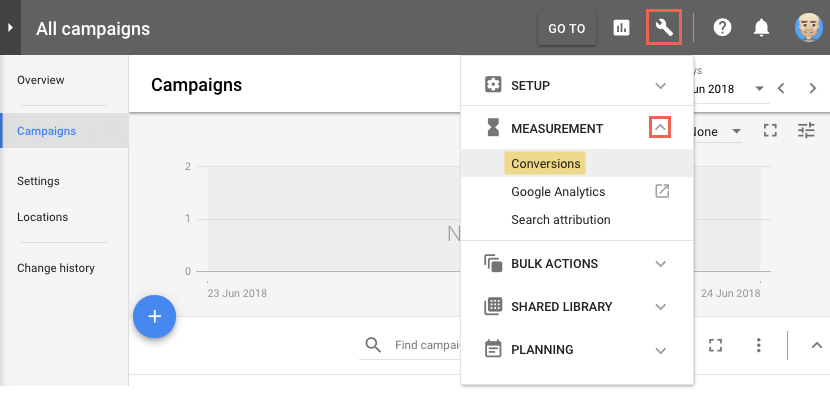 You can now create a conversion for your Checkfront bookings. Click on the round blue button labeled + to get started.

The next step is to select the source of the conversion you'd like to track. Choose Website. It's the first option you are presented with and all you need to do is click on the Website tile in order to proceed.

On the next screen, Create an Action, there are three fields you need to consider for the purpose of our configuration. Any other fields can be configured in the way that suits you most.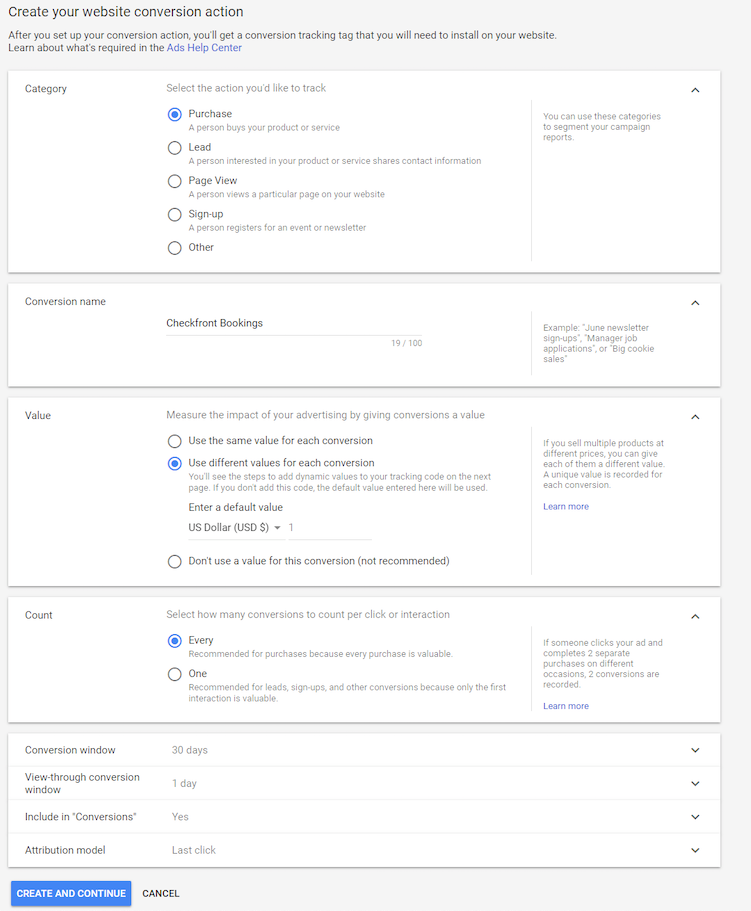 Conversion Name
Input a name for the conversion. Something simple and related to Checkfront is probably best. In our example, we went with 'Checkfront Bookings'.
Category
The Category selected from the drop-down menu should be Purchase/Sale.
Value
In the Value field, select the second option Use different values for each conversion. You can assign whatever default value you wish as the value will be picked up from your items in Checkfront, so you don't need to worry about this too much.
You will need to customize your conversion tracking tag to include transaction specific values. You can find out more about that here. When ready, click on the Create and Continue button at the bottom.
---
Google Ads: Tracking Tag Installation >
---