---
Plan Availability: ✓ Soho | ✓ Pro | ✓ Plus | ✓ Enterprise | ✓ Flex |
Locate: Inventory > Items
Prerequisites:
Admin permissions to manage inventory or restricted permissions to View Items and Manage Items.
Your account must have access to Items and the Item Builder, which are features of our classic version of Checkfront.
Early Access Program - Products

Products and the Product Builder are the successor features to Items and the Item Builder and are currently part of our Early Access Program. This means that the features are available to select Customers to try out and provide us with feedback.

To learn more about becoming part of our Early Access Program check out our related blog post or contact our Technical Support team.

Find our complete set of help articles related to the Early Access Program here: Early Access Program.
This article is a brief introduction to the Item Builder. Please step through the full series of articles, accessed at the side and bottom of this page, for guided help getting your offerings configured and optimized!
---
Allow yourself ample time to configure, test and optimize your Items before going live!
Before you start building your Items, prepare the following information and artifacts in advance to ease the process...
List of categorized offerings including packages and add-ons
List of tags (if needed)
Names and summary descriptions of offerings
Photos or links to videos to associate with the offerings
Inventory numbers (where limits apply) including human resources (Staff, Guides, Instructors...) that limit the availability of your offerings
Item allocation (per day, night, time or timeslot)
Item availability (seasonal, special pricing events, closure dates...)
Pricing structure, including applicable deposits or taxes
Booking policies or restrictions on inventory at the time of booking
Don't worry! You can always save your item to edit at a later time and experiment with different configurations until you are satisfied with the results.
---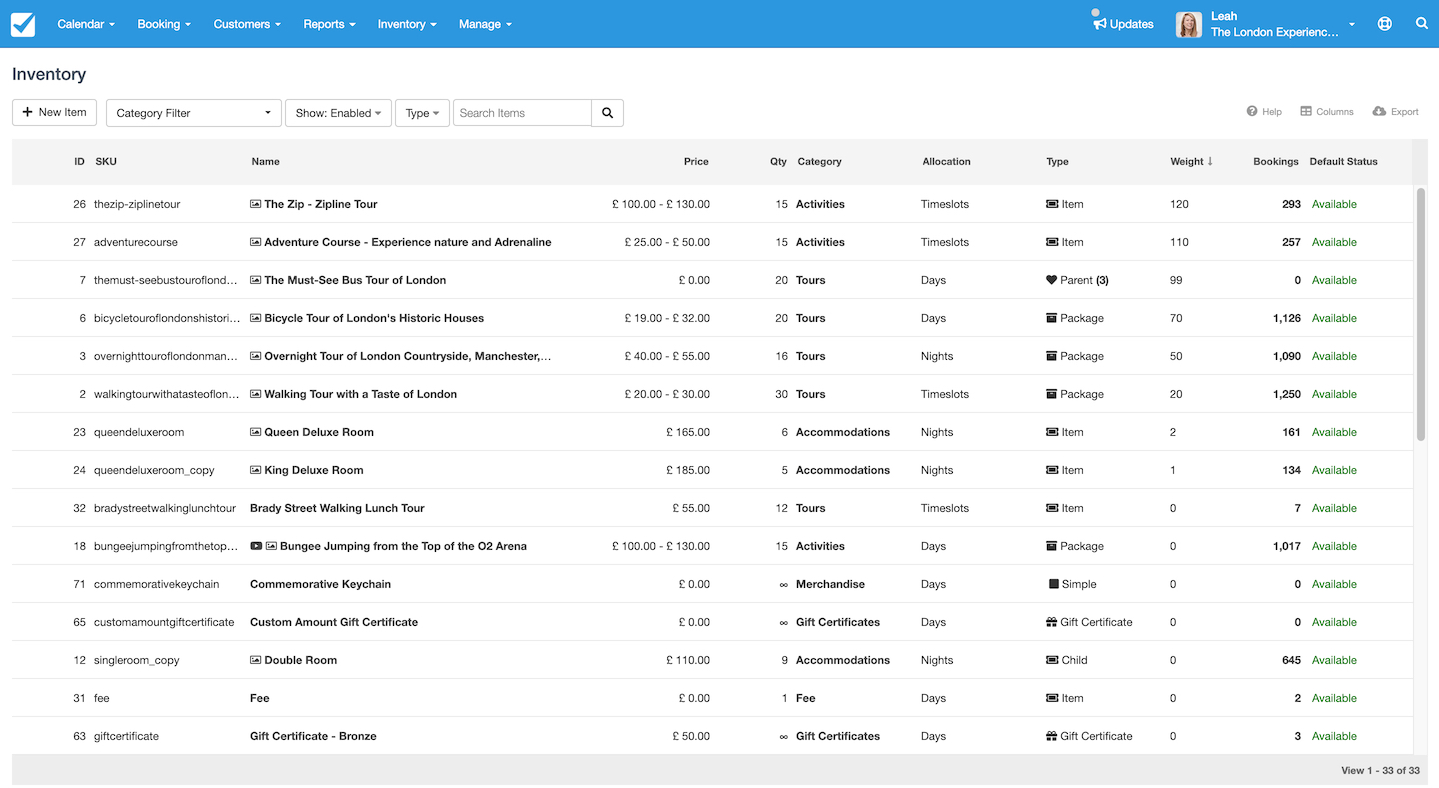 Checkfront is a highly customizable Inventory based system, which you can configure to suit your business's unique needs.
Your

Inventory in Checkfront is made up of Items (including Packages and Add-ons), which represent your offerings to be displayed on your Customer Booking Page.
You can apply a Category, Tag, and Summary Description to each Item along with Photos and Videos.
Each Item has Attributes, this includes the Base Inventory count for the Item (e.g. 10) and the distribution of this Inventory in more complex and custom ways through Item Parameters (e.g. 5 Adult, 5 Child).
Attributes

also allow you to determine

Inventory Allocation

(

per Day

,

Per Night

,

Per Time

or

Timeslots

) and

Item Visibility

(

Everyone

,

Staff only

, in

Packages only

).

You can configure a complex Pricing structure for your Items using Item Parameters (including Group Pricing) and determine Availability using Item Events.
Taxes

,

Discounts

,

Deposits

, and

Partner

Commissions

can be applied to your

Items

as well.

Item Rules can later be configured to enforce booking policies and restrictions on your Inventory at the time of booking.
In this series of articles, walk through the Inventory Builder and the above-mentioned features in more detail.
---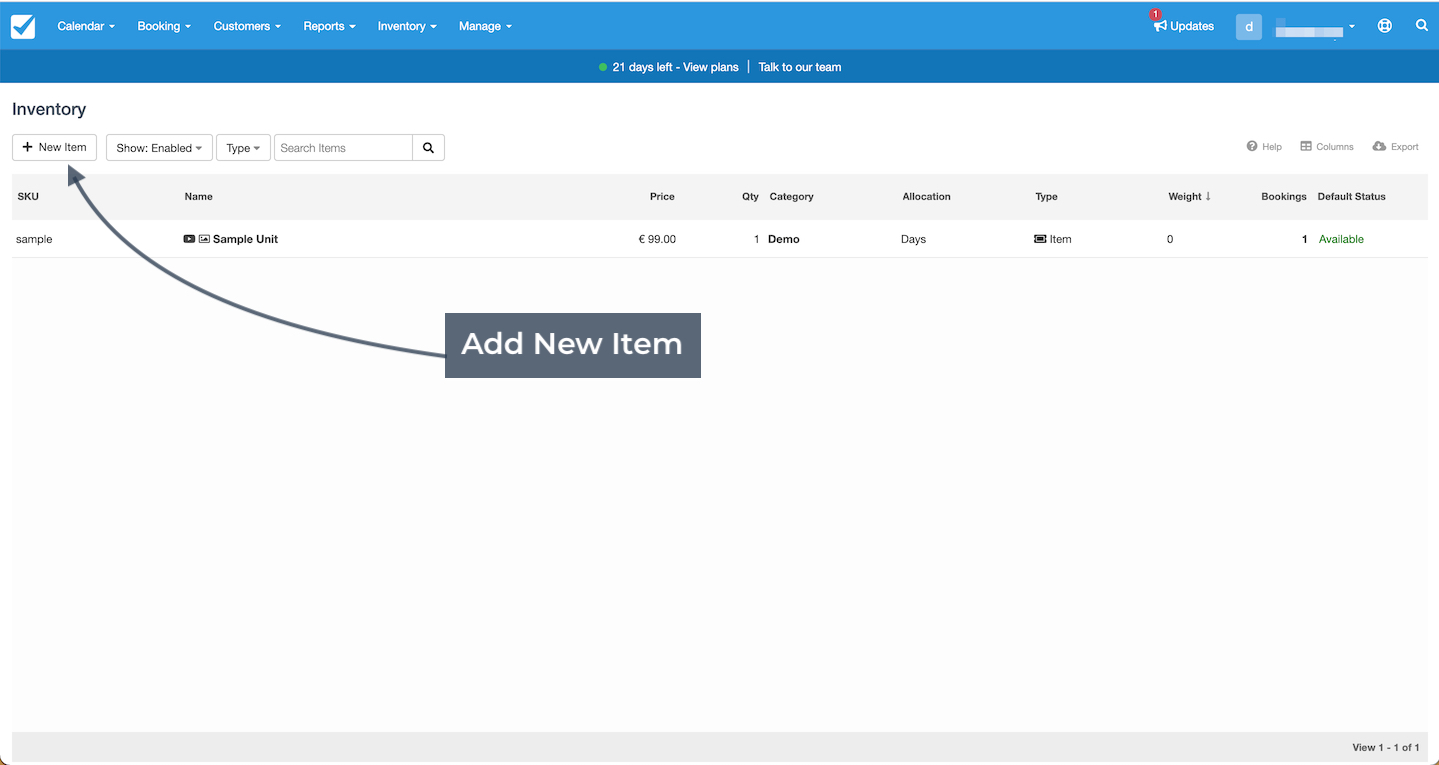 To add a New Item, click on the + New Item button in the top left-hand corner of your Inventory page.
You then start the first of five stages in the Checkfront Inventory Builder covered by the following articles in detail...
These stages take you through the creation of your Item in a simple step-by-step process to ensure you don't miss any details and get the most out of what Checkfront has to offer.
So, let's begin and have a look at the first stage with our next article in this series - Inventory - Items Builder: Description!
---
Items - Inventory Builder: Description >
---