---
By default, Checkfront collects a standard set of information at the time of booking. This includes customer name, contact details, and address. This information can be further customized, using the Booking Form Editor, to best suit the requirements of your business.
Warning!

Some pre-defined fields are required for certain system functionality and add-ons, including payment processing. If these fields are altered in any way, or removed from service, you may run into functionality problems with your system. See the system fields section below for more information.
Data collected at the time of booking is accessible in your reports and can be used throughout the system, including customized email notifications. The Booking Form editor can be accessed at Manage > Layout > Booking Form when logged in to your Checkfront dashboard as an administrator.  
---
You can add new fields to your booking form by clicking on the + Add new field button located at the end of your fields list, or edit existing fields by clicking the Edit link to the right of each field.  

You can re-order the fields on the booking form by dragging and dropping them into place. To do so, hover over the field with your mouse cursor. A dashed box will appear around the field, showing you it is active. Click your left mouse button and move the field into its new position. Release the mouse to drop in place.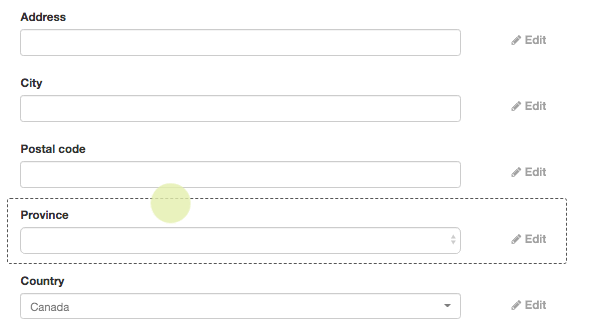 ---
When creating a new field from scratch, or editing a field that already exists in your system, there are various options you can configure that define the appearance and functionality of said field.
The field editor modal is divided into three sections: General, Options & Advanced
The currently active tab will be highlighted with a blue line .
General Tab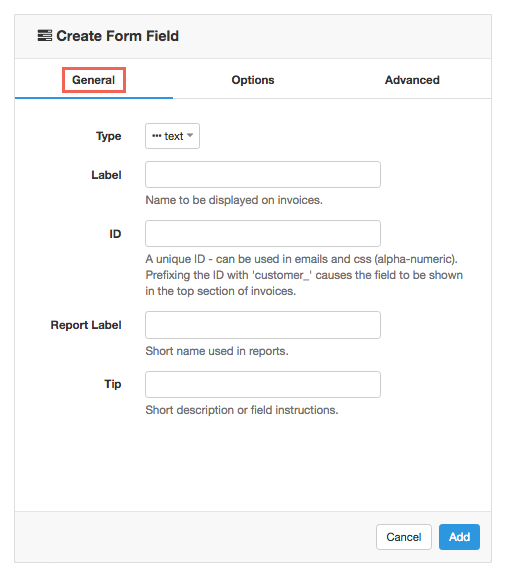 Type:
Common HTML input elements including text, select, radio buttons, and checkboxes. If you wish to create a drop-down menu of choices, you should use the select field. In such a case, a new field labeled Options will appear, directly below the Tip field.
Each option for the drop-down should be added on a new line, as in the example above. The same process is used if you are creating a radio button field.  
Label:
This is the label which will be displayed next to the field on your booking form and on your invoices. Examples of commonly used labels are Name, Email or Phone.
ID:
A unique ID - can be used in email notifications and CSS (alpha-numeric). Prefixing the ID with 'customer_' causes the field to be shown in the top section of invoices with the rest of the customer information.
Report Label:
Field name to be displayed in internal reports.
Tip:
This is an optional, short description that is displayed underneath the field. Use this to provide your customers with instructions on how you want them to fill out the field.
Options Tab

Customer/Staff Only Fields:
You can choose whether or not to show certain fields to your customers on the booking form and/or invoice. You can also decide whether these fields are visible to staff members also. You may want your staff to collect information when taking bookings over the phone, but not want those fields visible on the public booking form. Set that up here. 
You can also control whether or not a field is required. 
Value:
If you wish to display a default value for the field, add that here.
Advanced Tab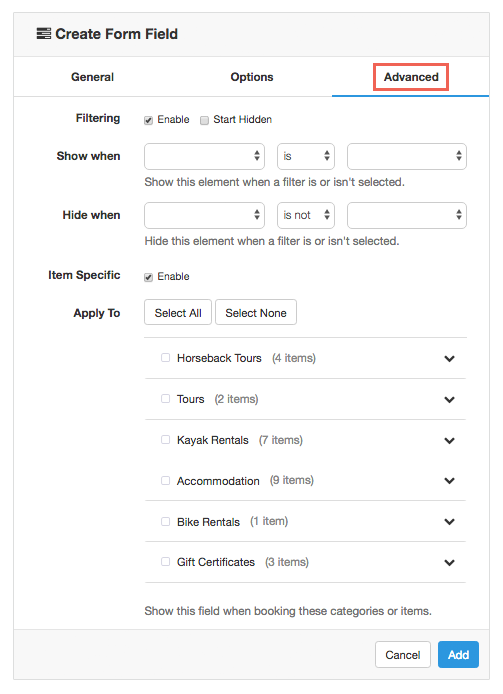 Filtering:
When choosing your field type from the Type select box, you will notice an option labeled radio button filter. This enables you to create conditional content for your booking form. For example, depending on the answer provided to a question created with this type of field, another field can pop up to continue your line of questioning.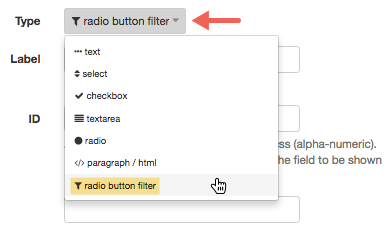 As you can see in the image below, this question asks whether or not the customer has a pet. The question will be displayed on the booking form as a simple radio button, yes or no.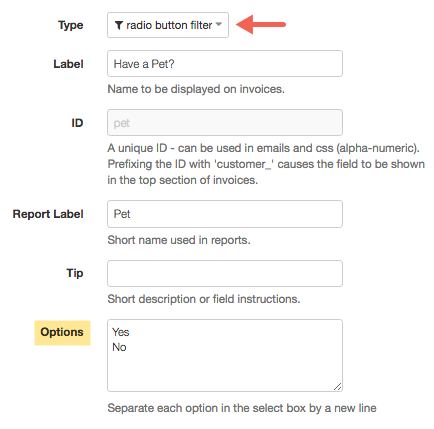 Now that we have the question in place, we must now create a second question which will be displayed if the customer selects the relevant answer. In this case, the answer we're looking for is 'yes'.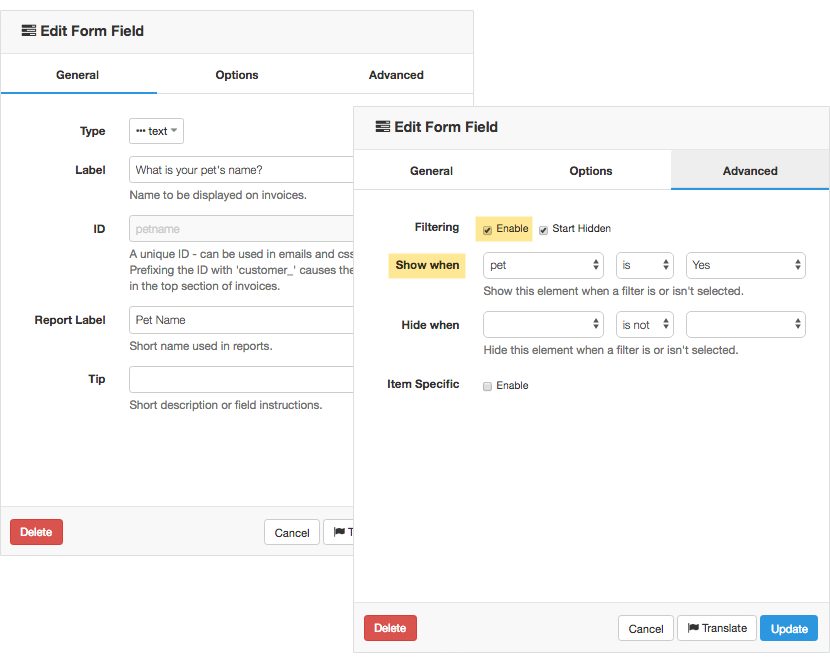 We'll make this a text field and ask the question "What is your pet's name?". Based on the settings above, the question will only be shown when the question pet (the one we just made) is answered 'yes'. The question will be hidden to begin with and filtering is enabled.
So how does it work? Well, basically, if the customer were to select 'no' when asked if they had a pet, nothing would change and they would continue to fill out the rest of the form. If they choose 'yes' however, the second question will magically appear below it. See below for an example: 
It's worth playing around a bit with the different options, as you could make the second question visible at first, and then disappear if a particular option is chosen by the customer. It really depends on what you're looking to do!
Item Specific:
On occasion, you may find that some of the items in your inventory require special customer details/instructions that other items don't. This is why we have created an option for item specific fields.
Let's assume for a moment you're renting out kayaks. You may wish to ask your customers, during the booking process, what their level of experience is and do they require any on-site instruction. You could add these fields to your standard booking form, but they will look a bit out of place if a guest is simply booking accommodation for the night.
Item-specific fields enable you to create specialized booking form questions that can then be tied to a particular item or items. To turn a booking field into an item specific field, simply choose the item(s) from the list provided in field edit mode.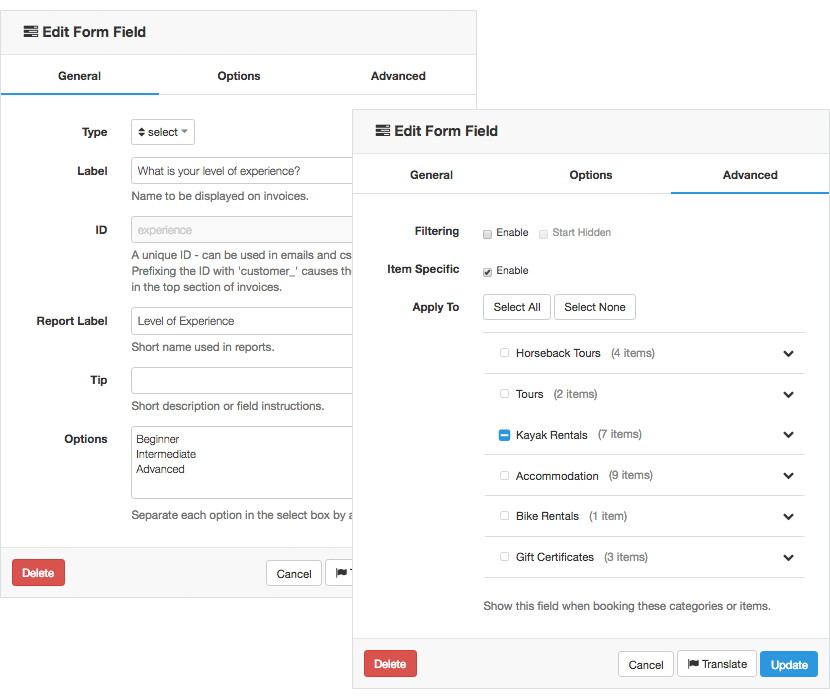 That field will now only appear during the checkout process when the item(s) is added to a booking. If no items are selected, the field will appear for all bookings as normal.
An item specific field can be recognized in your Booking Manager by the label seen above.
---
Below, is a list of the standard system field IDs that come with your Checkfront account. Before removing or editing any of these fields, please make sure you have read the important information in the box below.  
Important!

Checkfront has a set of pre-defined booking form fields (system fields). These are used to populate information in your database that serve a specific role in the system. These are identified by their field ID. If you choose to remove these fields from your booking form, please note that certain functionality could be lost. For example, if no customer_email is present, no emails will be sent to the customer. Some fields are auto-detected and pre-filled by the system. Specifically, the customer_country and customer_region are pre-filled using GeoIP detection. Likewise, the label of the customer_postal_zip is automatically changed based on the selected country. It's recommended that you do not replace these options. You may, however, remove them if not required (be sure your payment processor does not require them either).

 

Please note also that the system fields currently support English language strings only.
customer_prefix
Prefix to customer's name. Comes with Mr, Mrs & Miss by default, but more can be added if required
customer_name
Full name (first & last) of the customer
customer_address
Street address of the customer
customer_city
Customer city of residence
customer_email
Customer e-mail address. Used in notifications
customer_country
Customer country code. Dropdown with detected country auto-selected You may enter a default value for the country in the field provided. If you were to enter 'MX' for Mexico, this would automatically show to all customers, regardless of where they are located. They can, however, change this if required.
customer_region
Customer state or province. Dropdown with detected region auto-selected In order for the regions to appear in the drop-down, you must also be using the customer_country field. If you do not, the regions field will not populate properly. You may also choose a default value for the region by entering it in the field provided. This will show automatically to the customer, who can then change it if required.
customer_postal_zip
Postal or zip code
customer_phone
Phone number of customer
note
Note that can be created at the time of booking
booking_language
The language of the booking. This is a special field that only appears on the booking form if you have activated additional languages in your system. It is visible to staff members only. This enables your staff to change the language of the notification that will be sent out to the customer when a booking is complete. Only the currently active languages will be displayed in the drop-down menu.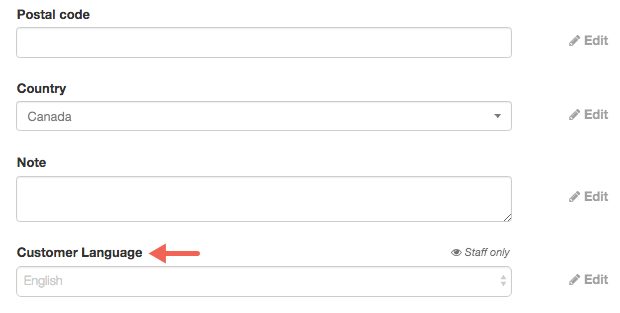 Troubleshooting:

If you remove a field or edit the ID of a field, the data collected in past reservations in that field will disappear from the invoice. Don't worry though, this data is not gone forever. All you need to do is reset the field ID to its original state or create a new field with the same original ID. This will bring back that previously collected data.
---
It's possible to reset your booking form fields to their original state by visiting the following link in your Checkfront account: https://YOUR-ACCOUNT.checkfront.com/manage/system/purge (be sure to update the link with your own Checkfront account!) When you arrive at this page, look for the option labeled Custom Booking Fields. Check this option, enter your password in the field provided and click the red Purge Records button.  
There is also an option labeled Custom Item Specific Fields. Selecting this will restore your item specific fields back to their original state.