---
Checkfront bookings can have one of several statuses associated with them. Depending on your system and payment configuration, not all system statuses will be used. You also have the ability to create additional custom statuses as required.
If you have payment processing enabled in your account, depending on your e-commerce settings, bookings made on your website will automatically be set to Paid or Deposit.
If payment processing is not active, or a booking is made through the Checkfront dashboard by a staff member, the invoice status will be set to whatever default you have chosen on the system setup page.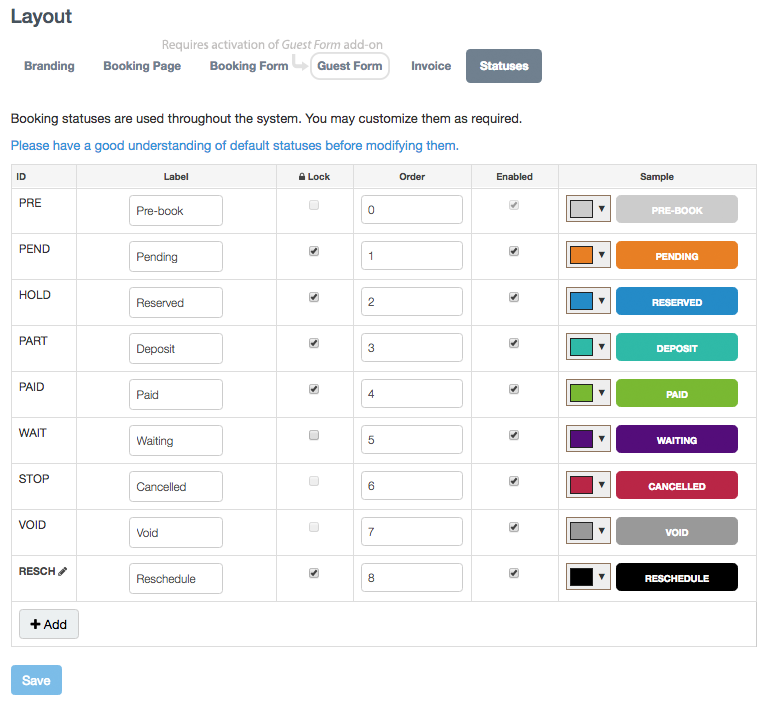 Using statuses, you can control where in the booking process an invoice is placed. Some of these statuses are automatically set by the system when certain functions are performed. For example, if a partial payment is applied to an invoice, the system will set the status as Deposit. If a full payment is applied to an invoice, the status will be Paid.
You can also apply statuses manually to update the progression of the booking. An example of this might be a customer paying their balance in situ with cash. You can simply pull up the invoice, change the status to Paid and apply a POS payment to balance the books.
So let's have a look at the system statuses. You are free to change the labels on these to suit the needs of your business, but the status IDs are not user configurable due to their roles within the system.
Inventory Holds

Customer data from pre-bookings and void bookings is held in the system for 30 days. This provides you with an opportunity to reconcile your reports and our support team to better troubleshoot missing payments etc. 
Pending:
A locked status that can be used to hold a booking pending confirmation. Inventory will be set aside while the invoice is pending.
Reserved:
A locked status used to confirm the completion of a booking, with or without a payment. Inventory will be set aside and unavailable for further bookings.
Deposit:
A locked status used by the system when a partial payment has been applied to a booking. The deposit status cannot be chosen manually and will therefore not appear as an option when updating an invoice. Inventory will be set aside and unavailable for further bookings. For more information on deposits, click here.
Paid:
A locked status which is set by the system after an invoice has been paid in full through a payment gateway. This status can be set manually if a payment is received by POS. Inventory will be set aside and unavailable for further bookings.
Waiting:
Unlocked status by default. Similar to pending, but the item booked will not be held aside while the booking is being confirmed.
Canceled:
An unlocked status used to cancel a booking and return items to inventory when a payment has been applied to the invoice.
Void:
An unlocked status, similar to cancelled, used to void a booking and return items to inventory. A booking can only be marked as void if no payments have been applied to it. If payments have been applied, the void option will not be available for use and cancelled should be chosen instead.
---
When viewing an invoice you will see a coloured button depicting the current status of the booking. Clicking on this button will open a drop-down menu of any other status choices you have available in your system.  
Simply click on the status to which you would like to update the booking. You will see a confirmation window appear with the option to email a notification to the customer. If you do not wish for the customer to receive a notification of the change, simply uncheck this option. If you are applying the PAID status to the booking, you will also have the option to apply a POS payment.  
When ready to proceed, click Update to finalize the status change.  
Locked Statuses

If a status is locked, any inventory on the invoice will become unavailable for booking by anybody else. This is perhaps standard practice for most Checkfront users, however, there may be configurations, such as with the Waiting status, where you don't want inventory to be set aside. In a case like this, you can uncheck the lock option. You can also create additional, custom statuses for greater control.

Customer Directory & Locked Statuses

Also, if a new customer creates a booking and the status of that booking is not locked, the new customer will not be added to your Customer Directory.
---
Checkfront provides you with the ability to create your own custom statuses to further adapt the system to your own business requirements. Some of you will never use custom statuses, whereas some of you may create multiple ones.  
Looking at the examples above, you will see a custom status labelled Reschedule. This would be ideal for a customer that wishes to change their booking, but doesn't want to fully cancel and is yet to decide on the new date. Since the status lock is unchecked, selecting this status will return the booked items to inventory, so they may be enjoyed by somebody else while leaving the booking in a "pending" state. You can search for the status in your booking index to quickly see which bookings still need to be rescheduled and no refunds need to be made to the customer.    
---
To create a new status, click on the +Add button below the current status list.  
All you need to do is choose a Display Name, that will be visible on the invoices, plus a unique Status ID (maximum 5 characters). When ready, click the blue Create button and your custom status will be added to the list.  
You can then click on the colour picker to further customize your new status.