---
The Branding page allows you to customize your layout to more closely match that of your business and website. From here you can add a logo to your header and change the colour to better suit your needs. Any changes here will be visible on the customer-facing booking page, but only the Detail Page. The Hero Page will not reflect any changes made here.
To update your company branding, navigate to Manage > Layout > Branding in your main navigation menu.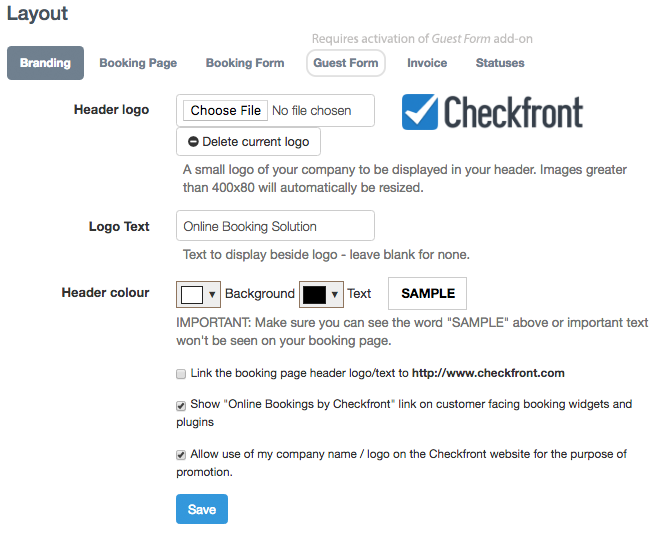 Make sure the Branding tab is active, as shown in the screenshot above. You'll notice in our example a tab labeled Guest Form. This will only be present if you have the Guest Form add-on activated.
---
You have the option to place a small company logo in the header of your dashboard and booking pages.  
The default size of this logo is 400x80 pixels and will be resized to fit if necessary. For this reason, it's best to try and create a logo to those exact dimensions to maintain the best quality. To add your logo, click on the Choose File button and make a selection from your computer.  
Once it has been uploaded, you will see a small preview to the right of the upload field.  
To delete the current logo, if you have one, click the Delete Current Logo button.  
Please note, the delete button will only appear after the logo upload has been saved. You can do this by clicking on the Save button at the bottom of the screen.    
---
Enter some text in this field to appear by your company logo. See image below for exact placement.  
This might be a catchy tag line or even just your business name if you don't wish to upload a logo.
In this example, we bypassed all creativity and simply used the text Online Booking Solution.
---
Make adjustments to the header background and text colours. Click on the drop-downs to choose a new colour for each.
Make sure you can read the word SAMPLE in the box to the right, as this is how the text will appear in your header, against the background.  
---
Beneath the layout options are three checkboxes that enable you to share the joy of Checkfront and help promote our service!  
There are no perks for doing this, other than the satisfaction that you have helped to spread the word about Checkfront and all it can do for other businesses also. The descriptions of what each checkbox activates are pretty self-explanatory. If you choose not to activate the first one, that links your logo to checkfront.com, clicking on the logo will simply return the customer to your reservation home page.