---
Plan Availability: ✓ Soho | ✓ Pro | ✓ Plus | ✓ Enterprise | ✓ Flex |
Locate: Reports > Other Reports > Active Discounts
Prerequisites:
Admin permissions or restricted permissions to View all Reports (or Active Discounts) and Export Data.
Your account must have access to items (Inventory > Items), which is a key feature of our classic version of Checkfront.
This feature is not yet supported with products (Inventory > Products), which is a key feature of our newest version of Checkfront.
New to Checkfront - Products ✨

Products (Inventory > Products) is the successor feature to (Inventory > Items) and is available in our newest version of Checkfront.

Not yet on our newest version and interested in upgrading? Please contact our Technical Support team for more information.

Discover more product-related help articles here: Products (New).
---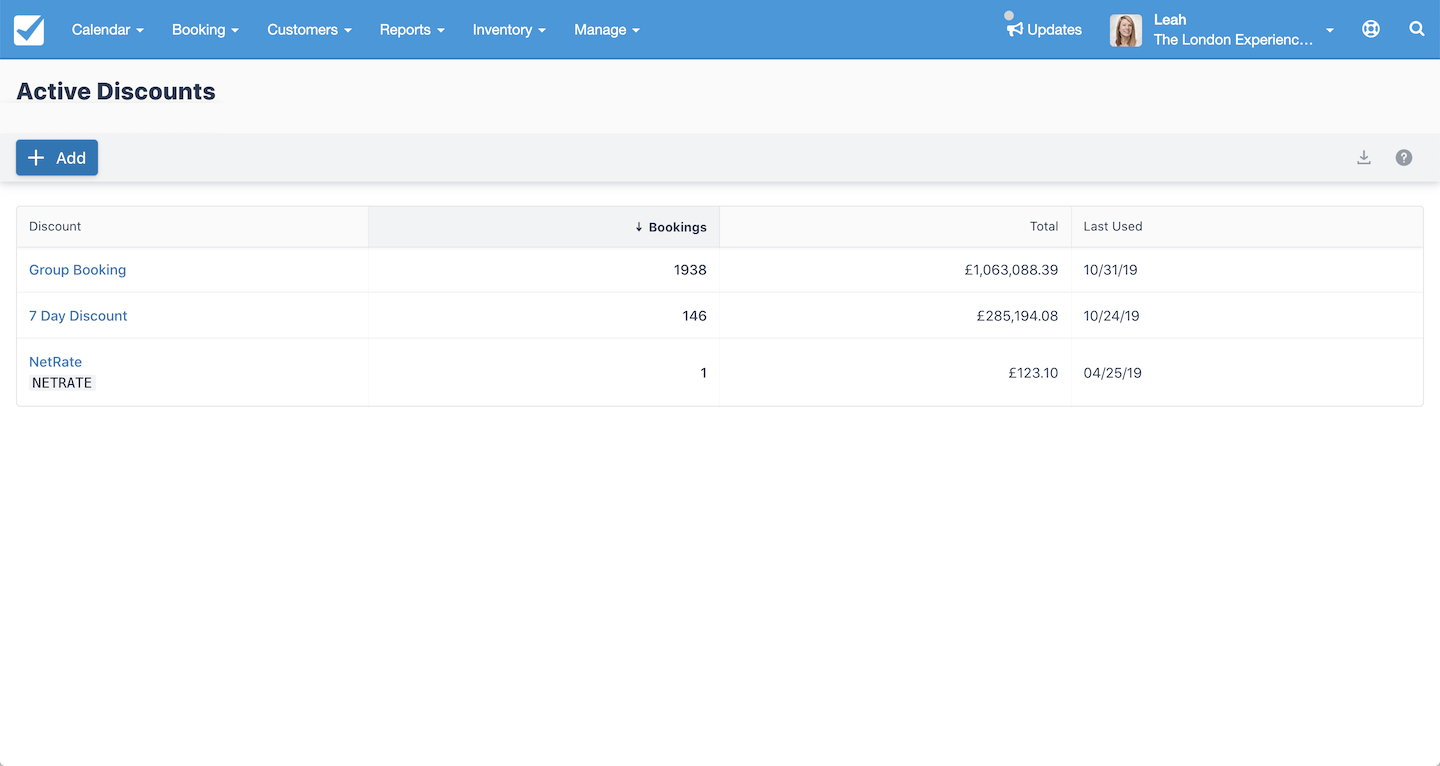 The Active Discounts report is a simple list of any Discounts that are attached to at least one booking.
From the Active Discounts report you can + Add new Discounts, view how many Bookings each Discount has been applied to, see when the Discount was Last Used, and the Total revenue used with each Discount.
Discounts associated with Void, Pre-booking, or Cancelled bookings are excluded.
If a Discount has not yet been used, then it does not appear as part of this report.
| | |
| --- | --- |
| | Be sure to give your Discounts descriptive names to help you find them in internal reports, for example, Summer Promo 10% Per Booking, After Tax. |
| | |
| --- | --- |
| | Learn more about your reporting options here: |
---
The available columns are as follows:
This is your Discount name. If there is a Discount Code associated with the Discount, then you also see this under the Discount name.
Shows the number of Bookings that have been made using the Discount.
Total revenue generated through bookings using the Discount.
Date the Discount was Last Used to make a booking. To create a new Discount directly from this report click on the + New button top left. Clicking on the name of a Discount in the report opens up the Discount edit screen for that Discount.
| | |
| --- | --- |
| | Learn more about Discounts & Vouchers here: |
---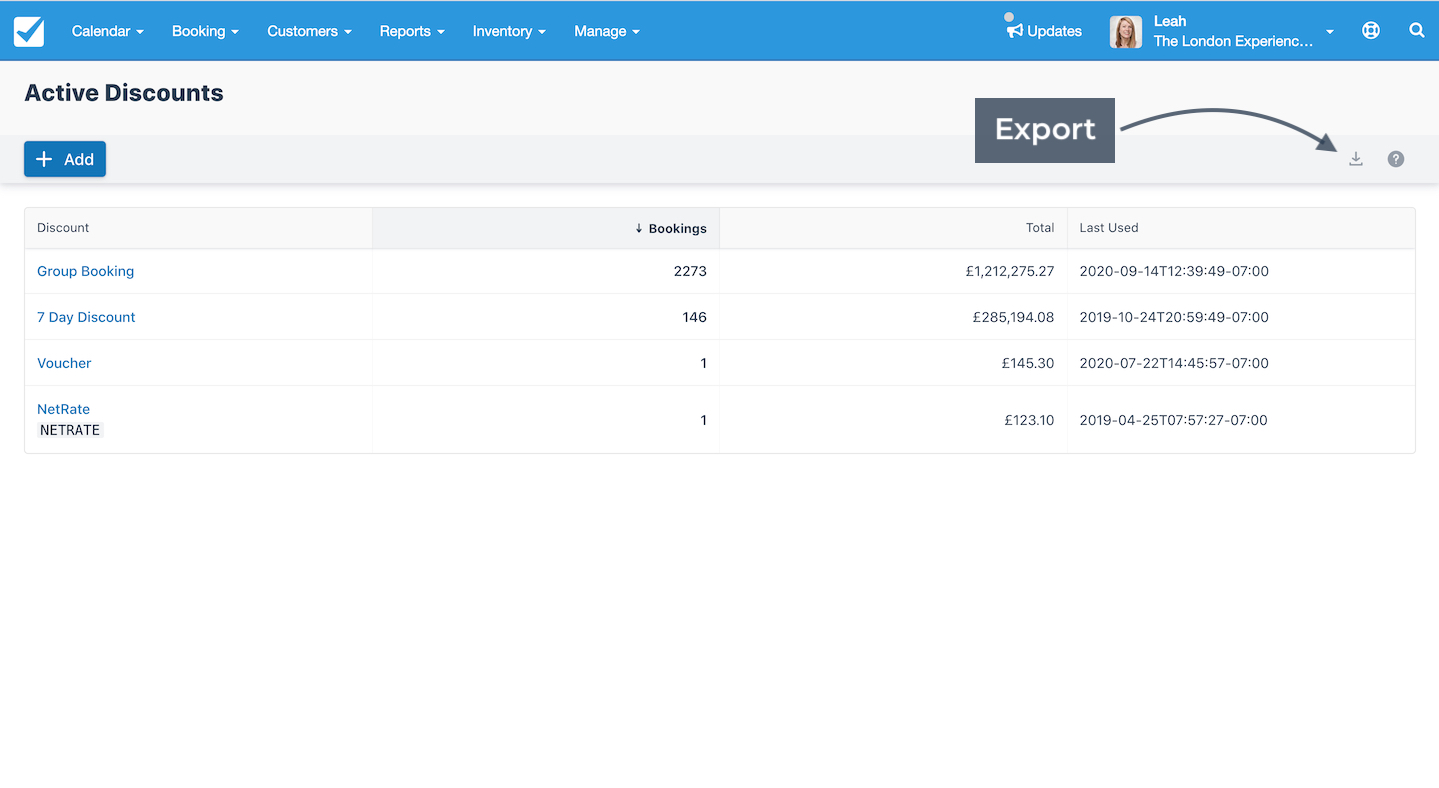 Access the Export modal via the Export icon in the top-right hand corner of the page.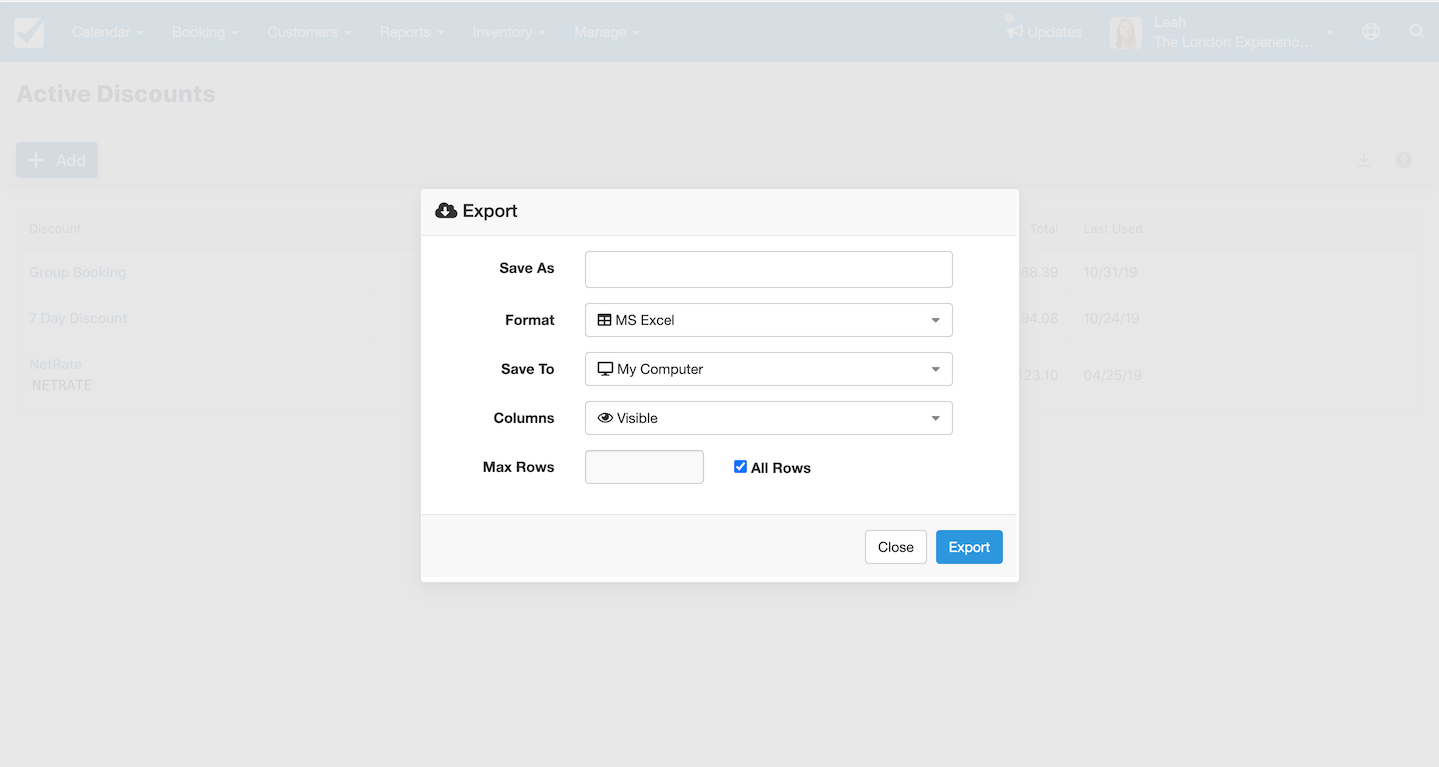 The following options are available within the Export modal...
Save As
Allows you to specify the name of the export file. By default, the file name includes the name of the report, plus the applicable date range. You can edit the name of the file if needed by placing focus on the Save as field and entering the desired name.
Format
Export report to MS Excel (XLSX), CSV (Comma-separated Value), PDF (Portable Document Format) or XML (eXtensible Markup Language).
Save To
The report can be saved to your Computer, Email, or Google Drive.
| | |
| --- | --- |
| | Emailed Exports are sent as links to the files securely hosted in Google Cloud Storage. |
| | |
| --- | --- |
| | Learn more about exporting to Google Drive here: |
Columns
Choose to export Visible columns or All columns. In the case of this report, all columns are always visible, so you get the same result with either option.
Max Rows
Choose to limit the maximum number of rows to export (Max Rows) or choose to export All Rows.