---
Although Checkfront already tracks the referring host of a booking (i.e. an external website such as Facebook), it can be handy to add a Tracking ID on marketing initiatives (email, pay-per-click advertising etc.), or when tracking agency/affiliate referrals. Checkfront makes this easy by allowing you to pass a user-defined Tracking ID on your booking page.
You do not need to register a tracking ID. You can simply supply it in the URL of any booking page. This works with any of our booking page plugins from within your own website, Dropbox, or the hosted booking page.
To pass a tracking ID, simply add the TID (tracking ID) parameter to the URL of your booking page. Here is an example of a tracking ID on our hosted booking page: https://demo.checkfront.com/reserve/? tid=summer-promo
If a booking is created via this URL, it will be tracked and the TID will be recorded. Tracking IDs can be seen while viewing a booking (below the invoice) and in the general booking report.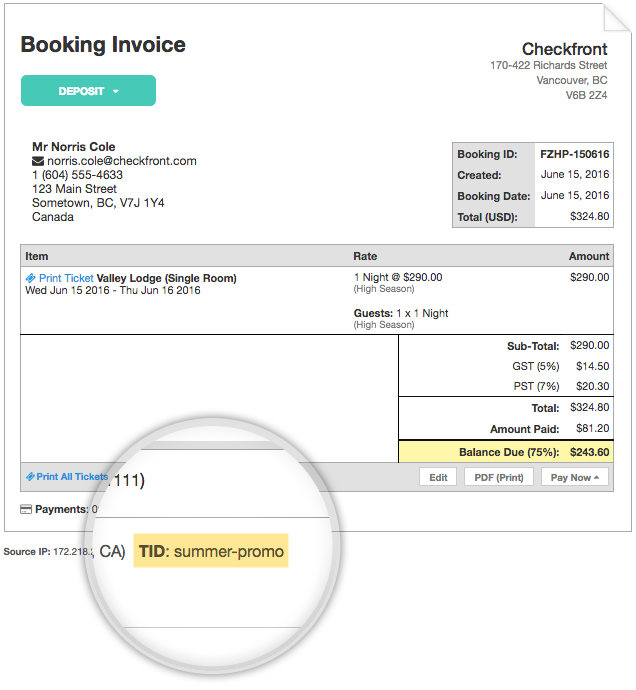 | | |
| --- | --- |
| | The Source IP and TID are NOT displayed on the customer invoice, or when printing from within the admin interface. |
In a similar manner, the TID can be added to the website integration, such as WordPress, Drupal, and Joomla. The TID can be input through the various configuration pages and then automatically added to the code when it is generated by the system.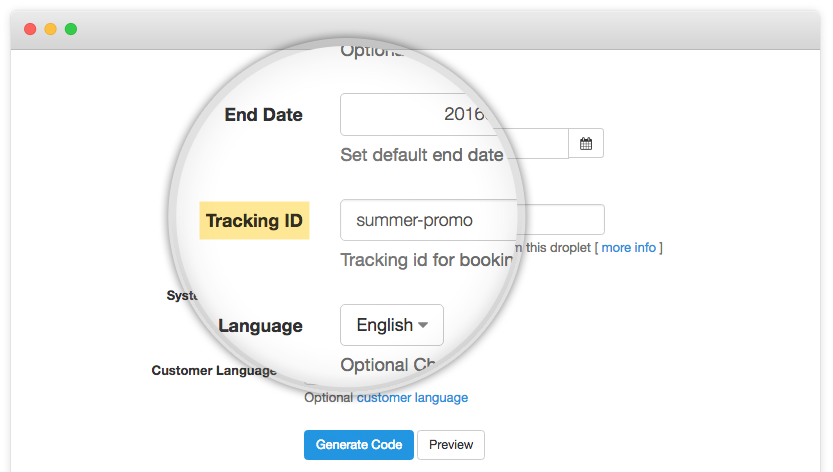 In this case, the WordPress shortcode might look something like this:
[checkfront end_date="20160731" tid="summer-promo" lang_id="en"]
You can alternately create a new field in the field editor and call it TID. This can be a select box populated with a list of IDs or a free-form text box. You can make the field only available internally.