---
Plan Availability: ✓ Soho | ✓ Pro | ✓ Plus | ✓ Enterprise | ✓ Flex |
Locate: Manage > Integrations > Website Integration > WordPress
Prerequisites:
Admin permissions to manage integrations.
A WordPress account.
Ability to copy and paste into your website code or some helpful person to do this for you!
WordPress is available to those using items (Inventory > Items), a feature of our classic version of Checkfront.
Interested in using WordPress with products (Inventory > Products)? Your account must be a member of our

Early Access Program. Please reach out to

Checkfront Technical Support

to learn more.
Early Access Program

The new product feature mentioned in this article is currently part of our Early Access Program, which means it is available to select Customers to try out and provide us with feedback.

To learn more about becoming part of our Early Access Program check out our related blog post or contact our Technical Support team.

Find our complete set of help articles related to the Early Access Program here: Early Access Program.
---
Video Correction

Note, the WordPress Plugin can now be found under:

Manage > Integrations > Website Integration > WordPress
Checkfront has created a plugin for WordPress which enables you to generate a shortcode, paste it into your webpage, and publish a booking portal for your customers to reserve their items or products.
Once configured, the plugin takes care of the complicated code required to display the portal. All you need to do is add the shortcode to your page and we'll take care of the rest.
If you'd like to alter the way the booking portal appears or behaves, then you can do that by adding arguments to the shortcode. This guide shows you just how to do that.
---
Unlike our Booking Widget integration method, the WordPress-based booking widget requires the installation of a plugin. The two methods yield similar results, but by installing the WordPress plugin, you avoid a complicated mass of code and are able to make changes to your website URL without needing to edit any code on your web page.
If you've used WordPress before, then you're probably familiar with the process of finding plugins and installing them on your server. If not, then don't panic! It's very easy to do and takes just a few moments to complete.
In the following steps, we'll show you exactly how to do this with just a few clicks of the mouse.
---
The first step is to locate the Checkfront plugin within the WordPress Plugin Directory. Navigate to your WordPress dashboard.
Click on the Plugins menu in the left sidebar.
Click Add New

.

Enter Checkfront

in the search field and press

Enter

.

When the Checkfront plugin appears, click Install Now

.
---

It takes but a moment for the plugin to be installed, after which you receive a confirmation message on the screen. From here, you click on the link labeled Activate Plugin.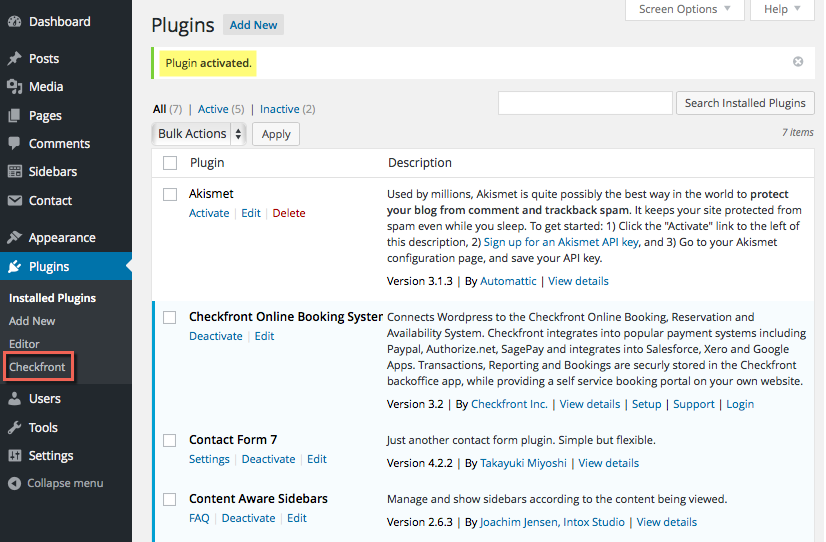 Once the plugin has activated, you see a confirmation at the top of the screen. The plugin is now visible on your list of active plugins and you also see Checkfront under the Plugins menu in the left sidebar.

Click on this Checkfront link to continue the plugin activation process. On the next screen, you can see a Quick Start Guide at the top with some instructions on how to proceed. Directly beneath those instructions is a white box labeled Setup. Here you find a field to enter your Checkfront Host URL.
The Checkfront URL is the URL by which you access your Checkfront admin area and was chosen by you when you first created your account. It is most likely [BusinessName].checkfront.com. In our example, we use demo.checkfront.com.
Enter the Checkfront Host URL.
Click Update

.

If everything went according to plan, then you should now see an Updated message in the Setup box.
Pay close attention to your Checkfront Host URL. Depending on where you are located, your URL may not end with .com. It may, for instance, end with .co.uk.

Entering this incorrectly is a common mistake, so double check before entering it in the field, just to make sure!
---
The next step is to generate the shortcode which is added to your WordPress webpage.
If you have any experience with the Checkfront Booking Widget, then you recognize that the process involved now is more or less the same. Once you've generated the code, however, you are presented with one basic line of code. The more complicated code is handled by the plugin you just installed.
Now, if you like, you can simply go ahead and add the shortcode [checkfront] to your webpage. When published, this shows the booking portal as configured in your Checkfront backend.
You can, however, manipulate the shortcode to create a more refined look for the portal. If you are experienced with shortcodes, then you can scroll down this page to see the arguments which can be added to produce certain results. If you're not sure about that, though, then the Shortcode Generator is the way to go.
Shortcode Generator

If you're still on the Setup screen, then look for the next white box labeled Use. Click on the Launch Shortcode Generator button.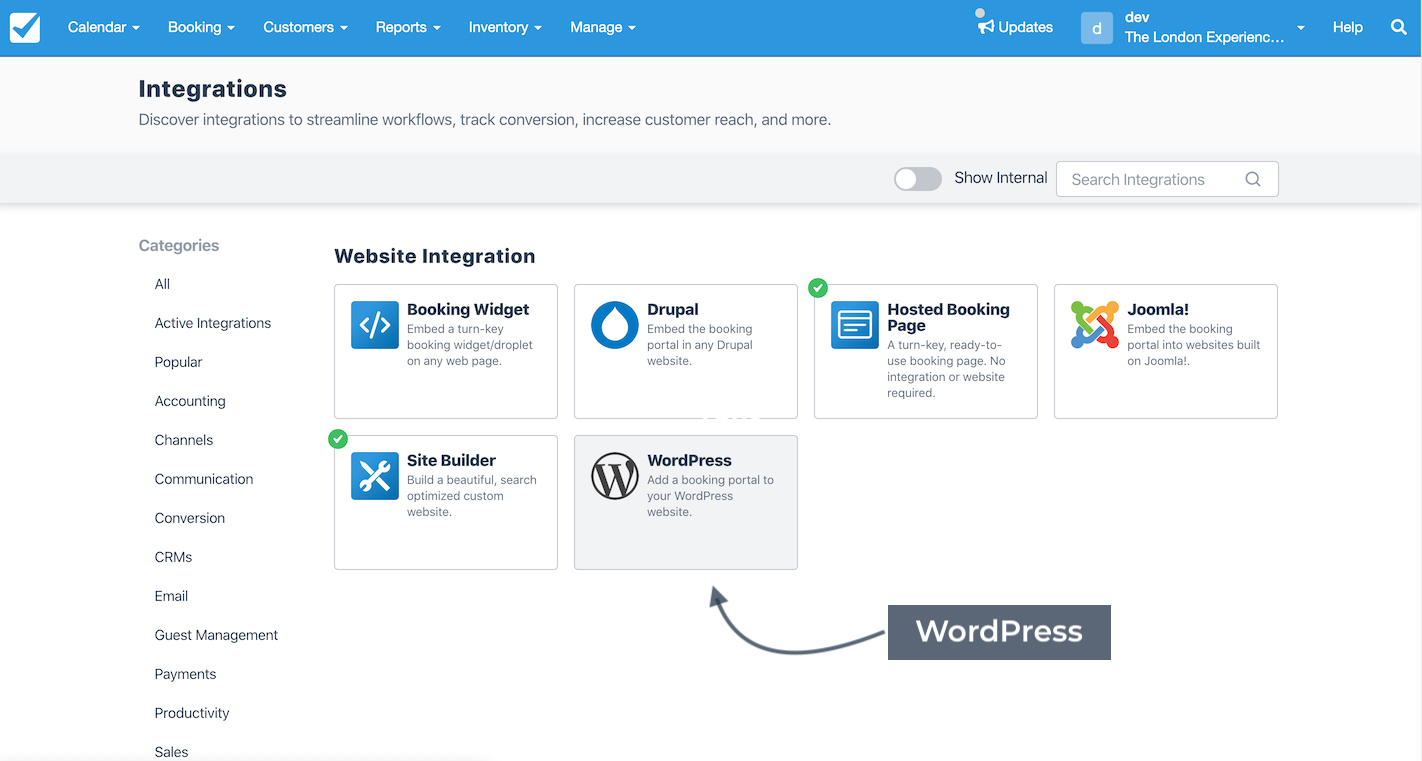 Alternatively, you can access the same Shortcode Generator through your Checkfront backend. To do this, go to Manage > Integrations > Website Integration and click on the WordPress tile to access the code generator.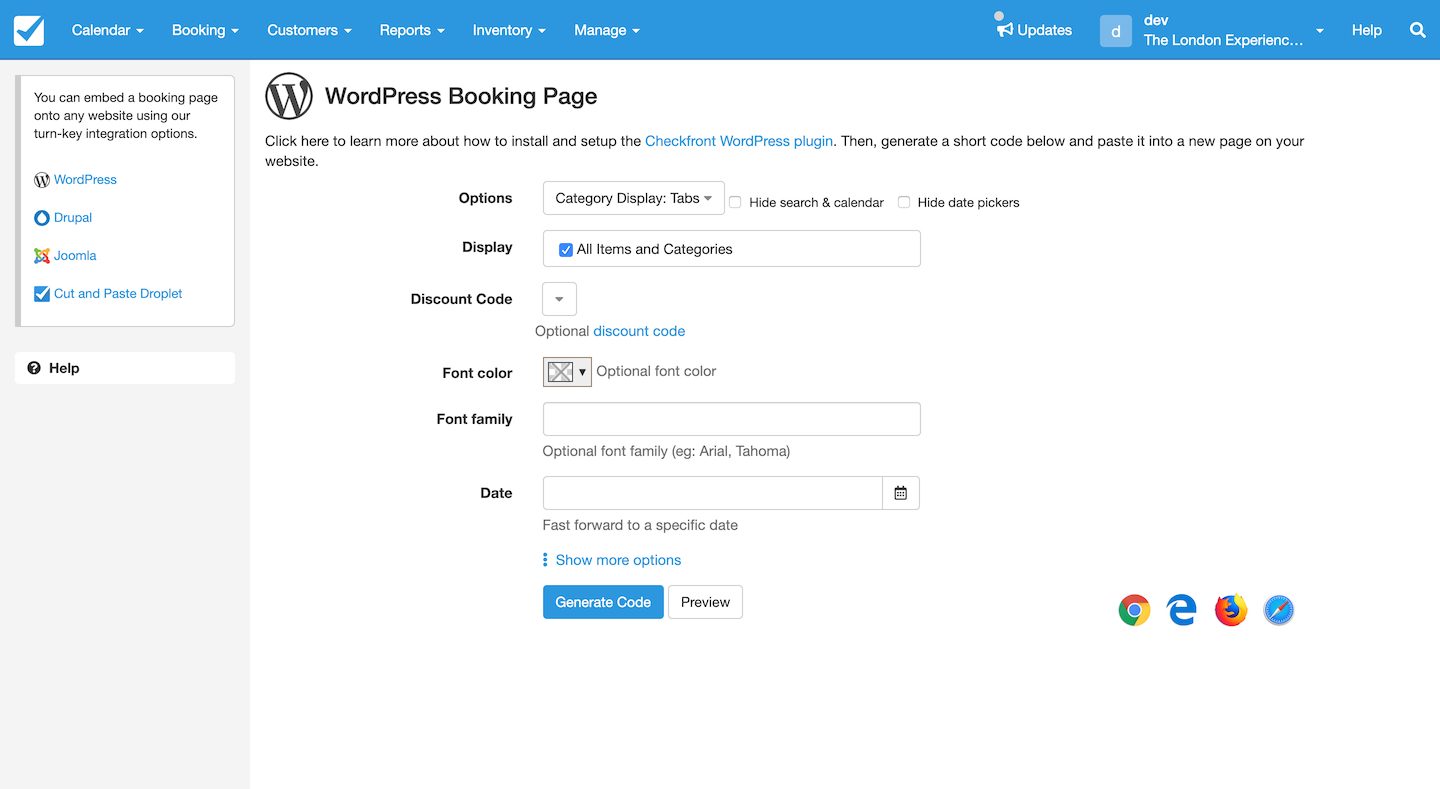 You notice at the bottom of the page, just above the Generate Code button, there's a link to Show more options. These are slightly more advanced features and we look at those in a subsequent article in this series.
For now, though, let's take a look at the basic set of configurable options available.
---
WordPress Plugin: Configurable Options >
---