---
Start by browsing our Knowledge Base. We have a host of helpful articles easily available to you there.
Can't find the answer there? Experiencing an issue? Checkfront's Technical Support Team is here to help!
---
Our helpful, patient, and expert Support Team is here to answer your questions seven days a week from 8:30 a.m. to 11:30 p.m. PST.

Live chat and phone support are available Monday - Friday, 8:30 a.m. to 11:30 p.m. PST (excluding Holidays).
| | |
| --- | --- |
| | While calls cannot be scheduled with Support Agents, you can book the time you need through Professional Services. Learn more |
---
We want to ensure that your attention is on your Customers, your booking platform should empower you, not distract you. We want to answer your questions in a timely manner, and to that end, our support is divided into two teams: General Assistance and Configuration Assistance.
Available channels: 
General Questions
Along with directing you to the place within our knowledge base that best answers your questions, we provide you with step-by-step directions (where applicable) to achieve the results you are looking for.

We often supplement our written support steps with short, custom videos to ensure your success!
Troubleshooting
We're here to help when you're stuck! If something isn't working the way you expect it to, we help you discover what may have changed or what might be missing so that you can get back to your day and your Customers

Where troubleshooting increases in complexity and depends on the type of issue, we escalate this to either our

Technical Analysts

or our

Configuration Team

to take a deeper dive.
Configuration
If you need a quick tip on configuring your inventory, our General Assistance team is here to help in live chat or phone*. However, if the type of support required escalates in complexity, we refer you to our dedicated Configuration Team to work through your questions. Learn more below.
Bug Reports
If you believe you have encountered a glitch in the matrix, we are here to confirm and report it. Once we have reproduced the issue, it is escalated to our Technical Analysts, who work closely with our QA Team to triage it. Learn more below.
Available channel: 
Configuration assistance is available Monday-Friday, between 9-5 PM PST. 

Priority is given outside of these hours where appropriate. 
Whether you're just starting with Checkfront or changing how you deliver your products to your Customers, our Configuration Team is ready to help. 
Helpful information for configuration assistance: 
For business needs that require unique inventory, availability, pricing or workflow configurations that require a longer time period of support.

We have found that live chat/phone* can be a great tool to gather information, but it is not the best solution for advanced configuration work. Email is the preferred method of communication for configuration assistance.

Our configuration specialists may request a call with you when more clarification is needed. 

Providing as much information as possible about your business needs helps us find possible solutions.

Depending on the uniqueness of your business needs, there may not be a solution. In these situations, we may offer solutions that invite you to consider other ways to reach your goal.

Implementation Specialists provide you with the steps needed to achieve your configuration, they can not implement the solution on your behalf. If you would like a solution implemented, our Professional Services Team offers this.
Available channels to report to: 
After the agent has confirmed or started the initial investigation, communication resumes via Email. 
While we do our best to ensure you do not encounter a glitch in the matrix, the ever-changing nature of software makes this next to impossible to achieve 100% of the time. When found and reported, issues are prioritized based on severity. To help guide your experience when encountering unexpected behaviour, we've outlined (at a high level) how we triage bug reports.


| | |
| --- | --- |
| | While we provide our Product and Development Teams with initial triage details, including priority, this does not guarantee that the priority is retained. Product and development teams review reported issues weekly and may re-prioritize an issue depending on current projects, pending updates, and Product Roadmap Themes. |
Critical - Immediate Attention
Blocking payments or bookings. May not include issues that arise due to 3rd party integrations

System downtime

A high number of customers impacted



High priority

High impact across our customers

Visible business loss due to the issue

Medium priority

The issue is related to an infrequently used setting

A reasonable interim workaround is available 

The issue is difficult to reproduce consistently 

Low impact across our customers

Low priority

The issue is a result of a complex, unsupported workaround

The issue is the result of legacy functionality

The issue is impacting a very small number (1-2) of customers and is not a blocking issue

The issue results from unforeseen or unintended use of a feature and results in

feedback

to improve the feature. 
Unfortunately, we can never confirm or provide timelines for potential fixes on reported issues. Critical issues receive immediate attention from our Development Team, and our historical average is that these are resolved within a 24-hour timeframe.
We understand and empathize when an issue is critical to your business but does not land within a similar priority in our framework. Where possible, we always search for and offer possible workarounds for your scenario.
We always encourage you to post your feedback in the community as this often results in engaging other Operators that may not have reported an issue that also impacts them. The more people talk about a topic, the greater attention it brings to our Product and Development Teams. This is your community. It is meant to empower and inform you as much as us!
---
Submit a request to email via our online form. Let's figure out how to do that together...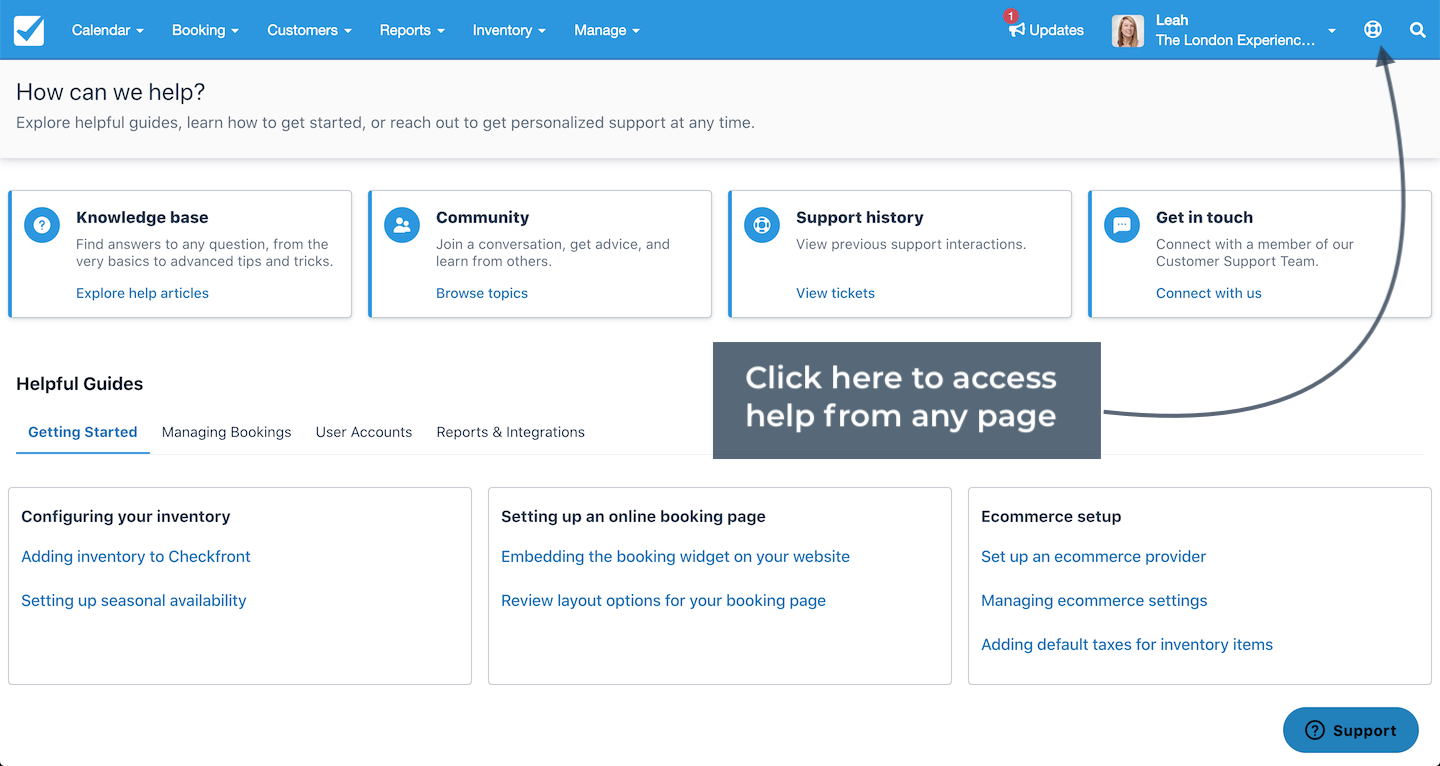 First, find and click the Help icon at the top right-hand side of the top menu.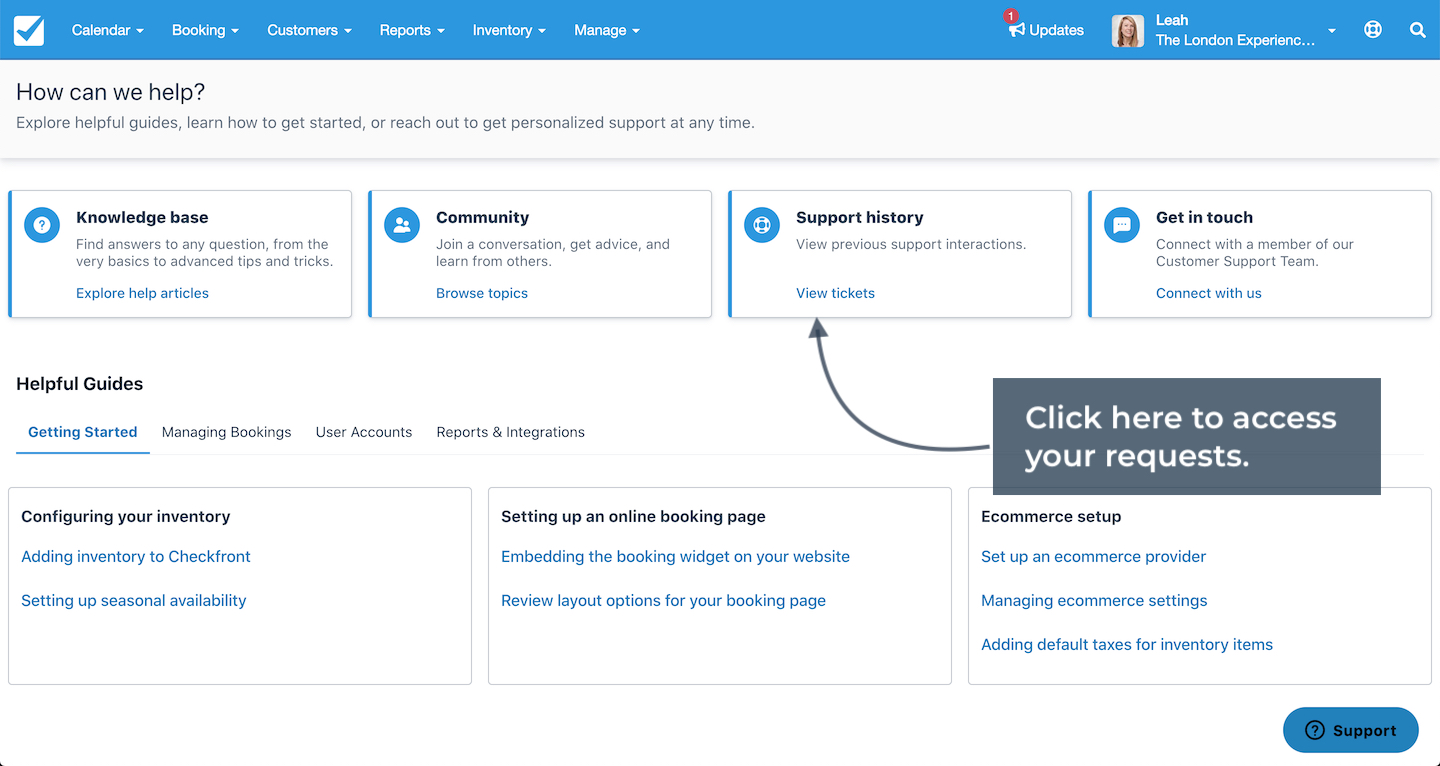 Next, click View Tickets to access the Support Center. You may be asked to Verify your Email address.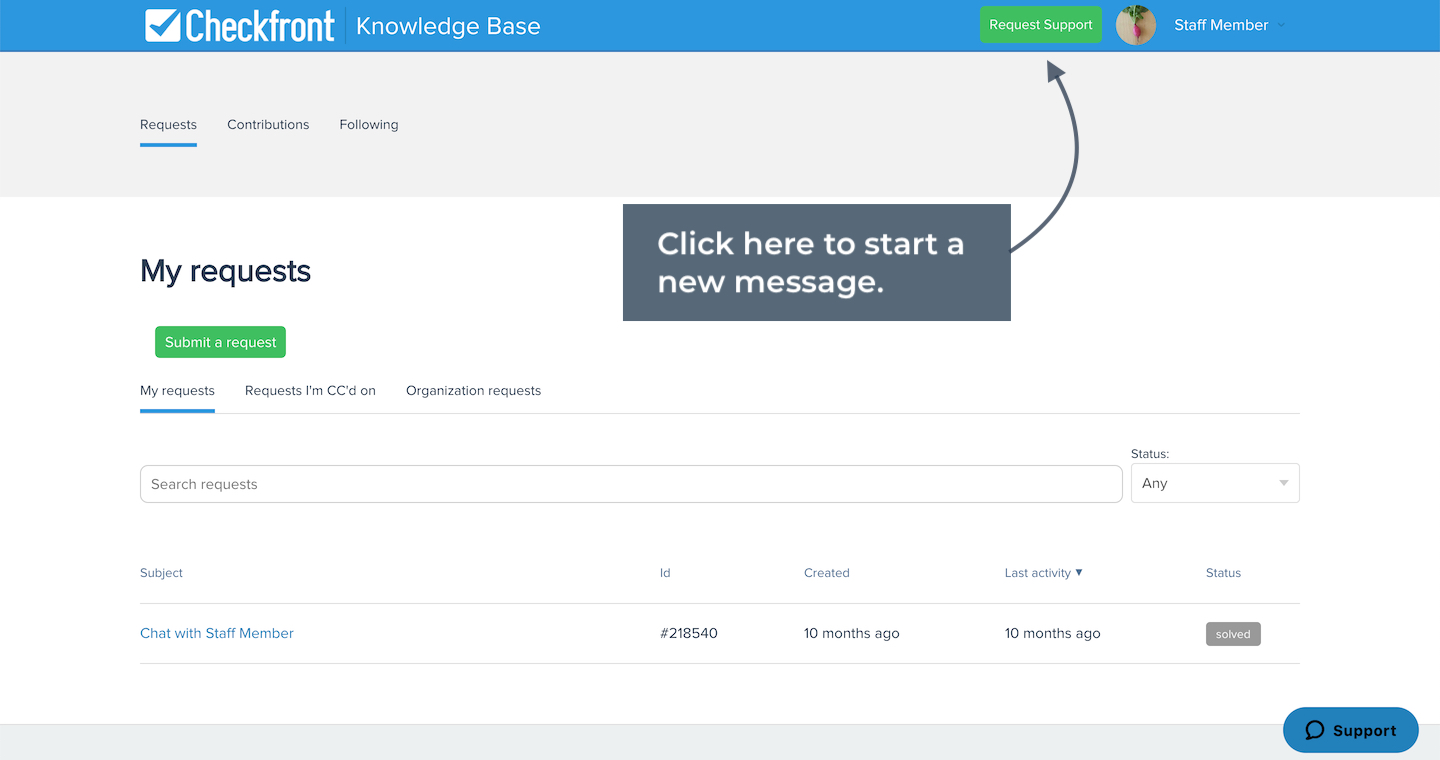 To submit a new message to Support, click the Submit Request button in the top right-hand menu.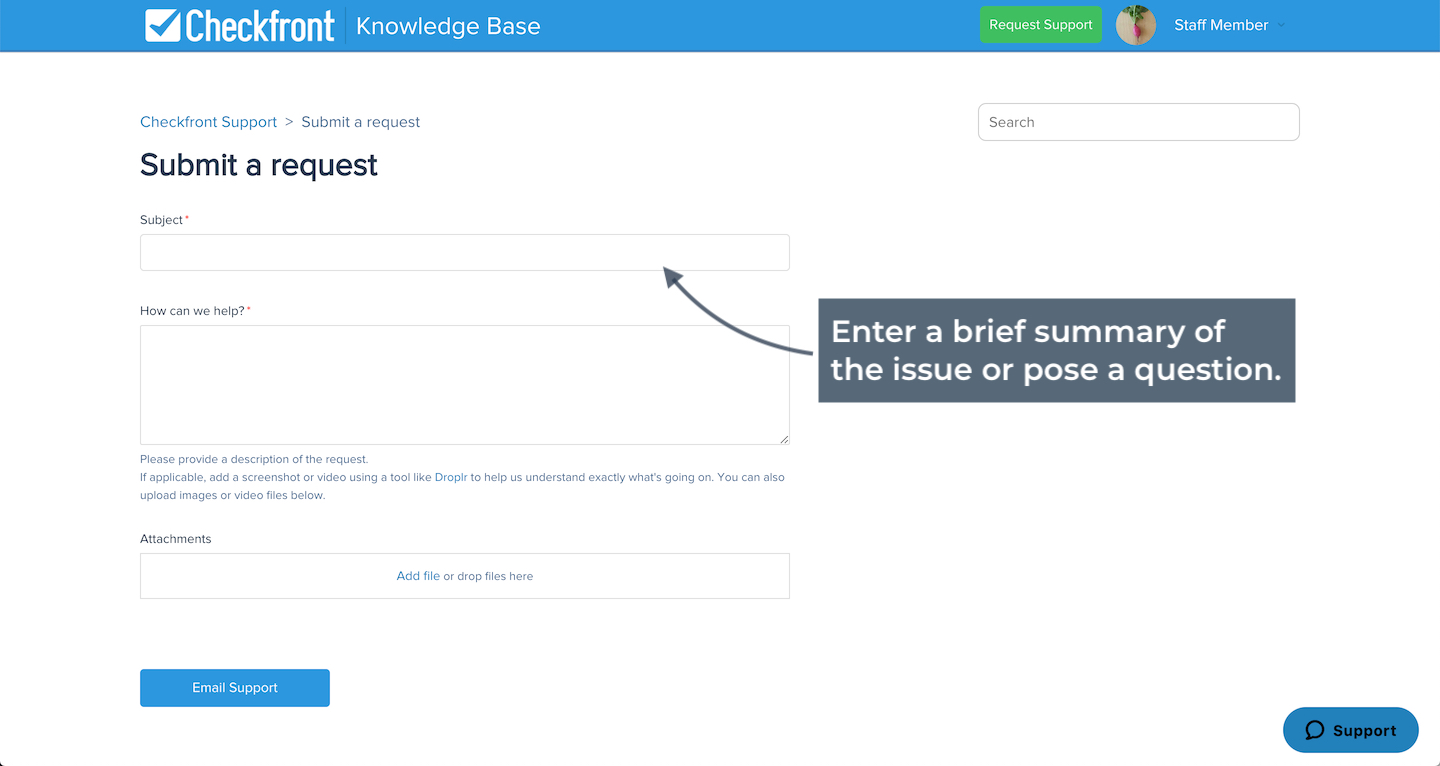 Within the Subject field, enter a summary of the issue or question. This helps our Technical Support Specialists quickly evaluate the nature of the request at a glance.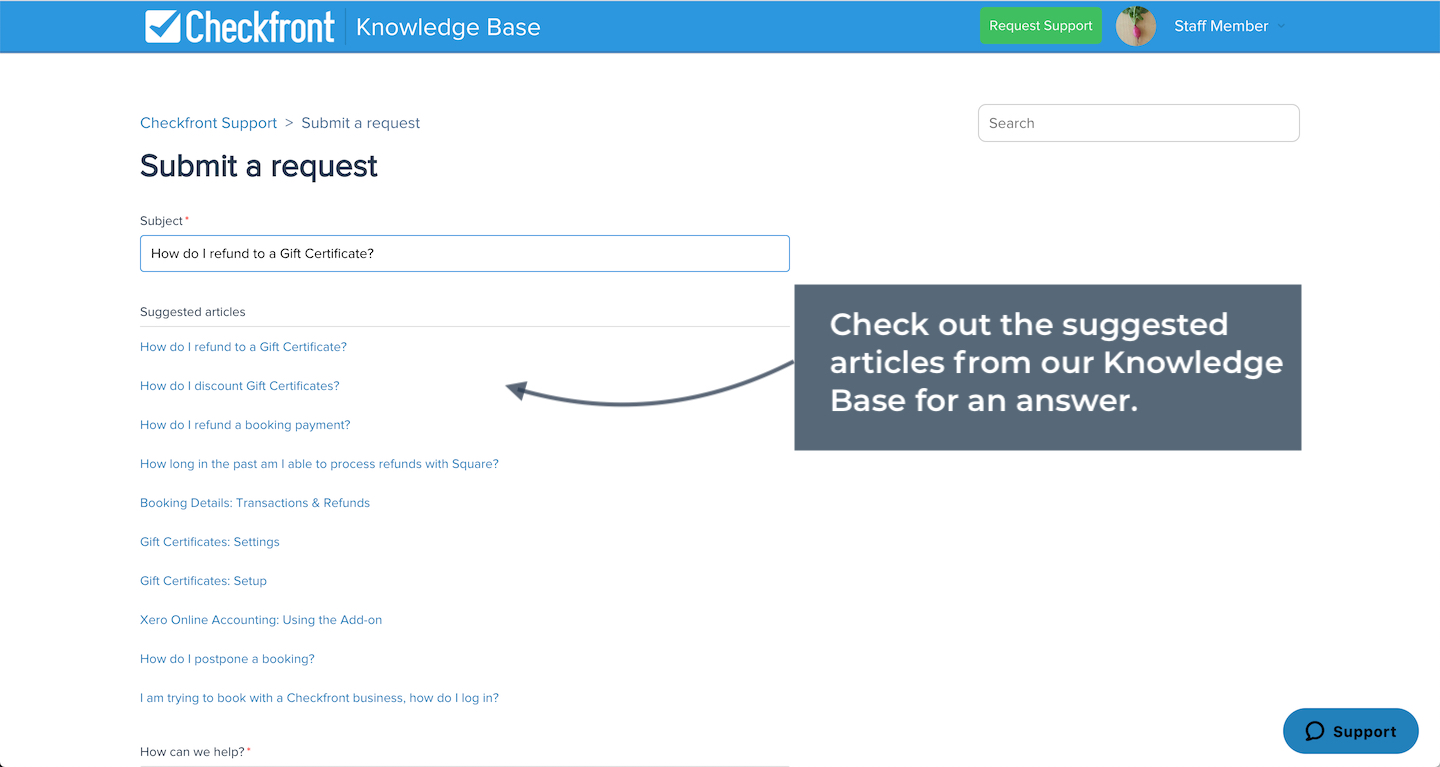 As you enter the Subject, several Suggested Knowledge Base Articles displays below the Subject line. Please review these articles before continuing with your request, as you may find the answer you seek.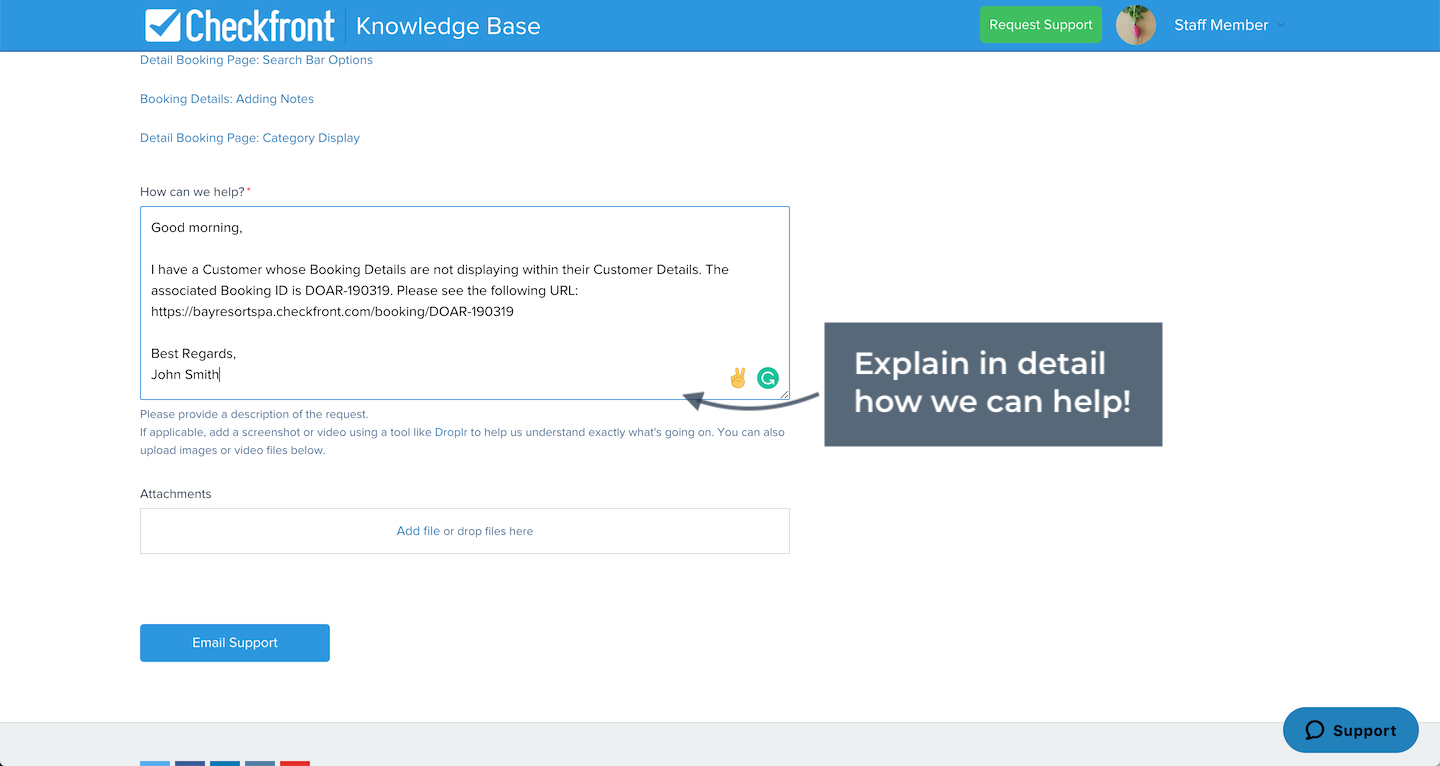 Explain how we can help by describing the issue you are experiencing or the question you need to be answered. This helps us help you faster!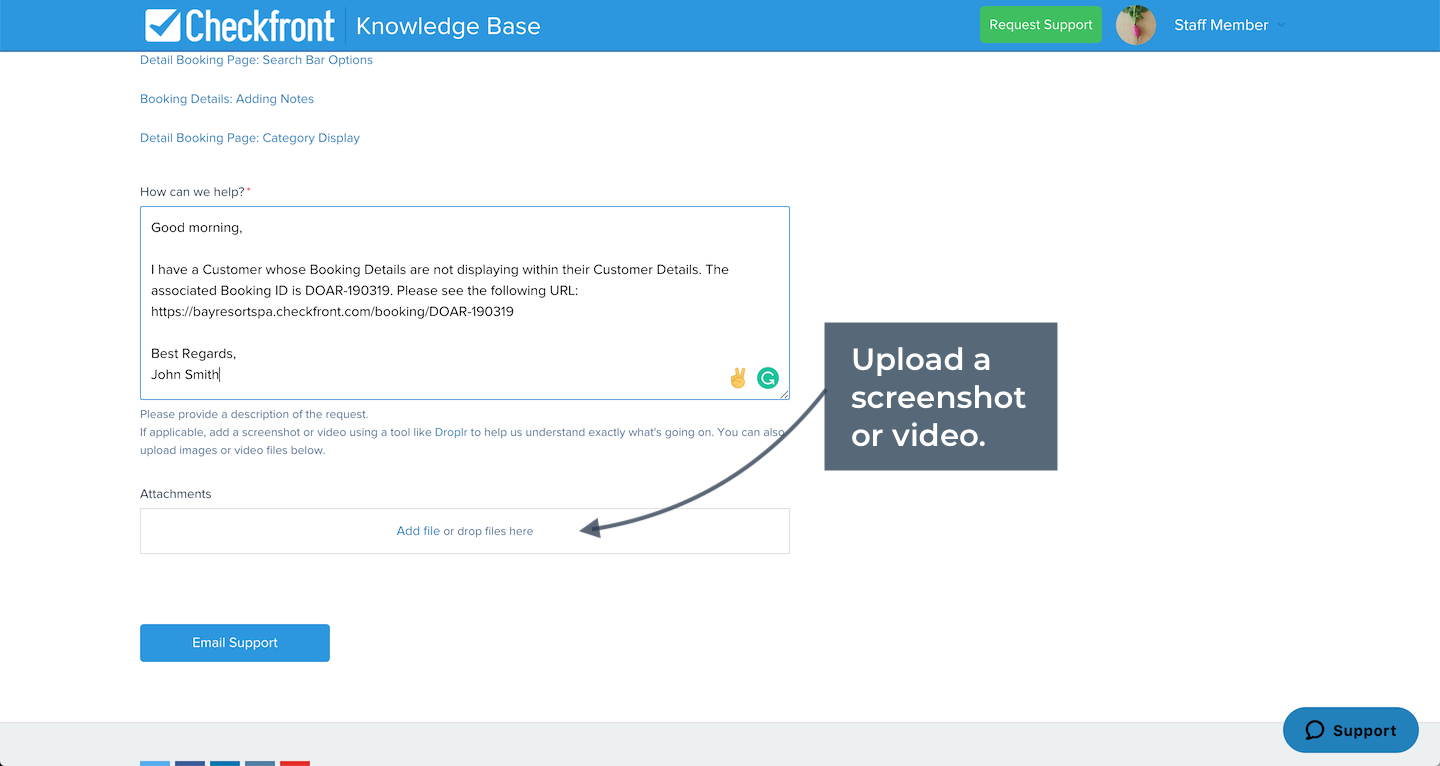 If possible, provide screenshots or videos to help illustrate the issue or your question. Any attachments to support your request can be added via Add File under Attachments.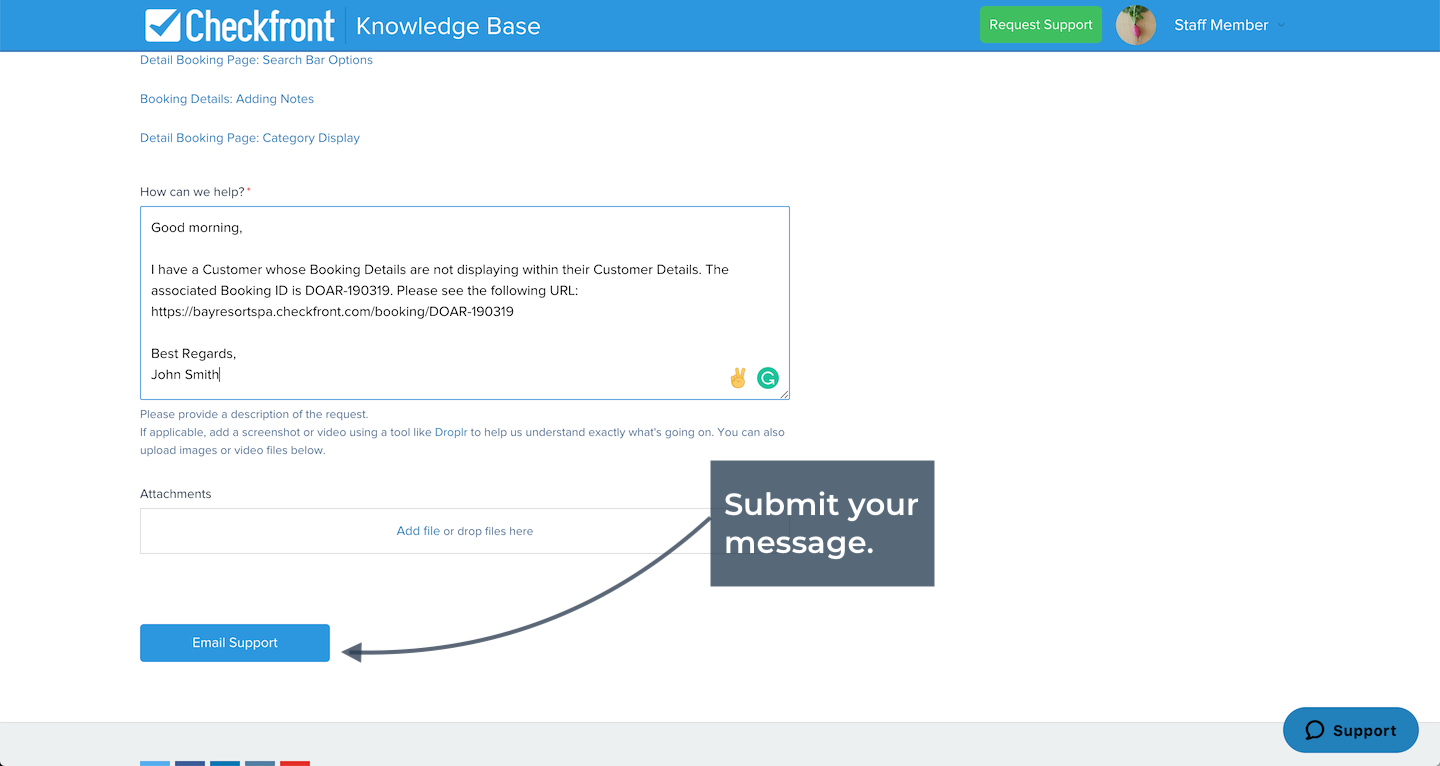 When ready, click Email Support to send in your Support request. A Technical Support Specialist will get back to you as soon as possible!
---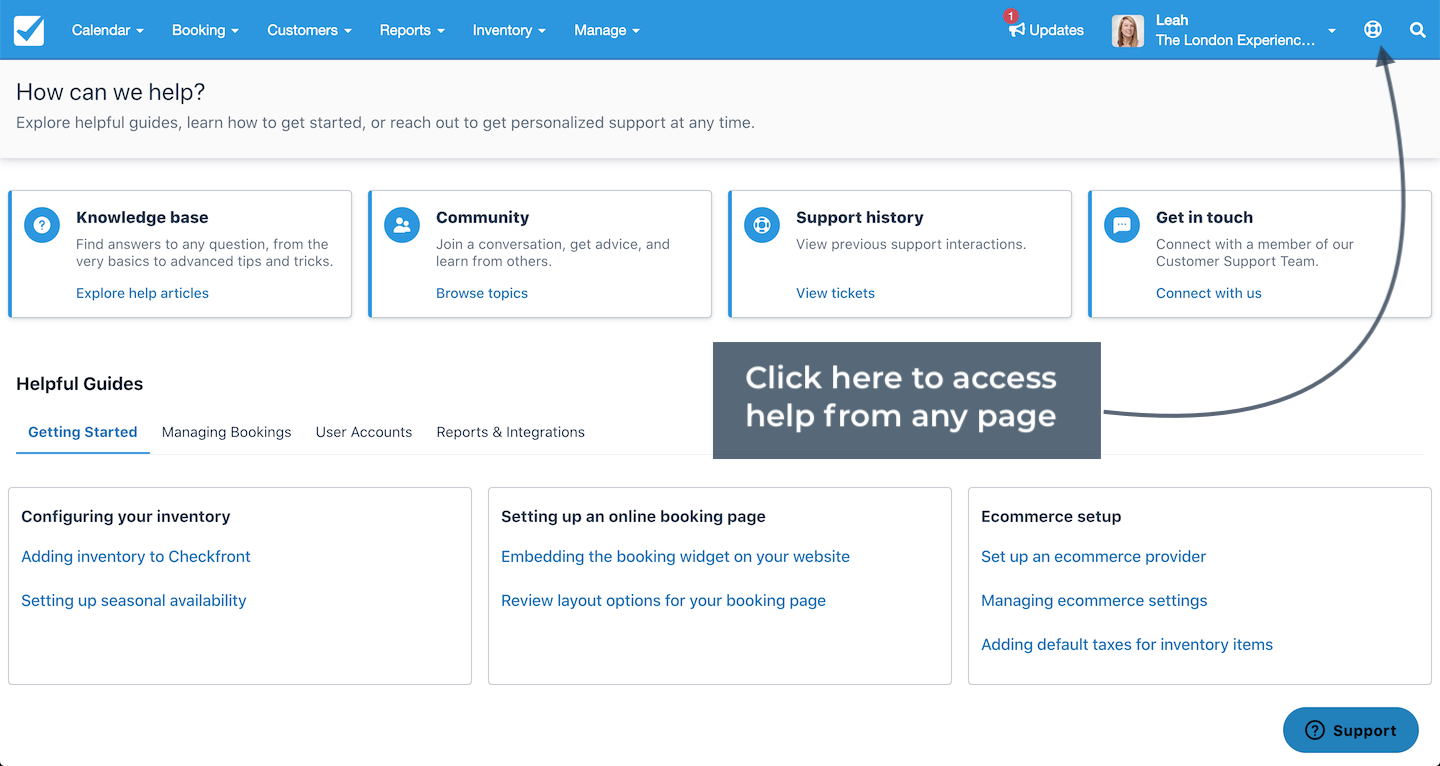 To chat live with Customer Support, click on the Help link at the top-right of the navigation bar.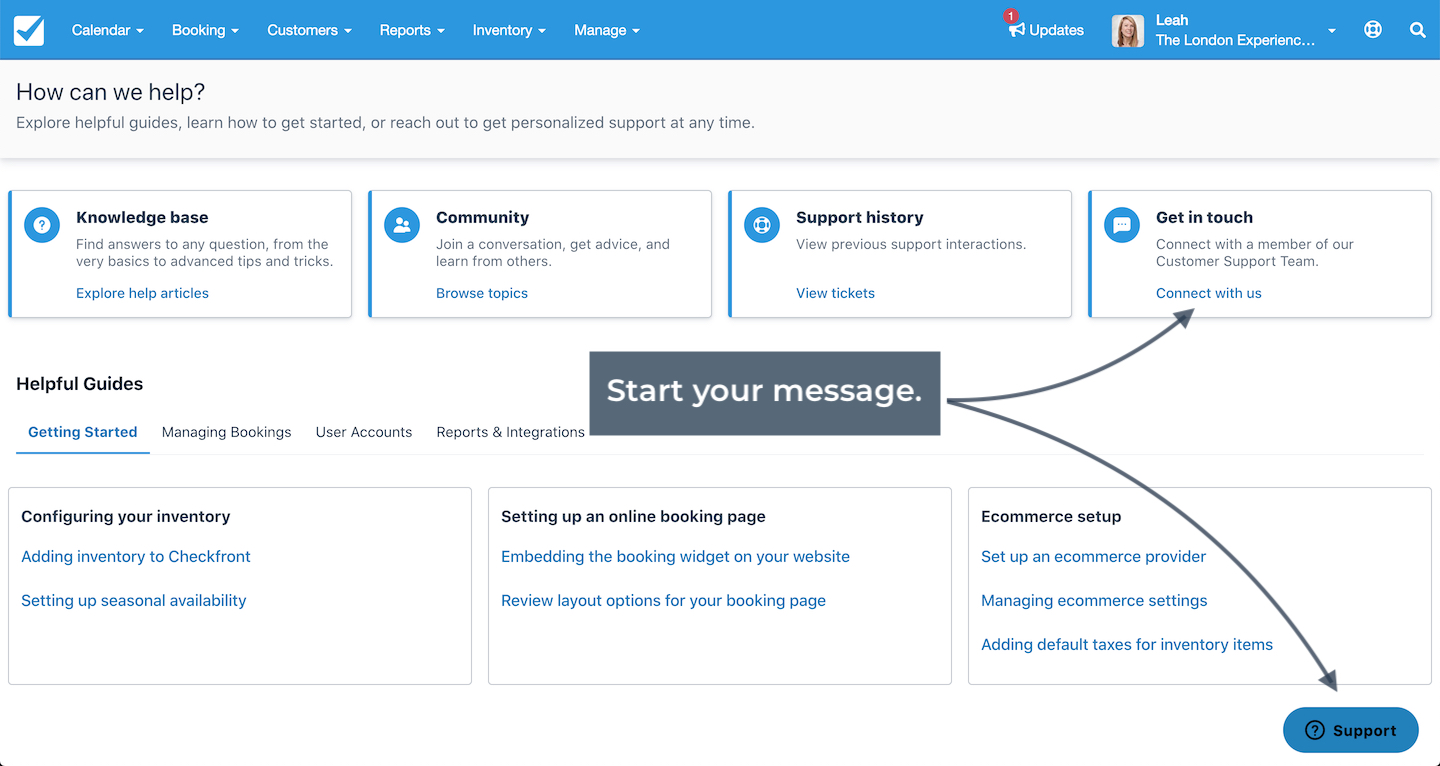 From there, you can click Connect with us or the Support button.
Ask questions and find answers from other customers and Checkfront Support! Share opinions and solutions, as well as request new features. Visit the Community Forum
Do you have ideas that you think would make Checkfront even better? Share your feedback directly with us!
Go to the Checkfront Idea Portal.
Click on the blue + Submit idea button at the top-right.
In at least two sentences, tell us what you think could be improved and what outcome you hope to see.
Choose how necessary this idea is to you, from Not Important, Nice-To-Have, Important, or Critical.
Provide your email address.
Click Submit.
---
We offer personalized training sessions called Configuration Assistance, where a Checkfront Implementations Specialist helps you get the most out of the system.
Would you like to have us set up your entire inventory for you? Based on your business requirements, we offer comprehensive packages, including configuration services, training, and enhanced support for a specified time. Please contact us for more details.