---
We have a host of helpful articles and videos in our Knowledge Base.
Can't find the answer there? Experiencing an issue? Checkfront's Technical Support Team is here to help!
You can connect with our team of Technical Support Specialists in the following ways depending on your plan.
SOHO
PRO
PLUS
ENTERPRISE
FLEX
Learn More

Support Availability
Standard
Standard
Priority
Priority
Priority
Support Channels
Email, Chat
Email, Chat
Email, Chat, Phone*
Email, Chat, Phone*
Email, Chat, Phone*
Account Manager
X
X
X
Dedicated
Dedicated
Billing Support

✓All plans. See the Billing section of the Contact Us page for the Billing Team's contact information and available hours.

Community Forum

✓All plans. Register and sign in to the Checkfront Community to participate!

Professional Services
Configuration Assistance and Custom Configuration for a fee.
*See the General Inquiries section of the Contact Us page for phone numbers, if you
are a Plus, Enterprise, or Flex Customer.


Sales Onboarding Session
Prospective or Trial Customer?
Contact Sales for a complimentary onboarding session today!
Paid Customer?
Our Support Team is here to help you! See the table above for options by plan.
We are here for you.

If your business is being impacted by COVID-19, please reach out to us at support@checkfront.com to learn how we can help keep your business up and running during this trying time.

Also, check out our growing list of Frequently Asked Questions around managing your bookings during the COVID-19 crisis.
Get Checkfront for FREE


✓ Unlimited Bookings
✓ Unlimited Features
✓ No Monthly Fees

Learn more about the Checkfront Flex Plan!
---
You can reach out our Customer Support Team via email at support@checkfront.com. Alternatively, you can submit a request to email via our online form. Let's figure out how to do that together...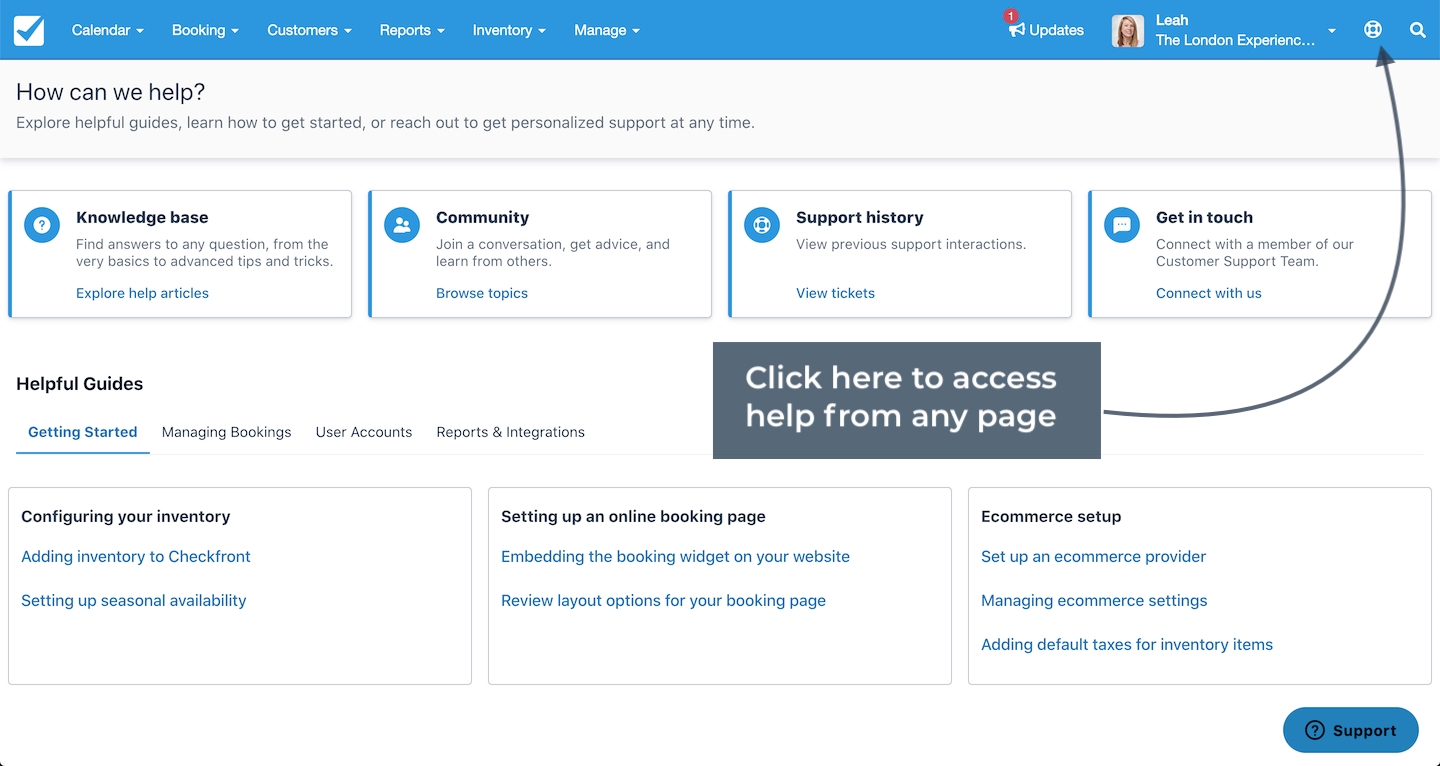 First, find and click the Help icon at the top right-hand side of the top menu.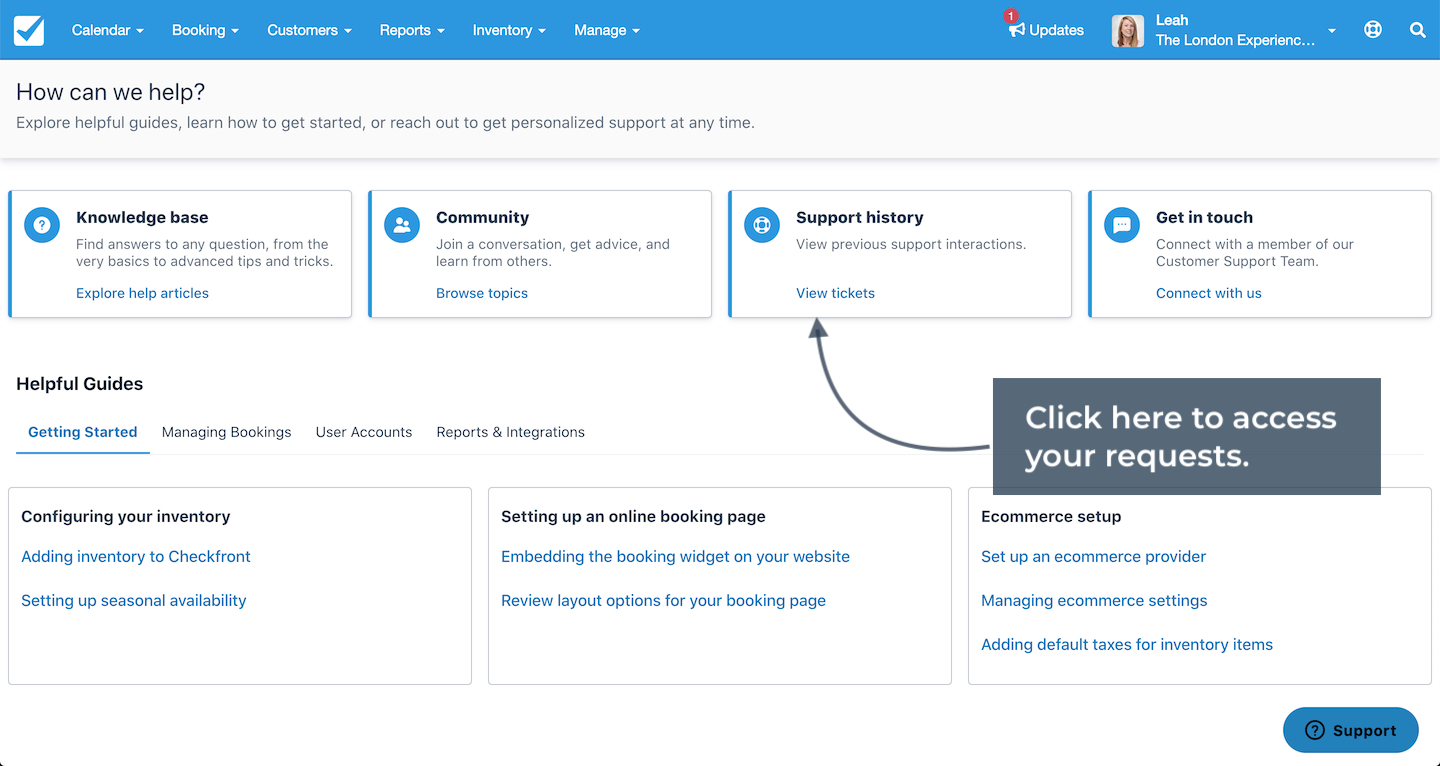 Next, click View Tickets to access the Support Center. You may be asked to Verify your Email address.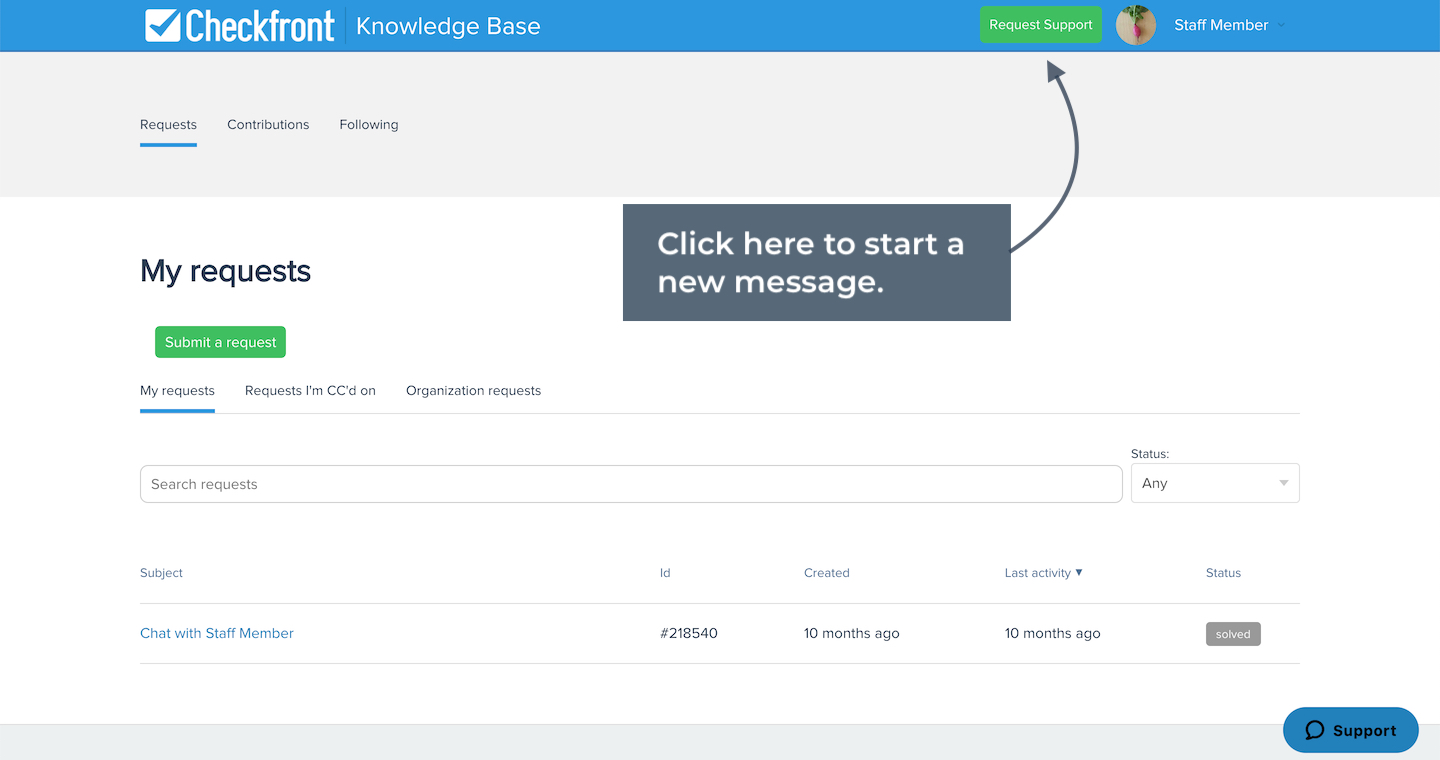 To submit a new message to Support, click on the Submit Request button within the top right-hand menu.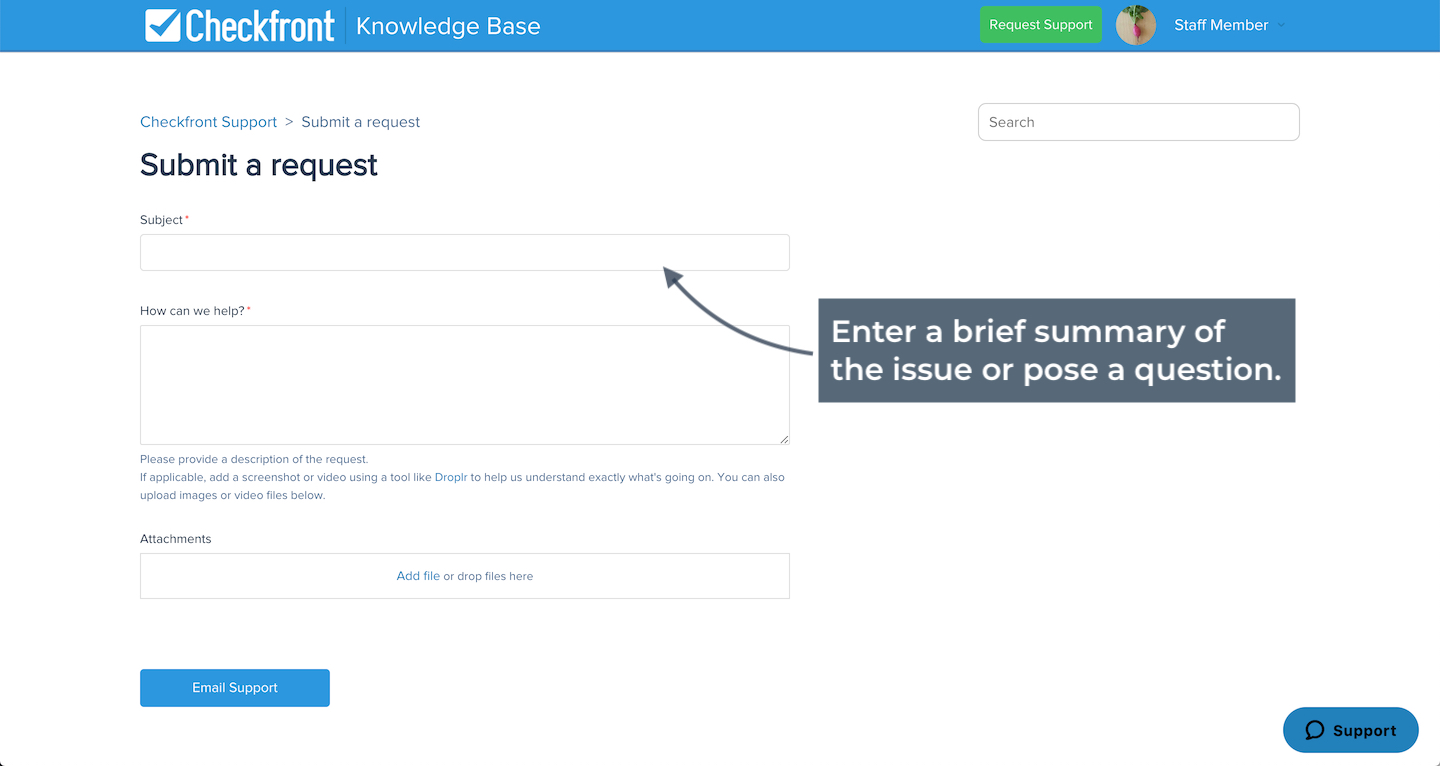 Within the Subject field, enter a brief summary of the issue or question. This will help our Technical Support Specialists quickly evaluate the nature of the request at a glance.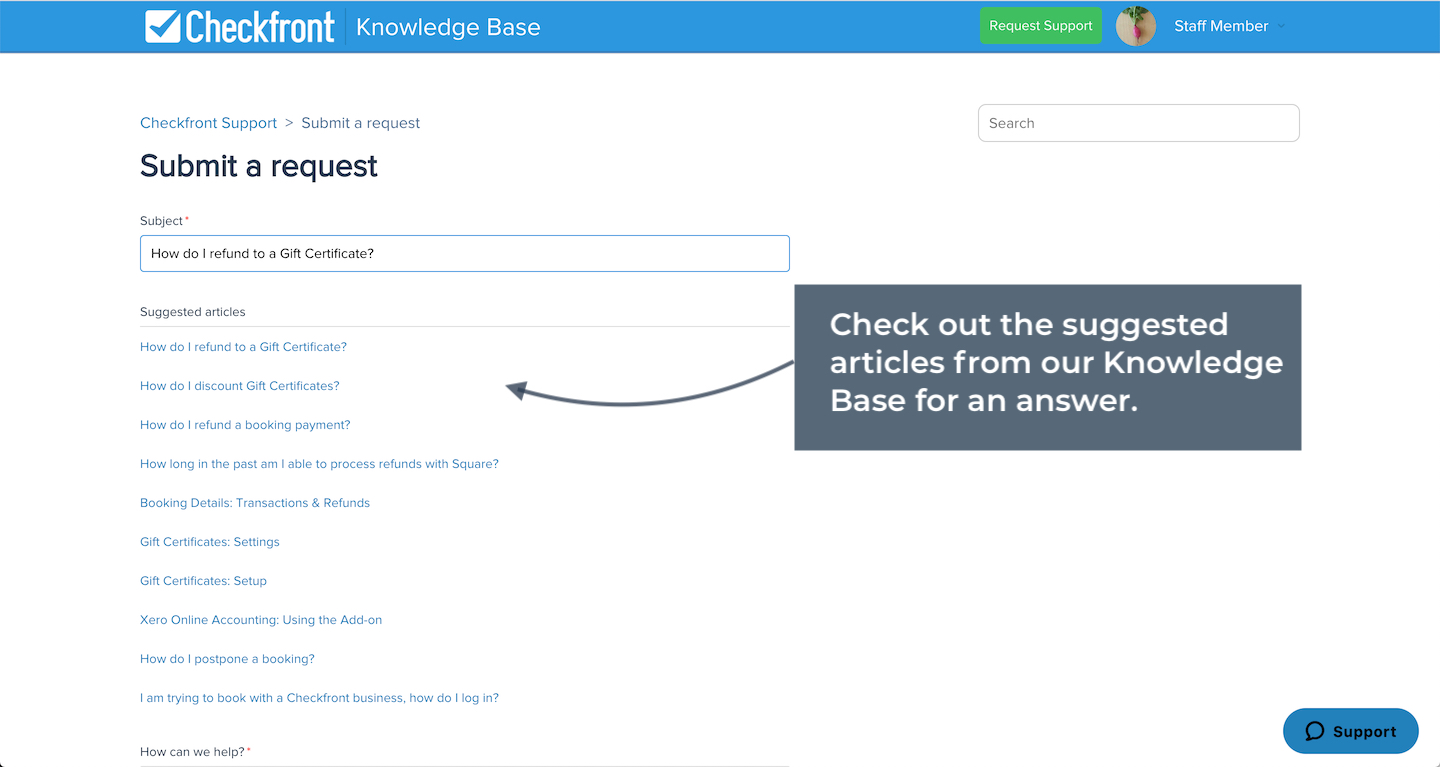 As you enter the Subject, a number of Suggested Knowledge Base Articles will display below the Subject line. Please quickly review these articles before continuing with your request, as you may find the answer you are looking for!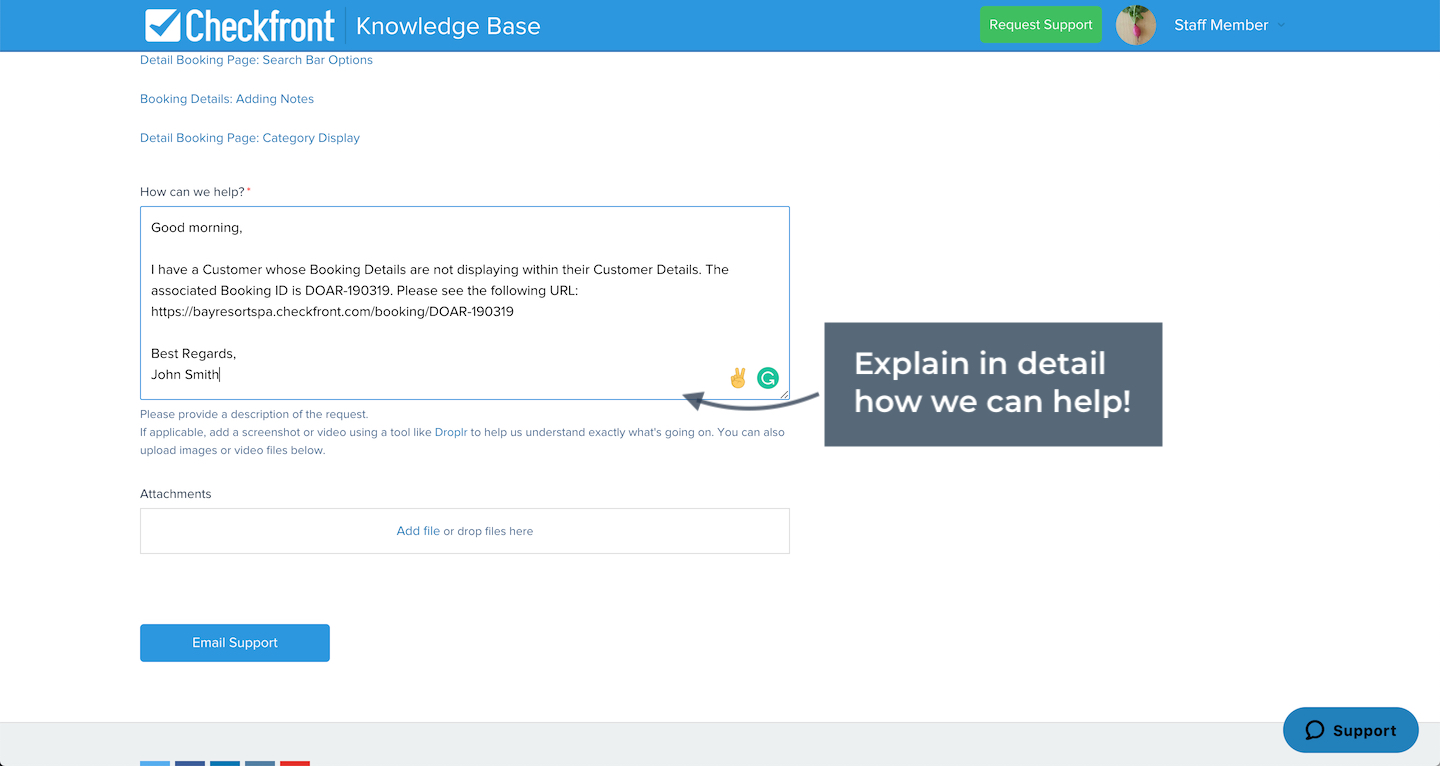 Explain how we can help by providing a detailed description of the issue you are experiencing or the question you need answered. This will help us, help you faster!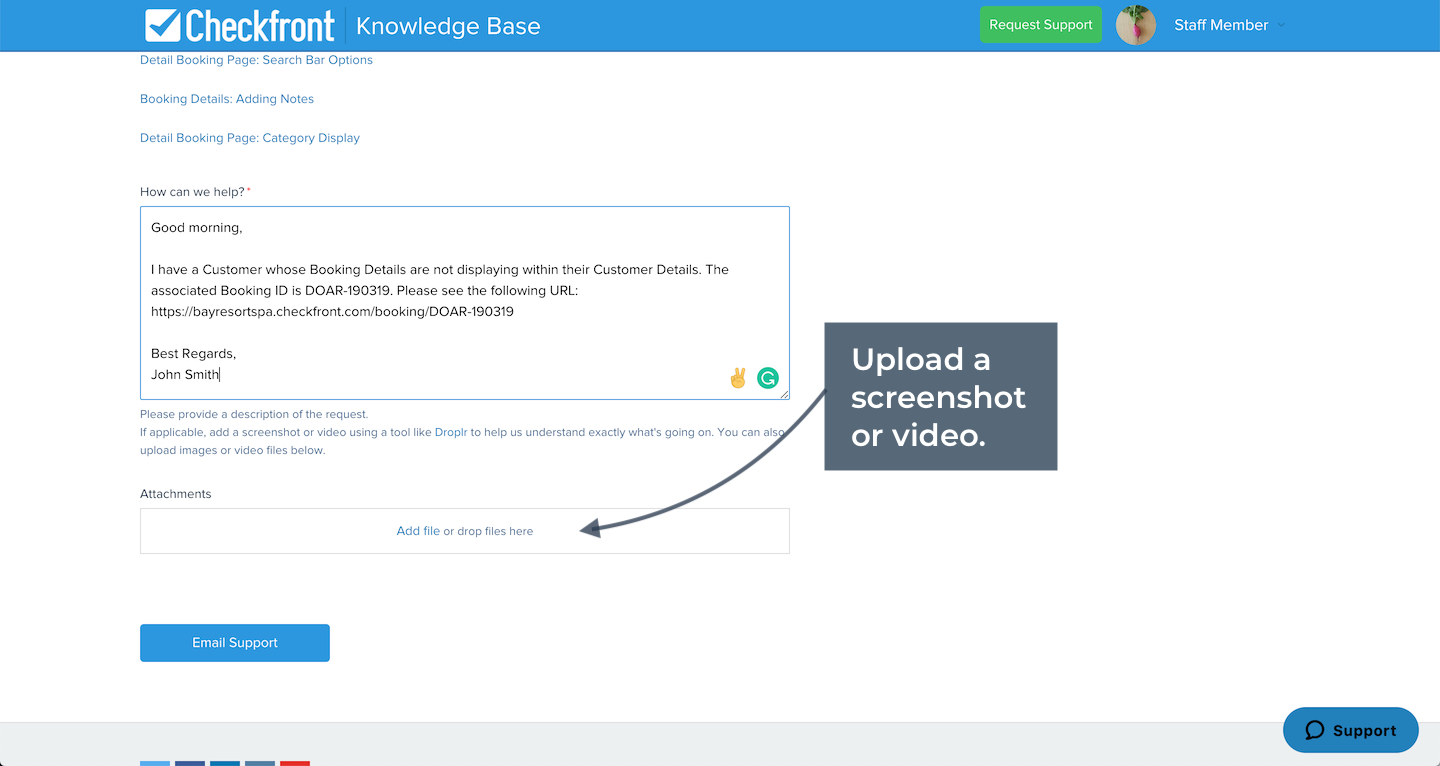 If possible, provide screenshots or videos to help illustrate the issue or your question. Any attachments to support your request can be added via Add File under Attachments.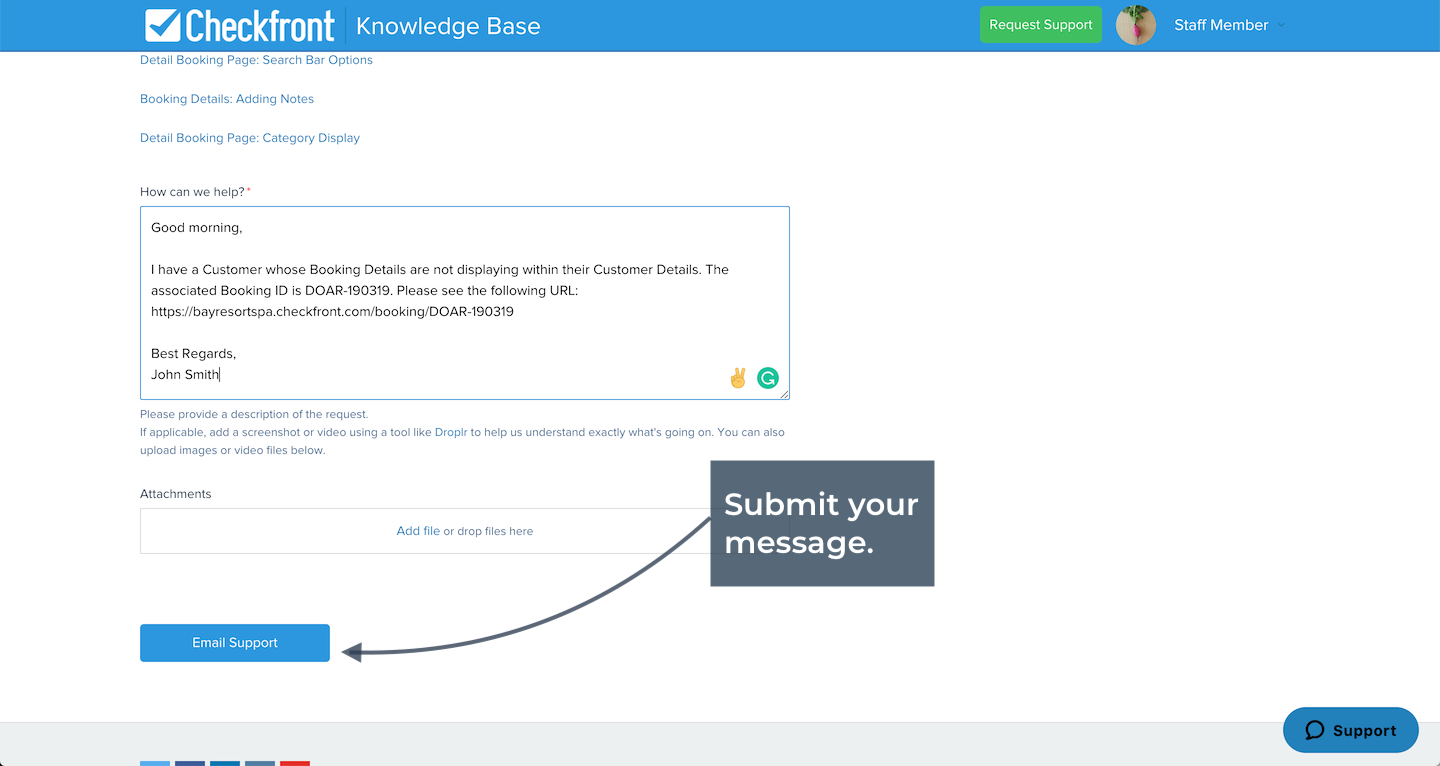 When ready, click Email Support to send in your Support request. A Technical Support Specialist will get back to you as soon as possible!
---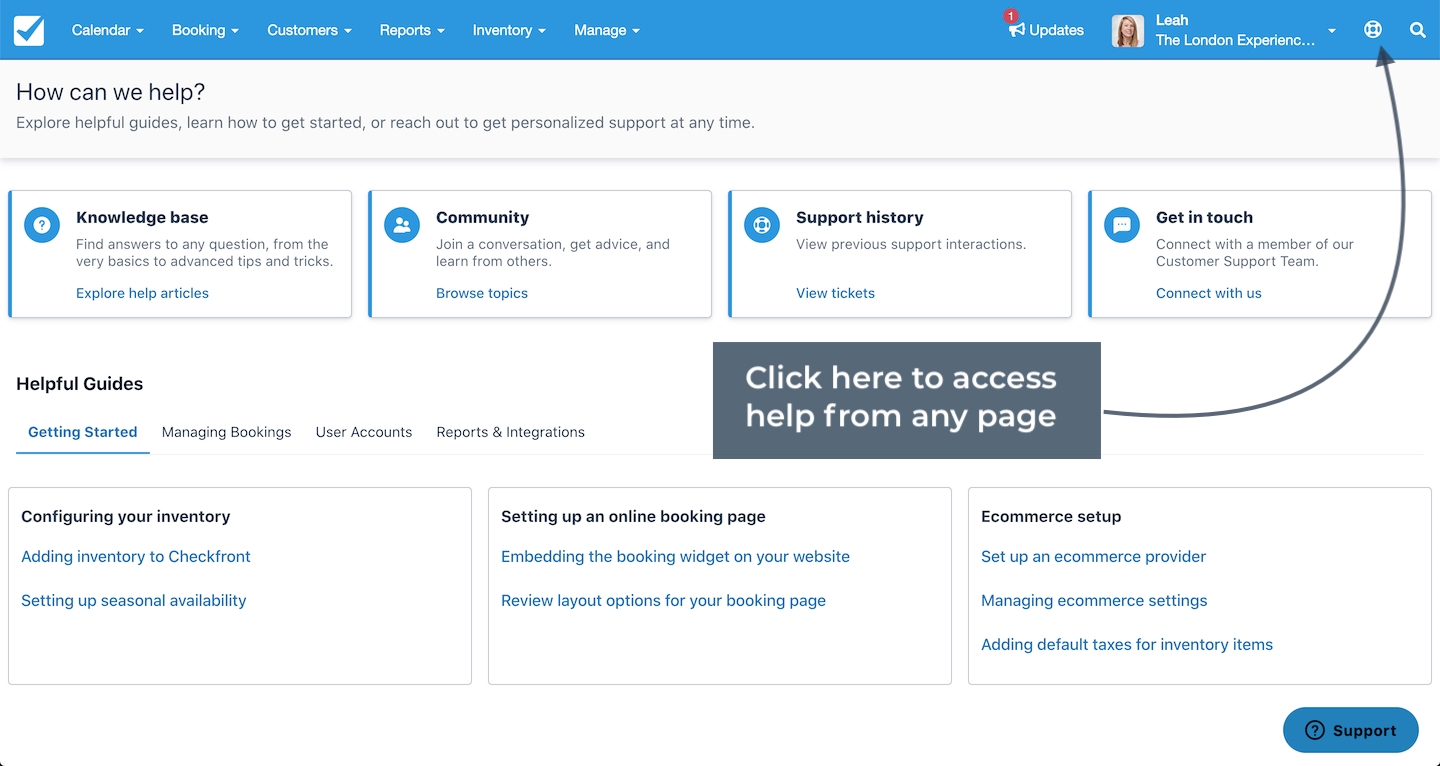 To chat live with Customer Support, click on the Help link at the top-right of the navigation bar.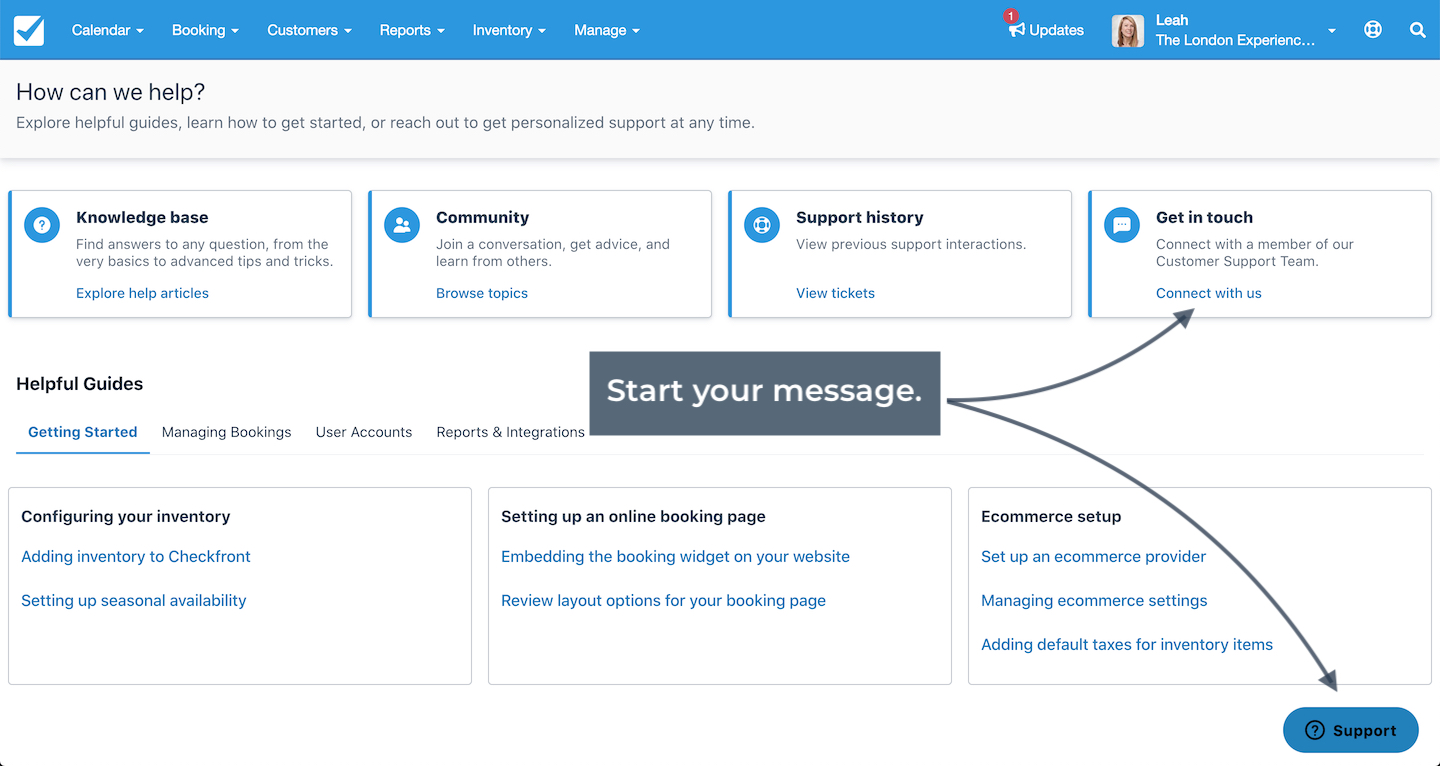 From there, you can either click on Connect with us or the Support button.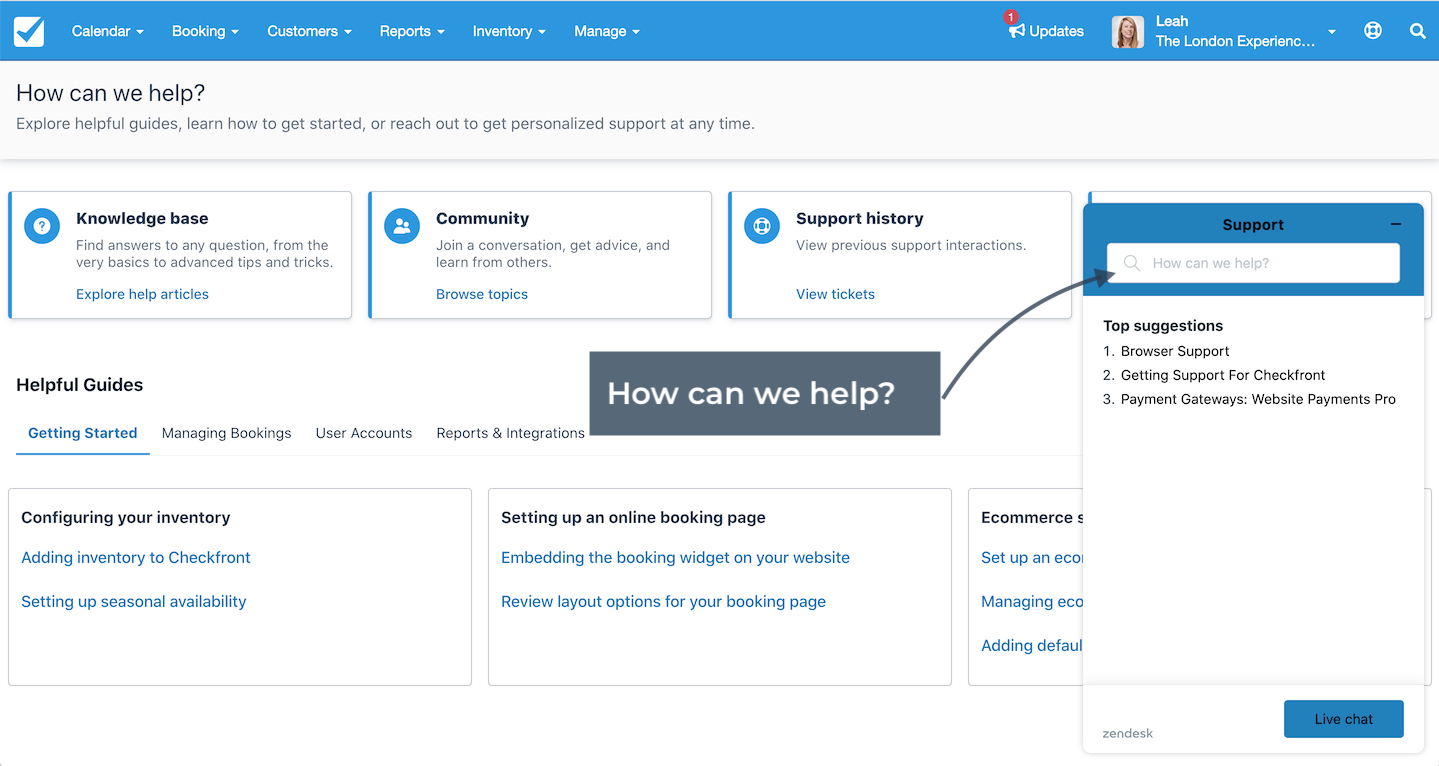 Either option will open the Chat window.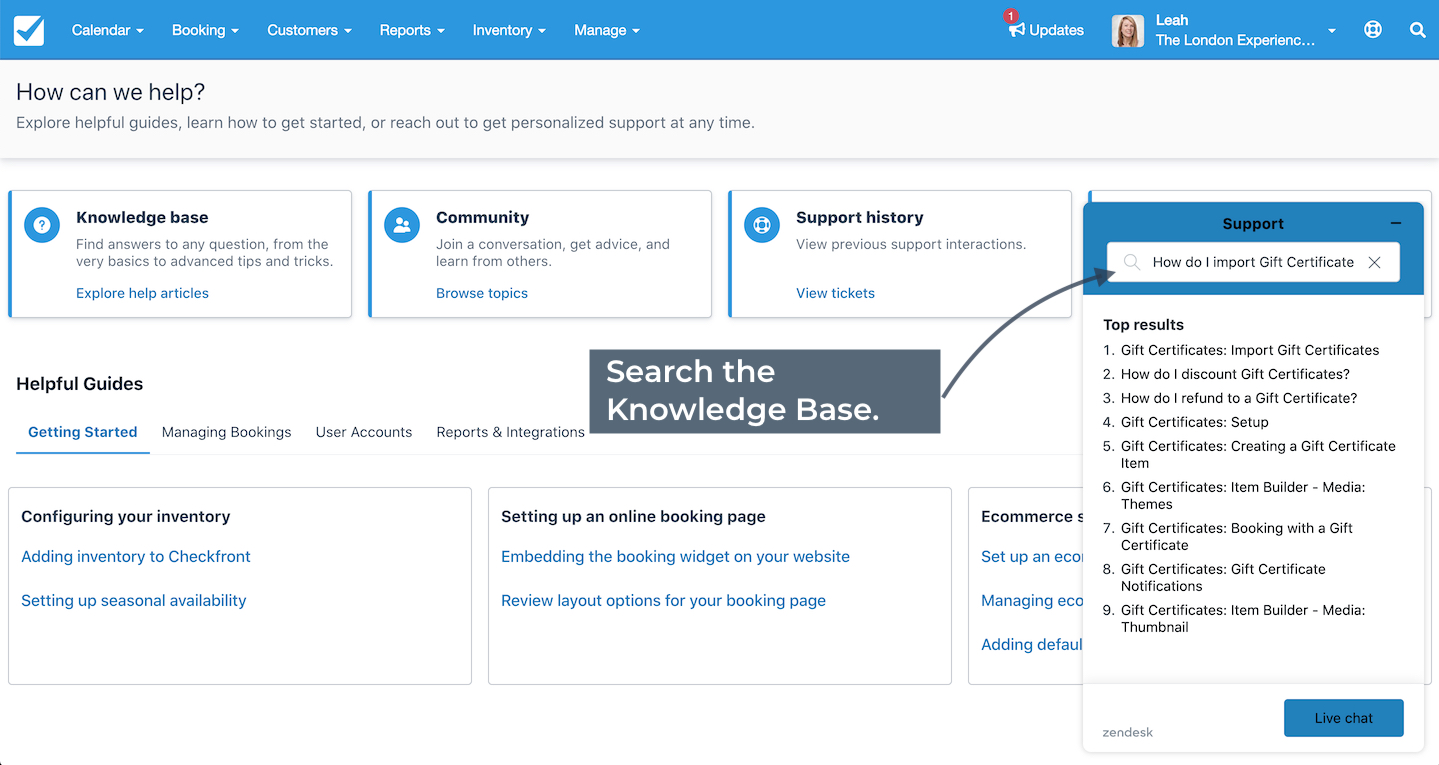 Enter your question or some related keywords into the search field and a list of matching articles from our Knowledge Base will display. Have a read through some of the top results to see if any of the articles answer your question.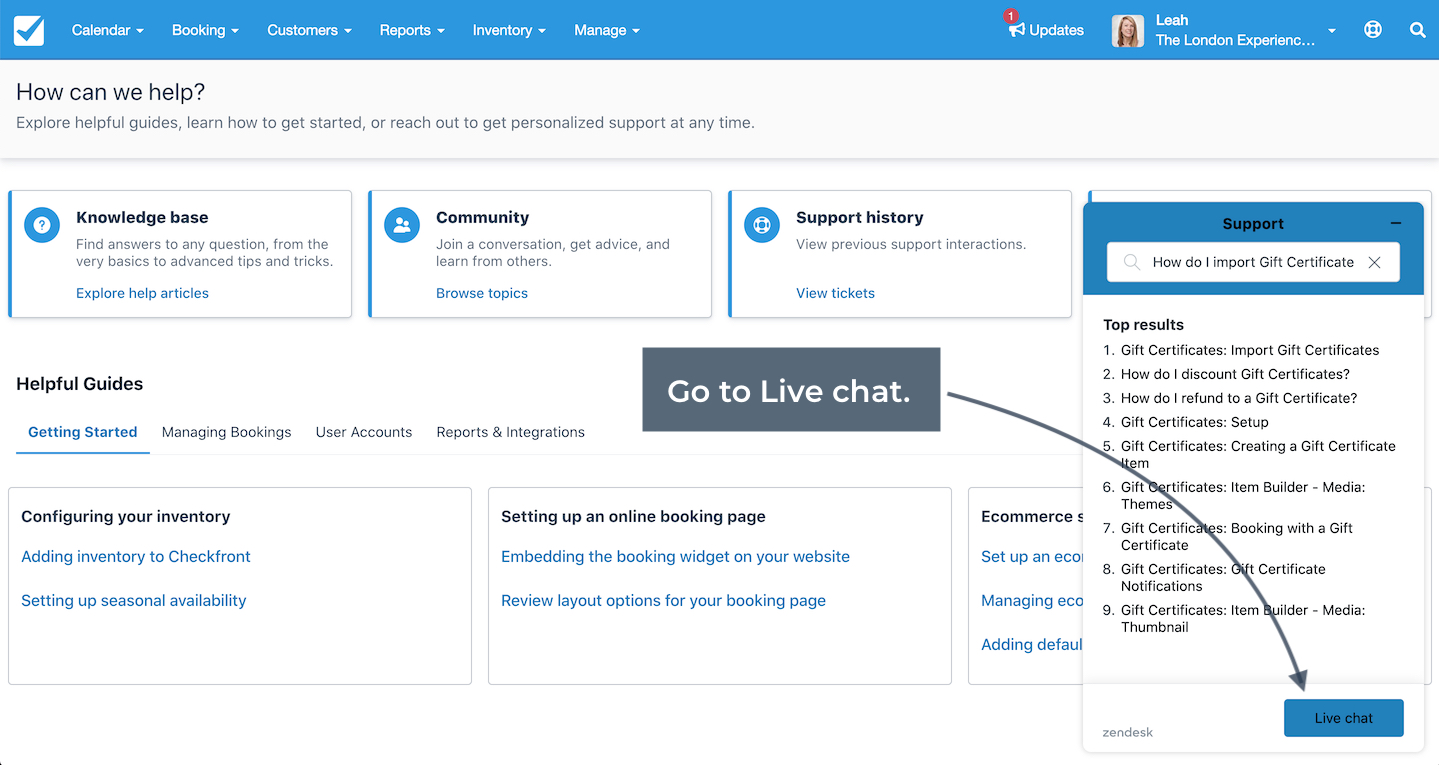 If you still need some help after reviewing the articles, then simply select Live Chat to continue.
On the off chance, our Customer Support Team is not available for a live chat, then the option to Contact Us displays in place of the Live chat button. In that case, please do submit a message and we will get back to as soon as possible!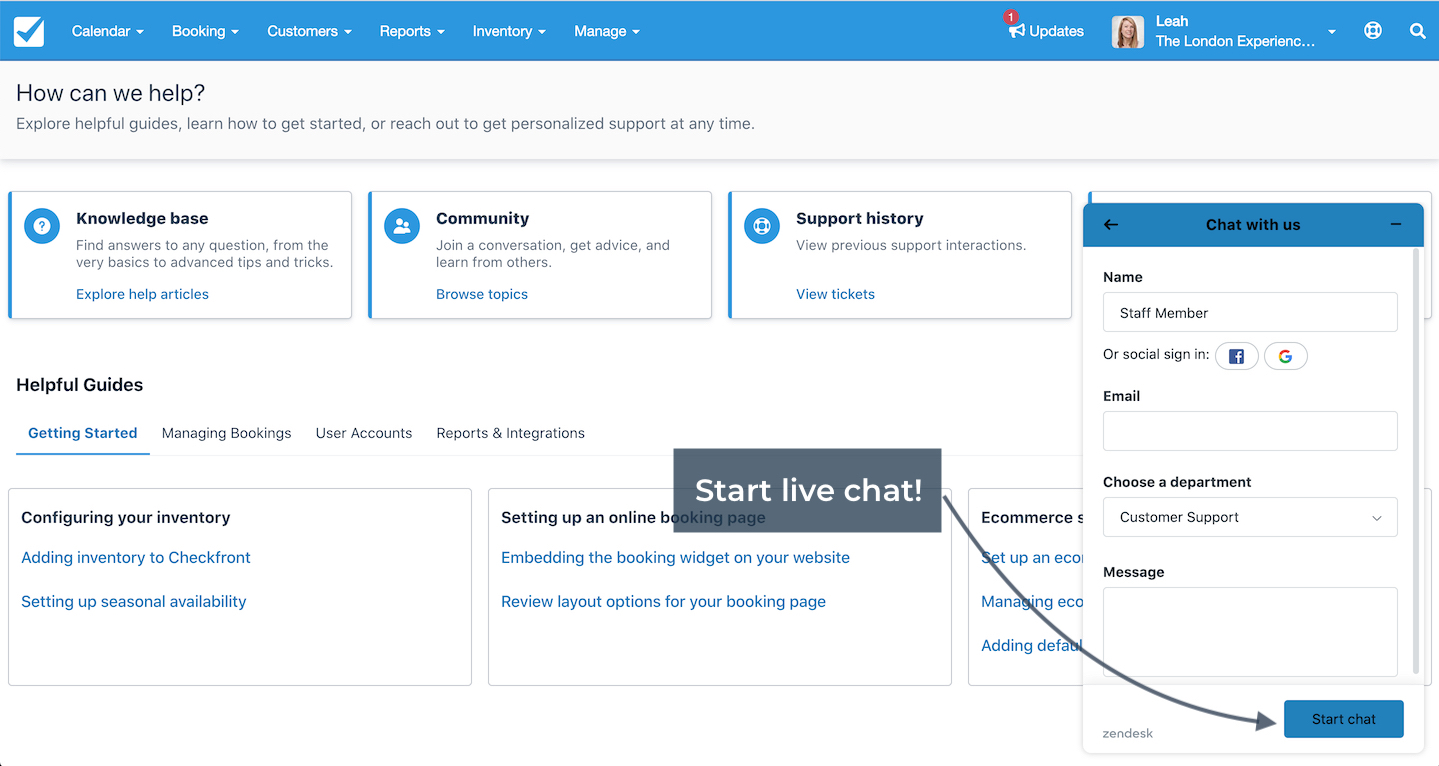 Finally, if you are logged into your Checkfront account we will recognize you! If not logged in, an option to log in will display. Enter a question or a brief summary of the issue and click Start chatting to get live Support!
Ask questions and find answers from other customers and Checkfront Support! Share opinions and solutions, as well as request new features. Visit the Community Forum
---
We offer personalized training sessions called Configuration Assistance where a Checkfront success specialist helps you get the most out of the system.
Would you like to have us set up your entire inventory for you? We offer comprehensive packages including configuration services, training, and enhanced support for a specified time, based on your business requirements. Please contact us for more details.
---
Have suggestions for or feedback on our product? Please submit your ideas to our Community!