---
Plan Availability: ✓ Soho | ✓ Pro | ✓ Plus | ✓ Enterprise | ✓ Flex |
Locate: Inventory > Items > Add New/Edit Item > Pricing
Prerequisites: Admin permissions to manage inventory or restricted permissions to View Items and Manage Items.
In this article, we walk you through configuring Taxes, Deposits, Commissions, Package Price Percentage and Ecommerce settings for your Item.
New to the Items - Inventory Builder? Be sure to read the first article in this series for an introduction!
---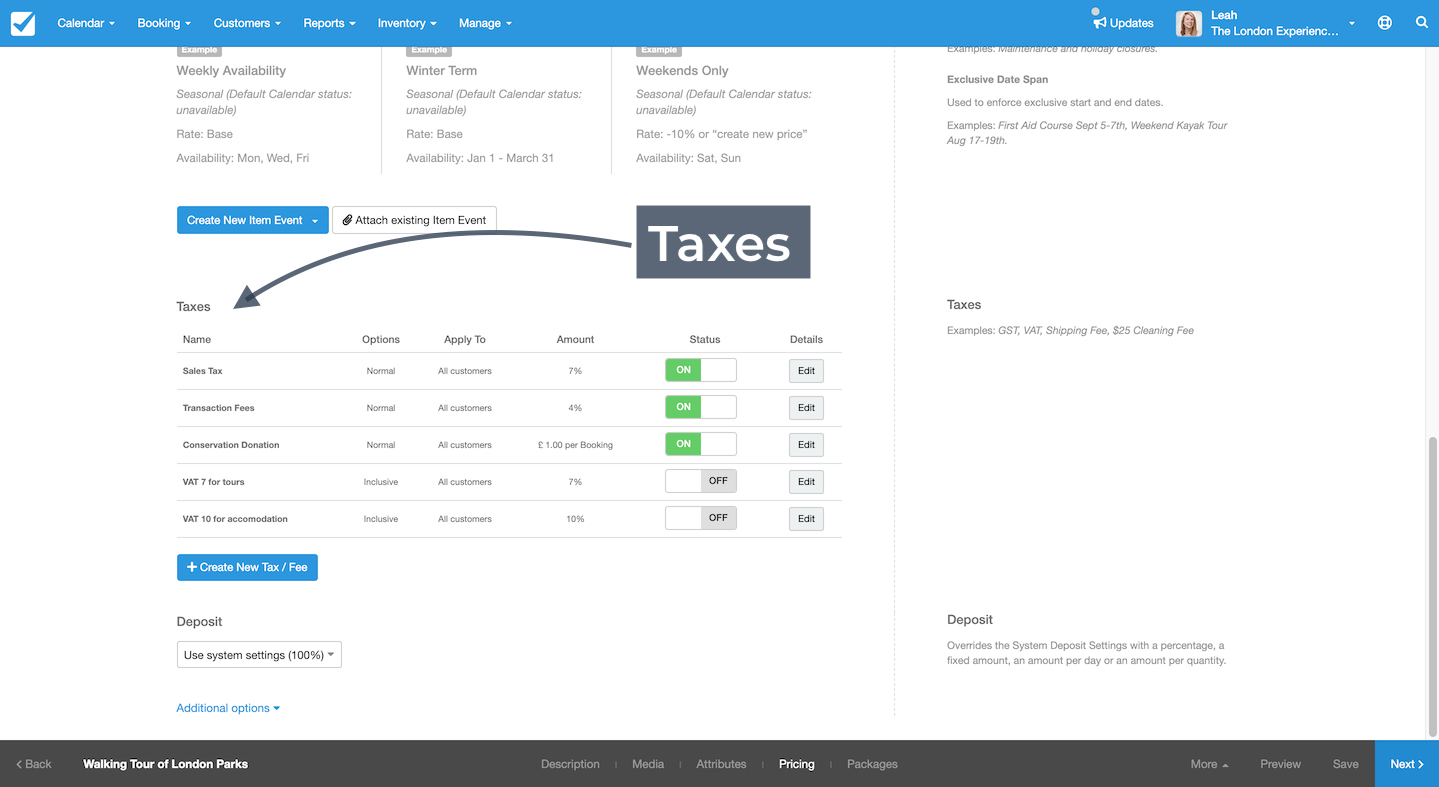 Once you have configured any Taxes or service fees in your account, they are listed here and you can apply them to the Item in focus.
Click the Status button to turn a Tax on or off. You can configure the details of the tax by clicking on the Edit button.
Click on the Create New Tax/Fee button to add a new tax to the system.
| | |
| --- | --- |
| | Any edits that you make to Taxes here affect the system globally. |
| | |
| --- | --- |
| | For more information on Taxes and service fees, see the following help article... |
---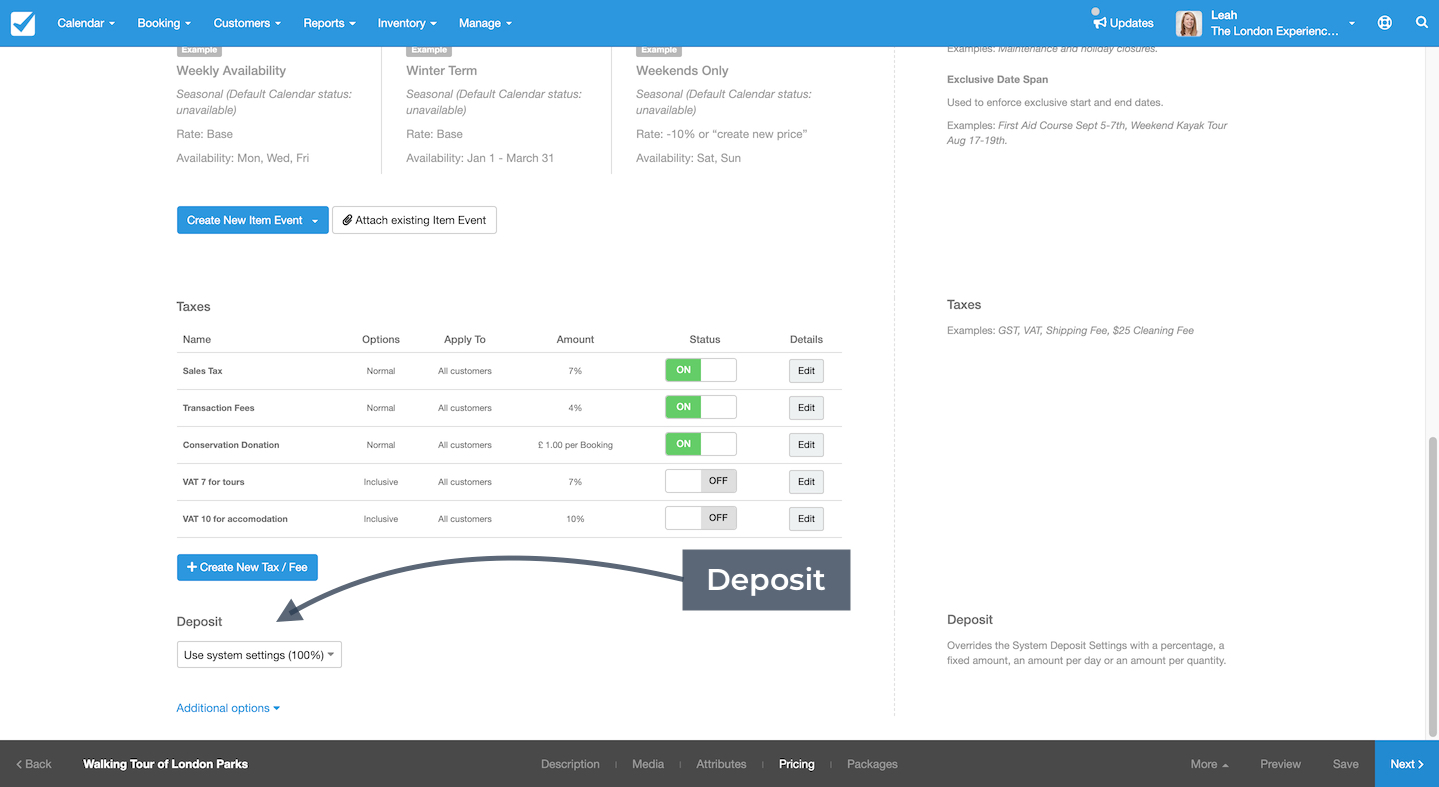 By default, Deposits refer to system settings (Manage > E-Commerce > Settings) to determine whether to require a Deposit (percentage or fixed amount) at the time of booking.
If you'd like to handle the Deposit differently for the Item you're working on, choose another option from the drop-down menu rather than Use system settings.
| | |
| --- | --- |
| | For more information on Deposits, see the following help article... |
| | | |
| --- | --- | --- |
| Feature | | |
| Deposit | | Choose a % Percent (percentage), Fixed amount, amount per allocation (day, night, time or timeslot), amount per qty (quantity) or No Deposit at all. |
---
---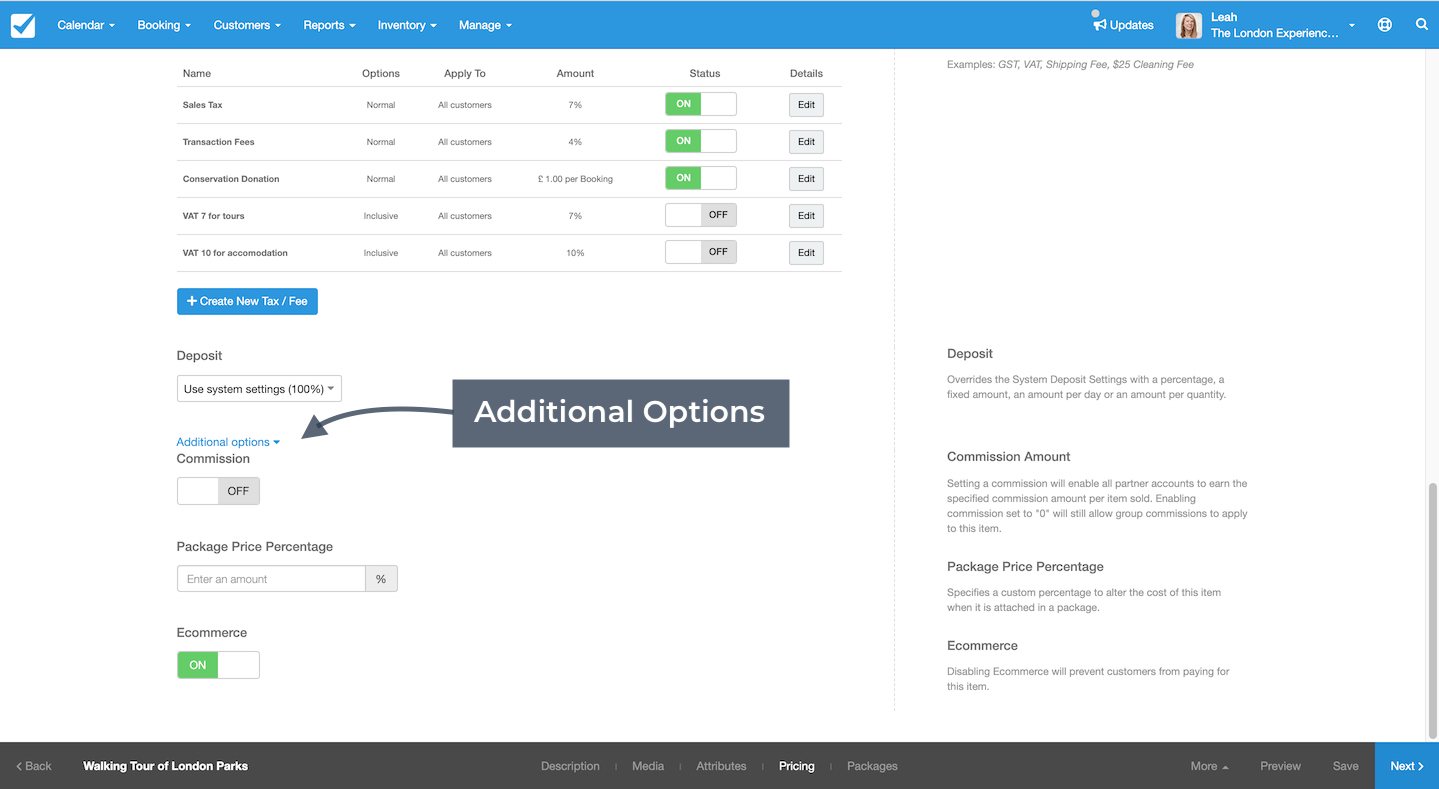 Click the Additional options link to reveal further settings for the Item.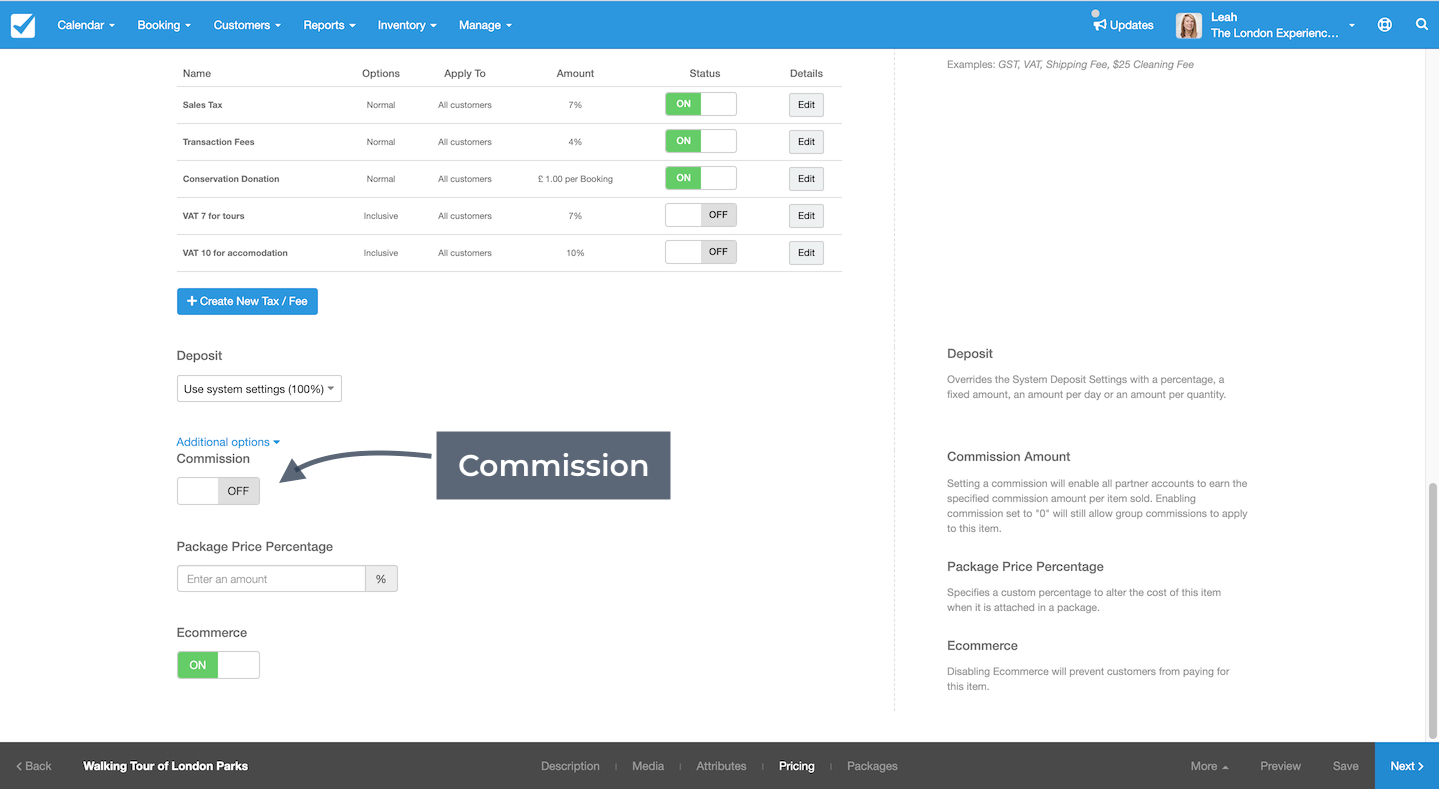 Have configured Partner accounts? You can set the commission rate for your item in the Commission Amount field. To reveal this, turn on the Commission button.
Simply enter the rate and then determine whether it should be a percentage or flat fee amount by selecting the corresponding option from the drop-down menu.


| | |
| --- | --- |
| | For more information on Partner accounts and Commissions, please see the following series of articles... |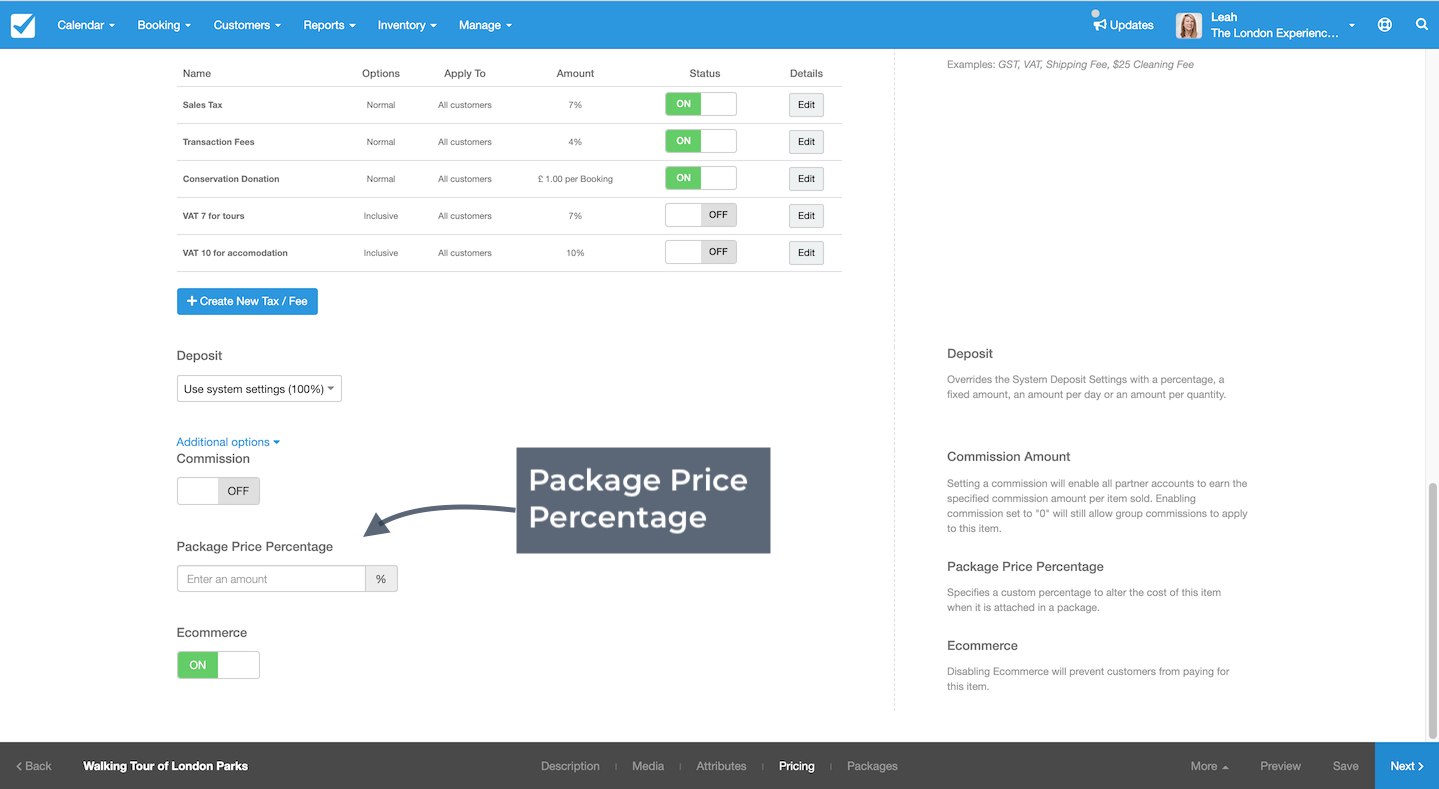 Here, you can specify a global custom price percentage to alter the cost of this item when attached in a package.
---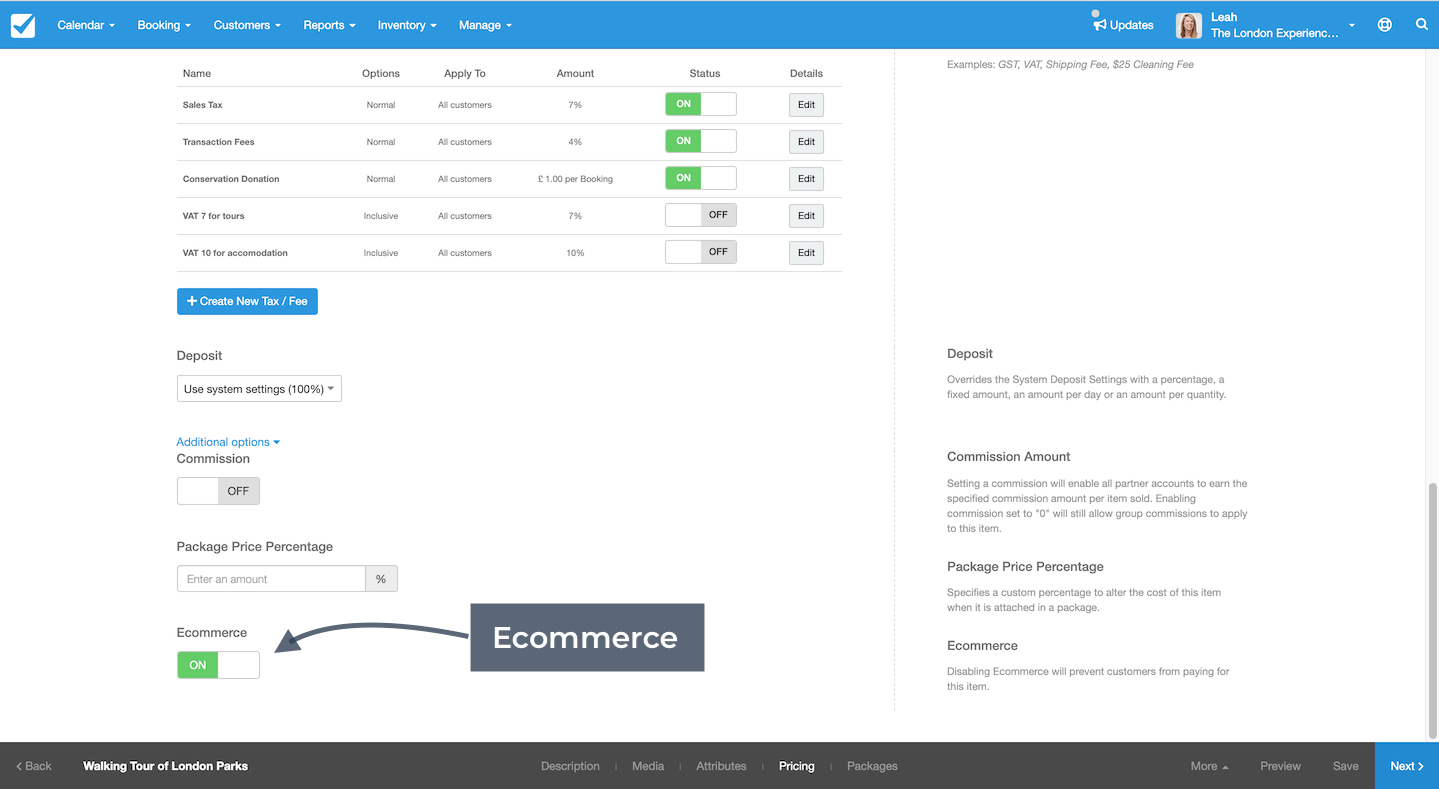 The Ecommerce setting determines whether there is a Payment step within the booking process or not.
With the Ecommerce setting set to On, Customers are presented with the Payment page as part of the booking process.
With the Ecommerce setting is set to Off, then the Payment page is skipped and the Customer goes directly to the Guest Details or Receipt page, depending on whether you have the Guest Form integration enable or not.
Disabling the Payment page is an option for those looking to offer free Items such as tickets to a free show.

Click the Next button in the bottom right of the screen to continue to Packages configuration. You can also click on the Save button to record your progress and to return and complete creating or updating the Item later.
---
< Item Builder: Pricing & Availablity (Default Calendar...) | Items - Inventory Builder: Packages >
---