Read an overview of the Asset calendar including what actions, filters, and information is available within the calendar.
Please read the full series of articles, accessed at the side and bottom of this page, to learn more about the extensive features of the Asset Calendar.
---
Which plans include this feature?
Legacy:  Soho, Pro, Plus, Enterprise, Flex
New:  Starter, Growth (Subscription), Growth (Per Booking), Managed
→ Learn more about our new plans or how to change your plan.

Where can I find this feature using the top menu?
Calendar > Product > Calendar > Asset > Asset tab


What prerequisites are there?
Which Checkfront version supports this feature - classic, new or both?
Your account must have access to products (Inventory > Products), a key feature of our new version of Checkfront. This feature is not available for use with items (Inventory > Items) in our classic version. → Learn more about products. 
 
Looking for information on the Inventory Calendar (Calendar > Product)?

Check out the following series of articles for more information:
---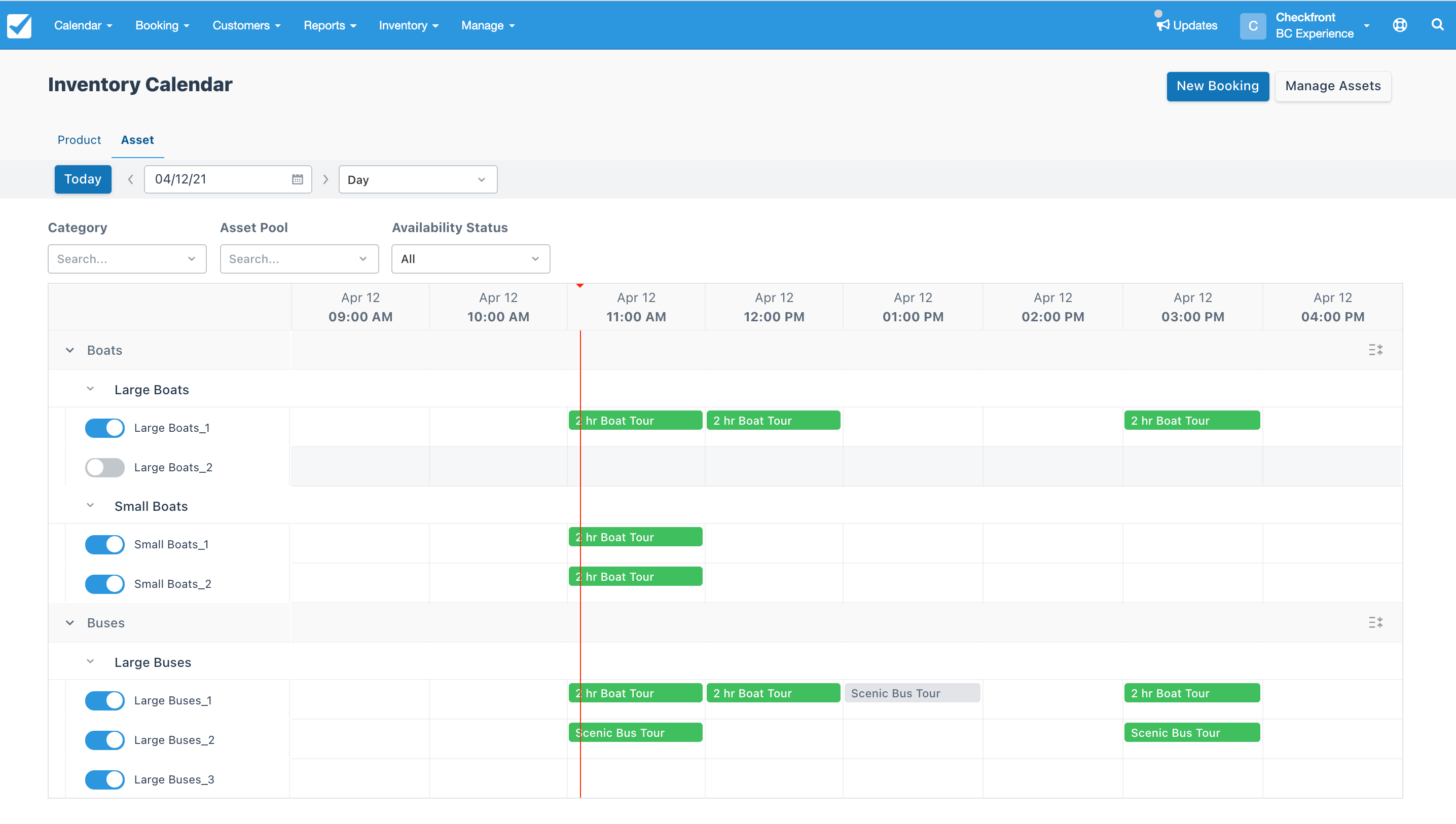 What's New?
New Calendar Experience

The Details
Quick Action & Access Links

New Booking


Create Staff-side New Bookings for the day being viewed directly from the Asset Calendar.

 

Manage Assets

Manage Assets to make adjustments on the Asset Management page with a single click.

Filtering, Displays, and Views

Quick Date Navigation

Quick date navigation with the addition of the quick previous (<) and next (>) day buttons. You don't need to open the date picker to change a single date continuously.

You can also go back in time! Review assets and assignments on any date in the past. The timeline is not restricted.

Day or Week Views




 

The Asset Calendar can be viewed by Day with time intervals or Week with intervals by date.

The view detects if Time or Timeslots is being used to offer a more compact 7-day view or a granular time view to better show smaller durations.

TIP: Use your browser's Zoom feature to zoom out the page to view more increments as needed.

Important: Disabling or enabling an asset using the toggle on the left-hand side of each asset's row disables or enables the asset for either a day or a week, based on your currently selected view. 

Persistent Time Header

 

As you scroll the page vertically and your account has a lot of asset categories or asset pools, the time header now follows along. You can see more on the page without losing the date or time reference.

Asset Category Filter

Filter by asset Category so that you focus on select categories of assets.

Multi-select Filters

Category and Asset Pool filters support multi-select filtering, providing extra flexibility in displaying assets.

Asset Category Name Displayed

The Asset Pool filter also displays the asset category name to better group and visualize the asset pools within categories to make them easier to find.

Dynamic Filters

The Asset Pool filter is dynamic based on selections, only displaying options according to the categories displayed.

Now Indicator

If viewing the current date, a time indicator (red) helps immediately orient you with what's happening live now.

Dynamic Calendar 

The inventory calendar is dynamic!

The start and end times for the day are determined dynamically so that only times relevant to your business display.

The start and end times match your business hours (Manage > Setup > Calendar), for example, starting at 09:00 AM and ending at 0:5:00 pm.

Products can be configured to be available outside business hours so as categories and asset pools are expanded, the start and end times are dynamically updated based on the first and last assignments for the day if they sit outside of business hours.

Displays
Colour-coded Assignments



Assignments are colour-coded as follows...

Gray | System reserved
Green | Manually assigned and confirmed

 

 

Tooltips

Tooltips communicate booking durations and provide more information up-front and at a glance.

 

Continues to Next Day Indicators

Multi-day and multi-night assignments have indicators as small visual cues that the assignment continues to the next day.

Maintenance Time
Maintenance Time is represented by a clock icon.
Side Panel with Booking Details and Assignment Options

Our new side panel provides a quick snapshot view of the booking details including the option to Manage the Assignment which links to the Daily Manifest for the assignment. The side panel is a persistent and familiar experience across all our calendars.

Pending Assignments

Pending assignments notifications 

Display the number of missing asset assignments including the date, time and name of each.

Include a direct link to the Daily Manifest side panel for each so that you can quickly manage assignments.
---
 |   Introduction to the asset calendar >
---