---
Start building your first products with this introduction to our Product Builder feature, including preparing to build your first product, accessing the product builder, and adding new products. We also point you to where you can find information on importing products.

To learn more about the features of the Product Builder, please read the entire series of articles accessed at the side and bottom of this page.
---
Which plans include this feature?
Legacy:  Soho, Pro, Plus, Enterprise, Flex
New:  Starter, Growth (Subscription), Growth (Per Booking), Managed
→ Learn more about our new plans or how to change your plan.

Where can I find this feature using the top menu?
Inventory > Products > Products


What more do I need to use this feature?
Which Checkfront version supports this feature - classic, new or both?
Your account must have access to products (Inventory > Products), a key feature of our new version of Checkfront. This feature is not available for use with items (Inventory > Items) in our classic version. → Learn more about products. 
 
---
A product in our system represents the goods, experiences, or services you offer for sale. You can configure the product to suit your needs, including product details, inventory, availability, pricing, and more!
---
You can quickly and easily set up your product offerings in Checkfront using our step-by-step Product Builder.
Before you start, here is an overview of the product creation steps, with preparation tips and links to more detailed instructions.


Steps
Preparation
Learn More

1

Set up your product details

What products do you want to offer?

Put together a list of offerings, including names and descriptions.
Think about how these products are categorized or tagged. This will influence how they are presented on your Booking Page.
Do you have unique numbers (SKUs) to track your products? If so, have them ready.

What kind of product do you want to sell?

Do you want to create a standard product (tour, activity, rental, accommodation) or an upsell (lunch, merchandise) to add to another standard product?

Who do you want your product to be visible to?

Consider whether you want the product visible to everyone, Staff only, or as an upsell to other products.

What photos, videos, and websites do you want to include with your product offering to help show, demonstrate, and sell your products?

Have image files and links to hosted videos and websites available.

2

Establish inventory for your product

Who is the product available to?

Consider whether the product needs to be booked by Guest type (Adult, Youth, Child...).

What types of inventory and resources are needed?

Prepare inventory numbers (where limits apply).
Consider what resources/assets (equipment, spaces, transport...) might be needed.

3

Determine the availability of your product

How is the product booked?

Think about how the product is allocated (all day, nightly, timeslots, or more flexible options).

When is the product available?

Consider (dates and times), including any special event pricing, custom rates for longer bookings, booking rules, and minimum/maximum requirements for guest types.

Who is the product visible to?

Consider whether guest types (Adult, Youth, Child...) are visible to Customers and/or Staff. 

4  

Configure pricing for your product

What is the pricing structure?

Plan out the design for your product pricing, including group pricing where applicable.

What taxes do I need to apply to my product?

Consider what taxes you need to configure and apply to your product. You need to configure these in advance.

Do you require a booking deposit?

Think about whether you require a deposit or full payment at the time of booking.

Can partners earn a commission on bookings?

Consider applying partner commissions to your product.

5

Manage advanced settings for your product

What add-ons do you want to offer with your products? 

We call these upsells, and you need to configure them as separate products before linking them to other products.

Do you want to integrate your product with another application or feature?

Consider whether you want to sync your bookings with QuickBooks Online or myallocator.
Prepare any waivers or other documents you need to add to your products

(with 

supported plans

).

Do you need extra booking details added to your confirmation email?

Plan the message out in advance.

 
---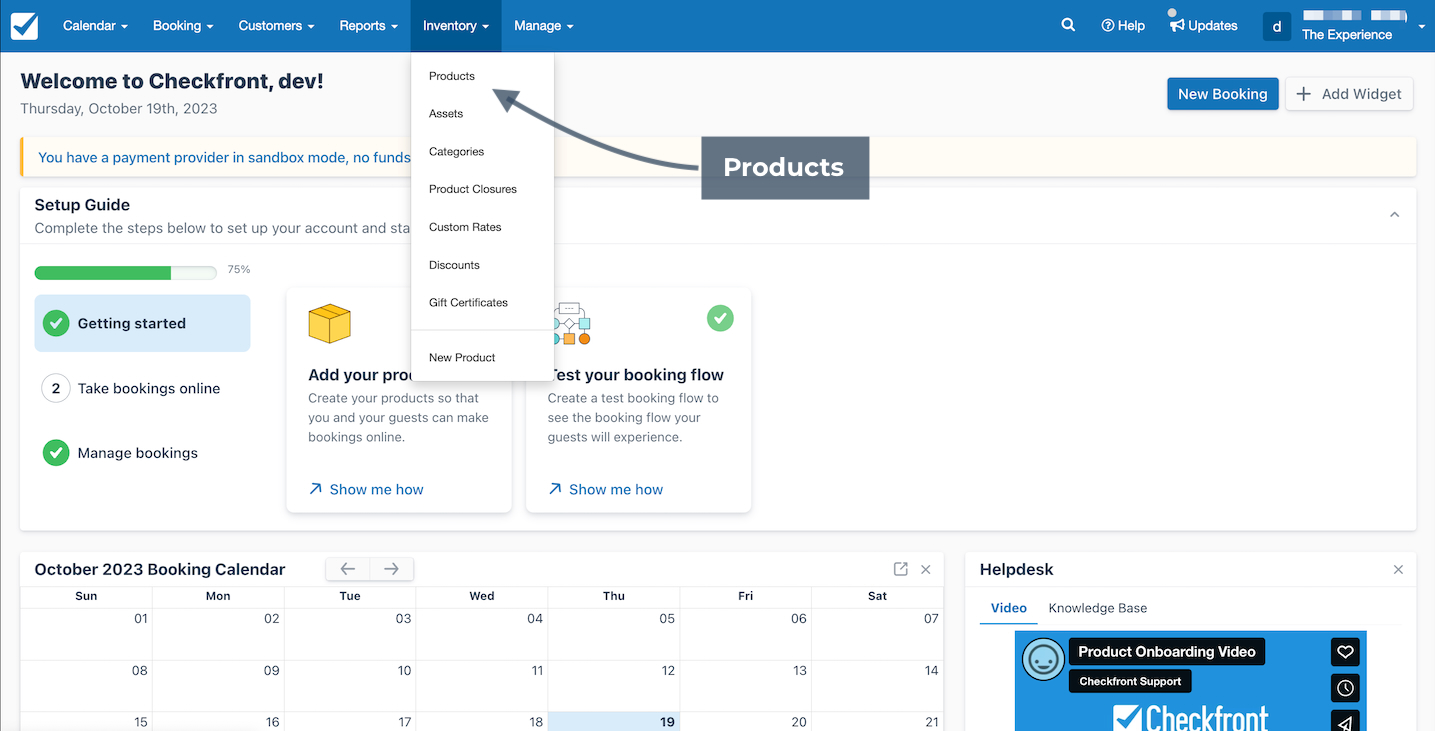 To access the Product Builder, open the Inventory menu and select the Products listing.
---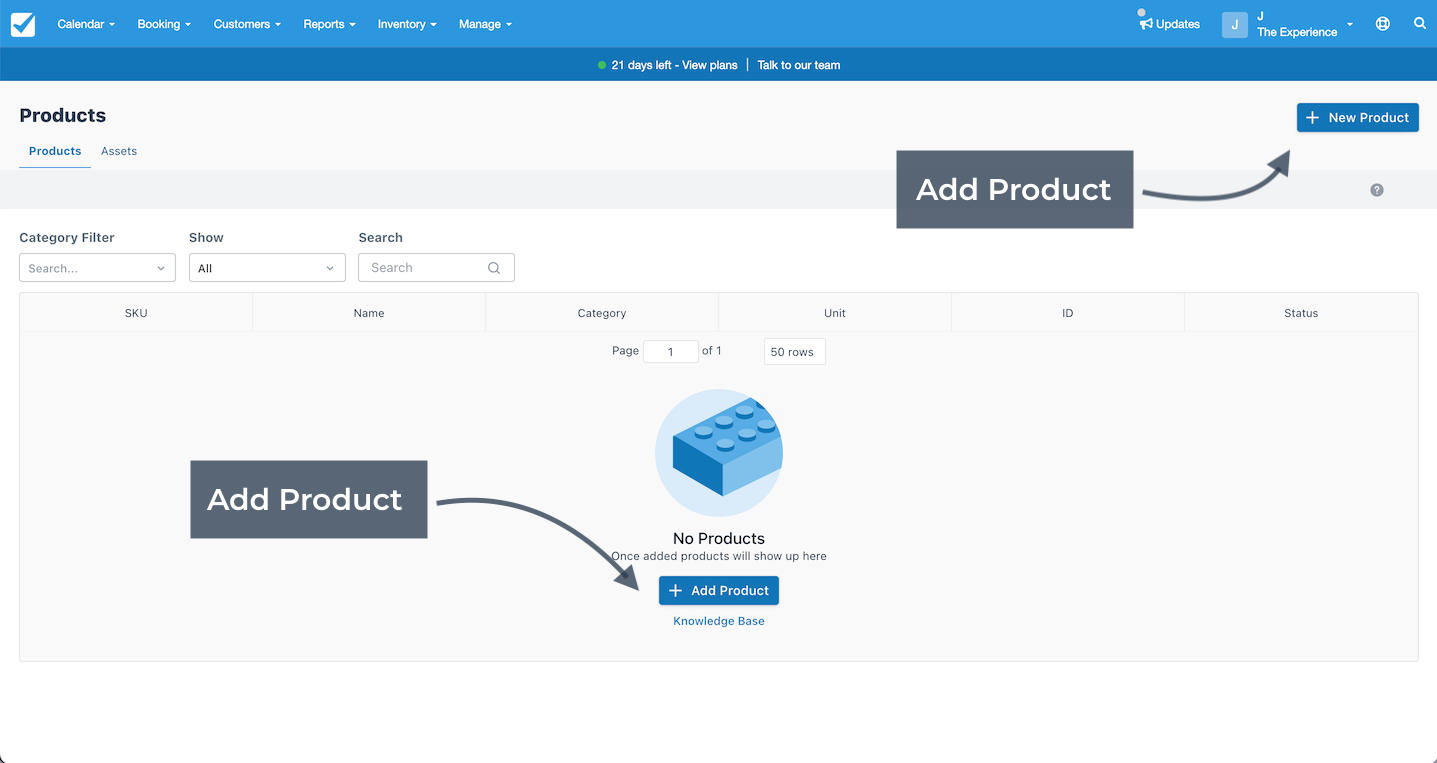 To initiate the Product Builder and start adding a new product, click the + New Product button in the top right-hand corner of your Inventory page. 
Test your setup before you go live

We suggest that you start with one product before you go live. You can then preview that product or, better yet, run a test booking through the system.

Once booked, you can check out how that booking displays within booking tools (e.g. Daily Manifest), reports (e.g. Booking Index) and the Booking Invoice and then adjust how your products are configured to suit your needs.
---
| | |
| --- | --- |
| | Product inventory can be imported using our provided template. Find out more about this process here: |
Check out the next article in the series for information on navigating the product builder.
---
|   Navigating the product builder >
---