---
Learn how to get started with Waivers & Documents, including how to activate the feature within your account for those on supported plans.
---
Which plans include this feature?
Legacy:  Soho*, Plus, Enterprise, Flex
New:  Starter**, Growth (Subscription), Growth (Per Booking), Managed
*A 14-day trial of the waivers add-on is available to those on the legacy Soho plan.
**Starter plans include one active waiver template.
→ Learn more about our new plans or how to change your plan.

Where can I find this feature using the top menu?
Manage > Integrations > Guest Management > Waivers
Bookings > Waivers & Documents (once activated)


What more do I need to use this feature?
Which Checkfront version supports this feature - classic, new or both?
This feature is available in both our classic version using items (Inventory > Items) and our newest version using products (Inventory > Products).  → Learn more about products
---
Checkfront How To: How to Get Started with Waivers (Video)
Back to top
Look at the following articles for detailed instructions on getting started with Waivers & Documents, or view the high-level, step-by-step instructions below.
---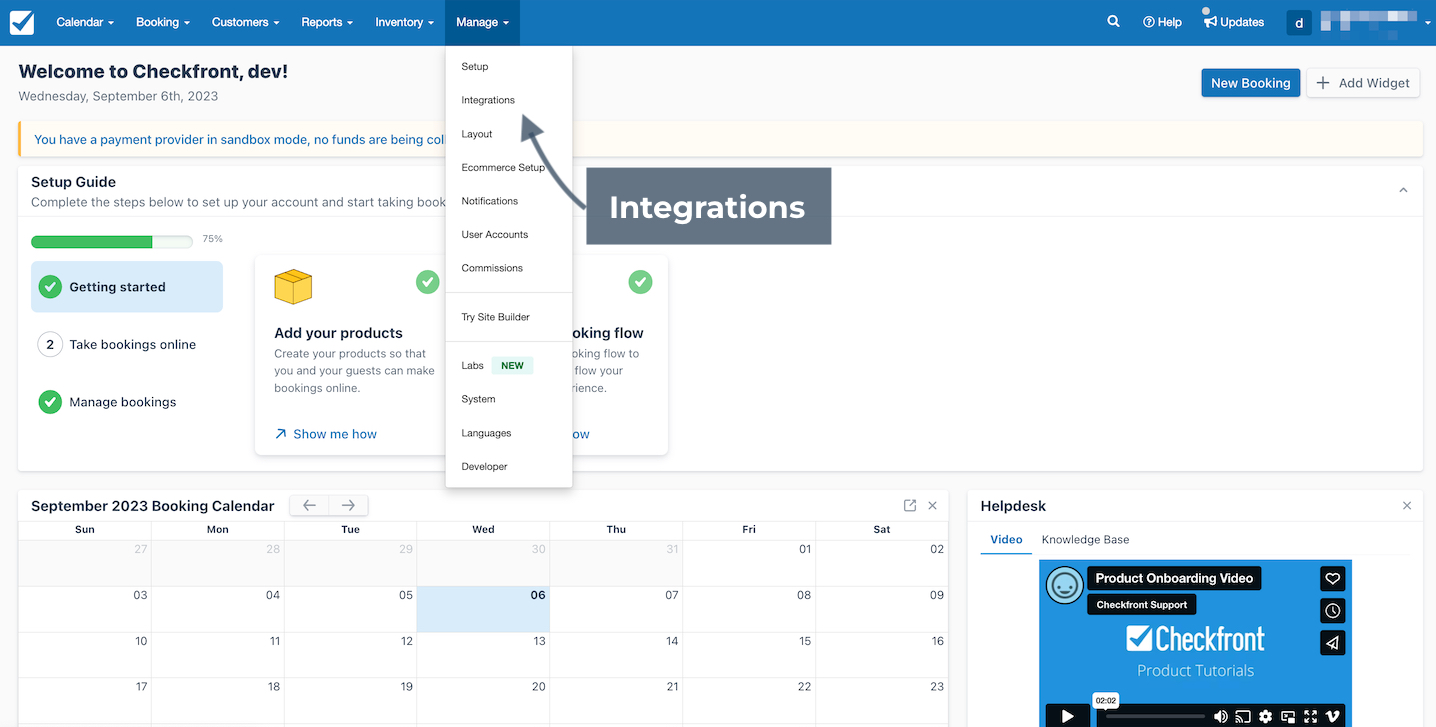 1. Select the Integrations option from the Manage menu.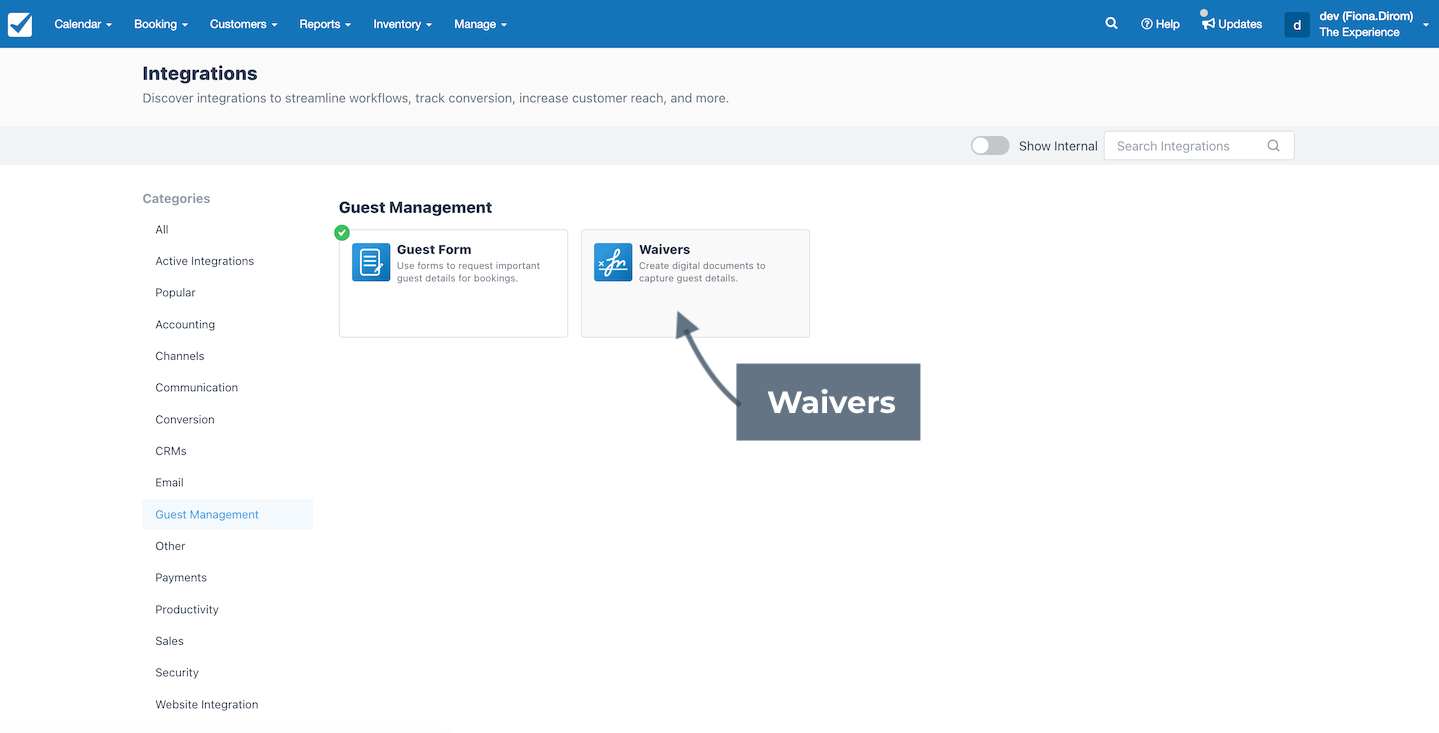 2. Search for the Waivers integration by keyword or find the integration listed under Guest Management.  You can activate the Waivers integration from the Integrations page under the Manage menu, providing your are on a supported plan. Click the Waivers listing to open the Add-on Setup modal.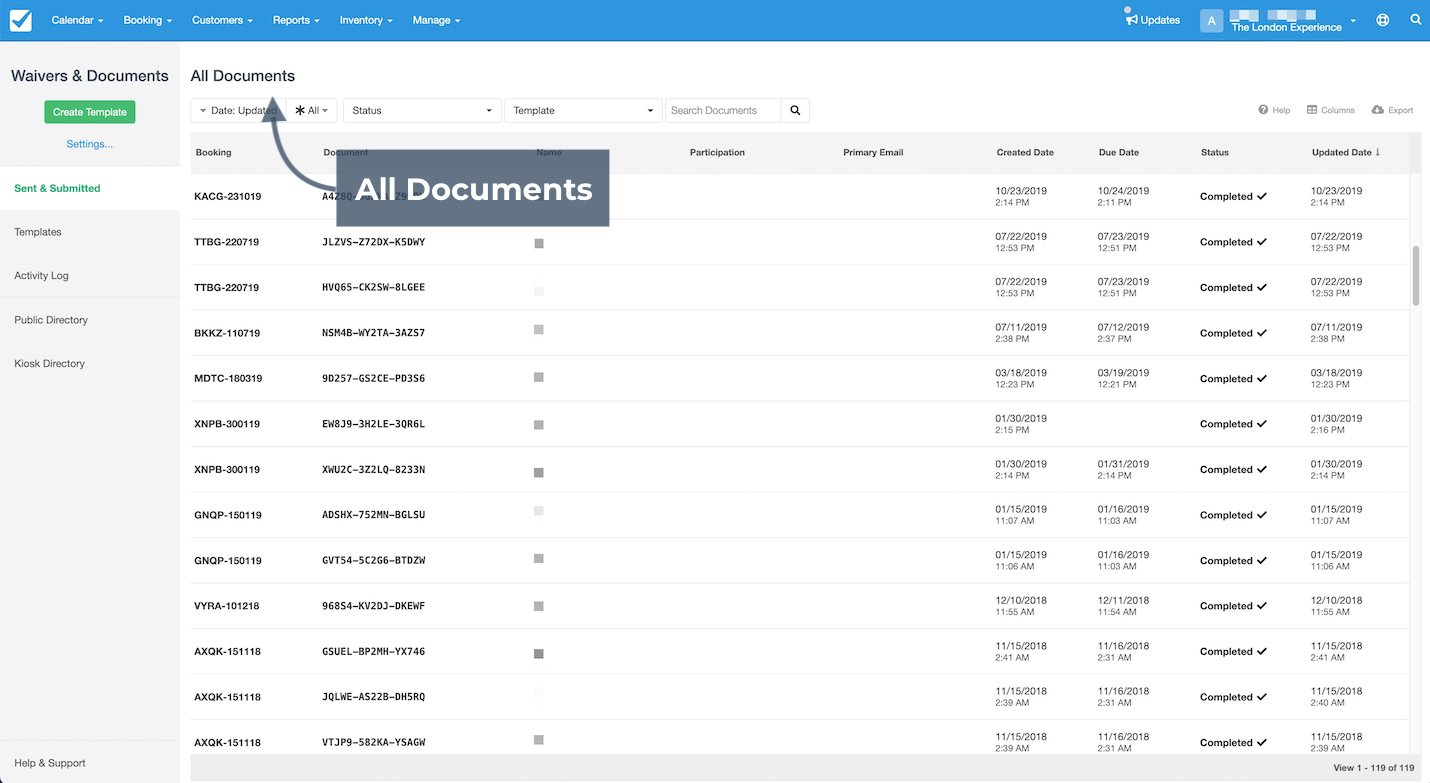 3.
Once you activate the integration, you are taken directly to the All Documents list under the Sent & Submitted tab. You can also find the integration under the Booking menu (Booking > Waivers & Documents).
From here, you can view your Documents list, filter the list, customize the list columns, and export the list.
Learn more here: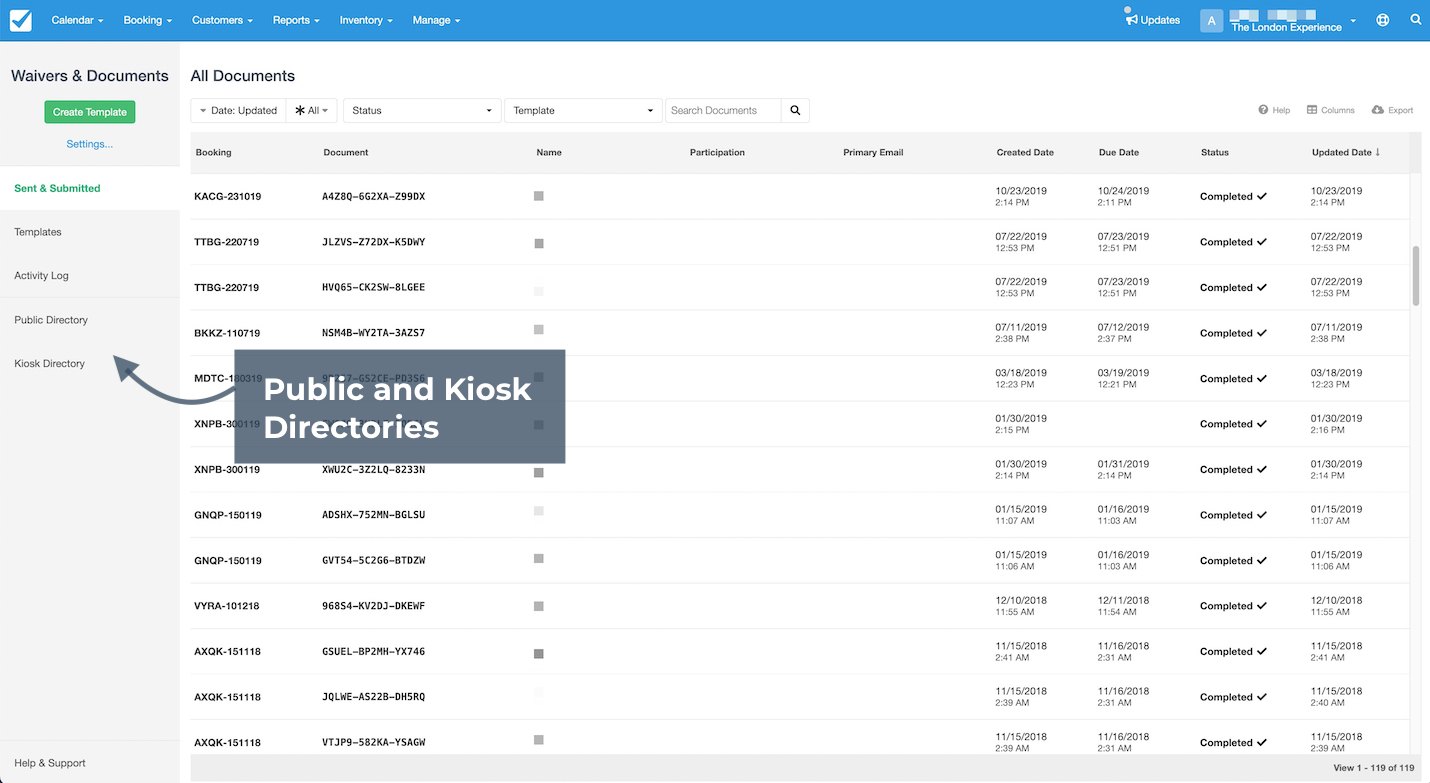 4. You can also access the Public or Kiosk Director from here. 
With the Public Directory, you can offer a walk-in service for your business with an attendant where you need Guests to fill out a waiver before proceeding. The attendant can direct Guests to your Public Directory on a tablet (or desktop computer) and assist with printing.
With the Kiosk Directory, you can present a list of documents on a public, shared device, such as a display without an attendant. When a booking is completed, the page automatically returns to the main Directory page.
Learn more here: Using the Public Document & Kiosk Directories with Waivers & Documents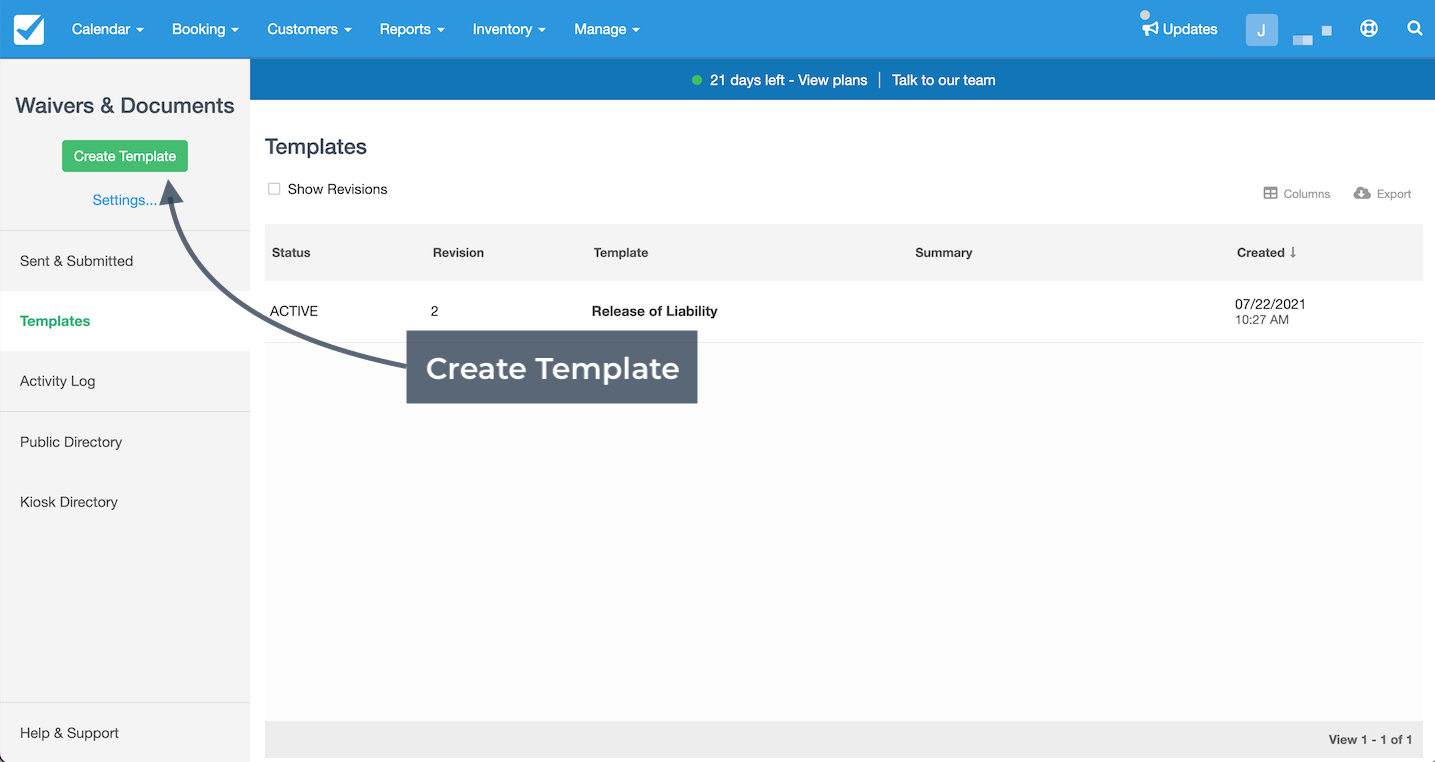 5. Click Create Template from the Templates tab to build your first template.
Learn more here: Creating Waivers & Documents templates (naming the template and using the Document Editor)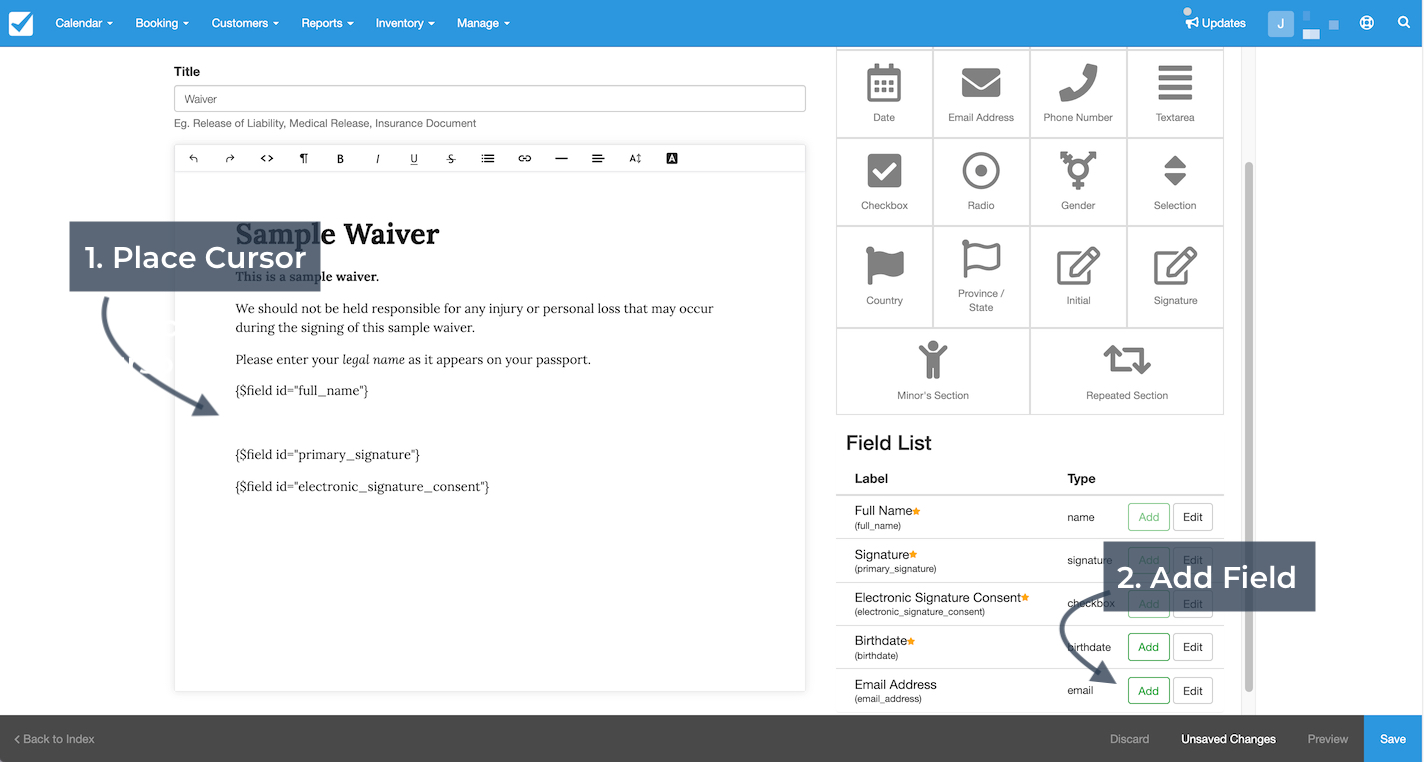 6. You can customize the Sample Waiver to suit your needs. We provide several preset fields, or you can create custom fields to add to the document.
Learn more here: Creating Waivers & Documents templates (field settings)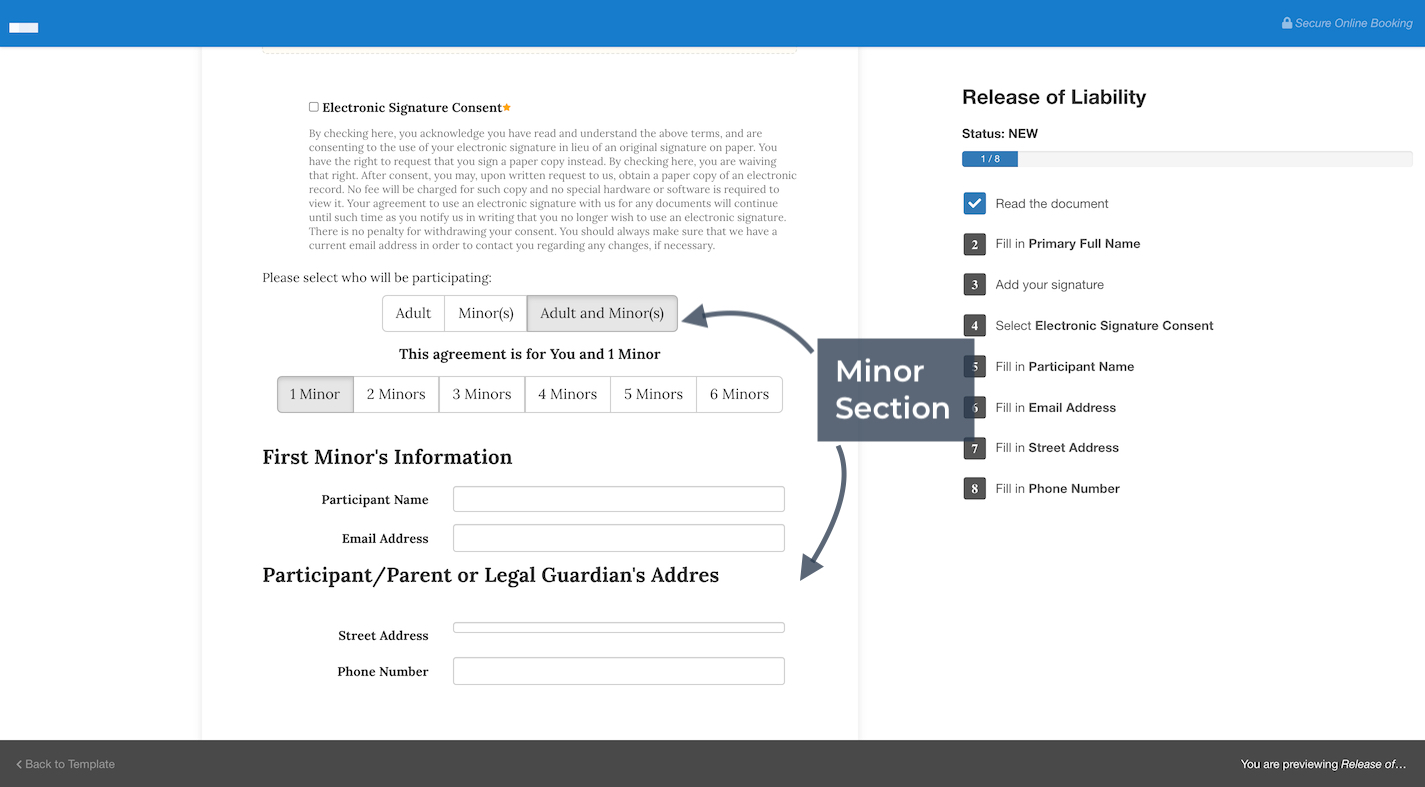 7. Do you need parents or guardians to sign the documents on behalf of children? You can add a Minor's Section to the document for every minor attending.
Learn more here: Creating Waivers & Documents templates (field settings)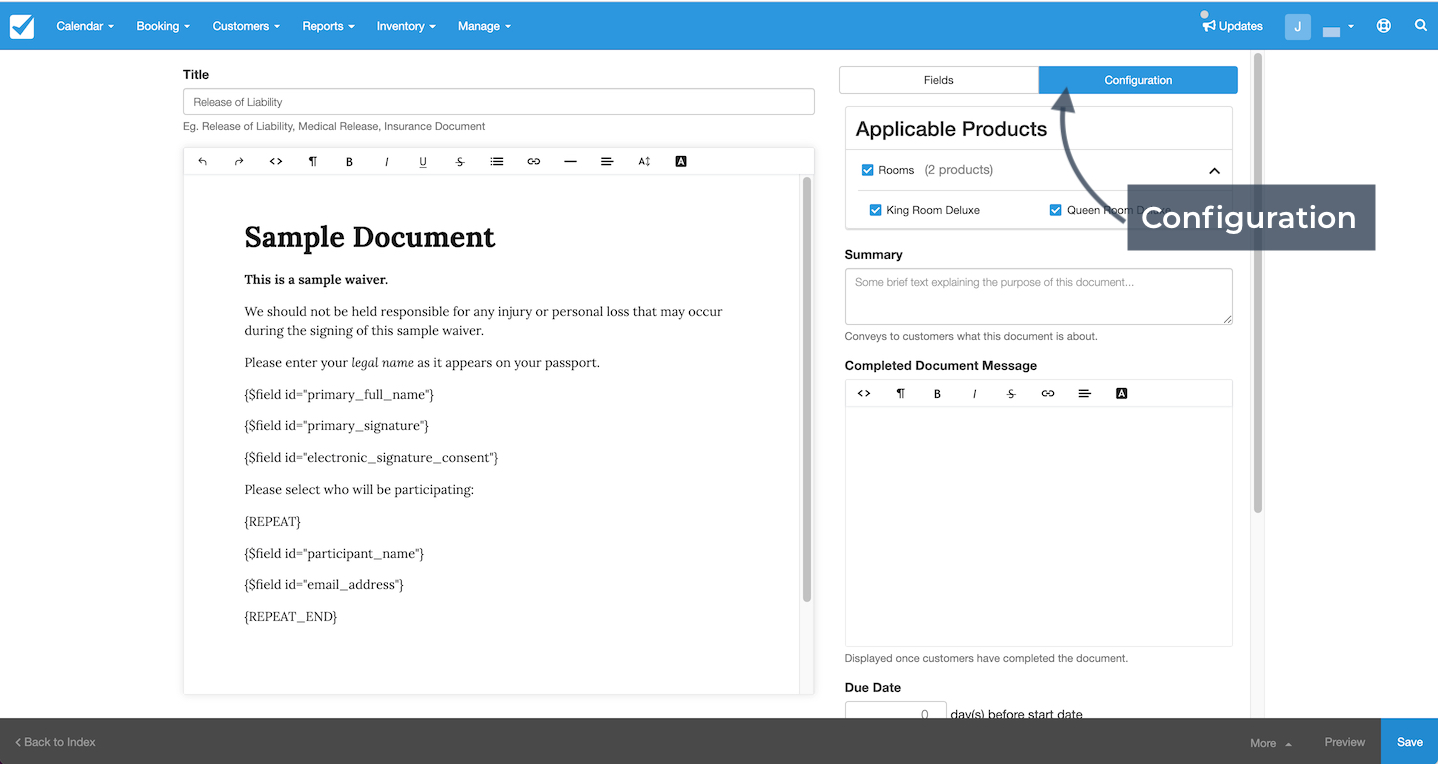 8. You can apply your documents to specify items/products. For example, you can assign rental agreements to rental inventory and liability agreements to active experiences. Guests only see what is relevant to them.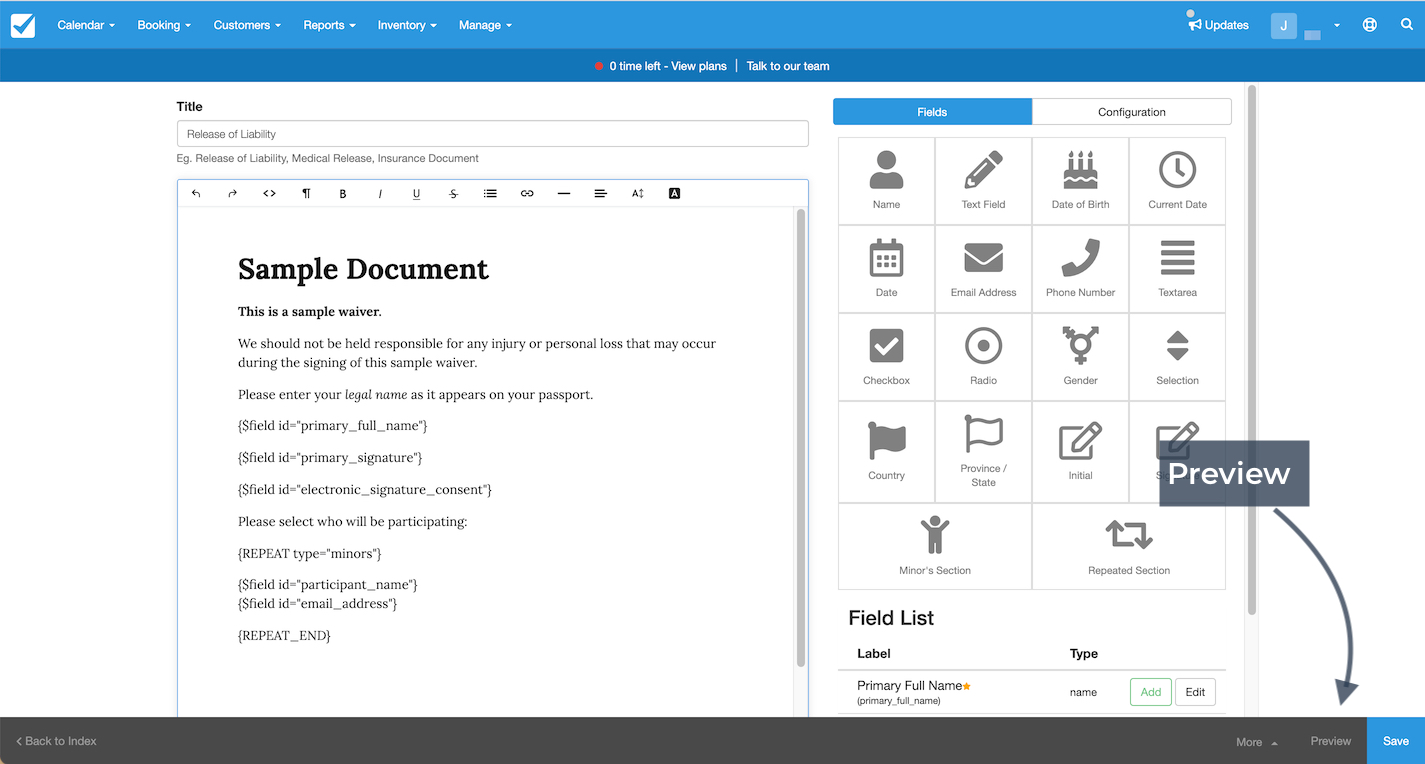 9. Finally, you can Preview your document.
Learn more here: Previewing Waivers & Documents