---
Learn how to set up the Zapier integration for use within your Checkfront account.
New to Zapier? You can read the first article in this series for an introduction to Zapier.
---
Which plans include this feature?
Legacy:  Soho, Pro, Plus, Enterprise, Flex
New:  Starter, Growth (Subscription), Growth (Per Booking), Managed
→ Learn more about our new plans or how to change your plan.

Where can I find this feature using the top menu?
Manage > Integrations > Productivity > Zapier

What more do I need to use this feature?
Admin permissions to manage Integrations.


Which Checkfront version supports this feature - classic, new or both?
Your account must have access to items (Inventory > Items), a key feature of our classic version of Checkfront, to use the inventory events offered with Zapier (New Item, Item Event, and Item Event).
While inventory events are unavailable for products (Inventory > Products), a key feature of our newest version of Checkfront, you can make use of Zapier's reporting events (New Booking, Booking Change) to connect with your accounting software, e.g., Quickbooks Online. → Learn more about products.
---
To start using Checkfront with Zapier, you must first enable the Zapier integration within Checkfront.
1. Go to Manage in the top menu and select Integrations from the dropdown menu.
2. Enter Zapier in the Search Integrations field or browse the Productivity category to find the integration listing.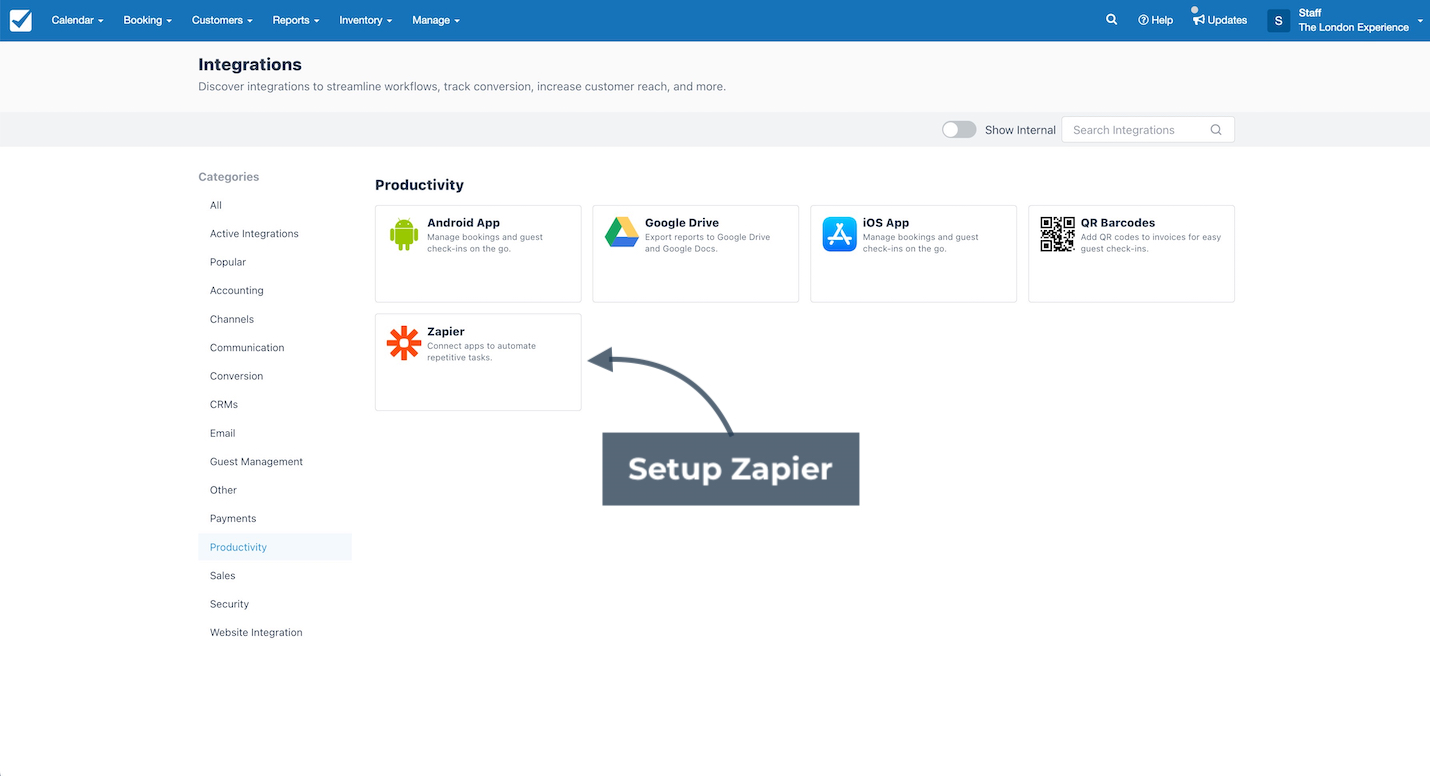 3. Click the Zapier tile to open the setup modal.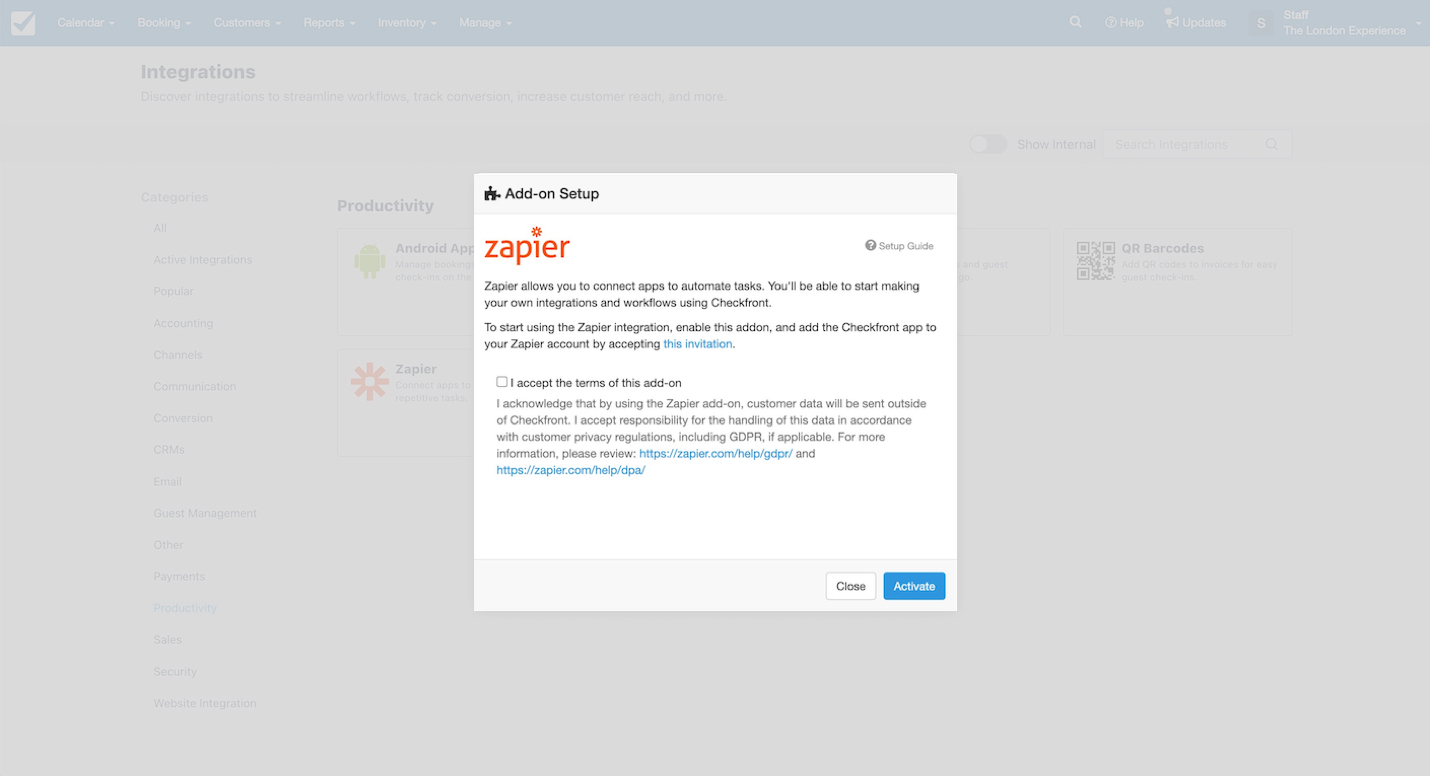 4. Next, read and accept the terms and conditions of using the Zapier integration.

"I acknowledge that by using the Zapier add-on, customer data will be sent outside of Checkfront. I accept responsibility for the handling of this data in accordance with customer privacy regulations, including GDPR, if applicable. For more information, please review: https://zapier.com/help/gdpr/ and https://zapier.com/help/dpa/"

5. Click Activate to enable the integration.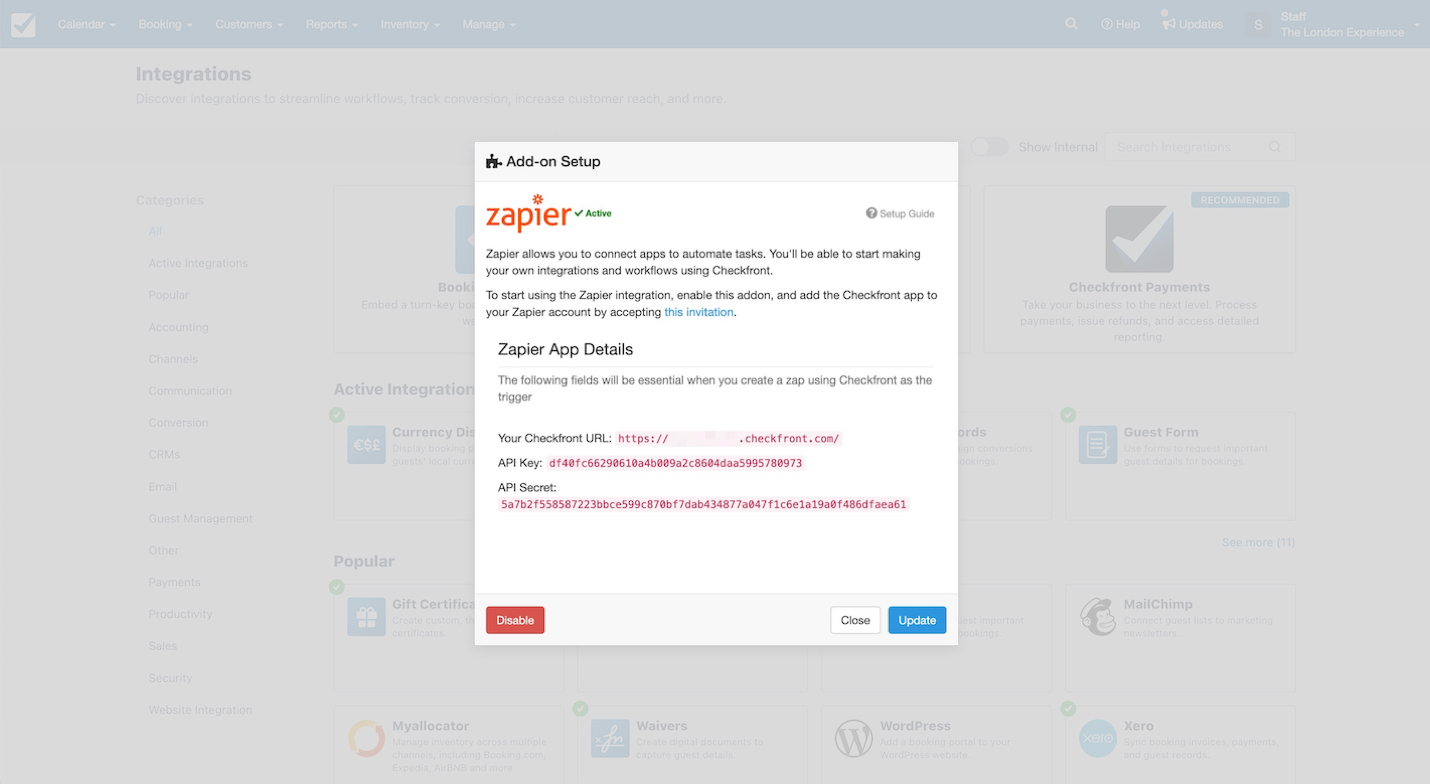 6. The Add-on Setup modal refreshes to display key information you need for setting up your Zapier account. Make note of your Checkfront URL, Consumer Key (API Key) and Consumer Secret (API Secret), or keep the modal open in the browser tab so that you can copy and paste the information into Zapier when needed (see the next article in this series).
7. Add the Checkfront app to your Zapier account by accepting the invitation linked (this invitation) from the activated modal. 
The next article describes how to configure Zapier to work with Checkfront. 
---
< Introduction to the Checkfront integration with Zapier     |     Setting up the Checkfront integration in Zapier >
---