---
With this article, you can learn how to add name, SKU, category, and tags to your product from the Details tab of the Product Builder.
Learn more about the Details tab here: Step 1: Setting up the details of your product.
New to the Product Builder? Read the first article in this series for an introduction to the Product feature.
---
Which plans include this feature?
Legacy:  Soho, Pro, Plus, Enterprise, Flex
New:  Starter, Growth (Subscription), Growth (Per Booking), Managed
→ Learn more about our new plans or how to change your plan.
Where can I find this feature using the top menu?
Inventory > Products > Products > Add Product/Add New Product/Edit Product > Details


What more do I need to use this feature?
Which Checkfront version supports this feature - classic, new or both?
Your account must have access to products (Inventory > Products), a key feature of our new version of Checkfront. This feature is not available for use with items (Inventory > Items) in our classic version. → Learn more about products. 
 
---
Naming your product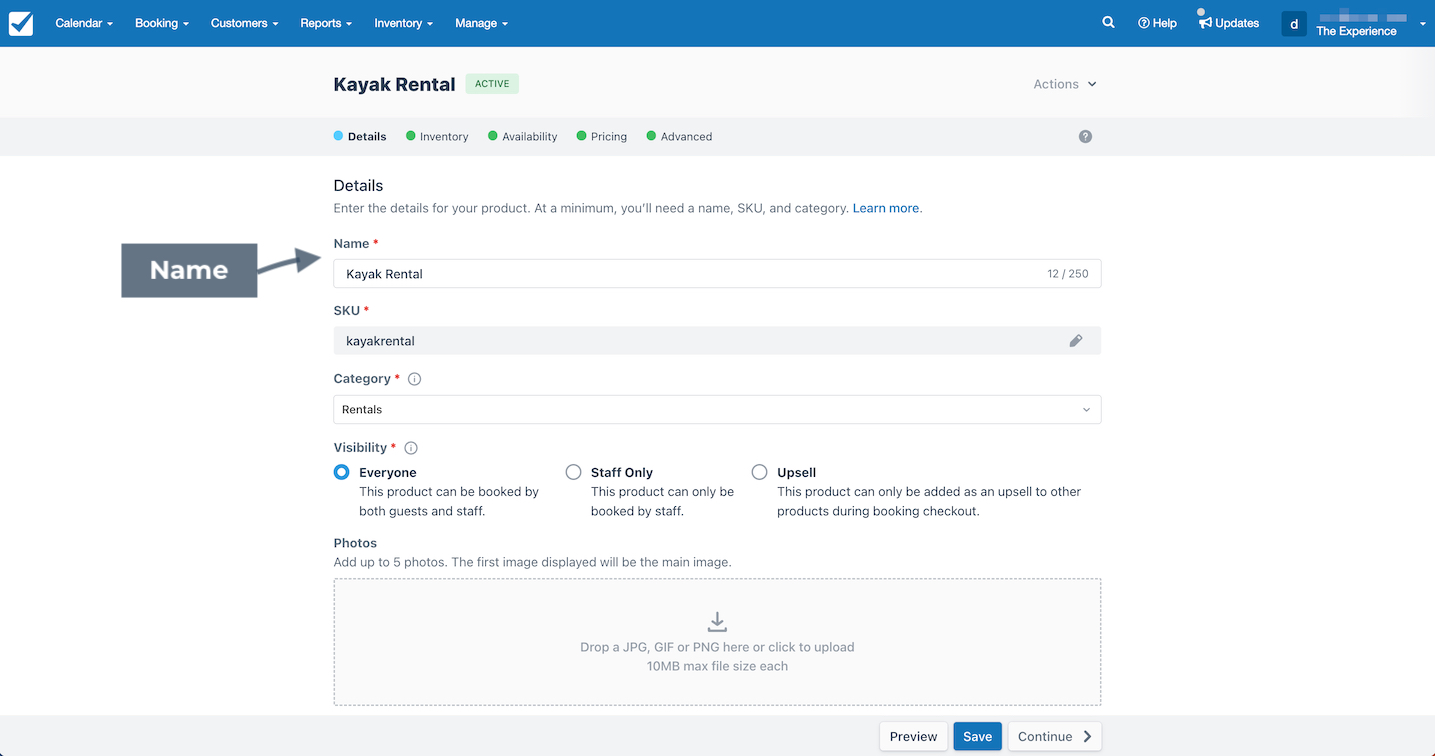 You can add or edit the name of your product. Names are displayed externally within your Customer Booking Page and Staff-side within reports and other tools.
A product name can be a maximum of 250 characters in length.
---
The SKU is generated for your product automatically when you enter the product name.
You can edit the unique identifier for your product. This can be any combination of letters and or numbers. No other products can use the same SKU.
What happens to the SKU when a product is archived?

Archiving a product changes the SKU to a random number, e.g. 241656084159. This frees up the original SKU for re-use!
Archived products can be unarchived without being activated and can be unarchived while being activated.
Unarchived products retain the numbered SKU, which can easily be edited.
Archived products can be copied, but the number has a random string attached to the SKU on the newly copied product, such as 2201651698148-ojwsxttlc.
---
Adding or changing your product category
You can select, change, or create the category associated with your product. Categories are used externally within the Customer Booking Page and Staff-side reports and tools. Categories determine the organization and presentation of your products.
Need help finding the category you need on the list? Open the Category menu, start typing the name of the category and then select it from the list.
You can also create a new category by typing the new category name directly into the field provided.
| | |
| --- | --- |
| | To reduce loading times on the Customer-facing booking page, it is recommended that a maximum of 50 products be assigned to a category. |
| | |
| --- | --- |
| | Manage your product categories centrally with the Categories list (Inventory > Categories > Products). Learn more here... |
---
Adding or changing your product tags
You can add or change the Tag associated with your product by selecting a tag from the drop-down list.
| | |
| --- | --- |
| | Learn more about Inventory Tags: |
With the next article in this series, we look at the visibility settings for your product.
---
 |    Specifying the type of product you are selling >
---