SecurePay, a business of Australia Post, is Australia's most reliable payment and Ecommerce service provider.
In order to get started with this integration, you will need a SecurePay account. If you don't have one already, you can sign up for one at the following website https://www.securepay.com.au/.
---
Once you have a SecurePay account configured you can proceed with the setup in Checkfront. Navigate to Manage > E-Commerce in your booking manager and click on the ...payment methods available to <your country> link.
From there, look for the SecurePay tile and click on the button labeled SecurePay to open the activation window.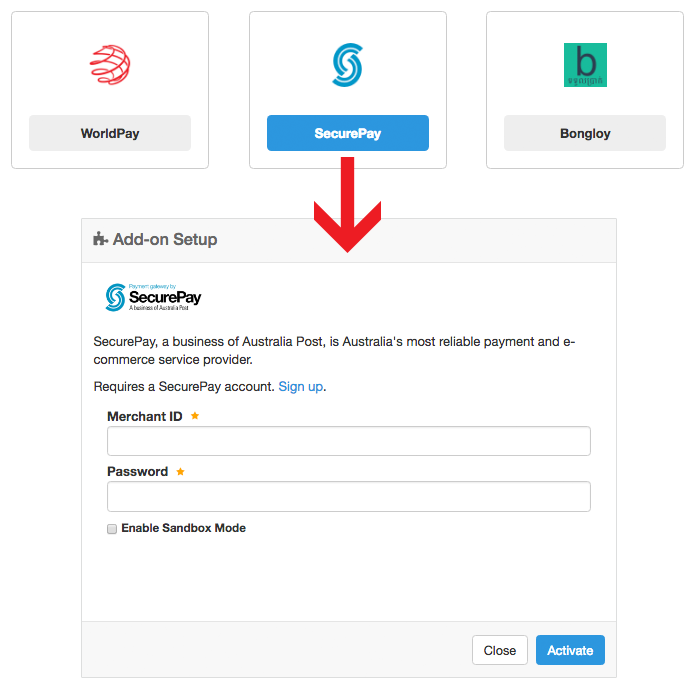 Enter your Merchant ID and Password in the fields provided, then click the blue Activate button.
The integration is now complete and you can go ahead with your payment processing. Before you do, though, it is recommended you complete a full test of the booking process to make sure everything is working as expected before taking any live payments.
---
To begin testing the system, check the box labeled Enable Sandbox Mode from the setup window we just worked with.

After clicking Update or Activate, depending on whether or not the add-on is already enabled, the sandbox mode will be active. This allows you to create some test transactions through your booking system and accept fake payments to see how it all works.
Be sure to uncheck this box when you are ready to start accepting live payments!