---
Learn more about Pesapal, including understanding supported features, setting up Pesapal in Checkfront, using sandbox mode, and configuring IPN settings.
---
Which plans include this feature?
Legacy:  Soho, Pro, Plus, Enterprise
New:  Available with the Growth (Subscription) or Managed plans only. 
This payment provider is unavailable to accounts on the Starter or Growth (Per Booking) plan. 
→ Learn more about our new plans or how to change your plan.

Where can I find this feature using the top menu?
Manage > Ecommerce Setup > Payment


What more do I need to use this feature?
Admin permissions are required to manage Payment Providers.
---
Pesapal is Kenya's leading Payment Provider, enabling you to make and accept online & mobile payments. Pesapal provides a simple, safe and secure way for individuals and businesses to make and accept payments in Africa.
---
The following is a limited list of standard payment provider features. Those available with the Pesapal and Checkfront integration are marked as supported (✓).
| | | |
| --- | --- | --- |
| Feature | Supported | More Info |
| Integrated Checkout | X | Customers remain on the Checkfront domain to input details. These details are sent to the provider to process the transaction without redirecting the Customer. |
| Redirect Checkout | ✓ | Customers are redirected to the Payment Provider's domain to input details and process the transaction. |
| Staff-side Payments | X | Staff can take payment through the Booking Details page using new payment information. |
---
Pesapal does not have virtual terminal features and requires that users process transactions through the Pesapal payment interface. This means that when it comes time to make a payment, your Customer will be redirected from Checkfront to Pesapal and then back again once the transaction is complete.
Due to the lack of virtual terminal functionality, Pesapal cannot seamlessly integrate with the Checkfront payment page. As such, Pesapal does not allow you to process credit cards on behalf of your customers in the Checkfront admin area. Payments can only be made via the Customer-facing booking portal.
---
To enable Pesapal, log in to your Checkfront account and navigate to Manage > Ecommerce Setup, ensuring the Payment tab is selected.
Here you see a list of available payment modules. Locate the Pesapal tile from the list.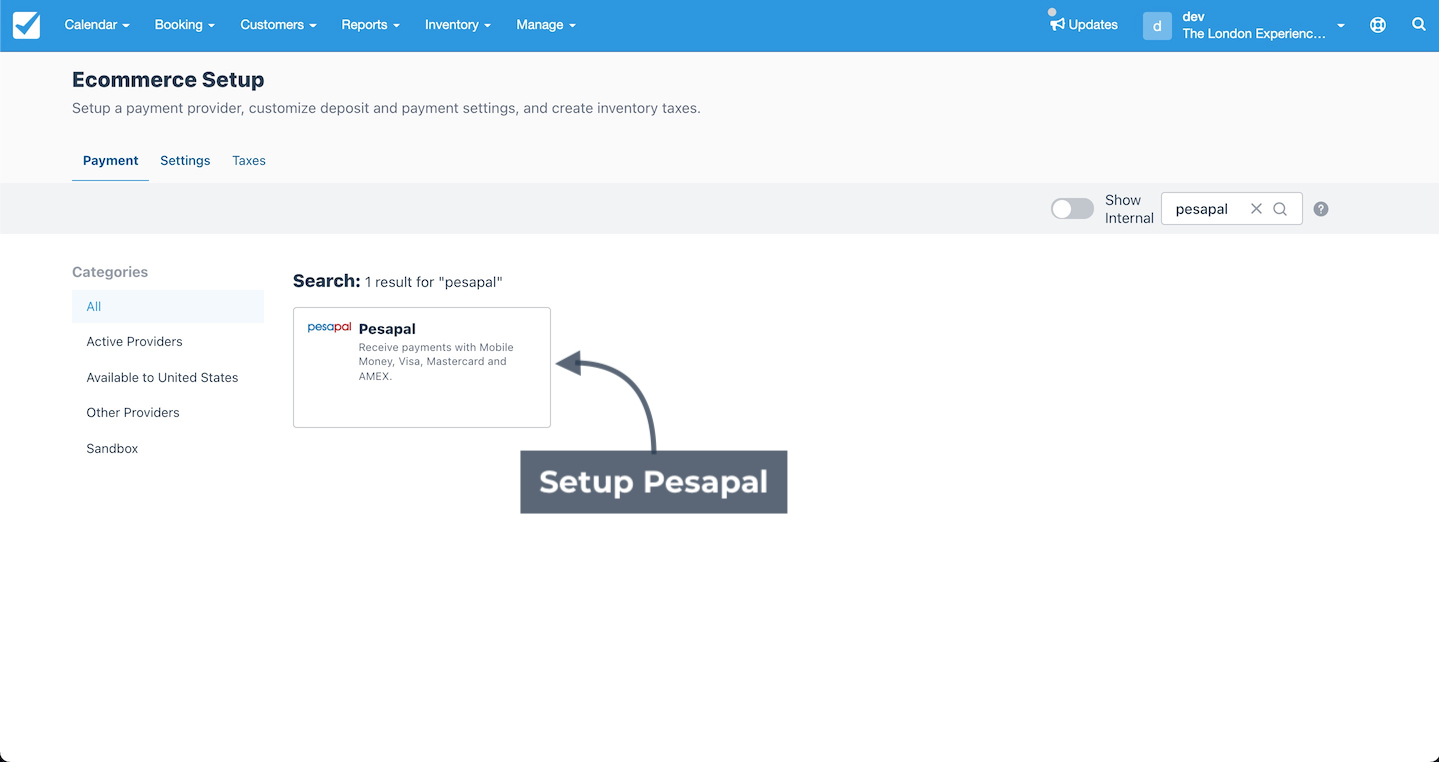 You find it by clicking on the links in the left side menu labelled Available to [your country] or All. You can also search for the Pesapal tile directly in the provided search box.
Hover over the tile, which turns grey, and click.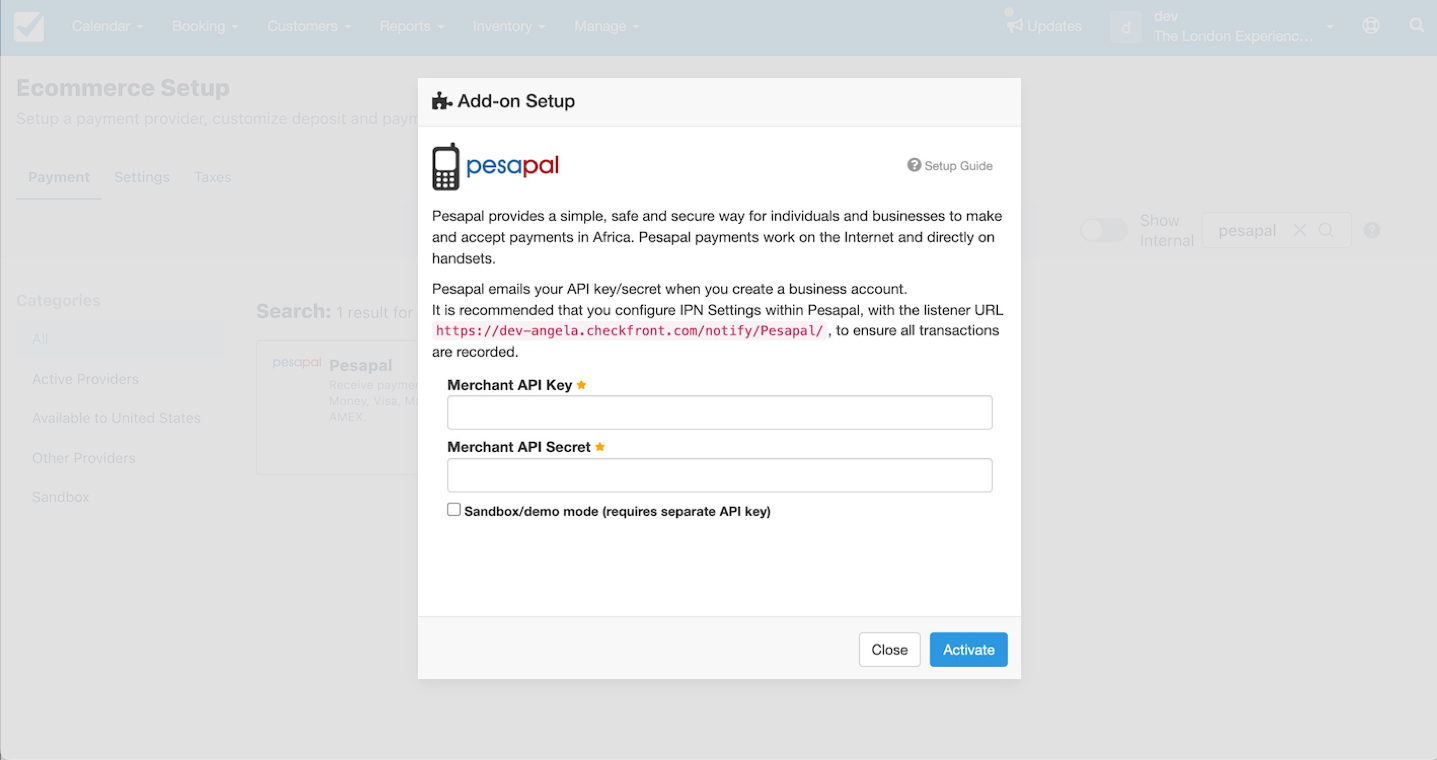 This opens the Pesapal activation window, as pictured above. You need to input your Merchant API Key and your Merchant API Secret from here. These are included in the email Pesapal sends you after creating a business account.
After inputting your credentials, click the blue Activate button to save the configuration.
Pesapal is now successfully integrated with your Checkfront account and is listed under your section of Active Providers.  
---
We highly recommend you run an end-to-end test on your Payment Provider to ensure it communicates properly with Checkfront before taking live payments.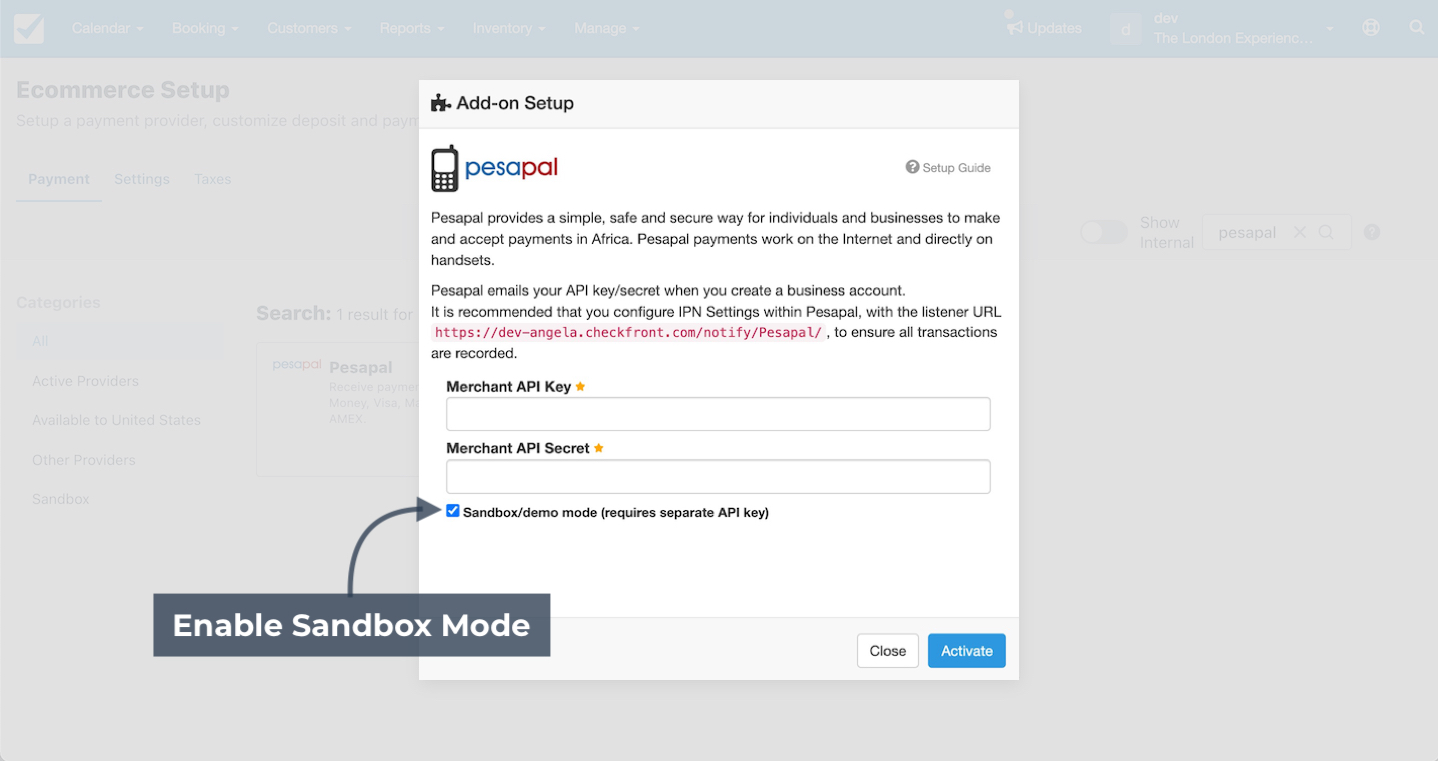 Check the box labelled Sandbox/demo mode to operate in a test environment.
Please note, Pesapal requires a different set of API credentials when using the sandbox mode. You can find these in your Pesapal merchant dashboard below the transaction list in My Dashboard.
Create a few test bookings through the front end and make sure the payments are made to the Checkfront Booking Manager. Once satisfied, you can begin receiving real payments from real customers.
Don't forget to uncheck this box once you're satisfied and ready to take real, live payments from your Customers.
---
It is recommended you configure the IPN settings within the Pesapal Merchant Dashboard to ensure all transactions are successfully recorded.
From the Pesapal Merchant Dashboard, navigate to Account Settings > IPN Settings in the left sidebar.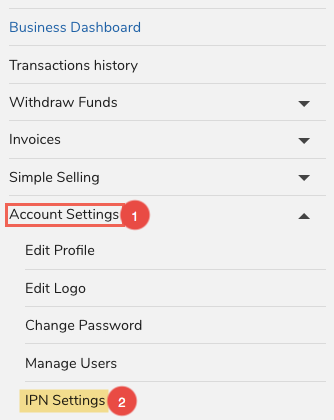 Locate the section labelled Add new URL and input your website domain and IPN listener URL.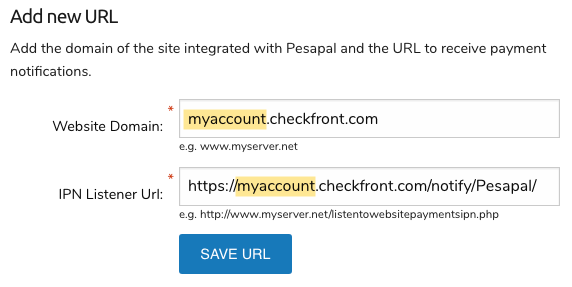 Website Domain: This is the URL of your Checkfront Booking Manager and is unique to your account. You will replace myaccount with whatever your account is.
IPN Listener URL: This is the URL provided in the activation window we worked with earlier. Again, you will replace myaccount with whatever your account is.
Once you've input the URLs, click Save URL to complete the process. And that's it, all done!