---
PayFast is a Payment Provider for South Africans and South African websites. They enable easy, secure, and instant transfer of money between you and your customers.
PayFast does not include virtual terminal functionality and so cannot be seamlessly integrated with the Checkfront payment page. As such, PayFast does not allow you to process credit cards on behalf of your customers in the Checkfront admin area. Payments can only be made via the customer-facing booking portal.
Also, refunds are not directly supported by PayFast. You will need to issue refunds through your PayFast dashboard and then manually update the Checkfront invoice to reflect the reversal.
---
To enable the PayFast extension, log in to your Checkfront account and navigate to Manage > E-Commerce, making sure the Payment tab is selected. Here you will see a list of available payment modules.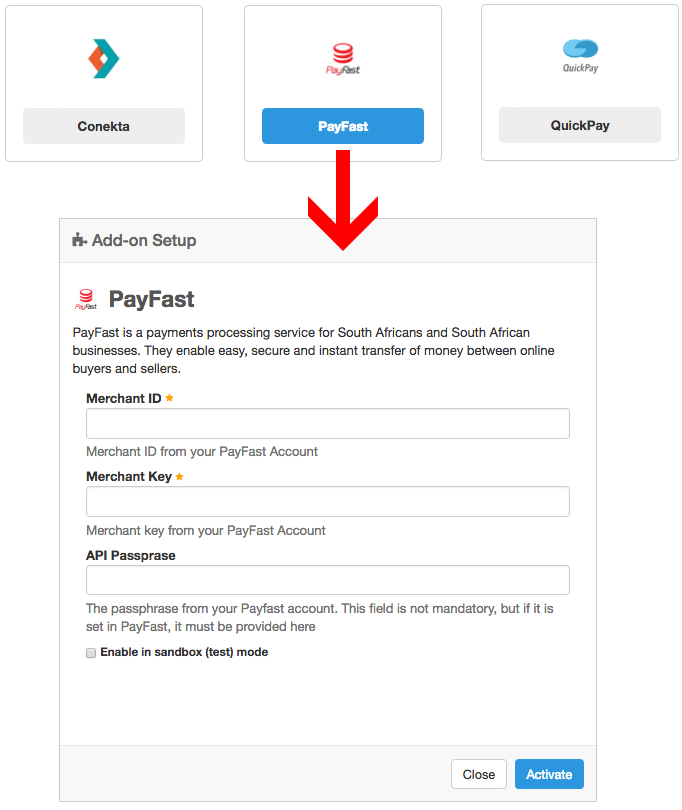 You should see the PayFast module under the link labeled ...payment methods available to South Africa, so go ahead and click on the PayFast button (it will turn blue when you hover over it). This will launch the setup window, as seen above.
Merchant ID & Merchant Key
There are two options you must configure before you can use the Payment Providers with Checkfront. These are the Merchant ID and Merchant Key.

Both credentials can be found in your PayFast account dashboard. Enter them in the activation window and click the blue Activate button.
---
The API Passphrase is not mandatory but does add an extra layer of security to the integration.
If you have set a passphrase in the settings section of your PayFast account dashboard, enter it in the field provided in the activation window.

Please note, if you have set a passphrase in your PayFast account, you MUST also enter it in Checkfront.
---
PayFast includes a sandbox (test) mode so you can make sure the integration works correctly and you are happy with the functionality. To activate sandbox mode check the option in the activation window.

To use sandbox mode you will require a different set of credentials to your live account. You can create test credentials at https://sandbox.payfast.co.za
To use live credentials you will need a PayFast account. Live credentials will not work in sandbox mode and vise versa.