---
Plan Availability: ✓ Soho | ✓ Pro | ✓ Plus | ✓ Enterprise | ✓ Flex |
Locate: Inventory > Discounts
Prerequisites:
Admin permissions to manage inventory or restricted permissions to View Discounts and Manage Discounts.
Discount Codes and Vouchers are available to those using items (Inventory > Items), a feature of our classic version of Checkfront.
Interested in using Discount Codes and Vouchers with products (Inventory > Products)? Your account must be a member of our

Early Access Program. Please reach out to

Checkfront Technical Support

to learn more.
---
Groupon can be a great way to attract new Customers and quickly drive revenue to your business.
Groupon is an experiences marketplace that brings people more ways to get the most out of their city or wherever they may be. By enabling real-time mobile commerce across local businesses, live events and travel destinations, Groupon helps people find and discover experiences––big and small, new and familiar––that make for a full, fun and rewarding life. Groupon helps local businesses grow and strengthen Customer relationships––resulting in strong, vibrant communities.
Groupon works well for retail products, but offers a challenge when the offering relates to a specific time. The complication with a schedule-based product is that although the Customer has already paid for the product through Groupon, they haven't scheduled it with you, and those sales exist outside of your booking system. If you aren't prepared in advance for a burst of bookings, you could otherwise end up with an administrative nightmare, and a host of unhappy Customers. Our Checkfront and Groupon partnership can help you avoid this issue!
---
With Groupon, when your deal is completed, Customers receive a voucher (paid for at https://www.groupon.com/) to redeem your service. They also provide you, as the merchant, with a list of corresponding Voucher codes to verify the sales. With Checkfront, we offer merchants the ability to import Voucher codes into the system and allow Customers to schedule and book online as if they were paying with a credit card.
With our powerful Item Event and Discount system, you can set specific rules to control when and how your promotional rates are available. Once your Vouchers have been uploaded, Customers can be directed to your website to make a booking and enter their Voucher code. This significantly reduces call volumes and starts the Customer experience on the right foot.
---
Importing Vouchers into Checkfront couldn't be easier. If you are familiar with our Item Events, you're already 80% there!
| | |
| --- | --- |
| | For detailed instructions on how to generate random Voucher codes and upload them to your Checkfront Booking Manager, please check out our support documentation on Discount Codes & Vouchers. |

Navigate to Discounts under Inventory in your main menu and then click + New Discount in the top left. For full details on how to fill out each field, see our Discount Codes & Vouchers support document.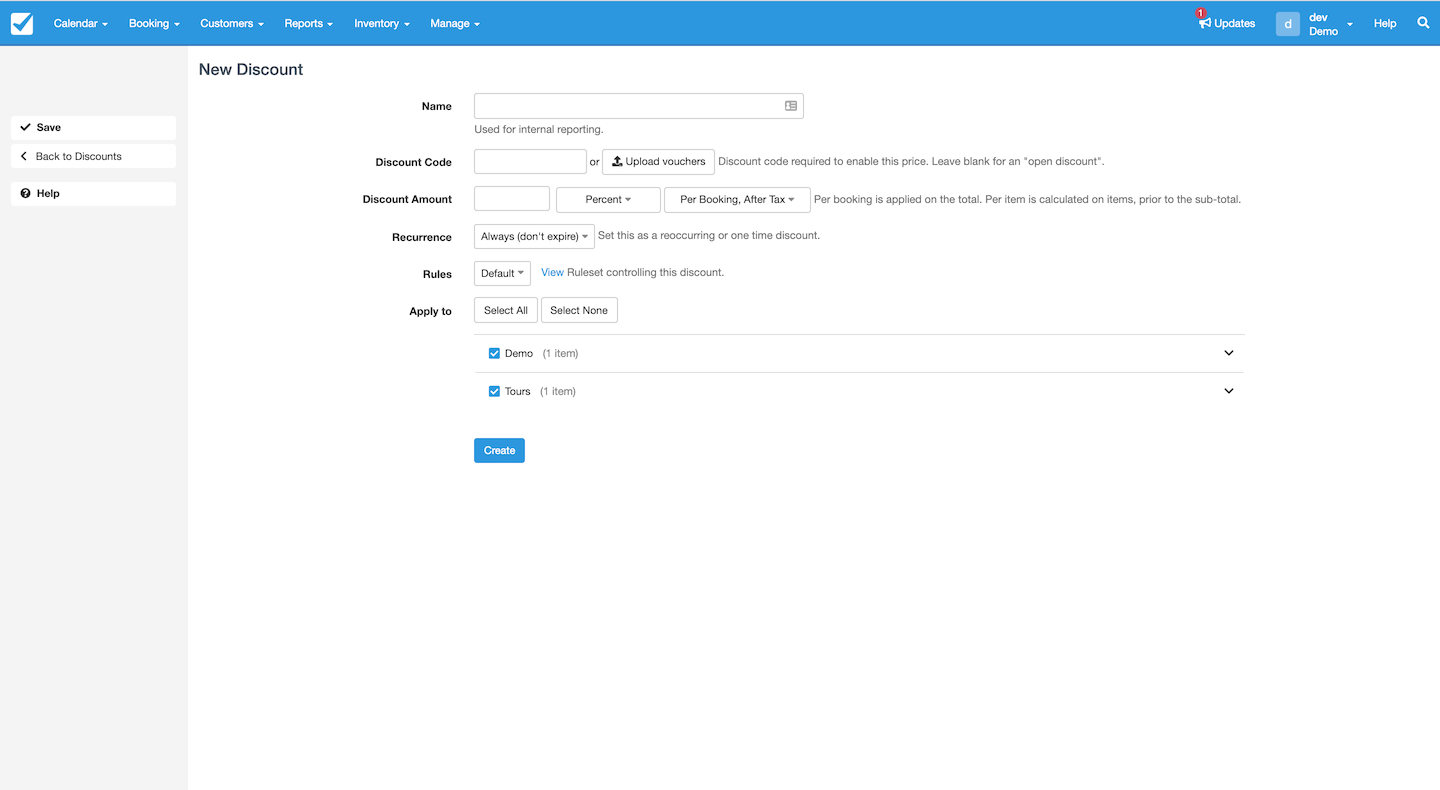 In the Discount Code field, click Upload Vouchers and supply the file, Comma-Separated Value (CSV)format, of Voucher codes. Make sure the Voucher Codes are in Column A.
Select the Discount Amount, for example, 25% per booking.
Set any additional parameters for the discount (start/expire date, rules etc).
Select the item(s) you wish to Apply the promotion to (defaults to All Items).
Click Create to save your Discount, and you are done!
Checkfront will schedule bookings for each Voucher and close the deal once all Vouchers have been used, or when you have set the deal to expire. If the item is fully booked for the day or time, it will not allow the Customer to continue, and ask that they choose an alternate date.
Frequently Asked Questions

Q: Can I still process group bookings over the phone?

A: Of course. Just log in to Checkfront and process the booking internally. This will ensure the booking, inventory, and Customer are properly tracked.

Q: Can I add on optional up-sell to a promotion that isn't free?

A: YES! This is a great opportunity to make up some of the revenues lost to Groupon. You can add optional items from your inventory to the product (for example a t-shirt). In the event there is a balance due after the Voucher code is applied, the Customer will continue through the checkout process.