---
Plan Availability: ✓ Soho | ✓ Pro | ✓ Plus | ✓ Enterprise | X Flex |
Locate: Manage > ECommerce > Payment OR Manage > Integrations > Payments
Prerequisites: Permission to manage Payment Providers
---
Payment Express (formerly Direct Payment Solutions Ltd.) is a Visa and MasterCard certified solution. Payment Express is popular in Australia, New Zealand, and the UK.
Payment Express becomes Windcave! Service will remain the same but the company and product are undergoing a rebranding.

Thank you for your patience as we roll out the new name and branding within our application!
PSD2 and SCA compliance in the European Union (EU)

In order to be Payment Services Directive 2 (PSD2) and Strong Customer Authentication (SCA) compliant, Checkfront is prepared to handle any transactions that the Payment Provider deems applicable via the PXPay (Redirect Method) only.

The PXPost (Integrated) is no longer supported by Checkfront in the European Union (EU).
---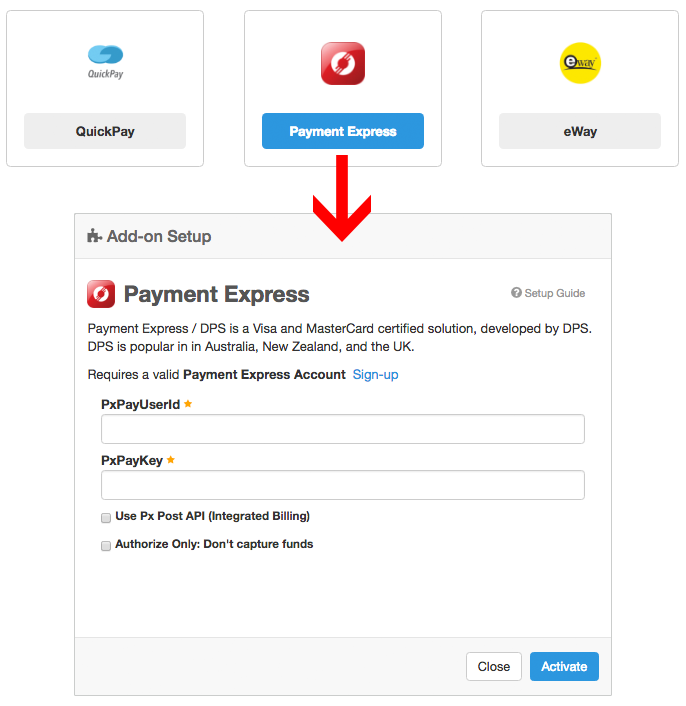 To enable the Payment Express extension, log in to your Checkfront account and navigate to Manage and then E-Commerce, making sure the Payment tab is active. Alternatively, you can find the Payment Provider under Payment Integrations (Manage > Integrations > Payments).
Locate the Payment Express tile and click on the button labeled Payment Express. The button will turn blue when you hover your mouse over it.
Before continuing, make sure you have an active Payment Express account as this is required to properly activate the Payment Provider in Checkfront.
If you don't yet have a Payment Express account, you can apply for one here.
Assuming you have an account setup and ready to go, continue reading the document below.
Enter Your Credentials
When you sign up for an account with Payment Express, you will be supplied with a set of credentials that are required to connect your Checkfront account with the Payment Express API.

You will be supplied with a PxPay User ID and a PxPay Key. Enter both of these in the fields provided and click on the blue Activate button.
---
With the setup described above, your customers will be redirected to a Payment Express payment page when it comes to paying for their booking.
If you wish to use Checkfront's built-in payment form you will need to activate the PxPost API through Payment Express. Contact their support team if you're not sure where to obtain these credentials.

Once you've done this, you will need to check the box labeled Use Px Post API (Integrated Billing) in the activation window.
Also, a different set of API credentials are required to use this feature. Replace the PxPay User ID and Key with your PxPost Username and Password in the activation window, as seen above.
---

If you wish to use your system as an authorize only platform, you will need to check the box provided in the activation window. This will verify the card details and authorize the transaction, allowing you to process the payment when the customer arrives at your location.