---
PayUMoney enables businesses of all sizes across India to accept mobile and online payments with minimum development effort. You are able to get your account setup within minutes with minimal information required.
The process is designed to provide you with a complete online onboarding experience without the need for physical documentation.
Link your existing Savings or Current Bank Account by providing your Account Number & IFSC. You will automatically receive your money in your account within two business days.
---
To enable PayUMoney, log in to your Checkfront account and navigate to Manage > Ecommerce Setup, making sure the Payment tab is selected.
Here you see a list of available payment modules. Locate the PayUMoney tile from the list.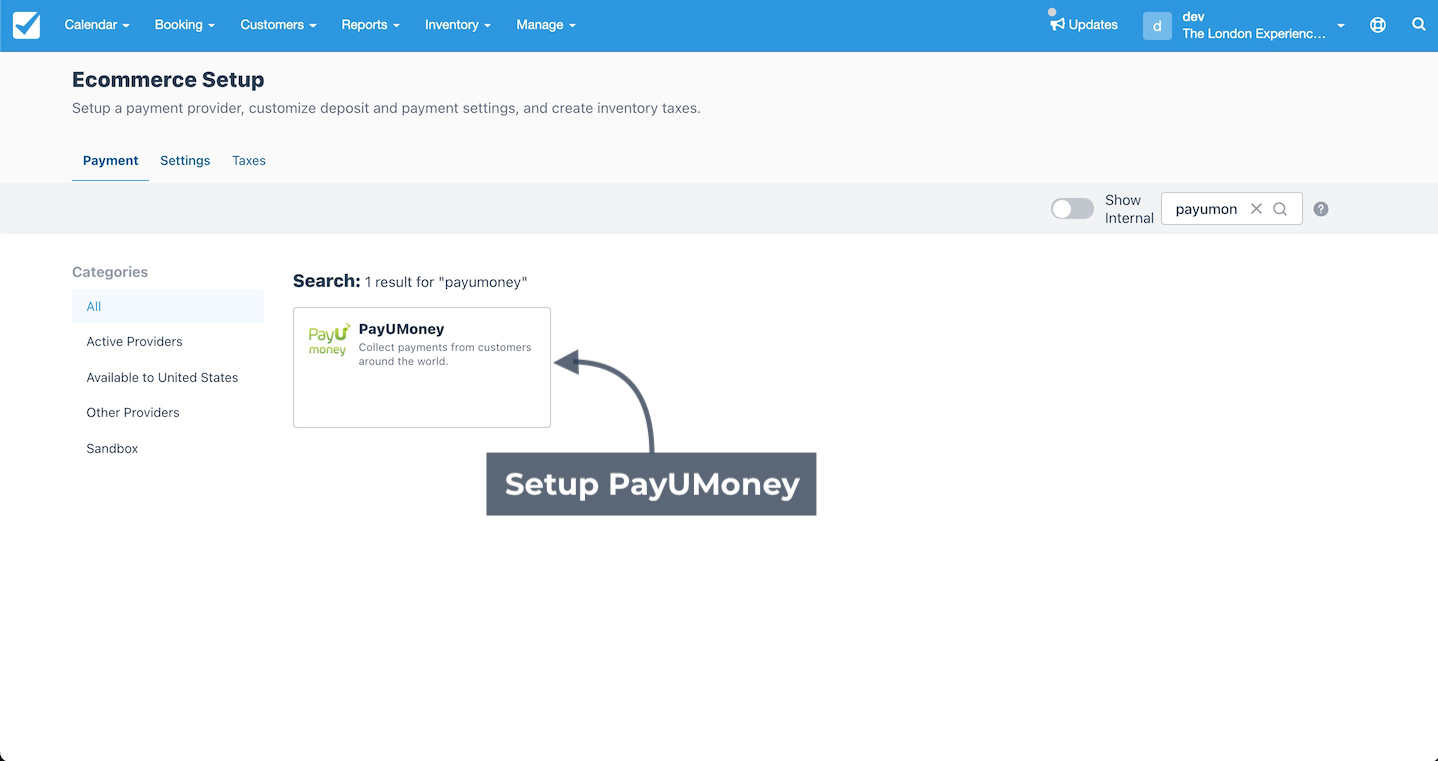 You find it by clicking on the links in the left side menu labelled Available to [your country] or All. You can also search for the PayUMoney tile directly in the provided search box.
Hover over the tile, which turns grey, and click.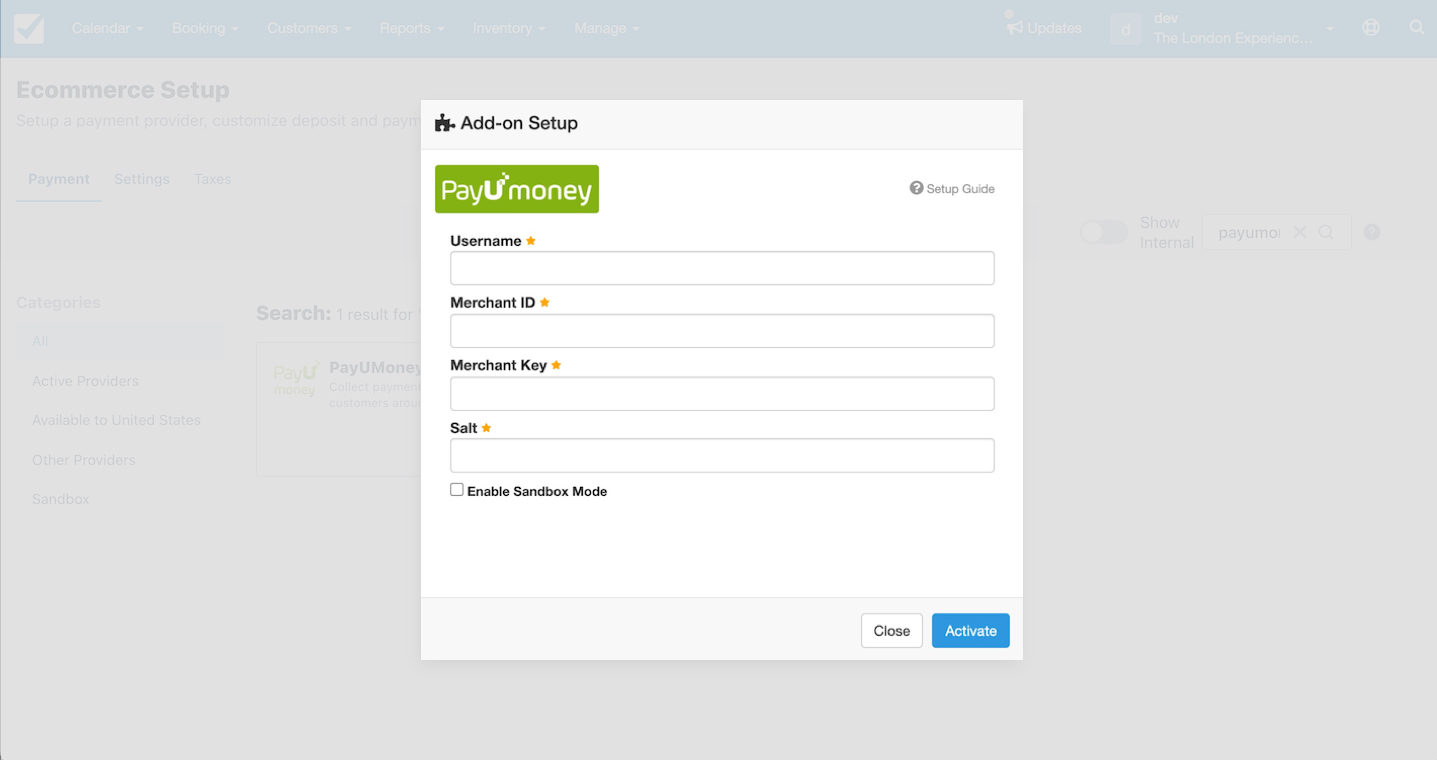 This opens the PayUMoney activation window, as pictured above.
Before continuing, make sure you have an active PayUMoney account as this is required to properly activate the Payment Providers in Checkfront.
If you don't yet have a PayUMoney account, then you can create one here.
Assuming you have an account set up and ready to go, continue reading the document below.
Enter Your Credentials
When you sign up for an account with PayUMoney, you are supplied with a set of credentials that are required to connect your Checkfront account with the PayUMoney API.
These credentials are emailed to you by PayUMoney shortly after creating your account.
You are supplied with a Username, Merchant ID, Merchant Key, and a secret code known as Salt.
Enter these credentials in the fields provided and click on the blue Activate button.
Payment Page Redirect

Please note that PayUMoney's API does not provide the ability to use Checkfront's built-in payment form when it comes to your customers making their payment.

Instead, they must click on a pay now button which redirects them to PayUMoney's website to complete their payment.

Additionally, PayUMoney does not have virtual terminal functionality, so you are not able to process payments through the Checkfront Booking Manager on behalf of your customers.
---
We highly recommend you run an end-to-end test on your Payment Provider to make sure it is communicating properly with Checkfront before taking live payments.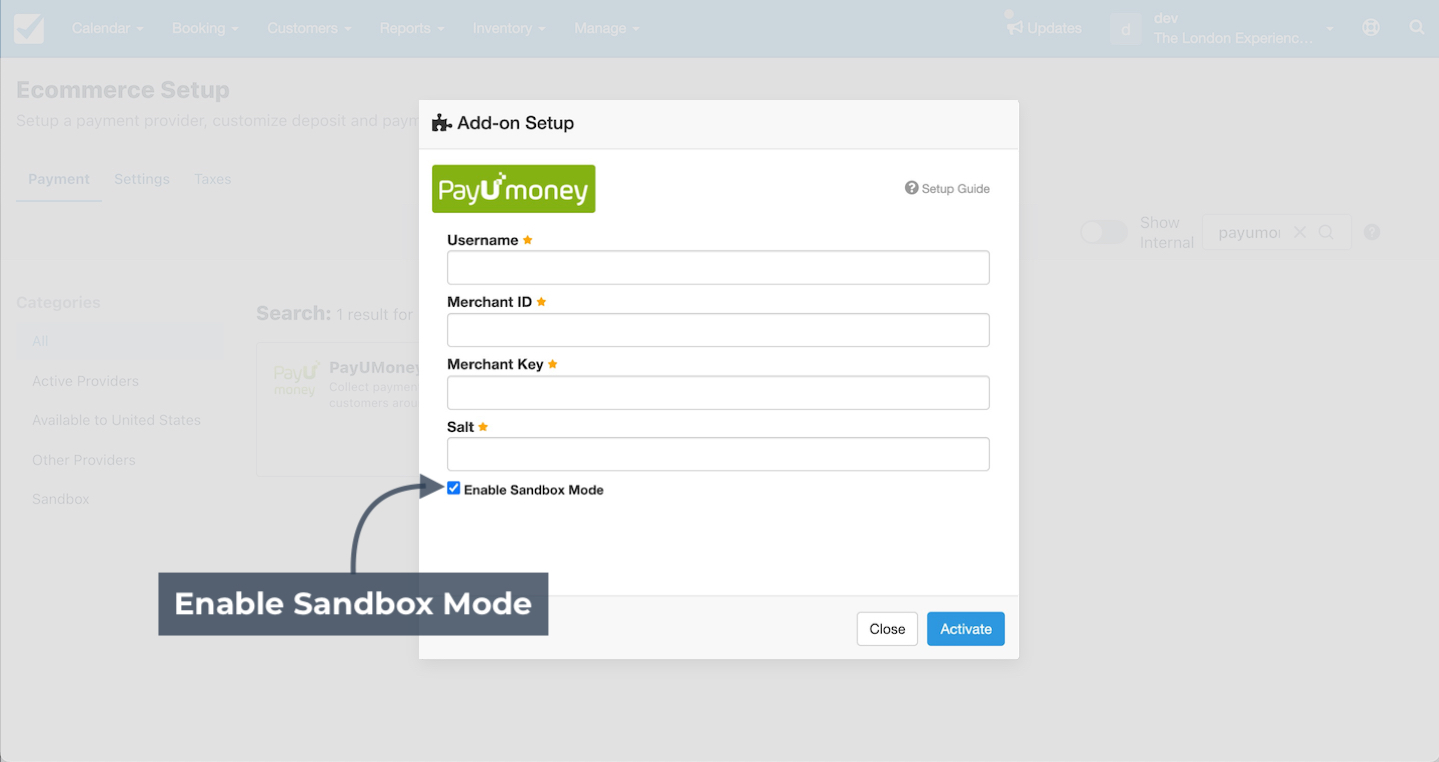 Check the box labeled Enable Sandbox Mode to operate in a test environment. You may use the test credentials below to process some "fake" bookings and take a credit card payment on them.
Don't forget to uncheck this box, however, once you're satisfied and ready to take real, live payments from your customers.
Test Credit Card Credentials
Card Number: 5123456789012346
Expiry: Date in the future following this format: 05/17
CVC: 123