---
Read this introduction to our TripAdvisor Connect integration, including information on how to activate the integration and choose your company's industry.
To learn more about the functionality of the Tripadvisor Connect integration, please read the entire series of articles accessed at the side and bottom of this page.
---
Which plans include this feature?
Legacy:  Soho, Pro, Plus, Enterprise, Flex
New:  Starter, Growth (Subscription), Growth (Per Booking), Managed
→ Learn more about our new plans or how to change your plan.

What industry does this feature apply to?
✓ Accommodations | X Activities  | X Tours  | X Rentals  | X Adventures | X Escape Rooms | Learn More


Where can I find this feature using the top menu?
Manage > Integrations > Channels > Tripadvisor Connect


What more do I need to use this feature?
Admin permissions to manage Integrations.
Your business must be an Accommodation Provider listed as a 'Hotel' on Tripadvisor.
Your company's Primary industry (Manage > Setup > Company) must be set to an Accommodations & Hospitality option.
Which Checkfront version supports this feature - classic, new or both?
Your account must have access to items (Inventory > Items), a key feature of our classic version of Checkfront. 
This feature is not available for use with products (Inventory > Products), a key feature of our newest version of Checkfront. → Learn more about products
TripConnect Availability

TripConnect is currently only available to Accommodation Providers.

Your property must be listed on Tripadvisor as a 'Hotel'. Other listings, such as 'Vacation Rentals,' are not eligible.

Although we'd love to include our many tours and attraction Operators, at this time, it's limited to accommodation providers (hotels) on Tripadvisor.
---

"Tripadvisor, the world's largest travel platform*, helps 463 million travellers each month** make every trip their best trip. Travellers across the globe use the Tripadvisor site and app to browse more than 859 million reviews and opinions of 8.6 million accommodations, restaurants, experiences, airlines and cruises. Whether planning or on a trip, travellers turn to Tripadvisor to compare low prices on hotels, flights and cruises, book popular tours and attractions, as well as reserve tables at great restaurants. Tripadvisor, the ultimate travel companion, is available in 49 markets and 28 languages." ~ Tripadvisor
---
Checkfront's Tripadvisor Connect integration lets you add real-time availability, pricing, and booking to your Tripadvisor listing.
Rather than Customers finding your listing on Tripadvisor and being directed to book via a channel such as Booking.com or Expedia, a link that takes them directly to your Checkfront-powered booking page appears on Tripadvisor. Subsequently, you avoid the commission taken by channels (Tripadvisor only charges a fee per click) and control the full booking experience!
Checkfront does not charge extra for this service. Tripadvisor charges a CPC (cost per click) fee when sending Customers to your booking page. Tripadvisor determines the actual cost on a per-listing basis.
You are not charged any extra by Tripadvisor when potential Customers view your Tripadvisor listing, only when they are sent to make a booking by clicking the link.
---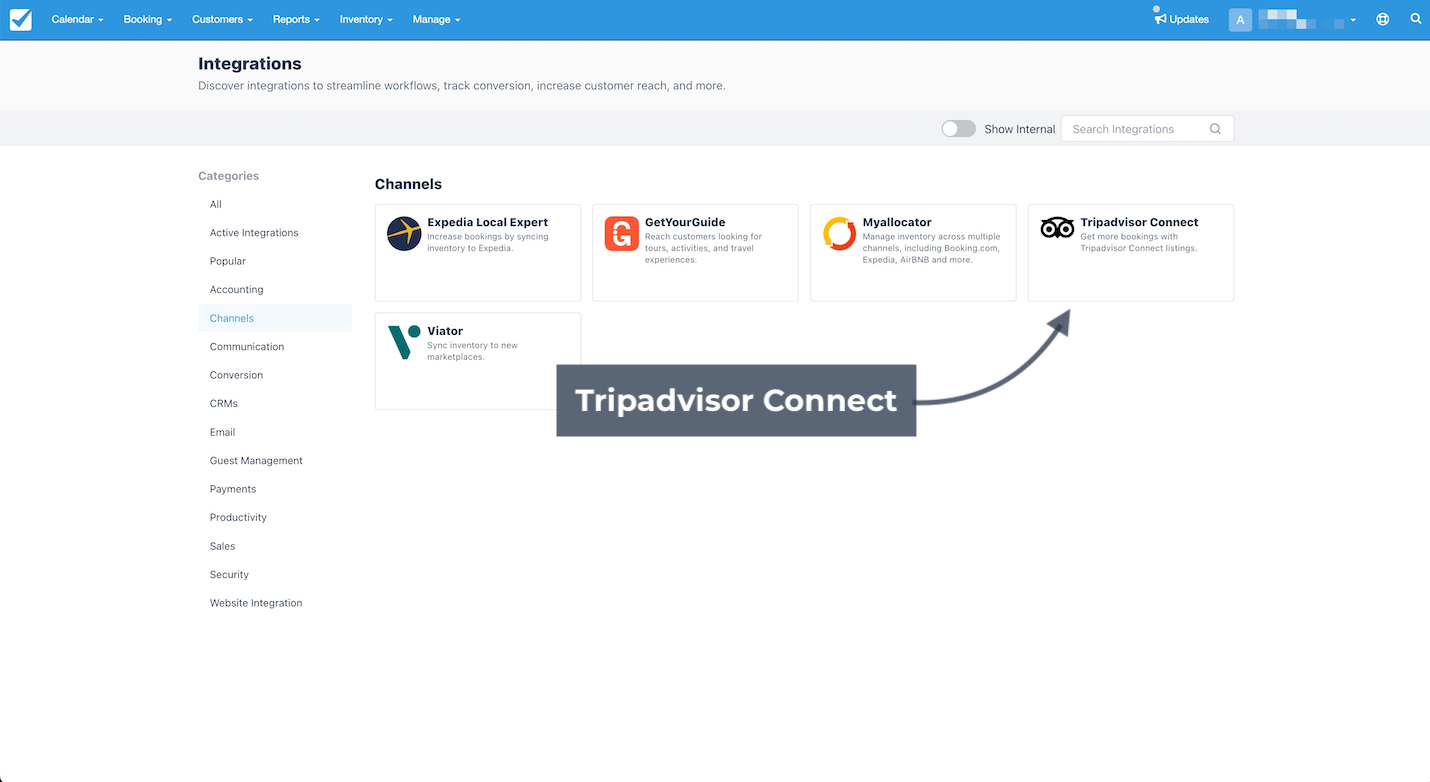 Tripadvisor Connect is found within Integrations (Manage > Integrations). Locate the Tripadvisor Connect tile in the Channels category, hover your mouse over the tile, and click to open the Add-on Setup modal.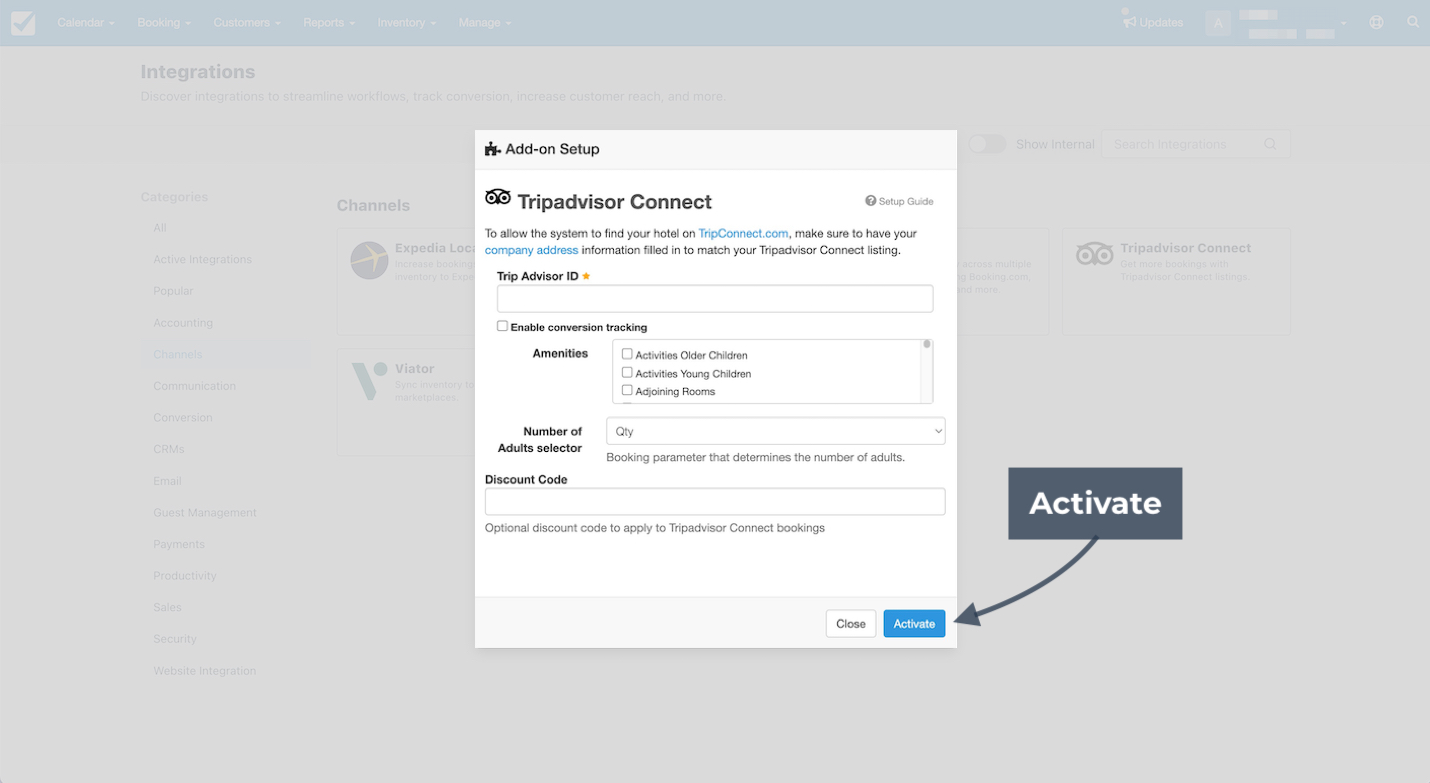 Fill out the fields in the pop-up window, most notably your Trip Advisor ID. Select Activate when done.

Trip Advisor ID
This is a required field in the right column's lower section on your Tripadvisor Management Center main page.
Enable Conversion Tracking
Tripadvisor offers a conversion tracking solution to help hotels track the revenue from advertising on Tripadvisor.
Hotels view this calculated revenue on their Management Center page within Tripadvisor.
To enable this functionality for their hotel clients and to be certified as a Plus Partner, partners must configure their websites to notify Tripadvisor of any booking due to a lead sent by Tripadvisor. By checking this box in the Checkfront setup window, you enable us to complete that task.
Amenities
You can use this section to check off all the amenity types your business offers.
Number of Adults Selector
Select the booking parameter that determines the number of adults in a booking.
Discount Code
If you wish to offer a discount code to apply to Tripadvisor bookings, enter it in this field. The discount code helps promote bookings through Tripadvisor by showing a lower price for those bookings.
---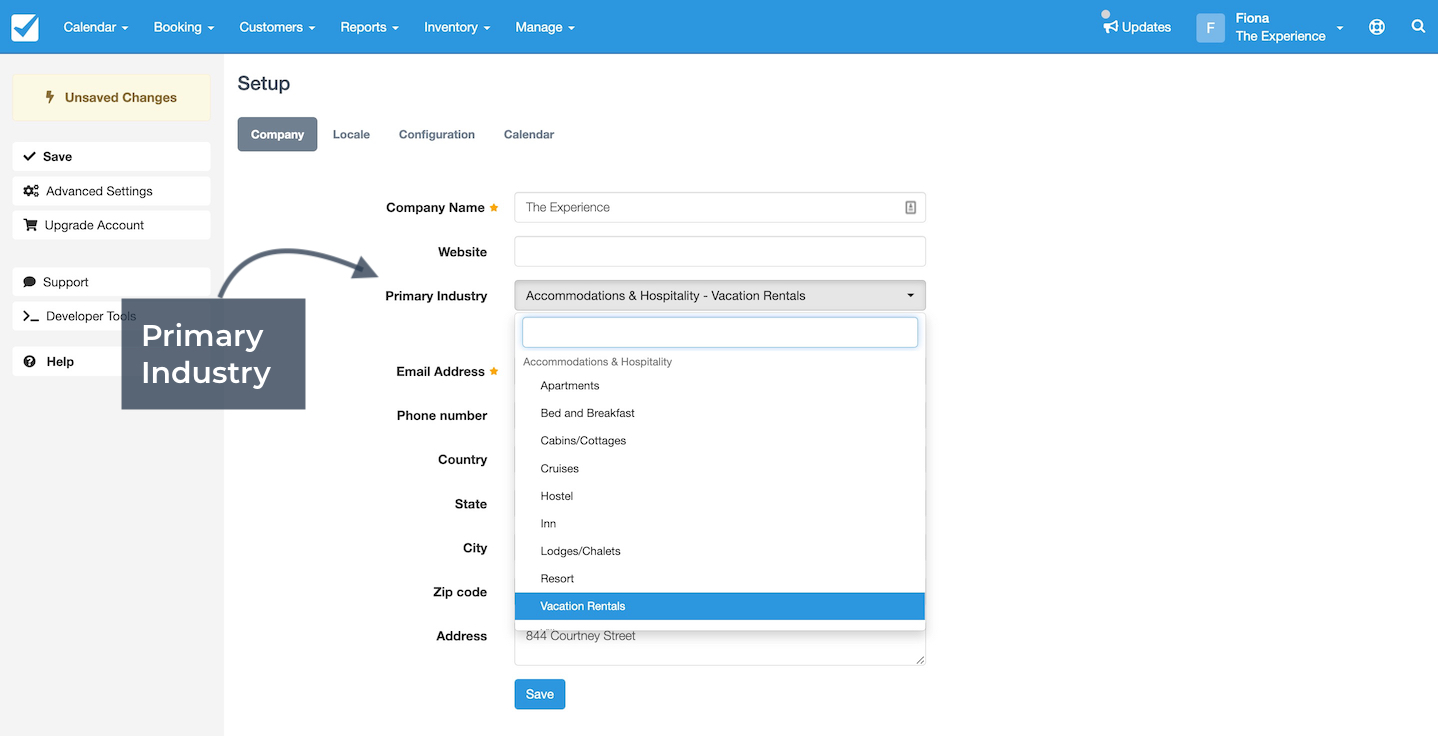 | | |
| --- | --- |
| | Your account must have the Primary Industry (Manage > Setup > Company) set to one of the Accommodations & Hospitality options for the connection with Tripadvisor to be successful. |
Navigate to the Setup area (Manage > Setup).
Select the Company tab and specify any options under the Accommodations & Hospitality category as your Primary Industry.
Click Save to preserve your changes.
---
Including Checkfront items in Tripadvisor Connect >
---