---
We understand a picture says a thousand words, but...

TripConnect does not provide a test account from which we can take screenshots to help explain the instructions in this guide. So, hopefully, our written descriptions will provide the answers you're looking for!
Checkfront's TripAdvisor Connect add-on enables you to add real-time availability, pricing, and booking as part of your TripAdvisor listing.
Rather than customers finding your listing on TripAdvisor and being directed to book via a channel such as Booking.com or Expedia, a link can now appear on TripAdvisor that takes them directly to your Checkfront powered booking page. Subsequently, you avoid the commission taken by channels (TripAdvisor only charges a fee per click) and control the full booking experience.
Checkfront does not charge extra for this service. TripAdvisor will charge a CPC (cost per click) fee when sending customers to your booking page. The actual cost is determined by TripAdvisor on a per listing basis.
You are not charged any extra by TripAdvisor when potential customers simply view your TripAdvisor listing, only when they are sent to make a booking by clicking on the link.
Checkfront Tip:

TripConnect is currently only available to accommodation providers. Although we'd love to include our many tour and attraction operators, at this time it's limited to accommodation providers including hotels, inns, and B&Bs on TripAdvisor.
---
The TripAdvisor Connect add-on can be found at Manage > Add-ons. Locate the TripAdvisor Connect tile in the Channel Management section, hover your mouse over it and click on the Setup button.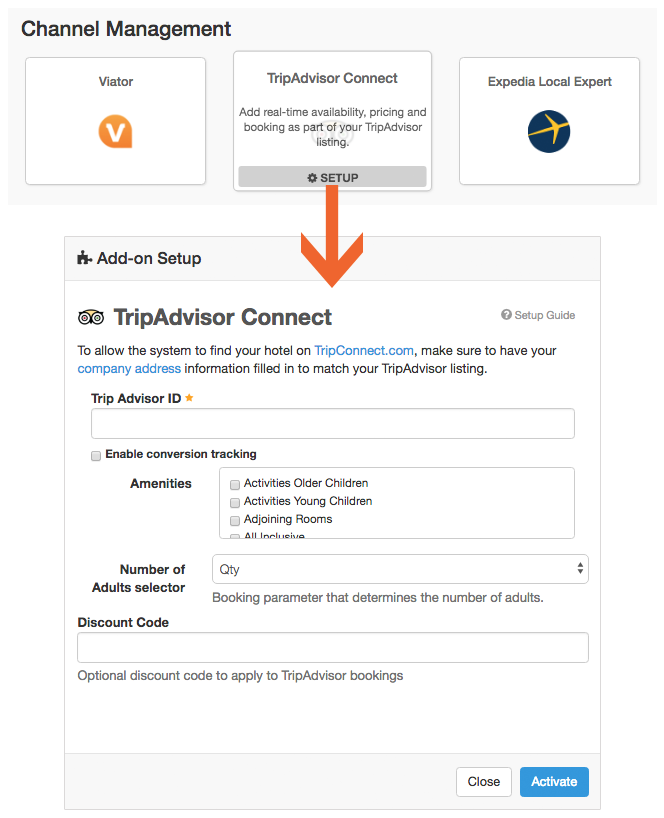 Fill out the fields in the pop-up window, most notably, your TripAdvisor ID.
TripAdvisor ID
This is a required field and can be found in the lower section of the right column in your TripAdvisor Management Center main page.
Enable Conversion Tracking
TripAdvisor offers a conversion tracking solution to help hotels track the revenue from advertising on TripAdvisor.
Hotels can view this calculated revenue in their Management Center page on TripAdvisor.
In order to enable this functionality for their hotel clients, and to be certified as a Plus Partner, partners must configure their websites to notify TripAdvisor of any booking that occurs as a result of a lead sent by TripAdvisor. By checking this box in the Checkfront setup window you are enabling us to complete that task for you.
Amenities
Use this section to check off all the amenity types offered by your business.
Number of Adults Selector
Select the booking parameter that determines the number of adults in a booking.
Discount Code
If you wish to supply a discount code to apply to TripAdvisor Bookings, enter it in this field. These can help promote more direct bookings by showing a lower price for direct bookings.
---
Once you've input your details into the setup fields and clicked activate, the add-on is configured and ready to use. 
The next step is to include any Checkfront items you wish to advertise on TripAdvisor.
To do this, open the item in your Checkfront Booking Manager at Inventory > Items and select the Attributes tab. At the bottom of this tab you'll see a section labelled TripAdvisor Connect.

From here you can select yes from the drop-down menu labelled Include in TripAdvisor if you wish to sync the item. By default, this will be set to no.
Next, select the room type form the drop-down menu labelled Room Code. Choose the TripAdvisor option that most closely resembles the type of room you are offering.
When ready, save your item and the sync will occur automatically.
And that's it! You are now set up with TripAdvisor Connect and can hopefully watch your booking rate start to increase.
Checkfront Tip:

In order for your items to be picked up by TripConnect, your business address listed in your Checkfront Booking Manager must match exactly the address provided in your TripConnect account.