---
Prerequisites:
The Guest Form add-on is available to those using items (Inventory > Items), a feature of our classic version of Checkfront.
Interested in using the Guest Form add-on with products (Inventory > Products)? Your account must be a member of our

Early Access Program. Please reach out to

Checkfront Technical Support

to learn more.
---
The Guest Form add-on is an extension of your Booking Form and enables you, as a business, to collect the names and email addresses of all guests on a booking, not just the person who made it. This is great for maintaining customer records and updating your manifests and itineraries.
These insights not only provide data on who is attending your activities but enable you to understand individual guest needs and preferences. How else do you know that little Timmy is allergic to shellfish and has a fear of heights?
The Guest Form add-on allows you to tie booking form responses to particular guests so you can make sure everyone is looked after and has what they need.
---
To activate the Guest Form add-on in your Checkfront account, go to Manage > Integrations in your main menu. Locate the Guest Form tile, hover over it with your cursor, and click it to select it.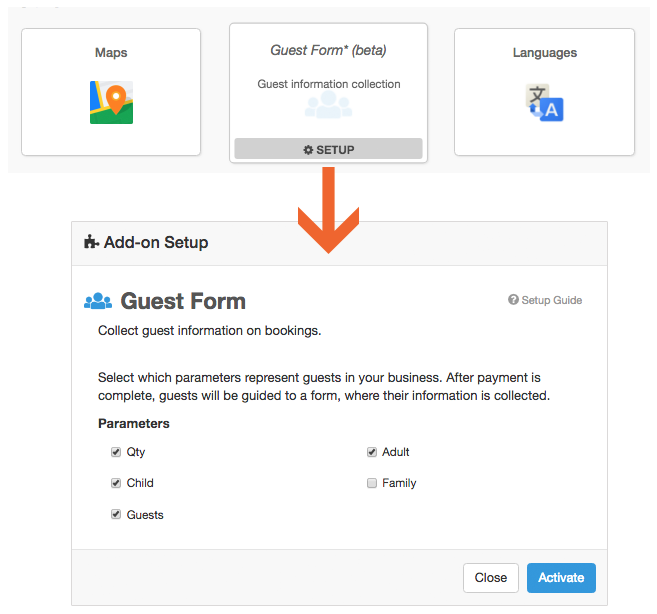 When opened, you see a pop-up modal like the one in the screenshot above. From here, select the parameters which represent guests in your business.
If, for example, you select adults and children as your parameters, then these are tied to your guest form. That way, if a customer makes a booking for 2 adults and 2 children, then the system provides 4 guest detail sections that can be filled out during the booking process.
When you are happy with your selections, click the blue Activate button to complete the process.
---
---