---
SiamPay, a product of Asia Pay, is a secure payment gateway for Checkfront customers in Thailand. With the ability to perform in-app refunds, SiamPay is a great option for sellers in this region.
---
In order to setup SiamPay in Checkfront, you will already need to have an active SiamPay account in place. If you don't, visit the SiamPay website to get started.
Assuming you have an account in place at SiamPay, it's time to activate the gateway within your Checkfront Booking Manager and provide some details required to link the two services.
To activate SiamPay, navigate to Manage > E-Commerce in your Checkfront main menu.
Make sure the Payment tab is selected, which it should be by default, and locate the SiamPay tile.
When you find the tile, hover over it with your mouse and click on the SiamPay label. The label will turn blue as you hover over it.
Enter your Merchant ID and Secret Hash Key.
Merchant ID
This can be found at the top of your SiamPay account dashboard when you log in through their website.
Secret Hash Key
To obtain your secret hash key, navigate to Profile > Payment Information > Secret in your SiamPay account dashboard. You will be able to copy and paste the key from there.
Checkfront Tip:

SiamPay will not enable the Secure Hash and provide you with the Secure Secret Hash Key upon registration to the payment gateway by default. You must contact SiamPay support to ensure that the Secure Hash is enabled and you can see the Secure Secret Hash Key in your merchant account Payment Information.
Your SiamPay Login ID and Password are required ONLY if you wish to perform refunds within Checkfront. These credentials were provided to you when your account was created.
---
In order to process refunds through SiamPay, directly through your Checkfront Booking Manager, you must input your SiamPay Login ID and Password during the activation process we looked at earlier.
If you do this, refunding an invoice in Checkfront will automatically send that refund back to the customer's credit card via SiamPay.
If you don't use this feature, you will need to manually refund the payment in your SiamPay account dashboard and record a POS refund in Checkfront to balance out your books.
---
We highly recommend running an end-to-end test on your booking system before processing any live payments. Check the box labeled Sandbox (test mode) in the payment gateway activation modal to turn on the test mode.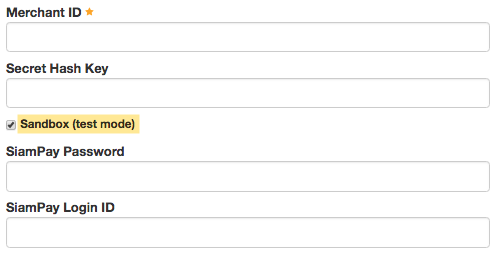 Don't forget to uncheck this once you are ready to process live credit card payments!