---
Learn more about PesoPay, including setting up PesoPay in Checkfront, setting up the integration in PesoPay, processing refunds, and using sandbox.
---
Which plans include this feature?
Legacy:  Soho, Pro, Plus, Enterprise
New:  Available with the Growth (Subscription) or Managed plans only. 
This payment provider is unavailable to accounts on the Starter or Growth (Per Booking) plan. 
→ Learn more about our new plans or how to change your plan.

Where can I find this feature using the top menu?
Manage > Ecommerce Setup > Payment


What more do I need to use this feature?
Admin permissions are required to manage Payment Providers.
---

PesoPay is a leading online Payment Provider in the Philippines, enabling merchants to accept online payments securely via credit cards. With the ability to perform in-app refunds, PesoPay is a great option for sellers in the Philippines.
---
The following is a limited list of standard payment provider features. Those available with the PesoPay and Checkfront integration are marked as supported (✓).
| | | |
| --- | --- | --- |
| Feature | Supported | More Info |
| Integrated Checkout | X | Customers remain on the Checkfront domain to input details. These details are sent to the provider to process the transaction without redirecting the Customer. |
| Redirect Checkout | ✓ | Customers are redirected to the Payment Provider's domain to input details and process the transaction. |
| Staff-side Payments | X | Staff can take payment through the Booking Details page using new payment information. |
---
To set up PesoPay in Checkfront, you must already have an active PesoPay account. If you don't, then visit the PesoPay website to get started.
Once you have an account, it's time to activate the provider within your Checkfront Booking Manager.
To activate PesoPay, navigate to Payment tab (Manage > Ecommerce Setup > Payment) in Checkfront.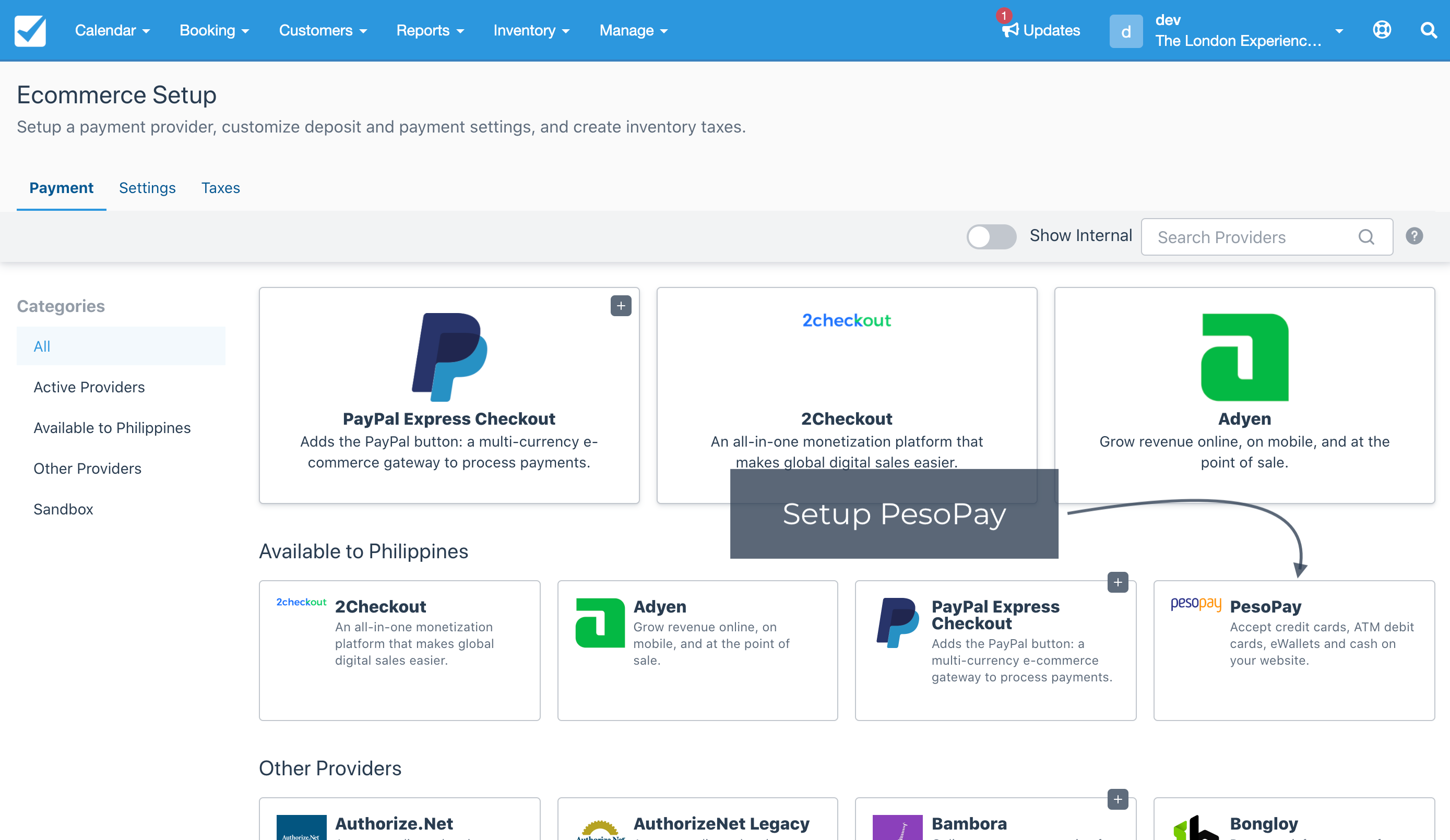 Within the Payment tab, locate the PesoPay tile and select it to open the Setup modal.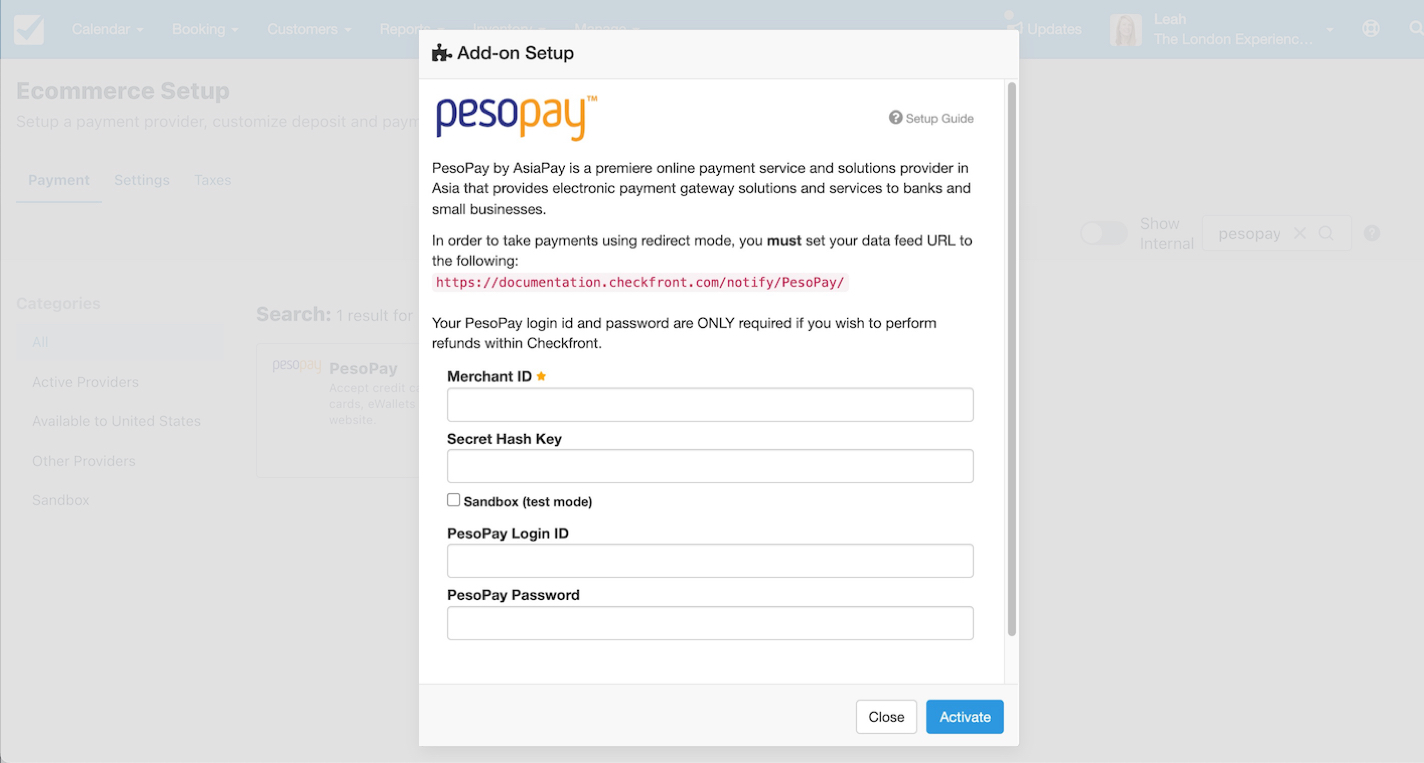 Enter your Merchant ID and Secret Hash Key.


This can be found at the top of your PesoPay account dashboard when you log in through their website.
PesoPay does not enable the Secure Hash and provide you with the Secure Secret Hash Key by default when you register. You must contact PesoPay support to enable Secure Hash.

After enabling it, you see the Secure Secret Hash Key in your merchant account's Payment Information section.
This is an additional password to encrypt payment information from Checkfront to PesoPay, but it is not required. To view your secret hash key, navigate to the Payment Information (Profile Payment Information) section in your PesoPay account dashboard. You can copy and paste the key from there.
Your PesoPay Login ID and Password are required only if you wish to perform refunds within Checkfront. These credentials were provided to you when your account was created.
Finally, click Activate to turn on the modal, and PesoPay is live! Make sure you follow the steps below to complete the connection.
---
Now that setup is complete in Checkfront, you need to configure it in PesoPay before taking payments.
In your Checkfront account, navigate to the Ecommerce Payment page (Manage > Ecommerce Setup > Payment) and select the PesoPay tile to open the Setup modal.





At the top of the Setup modal is a unique URL for your account. Select this URL and copy it.





Now, log into your PesoPay account and navigate to the Profile tab.





Select Payment Options.

In the Return Value Link (Datafeed) field, paste the copied URL from the Checkfront modal. Then, click Save to save these changes.

Next to the Return Value (Datafeed) option, select the Enabled option.

You can press the Test button to ensure the URL works properly. If you get an "SSL Certificate provider" error, replace https:// with http:// in the copied URL. This URL lets PesoPay let Checkfront know if a payment was processed successfully or not. If you're still getting this or another error, please check that you copied the URL without spaces. If the error persists, reach out to support.






Now, scroll to the bottom of the page and click on Update.





You are asked to confirm your changes. Please review that all of the changes are correct and then click Confirm.

Congratulations! You are now ready to use PesoPay!
---