| | |
| --- | --- |
| | The mobile booking app for Android is a legacy product and is no longer available to new Customers. |
---
Learn how to view a booking, including checking in/out the Guest.
New to the Android app? You can read the first article in this series for an introduction to the Android app.
---
✓ Soho | ✓ Pro | ✓ Plus | ✓ Enterprise | ✓ Flex |


What more do I need to use this feature?
A Staff user account, as Partner account login is not supported.
Important:

Only the QR Code Scanner feature of the app, used to check-in Guests via

QR Barcodes

on invoices, is supported with products (Inventory > Products) at this time.


Which Checkfront version supports this feature - classic, new or both?
Your account must have access to items (Inventory > Items), which is a key feature of our classic version of

Checkfront.
New to Checkfront - Products ✨

Products (Inventory > Products) is the successor feature to (Inventory > Items) and is available in our newest version of Checkfront.

Not yet on our newest version and interested in upgrading? Please get in touch with our Technical Support team for more information.

Discover more product-related help articles here: Products (New).
---
Viewing a booking in the Android Mobile Booking App is fast and easy. Once you've searched for the booking you'd like to review, tap on it from the list to open up the booking details screen.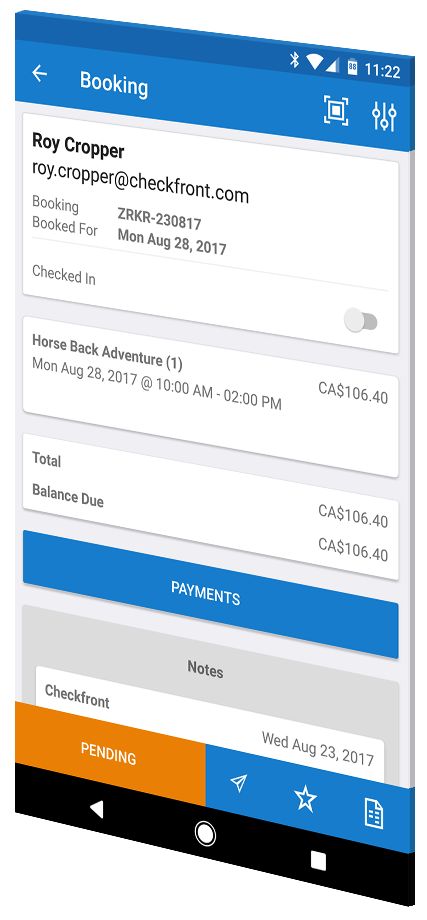 At the top of the booking screen, you can see the name of the Customer, their contact information, the booking ID and the date of the booking. Directly below that is the Checked In status. Further down, you find the items booked, access to the payments screen and any notes attached to the booking.
---
A switch on the right controls the check-in/out status of a booking. By default, the switch is turned off, indicating an open booking.
Tapping on the switch causes it to slide across and turn blue. This indicates that the Customer is currently checked in.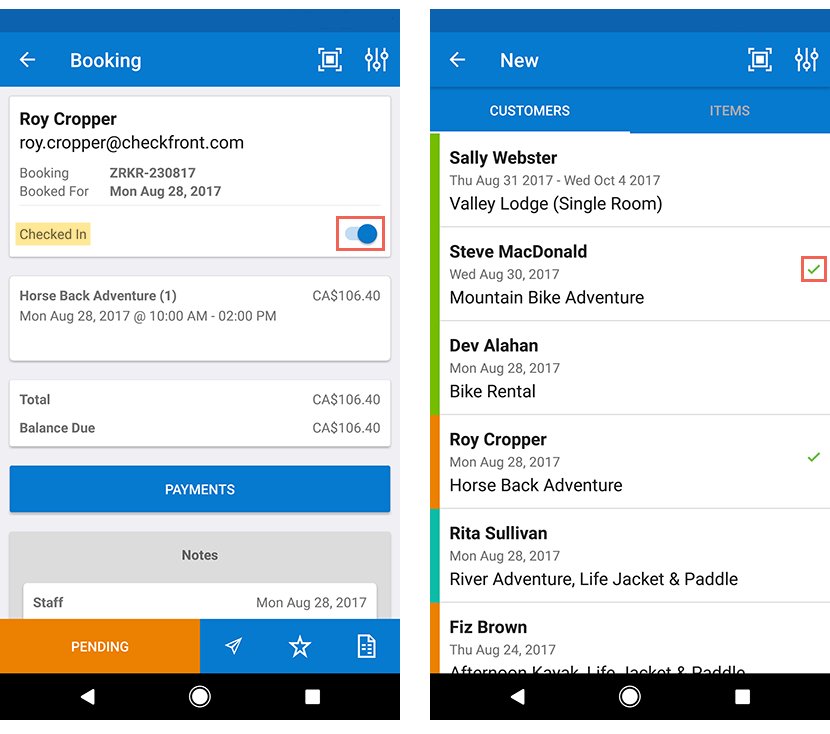 When looking at the main list of bookings, you can identify reservations currently checked in by the green checkmark to the right of the booking. Further evidence can be found in the notes section towards the bottom of the screen.
The notes are updated whenever a Customer is checked in or checked out. These notes include the name of the Staff member who made the change and the date it occurred.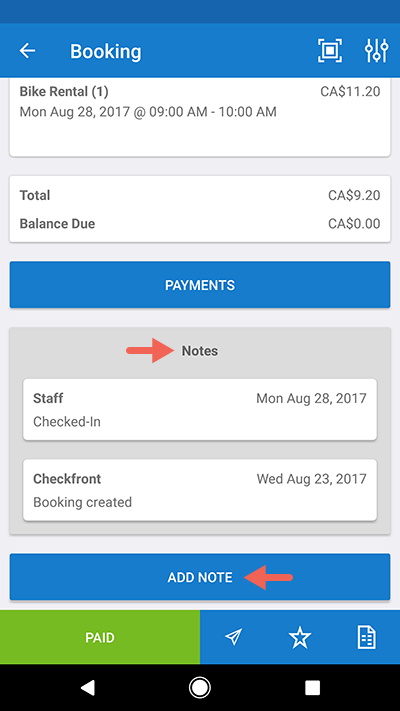 Incidentally, notes can also be recorded manually by tapping the Add Note button and then typing out the message you wish to leave. This can be viewed by any other Staff members who view the booking.
---
An auto check-in feature is available through the settings menu in the top right corner of the app screen.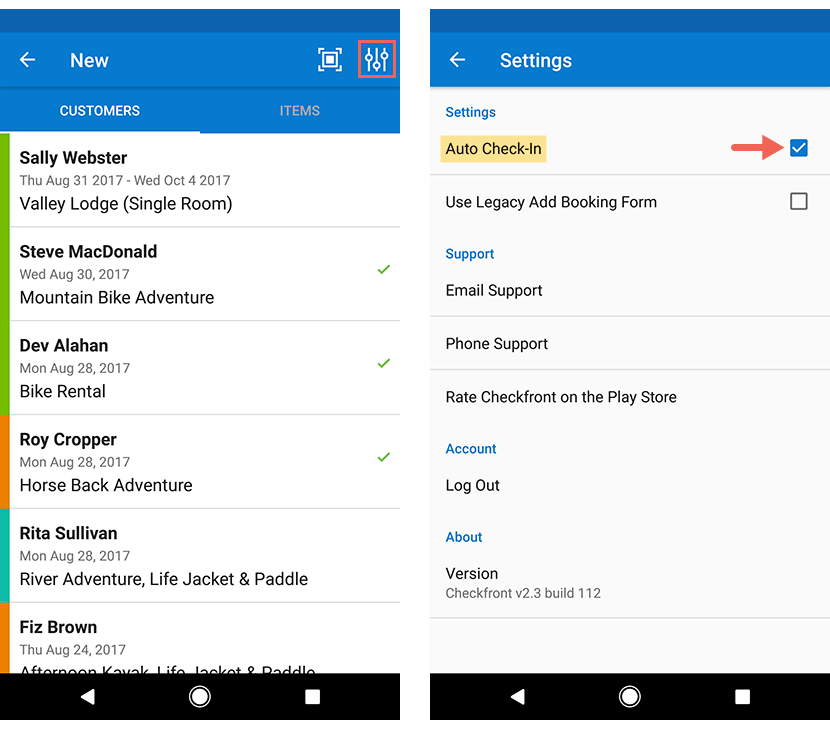 If the switch is turned on, a Customer is checked in automatically when the QR code on their invoice is scanned.
---
< Navigating the Android app | Recording payments in the Android app >
---