---
Prerequisites:
Your account must have access to items (Inventory > Items), which is a key feature of our classic version of

Checkfront.
A Staff user account, as Partner account login is not supported.
Important:

Only the QR Code Scanner feature of the app, used to check-in Guests via

QR Barcodes

on invoices, is supported with products (Inventory > Products) at this time.
New to Checkfront - Products ✨

Products (Inventory > Products) is the successor feature to (Inventory > Items) and is available in our newest version of Checkfront.

Not yet on our newest version and interested in upgrading? Please contact our Technical Support team for more information.

Discover more product-related help articles here: Products (New).
---
Creating a New Booking in the Android Mobile Booking App
One of the best features of the Android Mobile Booking App is the ability to create new bookings. This really does make Checkfront a truly portable business solution and gets you out of the office and into the field.
---
One of the biggest and most popular features in the Checkfront Mobile Booking App is the ability to create new bookings while on the go. At the bottom of the app home screen, you can see a plus sign icon in a blue circle.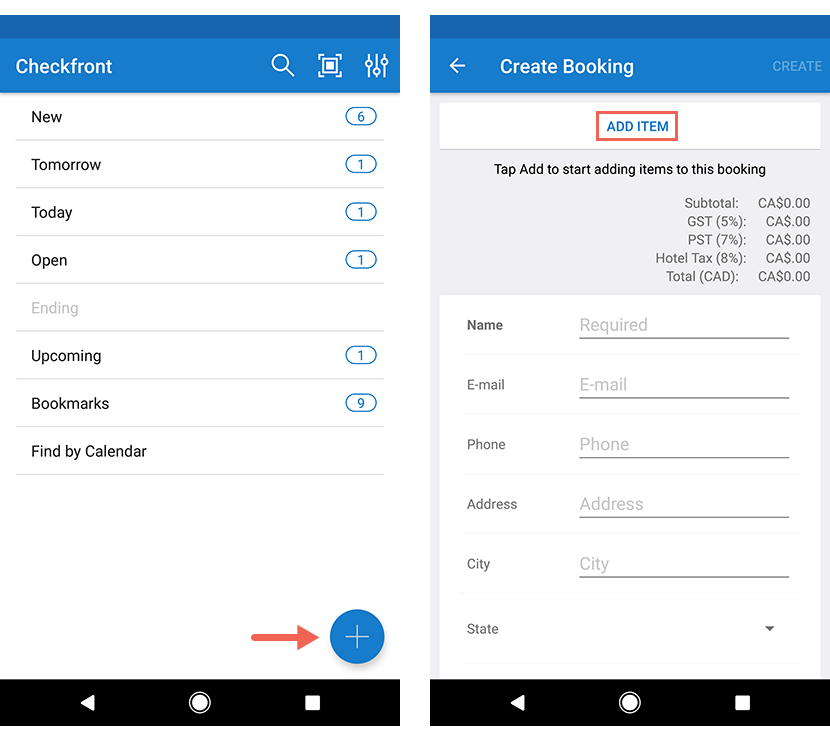 Tapping on this opens the Create Booking screen, above right.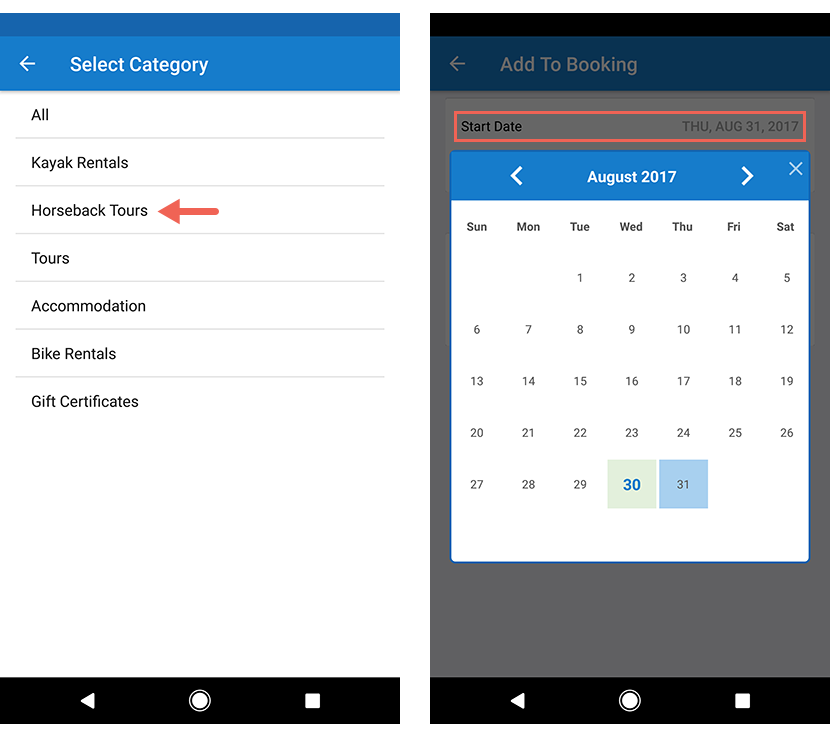 Another screen opens up allowing you to select an item. Choose the category first. This brings you to the details screen. From here, you may select the start and end date for the booking by tapping on the dates at the top of the screen. This opens a calendar from which you may make your selections.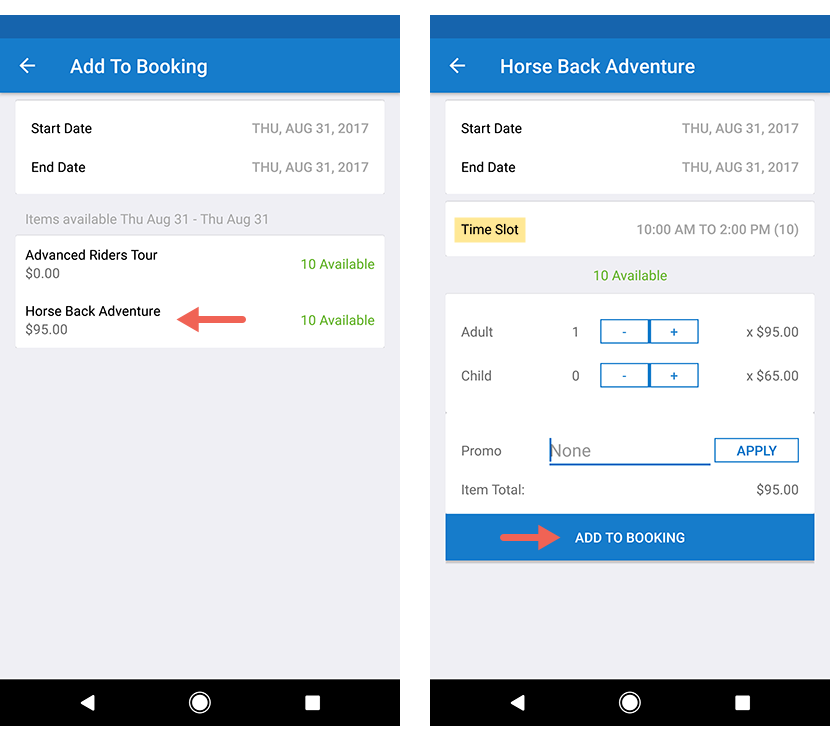 Below this, available items for the date range selected are displayed. Again, just tap on the item you wish to book.
On the following screen, you can change the dates and/or select a time slot if required. You can select the number of participants based on the parameters attached to the item, add a promo code if applicable and then tap the Add To Booking button to continue.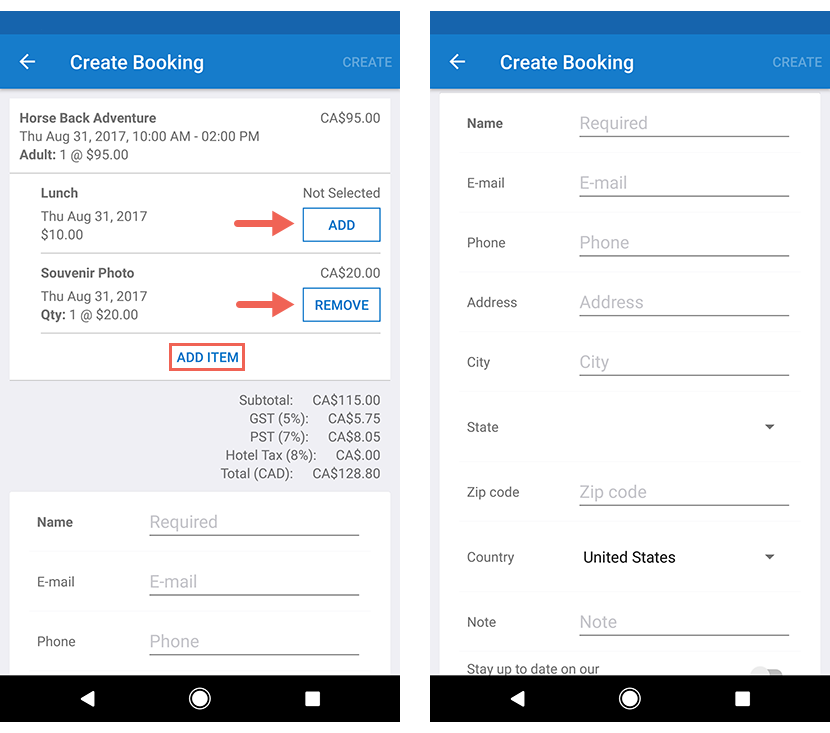 The next screen provides the opportunity to choose any add-ons for the item you're booking, if applicable. Tap Add to include an item in the reservation. If you change your mind, tap the same button again to remove it. Below this is a button to add any additional items to the booking too.
Immediately below this is a summary of the booking totals, followed by the booking form.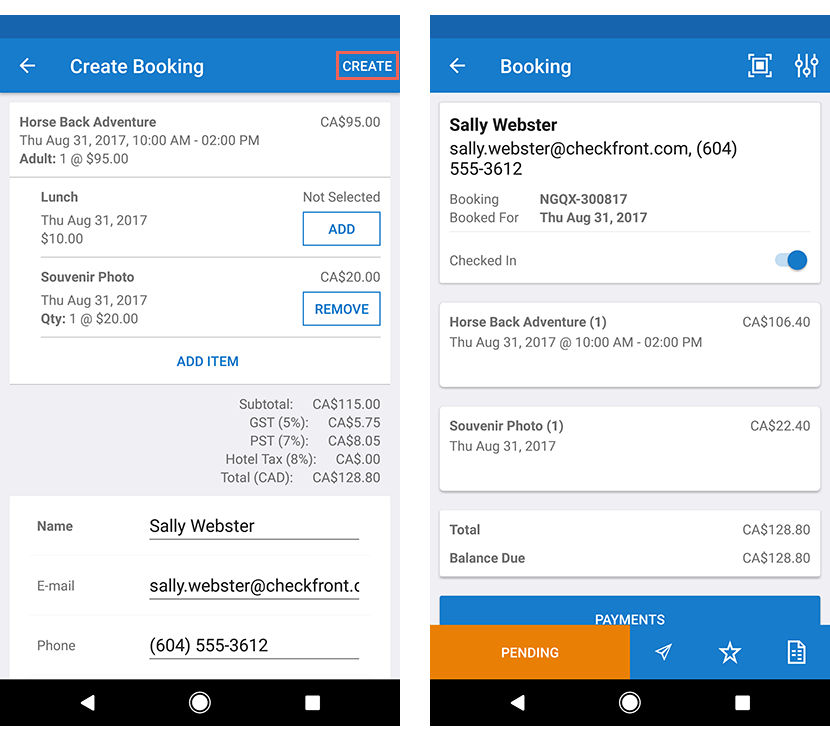 After entering the booking details, the Create button, top left, becomes active. When you're ready to complete the booking, tap this.
You can now see the completed booking and can go ahead with any payments you wish to take. Any notifications configured in the desktop Booking Manager are automatically sent to the relevant recipients.
---
< Android App: QR Barcode Scanner | Android App: Settings >
---