---
Learn how to email the Customer through the Android mobile app and what the email includes.
New to the Android app? You can read the first article in this series for an introduction to the Android app.
---
Which plans include this feature?
Legacy:  Available for download
New:  Available for download
→ Learn more about our new plans or how to change your plan.

What more do I need to use this feature?
Admin or Staff user accounts only. Partner account logins are not supported.


Which Checkfront version supports this feature - classic, new or both?
This feature is available in both our classic version using items (Inventory > Items) and our newest version using products (Inventory > Products).  → Learn more about products
Important: Only the QR Code Scanner feature of the app, used to check-in Guests via QR Barcodes on invoices, is supported with products (Inventory > Products) at this time.
---
Contacting customers through the Android mobile booking app
From time to time, you may need to contact a Customer via email, whether to send them a quick message or forward a copy of their invoice. You can do that directly from the Android Mobile Booking App.
---
Next to the status button at the bottom of the invoice view is the Contact Customer button, depicted by a paper airplane icon. Tapping on this brings up a menu of possible Customer interactions.
Select the one you want from the list, and your device performs the required function automatically.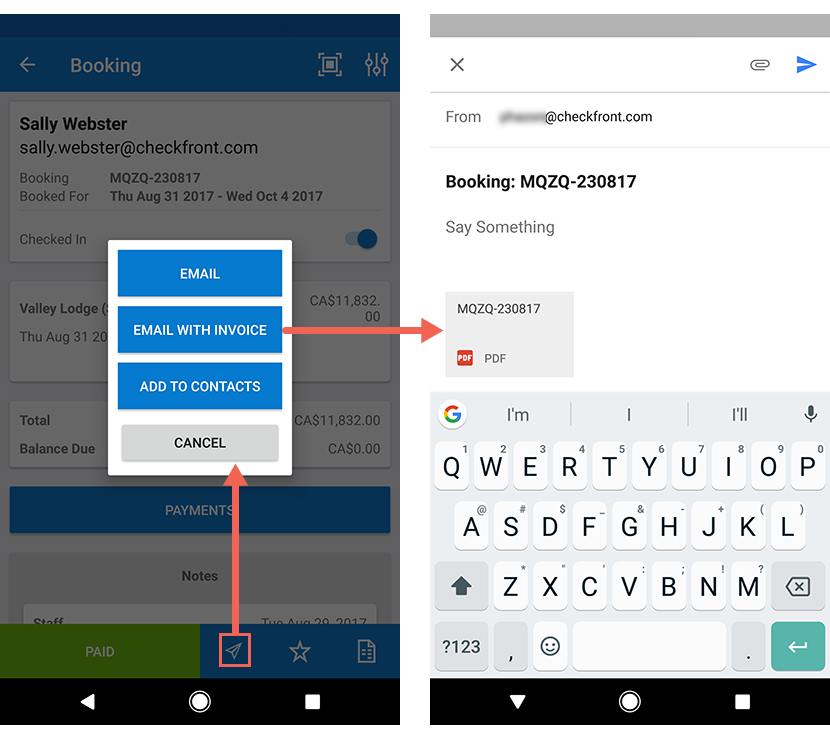 For example, if you select Email with Invoice, your device's default email app is opened and ready for input. The email is pre-populated with the Customer's email address and a subject that includes the booking ID. A PDF file of the booking is also attached to the email.  
---
< Changing the booking status in the Android app    |    Bookmarking bookings in the Android app >
---