---
---
If you don't already have a Facebook Page for your business, head over to Facebook now and create one.
Once your Facebook Page is set up and published, sign into Checkfront and navigate to Manage > Add-ons in your menubar. Select the Website Integrations tab at the top of the page.

From there, you will see a list of available modules. Select the Facebook tile and then click on the Setup button to continue.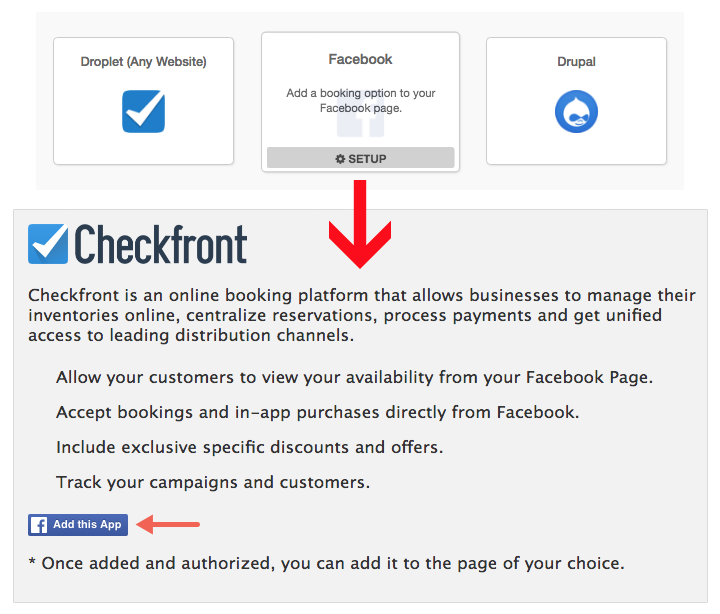 At that point, you will be redirected to a page on the Facebook website with some information on the Checkfront app. Click on the button labeled Add this App, as seen in the screenshot above.
A pop-up window will now ask you to confirm that it's okay for Checkfront to receive your public profile information.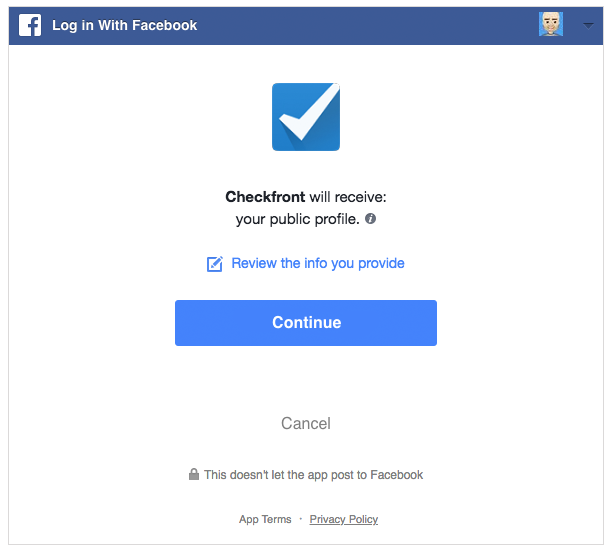 Click on the Continue button to proceed.
You will now see a message in the window that opened earlier (where you clicked the Add this App button) stating that the app is authorized.

That button will have been replaced by an Add to my Page link. Click on this to continue.
You will now select the Facebook Page you wish to add the Checkfront app to. If you manage more than one Facebook Page, make your selection from the drop-down menu.
Click the Add Page Tab button to continue.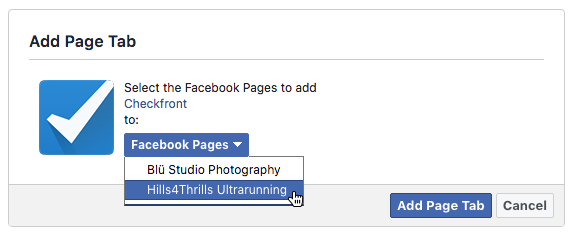 The Checkfront app will now display as a tab in the left sidebar of your Facebook Page, labeled Online Bookings.
Checkfront Tip:

Due to new Facebook policy, Checkfront's Facebook add-on functionality is only available to customers who have 2000 or more fans of their Facebook Page.

 

If you have less than 2000 fans and try to complete the activation steps described in this document, you will be confronted with the following error after selecting your Facebook Page and clicking on the Add Page Tab button.

 

 

It does appear, however, that customers using the add-on before Facebook implemented the 2000 fan minimum will still be able to use it going forward. Deactivating the add-on and then trying to implement it again at a later date is likely not going to work. So, if you have it, keep it!
When a customer selects that tab, the booking portal will appear directly on the Facebook Page. The customer can then go ahead and make a booking as if they were on your website.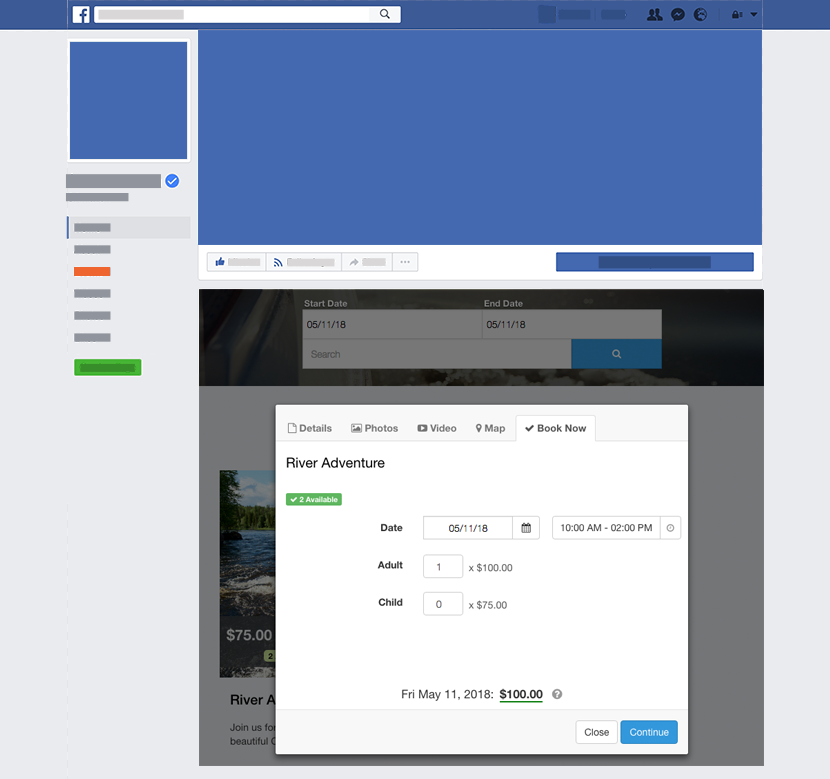 ---
<< Facebook Add-on    |     Facebook Add-on Alternative: Book Now Button >>
---