---
Plan Availability: X Soho | ✓ Pro | ✓ Plus | ✓ Enterprise | ✓ Flex |
Locate: Inventory > Gift Certificates > Create Gift Certificate (button) > Details > Media
Prerequisites:
A plan that includes Gift Certificates.
Gift Certificates activated within your account (Manage > Integrations).
Admin permissions or restricted permissions to

Manage Gift Certificates and Manage Gift Certificate Templates.
Gift Certificates are available to those using items (Inventory > Items), a feature of our classic version of Checkfront.
Interested in using Gift Certificates with products (Inventory > Products)? Your account must be a member of our

Early Access Program. Please reach out to

Checkfront Technical Support

to learn more.
Need to activate Gift Certificates for your account? Be sure to read the first article in this series: Gift Certificates: Setup
---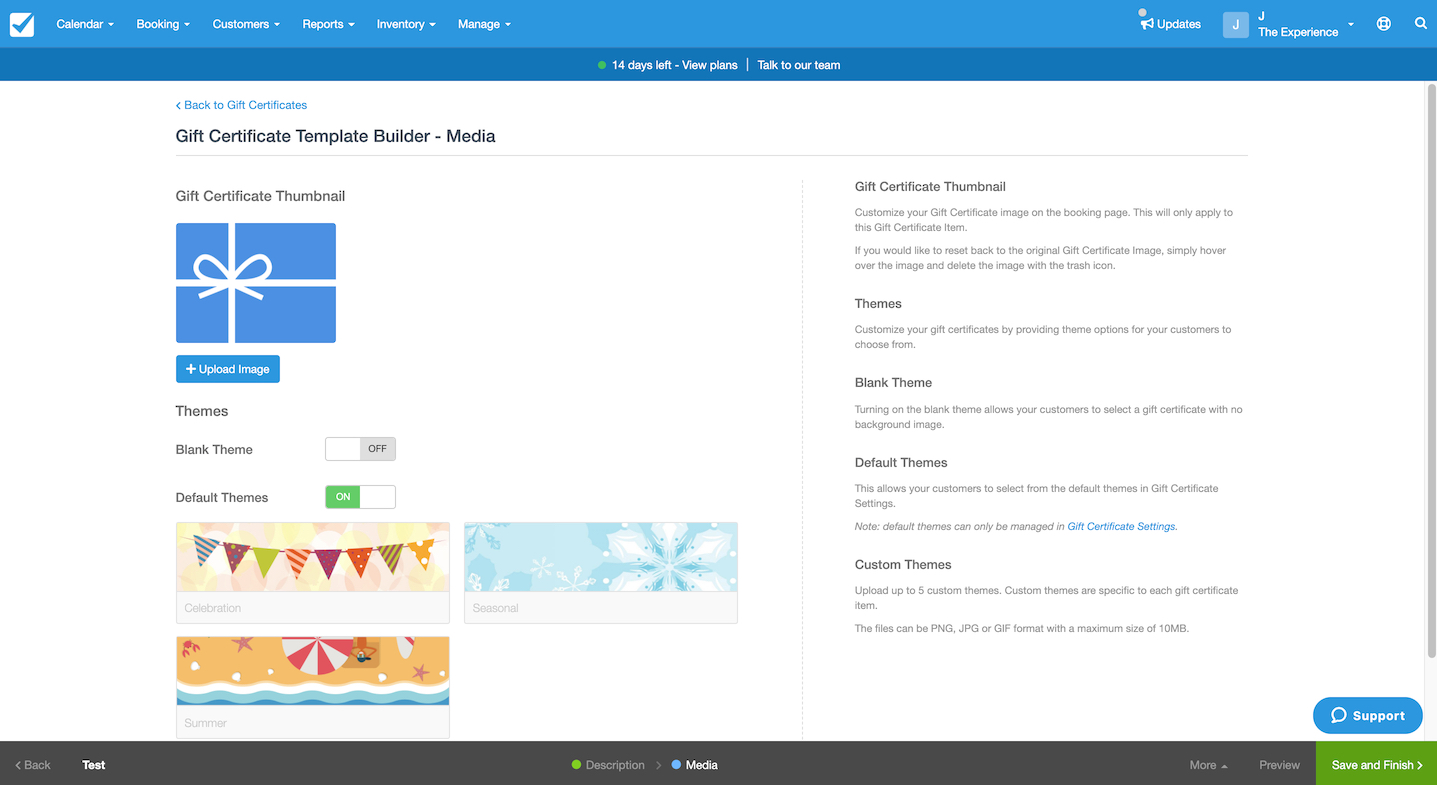 When you have finished entering the Gift Certificate details, click the Next button at the bottom right of the screen. This brings you to the Media tab.
From here, you can choose a custom image (Thumbnail) for the Gift Certificate as well as a theme for the Gift Certificate in question.
In this article, we cover how to Upload and Edit the Gift Certificate Thumbnail.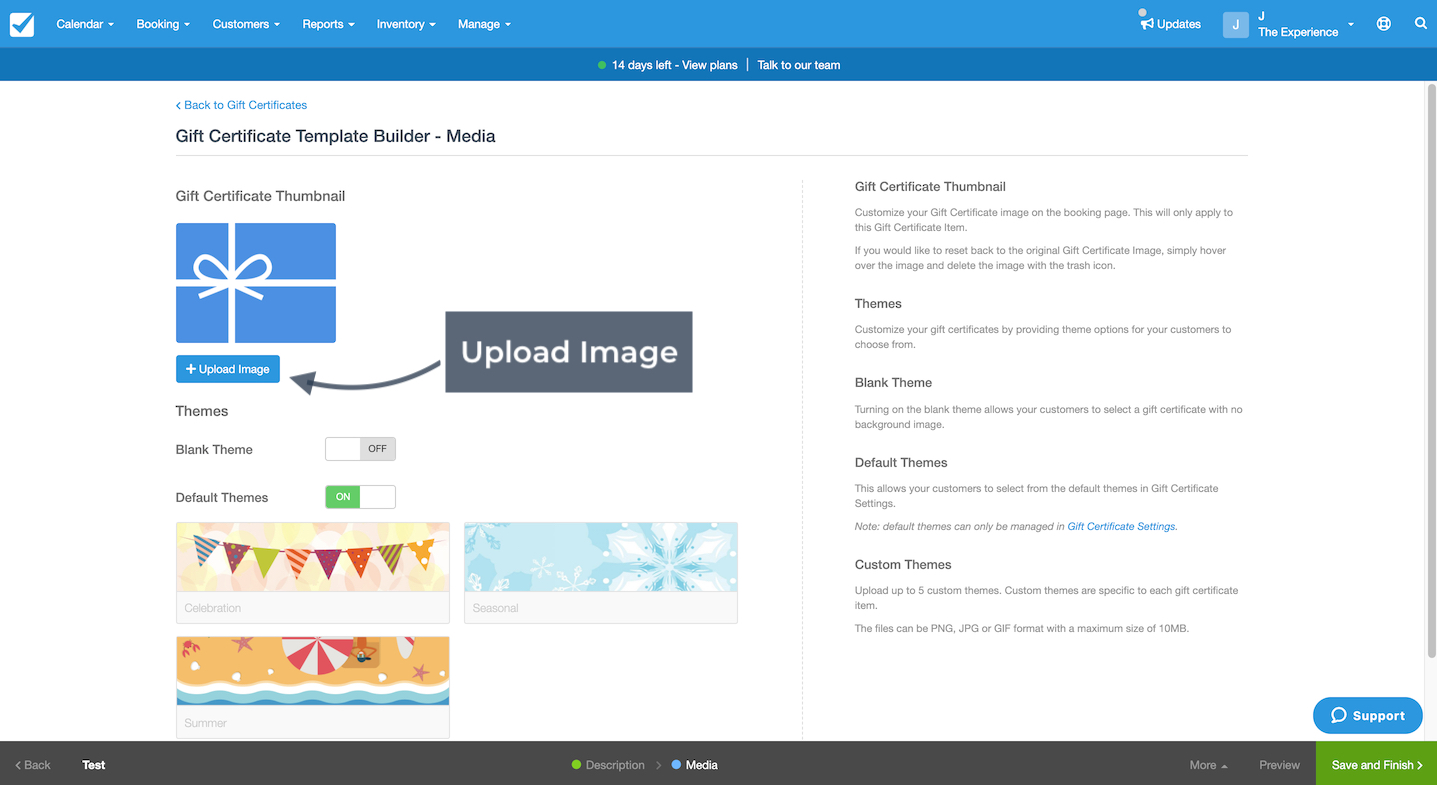 By default, the Gift Certificate Thumbnail consists of a wrapped gift in Checkfront blue.
This is perfect for most situations, but you may wish to use your own image to match your company's branding. Click on the +Upload Image button and select the chosen image from your computer. Once the image is loaded, it is resized to fit the thumbnail size.
Images are resized to fit the 320x80 pixel thumbnail size.

If your image doesn't fit this ratio, then don't worry... you can now go ahead and edit it. However, an image larger than this yields better results when displayed on the screen. Try making it at least twice as big, if you can.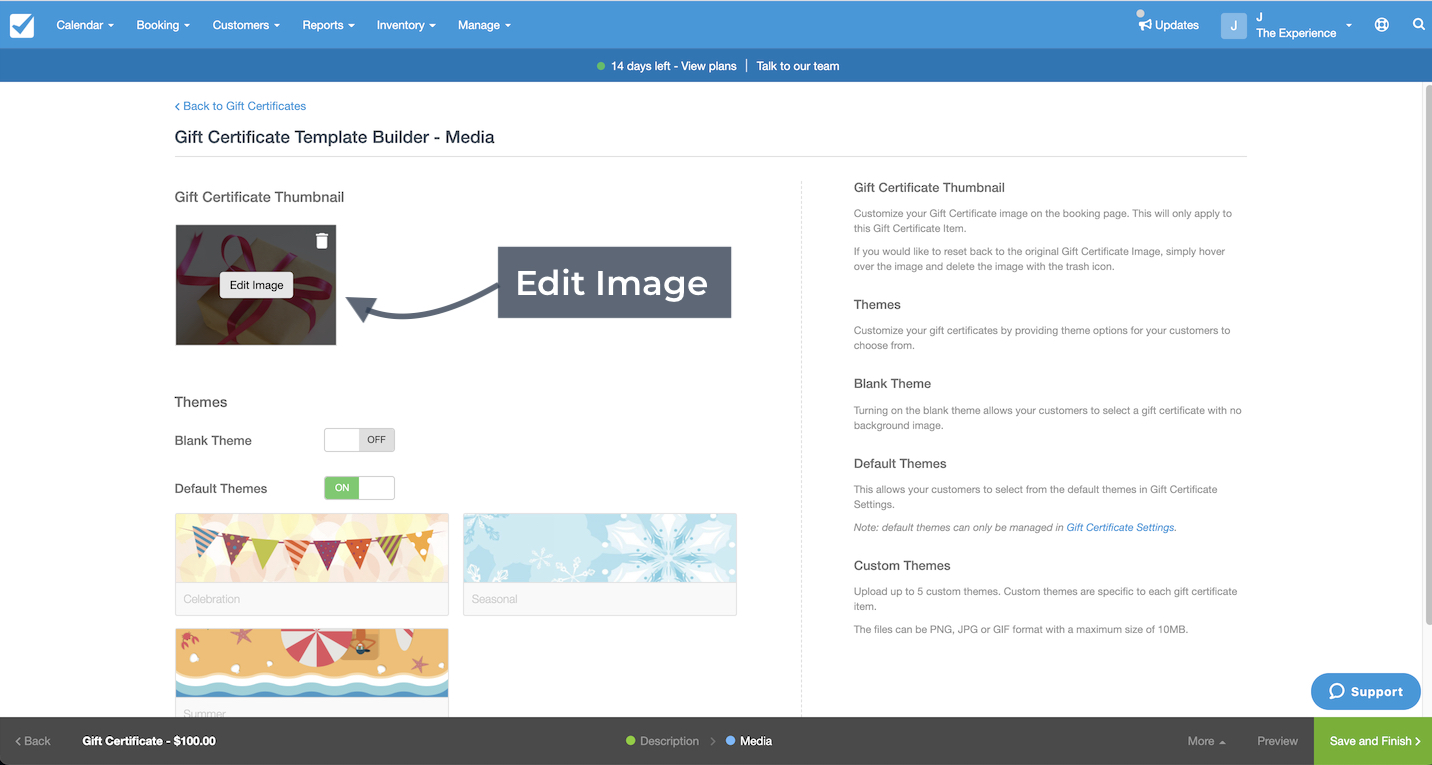 To edit the Gift Certificate Thumbnail, move your mouse over the new Gift Certificate Thumbnail and click on the Edit Image button.
A pop-up window opens containing the Gift Certificate Thumbnail editor. Drag the cropping area to select the part of your image you wish to display.
When satisfied with your selection, click Save in the bottom right. If the image you chose already has dimensions in the same ratio as the original Thumbnail, then you do not need to do any cropping.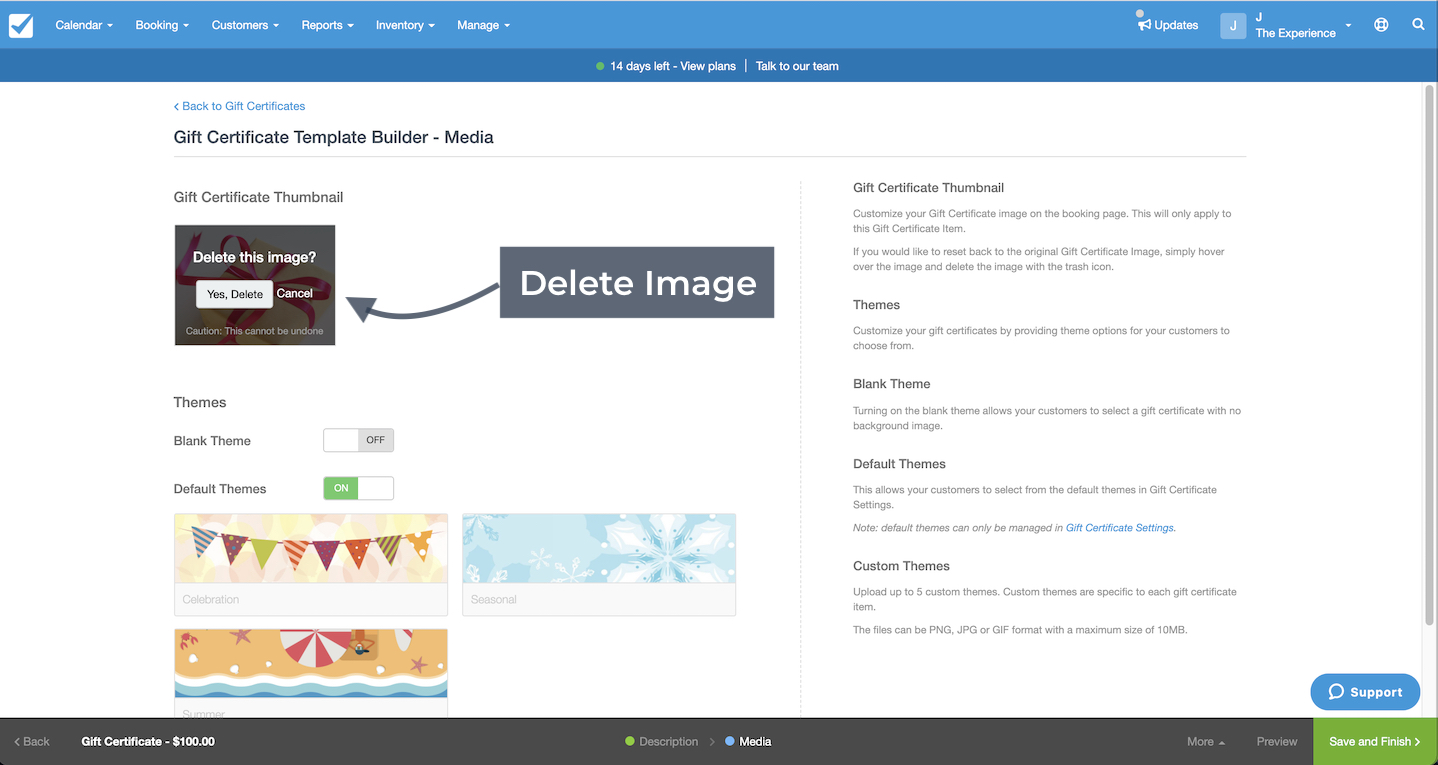 Need to remove the Gift Certificate Thumbnail? Hover over the image and click on the trash can icon. From there, confirm that you want to delete the image, by clicking on Yes, Delete and the image is removed.
---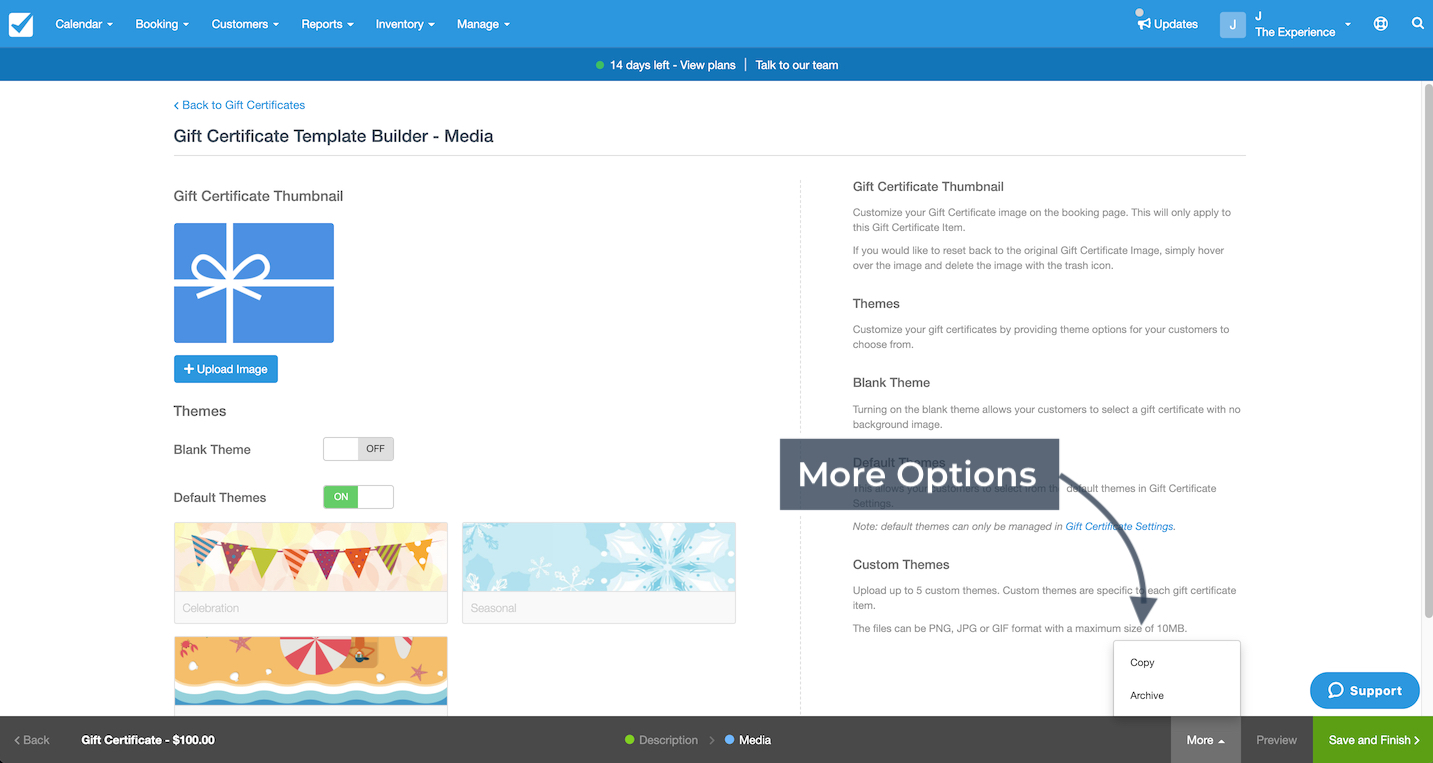 From the Media page, you can choose to Copy, Archive, or Translate the Gift Certificate under More options in the bottom menu.
---
< Gift Certificates: Template Builder - Description | Gift Certificates: Template Builder ...Themes >
---