---
Plan Availability: X Soho | ✓ Pro | ✓ Plus | ✓ Enterprise | ✓ Flex |
Locate: Inventory > Gift Certificates > Create Gift Certificate (button) > Details > Media Prerequisites:
A plan that includes Gift Certificates.
Gift Certificates activated within your account (Manage > Integrations).
Admin permissions or restricted permissions Manage Gift Certificates and Manage Gift Certificate Templates.
Gift Certificates are available to those using items (Inventory > Items), a feature of our classic version of Checkfront.
Interested in using Gift Certificates with products (Inventory > Products)? Your account must be a member of our

Early Access Program. Please reach out to

Checkfront Technical Support

to learn more.
Need to activate Gift Certificates for your account? Be sure to read the first article in this series: Gift Certificates: Setup.
---
---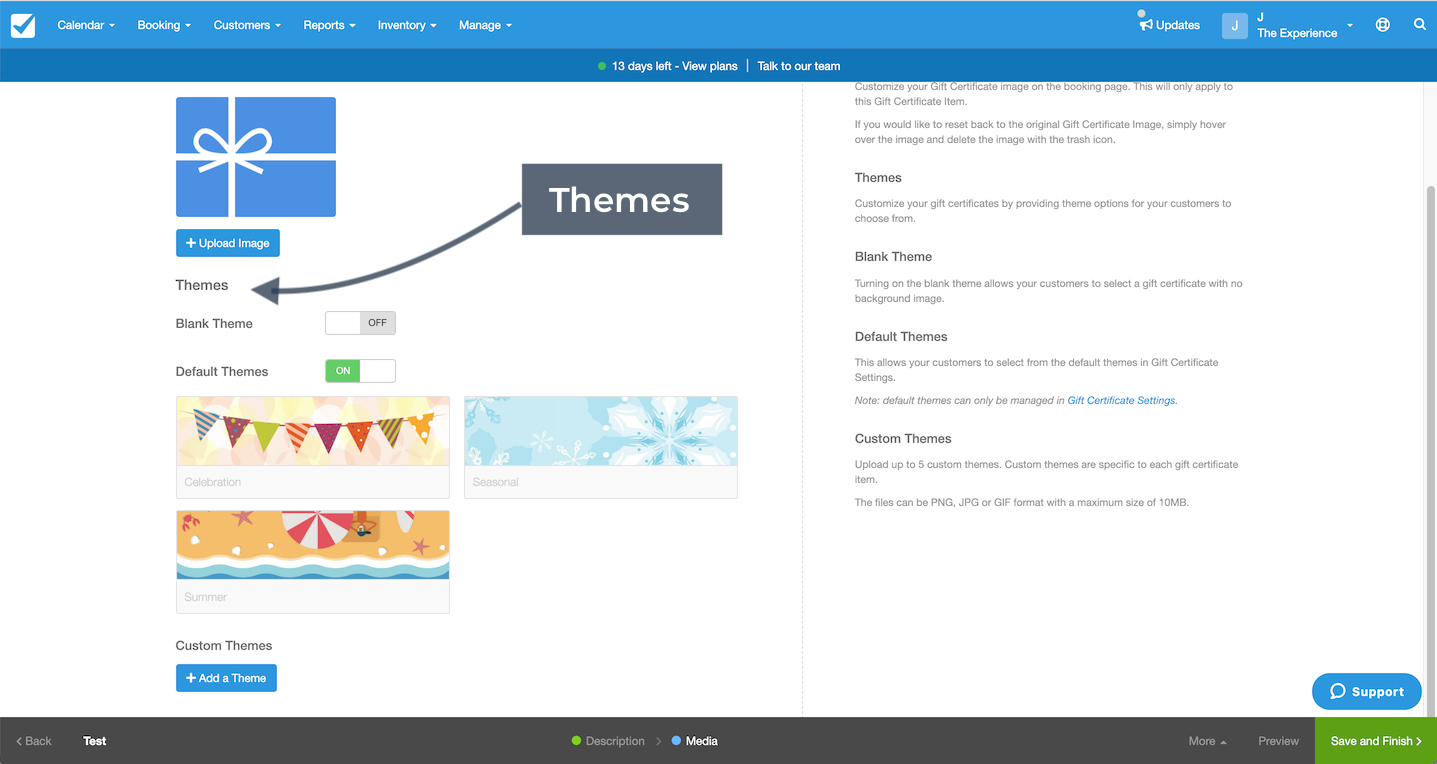 If you prefer not to use a Theme, then turn ON the Blank Theme. If selected, then no image displays at the top of the Gift Certificate.
You are able to select a Theme for your Gift Certificate. By default, Checkfront comes with three Themes to choose from - Celebration, Seasonal, and Summer.
If you'd like to display an image, then you can select from one of the Default Themes.
There may be times when you wish to use your own Theme. In this case, click on the + Add a Theme button. You are then prompted to upload an image from your computer to use as a banner image for the Gift Certificate.
| | |
| --- | --- |
| | The image is resized to 120px (height) by 480px (width), if the original is any larger or smaller. |
-- Edit Image
Enter a name for the theme and then, if you wish to crop the image you uploaded, then hover over it and click on Edit Image.
-- Crop Image
As with the Gift Certificate Thumbnail, you can move the cropping area to suit your desired look and then click the Save button. And that's it! The Custom Theme is now added to your library under the heading Custom Themes.
| | |
| --- | --- |
| | If you don't wish to use the default themes for any of your Gift Certificates, then you can replace them with a set of your own images under Gift Certificate Settings. Click here for more information. |
Click Save and Finish to proceed to the final step.
In the next article in this series, we do the final Preview of your Gift Certificate with the option to Edit or Copy your Gift Certificate. You are almost finished!
---
< Gift Certificates: Template Builder - Media: Thumbnail | Gift Certificates: Template Builder...>
---